Discover the key differences and features of DJI Avata vs FPV in our detailed comparison guide. Choose the right drone for your needs.
In this blog post, we will compare the DJI Avata vs FPV, two cutting-edge drones with unique capabilities.
DJI Avata, the first cinewhoop drone from DJI, promises an exceptional cinematic experience with its 4K camera and rocksteady stabilization, eliminating the need for additional action cameras like the GoPro Hero 11 mini or Insta360 Go 3. On the other hand, DJI FPV is all about fast and long range fpv flying, equipped with a camera that delivers 4K video at 60 fps.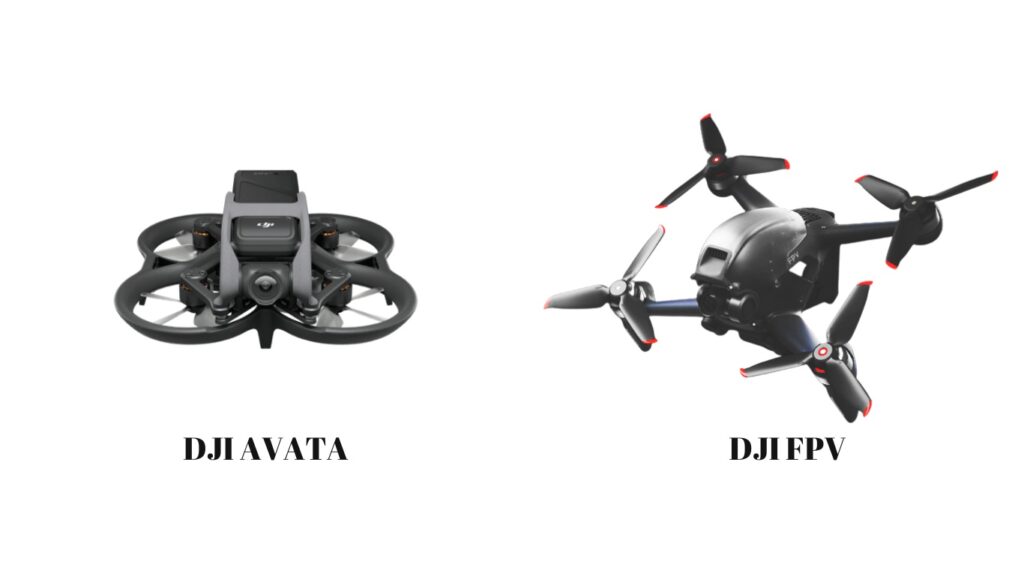 But these drones offer more than meets the eye. In our comprehensive comparison, we will explore their design, flight performance, camera capabilities, remote controllers, and immersive flying experiences. Join us as we unravel the features that make DJI Avata and DJI FPV stand out from the crowd and help you decide which drone best suits your aerial ambitions. So, fasten your seatbelts, and let's take flight!
DJI Avata vs FPV Specs Comparison:
| | | |
| --- | --- | --- |
| | DJI AVATA | DJI FPV |
| Dimensions | 180×180×80 mm | 178 × 232 × 127 mm (folded) |
| Takeoff Weight | 410 g | 795 g |
| Max Flight Time | ~18 minutes | ~20 minutes |
| Camera | 1/1.7″ CMOS, 48 MP | 1/2.3" CMOS, 12MP |
| Lens | Aperture: f/2.8 | Aperture: f/2.8 |
| Video | 4K/60 fps | 4K/60 fps |
| Obstacle Sensing | Downward | Forward + Downward |
| Max Transmission Distance | OcuSync 3.0, 10 km | OcuSync 3.0, 10 km |
| Max Video Bitrate | 150 Mbps | 120 Mbps |
Design and Build Quality
Let's start by examining the design and build quality of both drones.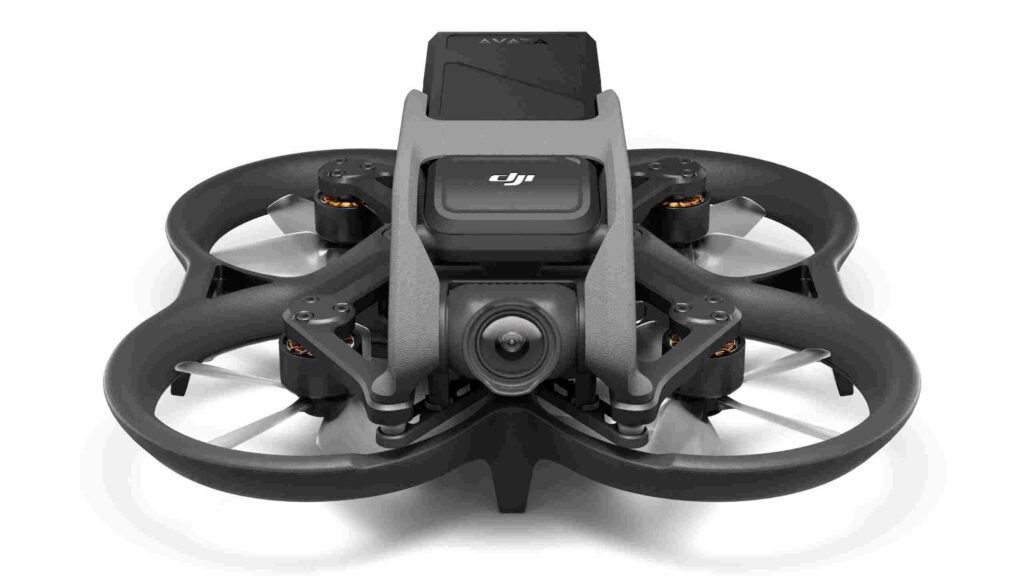 The new DJI Avata strikes a perfect balance between durability and weight. Its smaller size enhances portability, making it an excellent choice for indoors or in tight spaces. The streamlined design not only enhances its aesthetic appeal but also contributes to its remarkable maneuverability during flight.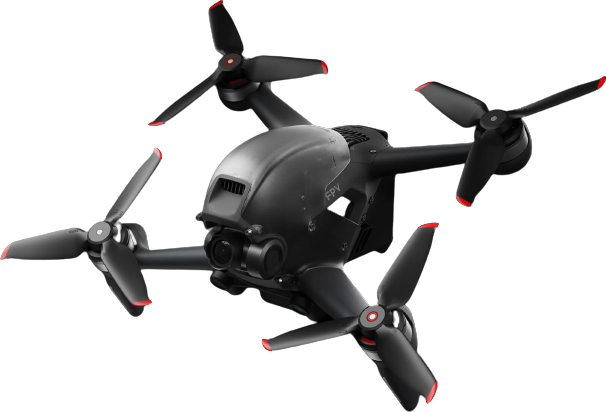 In contrast, the DJI FPV drone showcases a futuristic and aggressive design tailored explicitly for high-speed racing and freestyle flying. The drone's modular components offer easy maintenance and customization options.
Built with high-strength materials, the FPV can withstand intense racing and acrobatic maneuvers without compromising its structural integrity. The rugged design is not just eye-catching; it reflects the drone's robust performance capabilities. Excellent for outdoor or wide open spaces.
Flight Performance
When it comes to flight performance, both the DJI Avata and the DJI FPV are in a league of their own.
Equipped with state-of-the-art propulsion systems and intelligent flight control, the DJI Avata provides a remarkably smooth and stable flight experience. Its precision hovering add an extra layer of safety and control during flights. The Avata's flight performance ensures your footage is free from unwanted shakes and jitters.
The DJI FPV drone takes a different approach to flight performance, focusing on delivering an exhilarating and adrenaline-pumping experience. With multiple flight modes, including Normal, Manual, and Sport, the FPV drone caters to both beginner pilots and seasoned racers.
The Manual mode, in particular, empowers experienced flyers to have complete control over the drone's movements, making it perfect for executing jaw-dropping stunts and maneuvers. Furthermore, the FPV's ultra-low-latency video transmission creates an immersive first-person view (FPV) experience.
Camera Performance
A crucial aspect of any drone's camera performance. Let's explore the imaging capabilities of both the DJI Avata and the DJI FPV.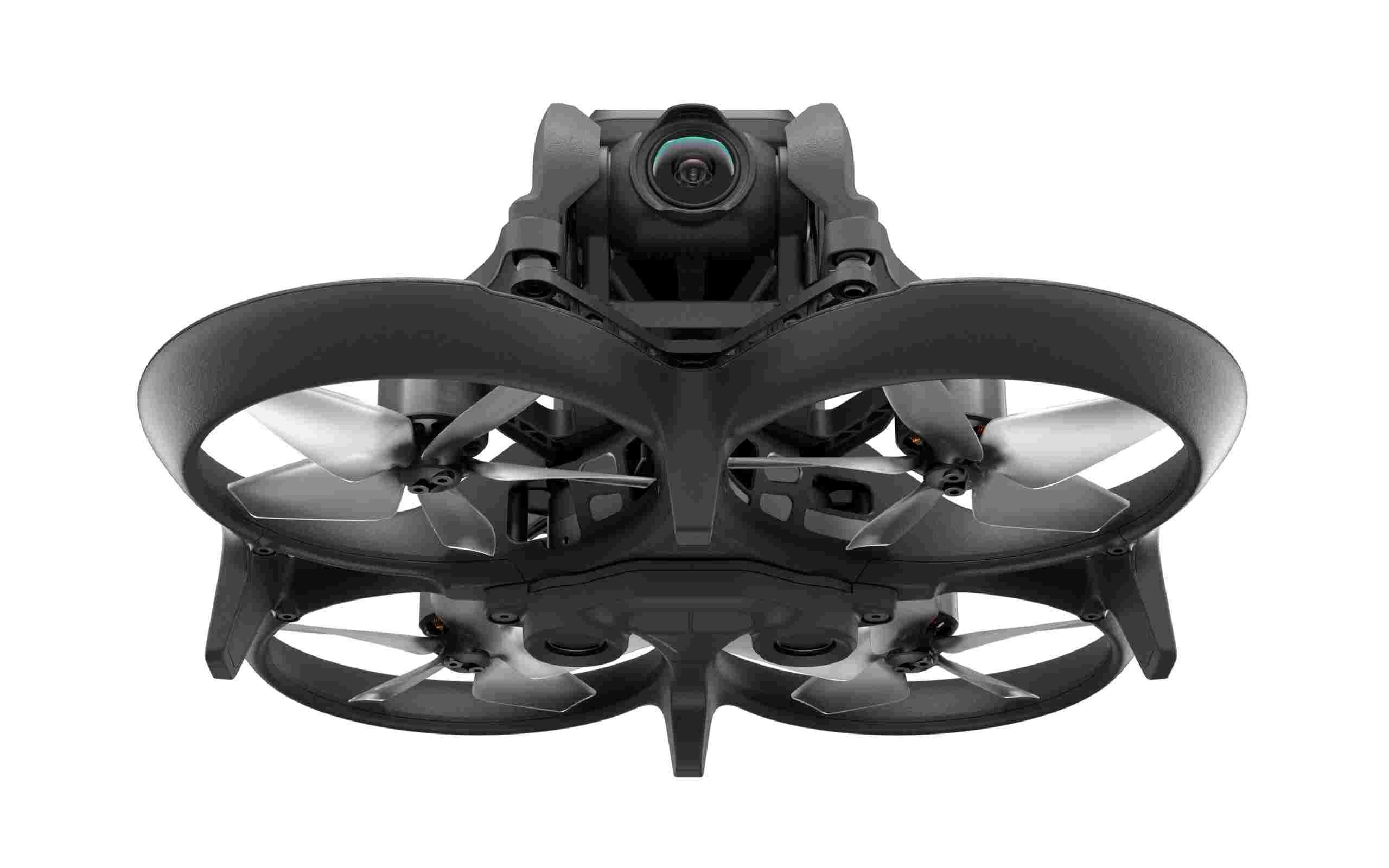 The DJI Avata features an impressive 1/1.7-inch CMOS 48MP camera that captures stunning 4K video at 60fps . Its high-resolution camera, coupled with a wide-angle lens (FOV: 155°), ensures that every shot is sharp, detailed, and vibrant.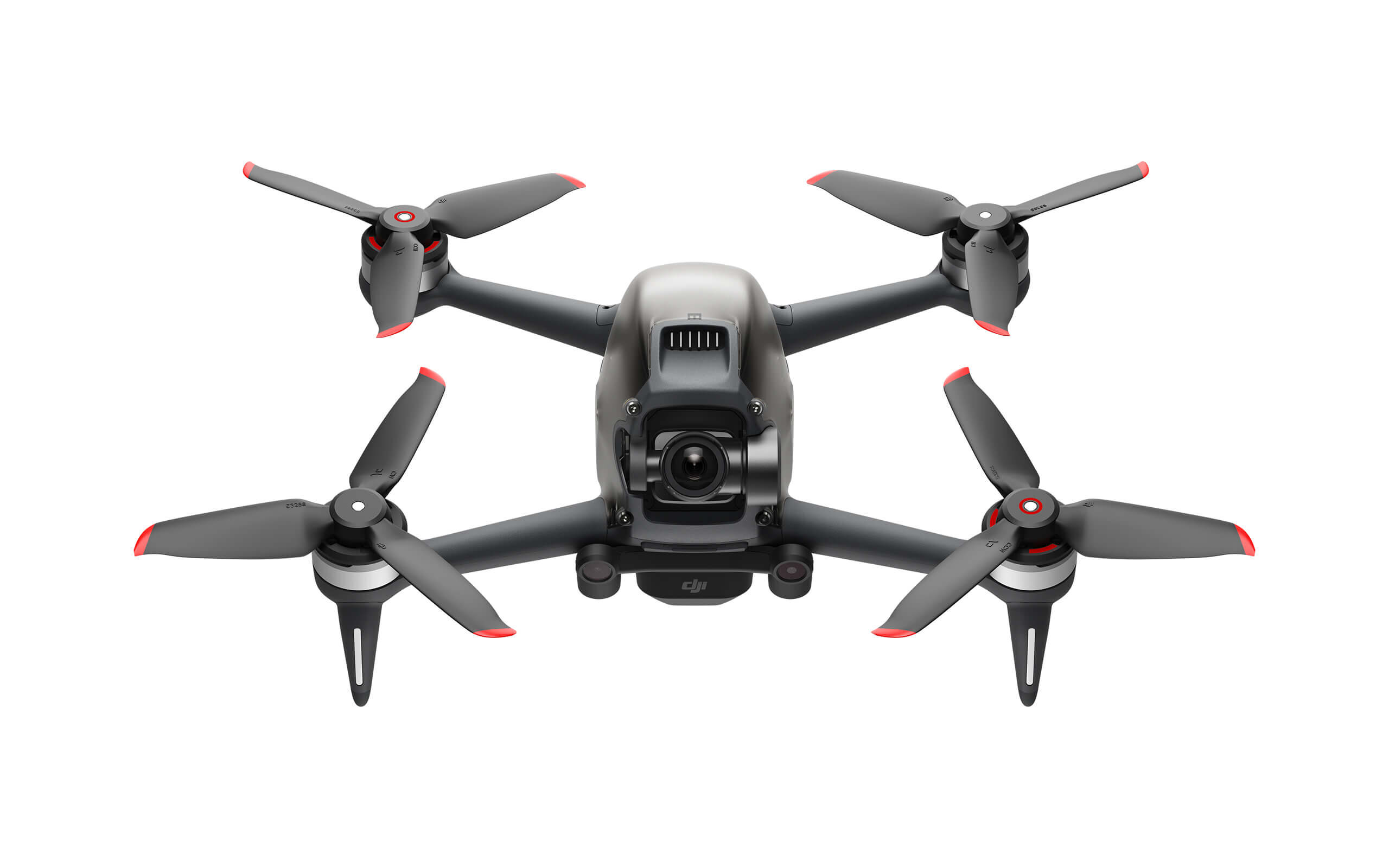 The DJI FPV is designed with a 1/2.3" CMOS 12MP camera that can record 4K video at 60 fps, ensuring that you never miss any action-packed moments.
Additionally, the 12-megapixel stills allow you to capture high-quality images while soaring through the skies. The FPV camera's focus on low-latency and dynamic footage caters to adrenaline junkies seeking the ultimate FPV experience.
Goggles and Remote Controller Compatibility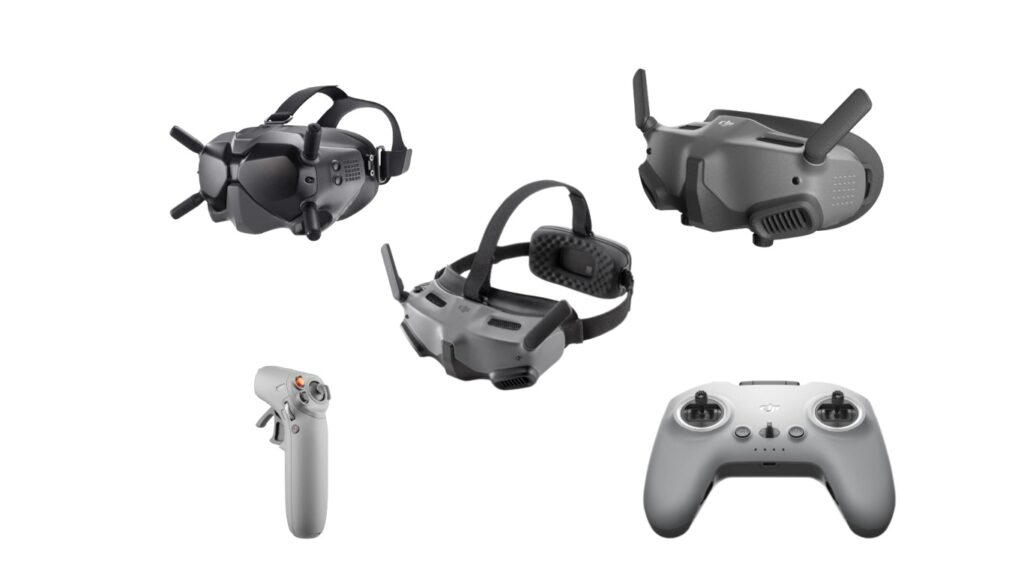 The Avata is compatible with the DJI FPV Remote Controller 2 (sold separately), Motion Controller, and RC Motion 2. It also works with the new DJI Goggles 2, Goggles Integra, and FPV Goggles V2. Similarly, the DJI FPV is compatible with the DJI FPV Remote Controller 2, DJI Motion Controller, New Goggles 2, Goggles Integra, and DJI FPV Goggles V1 & V2.
Safety Features
When it comes to safety features, both Avata and FPV share several common functionalities, promoting a secure flying experience. These include the emergency brake and hover function, which swiftly halt the aircraft during critical situations.
Additionally, both drones offer a turtle mode, allowing them to self-right if they accidentally land upside down. Moreover, they feature the essential GPS and return-to-home functionality, ensuring the drone can safely return to its takeoff point if connection is lost or battery levels are low.
However, there are differences in their obstacle-sensing capabilities. The Avata supports downward obstacle sensing only when paired with the DJI FPV Remote Controller 2 or DJI RC Motion 2/DJI Motion Controller in Normal Mode and Sports Mode.
On the other hand, DJI FPV's obstacle sensing is exclusively available in Normal mode, causing the aircraft to automatically decelerate upon detecting obstacles, though it will not come to a complete stop.
Flight Time
The Avata boasts an advertised 18-minute flight time, but actual flight durations may vary depending on environmental conditions, typically providing around 12 minutes of flight time. It offers an impressive range of up to 10 kilometers (6.2 miles) when it comes to flying distances.
On the other hand, the DJI FPV battery life can provide up to 20 minutes of flight time, slightly outperforming the Avata in this aspect. Additionally, the FPV drone matches the Avata's flying range with an impressive capability to cover distances of up to 10 kilometers (6.2 miles).
Buying Options and Accessories
Let's take a closer look at what each drone has to offer.
DJI Avata is available in five distinct purchasing options, providing customers with a variety of choices based on their requirements and budget.
DJI Avata Pro-View Combo (DJI RC Motion 2): This option includes the DJI Avata drone along with related accessories. It also comes with DJI Goggles 2 and DJI RC Motion 2, which offer flexible controls and rich functions for an immersive flight experience.
DJI Avata Explorer Combo: This combo package comprises the DJI Avata drone and its accessories, along with DJI Goggles Integra and DJI RC Motion 2. The integrated design of the goggles ensures a comfortable and immersive flight experience.
DJI Avata Pro-View Combo: With this option, customers get DJI Goggles 2 and the DJI Motion Controller, providing an immersive sensory experience with intuitive control through hand and head movements.
DJI Avata Fly Smart Combo: This cost-effective combo includes DJI FPV Goggles V2 and a DJI Motion Controller, offering an affordable way to experience an immersive flight.
DJI Avata Only: For those who already have existing DJI remote controller and DJI Goggles, this option includes only the DJI Avata drone and its related accessories. Goggles and remote controllers can be purchased separately based on individual preferences.
On the other hand, the DJI FPV combo offers all the essential components needed for an exceptional flying experience.
It comes with;
DJI FPV Drone
Intelligent Flight Battery or 3 Batteries for Fly More Combo options
FPV Remote Controller 2,
Spare Control Sticks,
FPV Goggles V2
FPV Goggles Antenna (Dual Band),
FPV Goggles Battery and other accessories
What is the difference between DJI Avata and DJI FPV?
The main difference between DJI Avata and FPV is their suitability for different environments. Avata is best suited for indoor or small spaces, while DJI FPV excels in outdoor flying and long-range flights. Choose accordingly based on your flying needs and preferences.
What is DJI Avata good for?
DJI Avata is ideal for beginners looking to fly indoors or in small spaces, thanks to its prop guards for added protection. Additionally, it excels in real estate FPV indoor flying, providing a safe and stable flight experience for capturing stunning aerial footage.
Is Avata or FPV better?
The choice between Avata and DJI FPV depends on your intended use. For indoor flying and beginners, the Avata with prop guards is a better option. However, if you desire long-range capabilities and outdoor adventures, DJI FPV is the superior choice.
Avata or DJI FPV for new drone buyer?
For a new drone buyer, the choice between Avata and DJI FPV depends on their usage preferences. Avata is recommended for indoor flying with added prop guards for protection, making it a safer option for beginners. Consider your flying environment and needs before making a decision.
Why is the DJI Avata so popular than the DJI FPV?
The DJI Avata's popularity stems from its groundbreaking features as the first cinewhoop drone from DJI. Its 4K camera with rocksteady stabilization eliminates the need for additional action cameras like the GoPro Hero 11 mini or Insta360 Go 3, revolutionizing the cinewhoop category and appealing to hobbyists and filmmakers alike.
Is the DJI Avata worth it?
Yes, the DJI Avata is worth it for those seeking a ready-to-fly drone kit with included goggles and the ability to capture 4K videos. Its convenience and impressive video capabilities make it a better choice for drone enthusiasts and content creators.
Is DJI Avata water-resistant?
No, the DJI Avata is not water-resistant. It is essential to avoid flying the drone in rainy or wet conditions to prevent damage to the delicate electronics and ensure its optimal performance and longevity.
In conclusion, both the Avata and the DJI FPV are exceptional drones, each catering to specific needs and preferences. The Avata shines as an excellent choice offering top-notch camera performance perfect for indoor FPV flying. On the other hand, the DJI FPV targets outdoor enthusiasts, providing a high-speed, long-range and adrenaline-fueled FPV experience.
Ultimately, your choice between these DJI drones depends on your intended use and flying style. Whether you seek cinematic aerial shots or crave an exhilarating FPV racing adventure, both drones deliver unparalleled performance and capabilities in their respective domains. There's no clear winner here.
So, take your time, consider your requirements, and select the drone that aligns best with your passion.
Happy flying.
Article History
August 2023: Published
Disclosure: Some links are affiliate links. As an Amazon Associate,
I earn from qualifying purchases at no extra cost to you.