What is the best Cinewhoop drone? This article will show you the top cinewhoop models on the market to help you find one that suits your needs.
Cinewhoops are a fun way to take videos and images from an aerial perspective. They're lightweight, easy-to-fly and come with different features depending on which model you choose. You can buy cinewhoop at amazon or at a retail store near you today!
Quick List Of Best Cinewhoop Drones:
DJI Avata Cinewhoop
GEPRC Cinebot30
GEPRC CineLog 25 HD Pro
iFlight Protek35 HD Cinewhoop
GEPRC CineLog35
Foxeer Foxwhoop 25
Axisflying CineON Z25
iFlight BumbleBee Cinewhoop
Diatone TAYCAN Cinewhoop
Holybro Kopis CineWhoop
BETAFPV Beta95X V3 Cinewhoop
GEPRC CineQueen 4k
Eachine Cvatar Cinewhoop
Flywoo CineRace20
Geelang Ligo78X PRO V2 HD
HOMFPV Wingsuit
BetaFPV Pavo30
HGLRC Veyron30CR Cinewhoop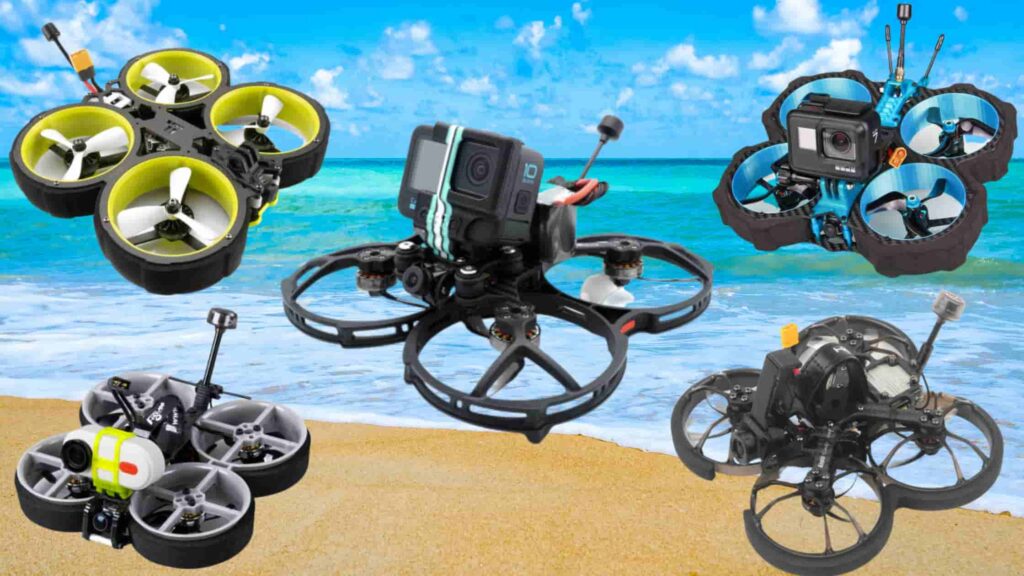 DJI Avata Cinewhoop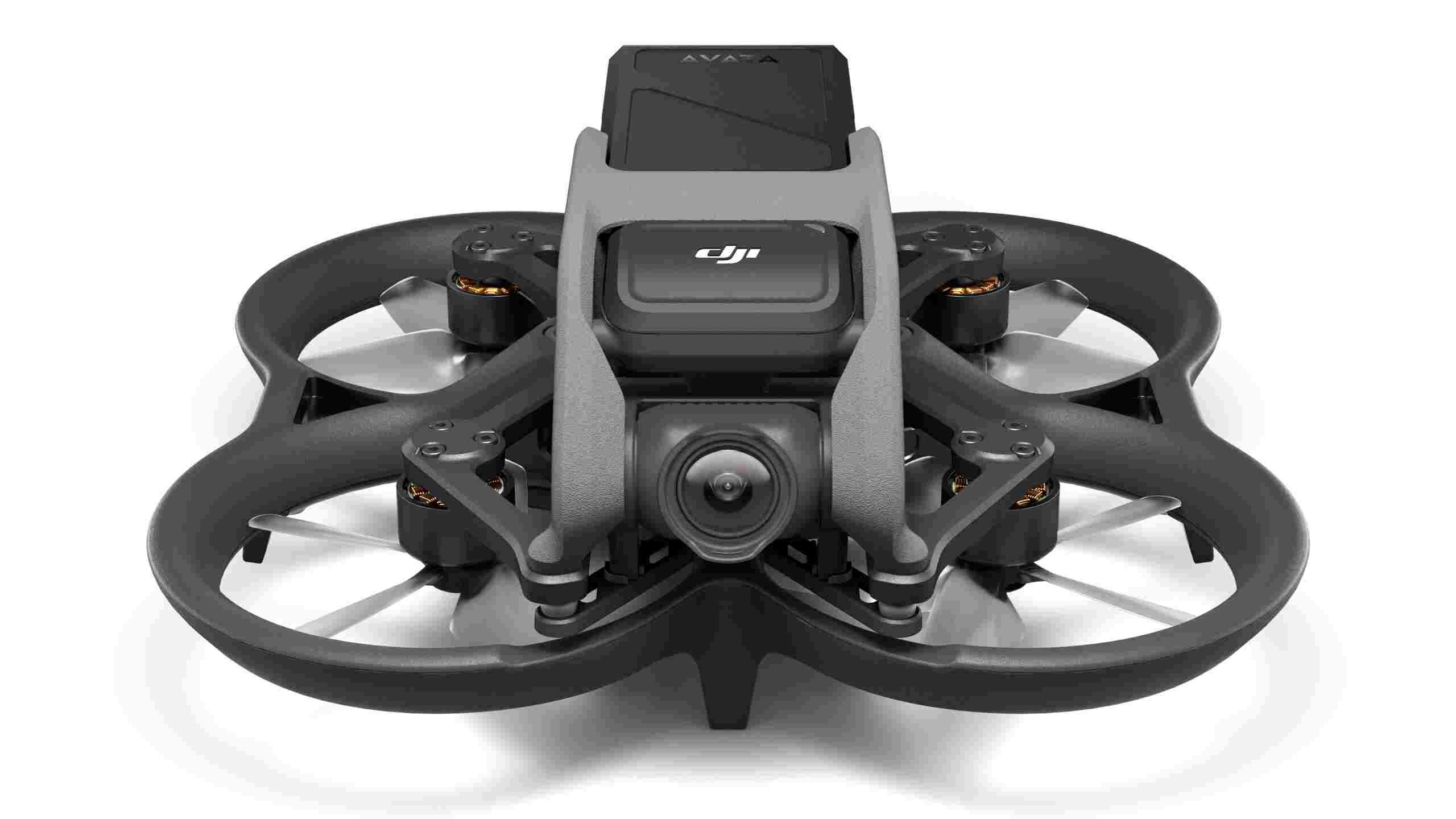 The DJI Avata is widely regarded as one of the most impressive ready-to-fly cinewhoop currently available. The Avata has a camera capable of recording 4k video, eliminating the need for additional attachments. Take your photography to the next level with a sensor that measures 1/1.7 inches, a field of view of 155 degrees, and flagship stabilization.

The impressive flight time of up to 12 minutes and upgraded safety features are both offered by Avata. Because it has an integrated propeller guard, it can withstand light collisions, maintain its altitude, and continue flying.
With the DJI O3+ video transmission system, you can get a live feed that is both crisp and responsive even at distances of up to 10 kilometers.
The DJI Avata FPV Cinewhoop is the perfect drone for anyone who wants to feel one of the best about flying FPV. This drone will give you the experience you've been looking for, thanks to its easy controls and long range. So if you want to fly seriously, get a DJI Avata FPV Cinewhoop today.
DJI Avata Specs:
Weight: 410g (0.9 lbs.)
Size: 180×180×80mm
Camera: Type 1/1.7 (7.6×5.7mm) 48MP CMOS image sensor
FOV: 12.6mm equivalent lens (155º FOV)
Video: 4K/60p and 2.7K/100p flight at 150Mbps (with new Goggles 2)
Sensor: Downward obstacle sensing
Transmission: DJI's O3+ transmission system for 10km range, dual frequencies, 50 Mbps bitrate
Flight time: up to 18-minute max flight time
Speed: 97 kph (60 mph) max speed
GEPRC Cinebot30 with DJI O3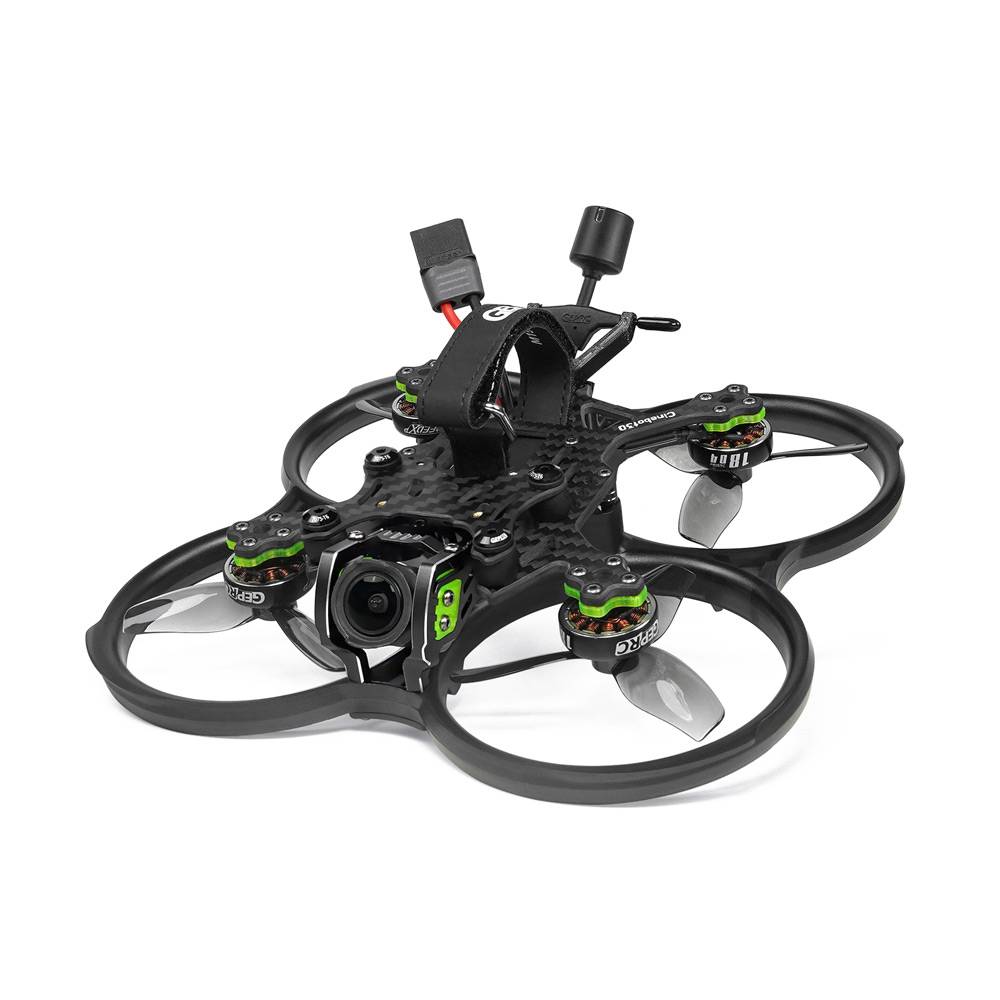 Introducing the GEPRC CineBot30, the epitome of excellence in HD FPV drones. Meticulously crafted with a fusion of engineering and aesthetics, this 3″ powerhouse is a testament to GEPRC's commitment to innovation and quality.

Constructed with aviation-grade 7075 aluminum alloy, the camera mounting bracket and fuselage aluminum column offer unparalleled durability and stability. Coupled with impact-resistant PC material for injection molding, the CineBot30 can withstand the rigors of intense flights, ensuring a long-lasting and reliable companion for your aerial adventures.

Equipped with powerful 1804 motors, this drone delivers surging torque, effortlessly handling ultra-low altitude maneuvers with precision and grace. The GEPRC professionals have fine-tuned the CineBot30 for optimal performance, guaranteeing smooth and responsive flights.

Capture the highest image quality with the 1080P 60FPS capability, ensuring stunning visuals with every shot. With a delay as low as 30 milliseconds and the highest bit rate of 50MBPS, you'll experience real-time, lag-free FPV footage that immerses you in action.

Featuring the GEP-F722-45A AIO V2, the CineBot30 boasts seamless integration and ease of use. The quick-disassembly design allows for effortless maintenance and customization.
The DJI O3 Air Unit and jello reduction technology will make your footage silky-smooth and free from unwanted vibrations.
Embrace the future of aerial cinematography with the GEPRC CineBot30. Its cutting-edge features, robust build, and exceptional performance make it the ultimate companion for capturing breathtaking moments from above.
GEPRC Cinebot30 Specs:
Model: Cinebot30 HD Quadcopter
Charger connector: XT60H-M
Propeller: HQ prop T76mm
FC: GEP-F722-45A AIO V2
MCU: STM32F722RET6
Bottom plate: 1.5mm
Isolation Plate: 2mm
Wheelbase: 127mm
VTX: DJI O3 Air Unit
IMU: ICM-42688-P
Frame: GEP-CT30
Main plate: 3mm
Antenna: DJI O3
Camera: DJI O3
Recommended Battery: LiPo 4S 1100mAh-1300mAh (4S Version) / LiPo 6S 850mAh-1100mAh(6S Version)
Video resolution: 4K@50/60fps, 2.7K@50/60/100/120fps, 1080p@50/60/100/120fps
Motor: SPEEDX2 1804-2450KV(6S Version)/ SPEEDX2 1804-3450KV(4S Version)
Weight: 234.7.2g (excluding battery, the above are TBS Nano RX version)
Receiver: PNP, TBS Nano RX, ELRS 2.4G
GEPRC CineLog 25 HD Pro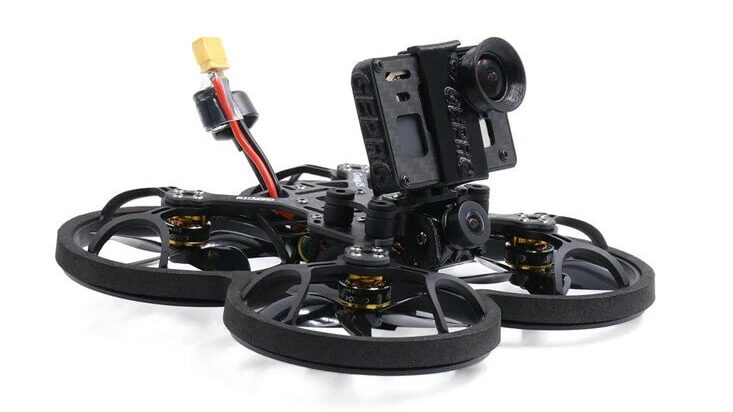 GEPRC CineLog 25 HD Pro – GEPRC is proud to introduce the newest version of their top-of-the-line camera drone, with features that will amaze and astound even experienced pilots.
The F411-20A 4S 2.5″ racing frame uses 1404 kV motors for long-range flight combined with brand new DJI Goggles! With its adjustable lens angle, you can be sure this thing has an ergonomic design perfect in every way possible.
The low noise optimization helps keep things smooth while spacing out some serious pixels, so your eyes don't get adjusted too quickly after takeoff.
The Cinelog25 also features dampening system adjustments so you can shorten the long-throw FPV antenna, as well as a breakaway HD camera mount for those unbelievable aerial selfies.
GEPRC CineLog 25 HD Pro Specs:
Model: GEPRC CineLog 25 HD Pro
Frame: GEP-CL25
Wheelbase: 109mm
Flight Controller:GEP-20A-F4
OSD:BetaFlight OSD w/ AT7456E chip
ESC: BLheli_S 20A
VTX:Caddx Vista/5.8G 500mW VTX
Camera: Caddx Nebula Nano
Props: GEMFAN D63-3
Motors: GR1404 4500KV
CineLog25 HD Weight: 125.6g(Without battery Battery )
Battery: Recommended 4S 450-750mAh (Not Included)
It includes a battery strap
iFlight Protek35 HD Cinewhoop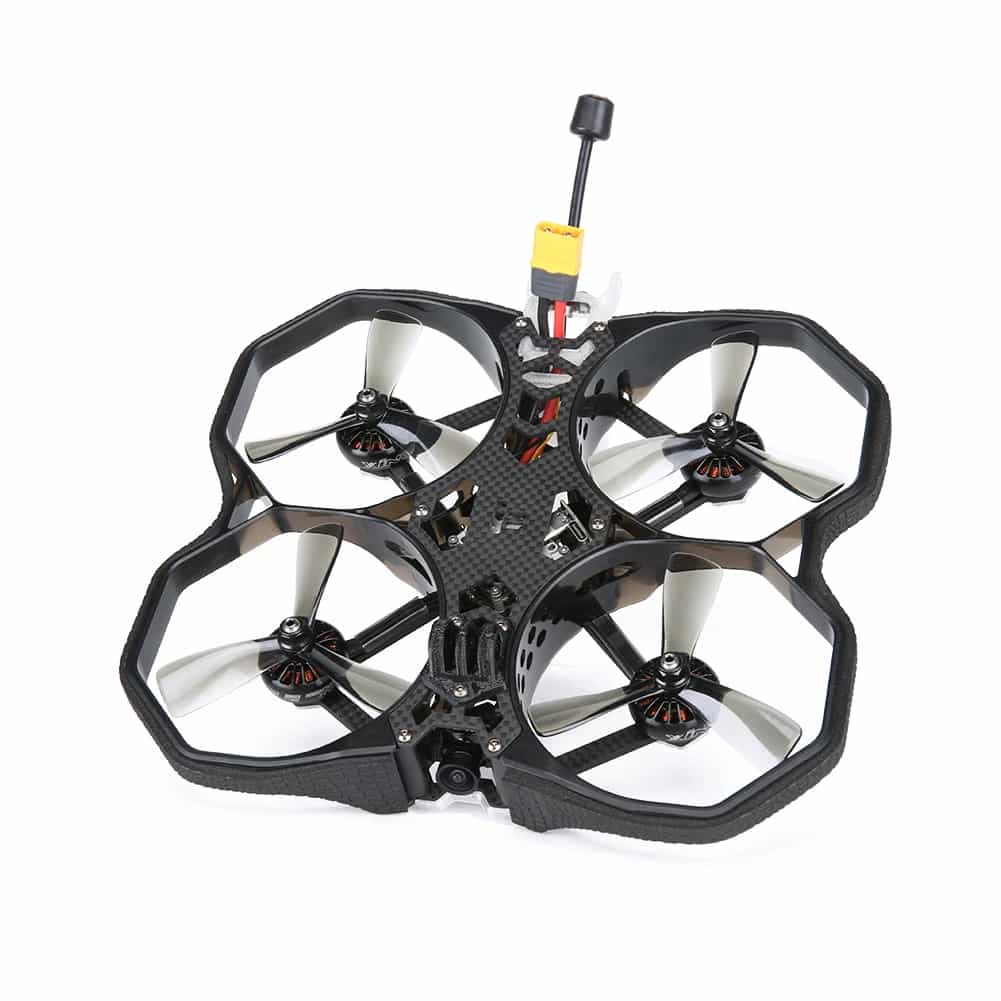 The iFlight Protek35 HD is a high performance, True-AIO racing drone designed for FPV drones. It features an integrated whoop frame that saves weight and space while providing increased durability over traditional designs!
The one-piece carbon fiber construction makes it light enough to fly all day long without feeling like you're carrying around unnecessary pounds or risking damage from harsh weather conditions.
Its low resonant design reduces jello filming footage, giving users their desired results in any type of environment imaginable.
The iFlight Protek35 HD gives you the option to fly with DJI Goggles V2 or TBS Nano Rx, which work seamlessly on your radio control.
Consider this if there's nothing else out there like what we have available right now because our competitors are already shipping packed full with props, etcetera!!
iFlight Protek35 HD Specs:
Model: iFlight Protek35 HD 3.5 Inch 151mm Whoop FPV Racing Drone 4S
FC&ESC: Beast AIO F7 45A FC ESC
Motors: XING 2203.5 3600KV Brushless Motor
Props: Nazgul 3535 3.5 Inch 3-Blade Propeller
Recommended Battery (Not Included): Recommend 4S 1550mAh Lipo Battery XT60 Plug
Flight Time: 9-10mins
Flight Time(with camera for Gopro): 6-7mins
Wheelbase: 151mm
Bottom Plate Thickness: 3.5mm
Upper Plate Thickness: 2mm
Size: 118*91mm
Weight: 348±10g
Optional Receiver:

BNF-DJI Version: with Built-in DJI Receiver
Frsky XM+ RX Version: with Built-in DJI RX and with External Frsky XM+ RX
Frsky R-XSR RX Version: with Built-in DJI RX and with External Frsky R-XSR RX
TBS Crossfire Nano RX Version: Built-in DJI RX and w/ External TBS Crossfire Nano Receiver
BuyiFlight Protek35 HD on Amazon.
GEPRC CineLog35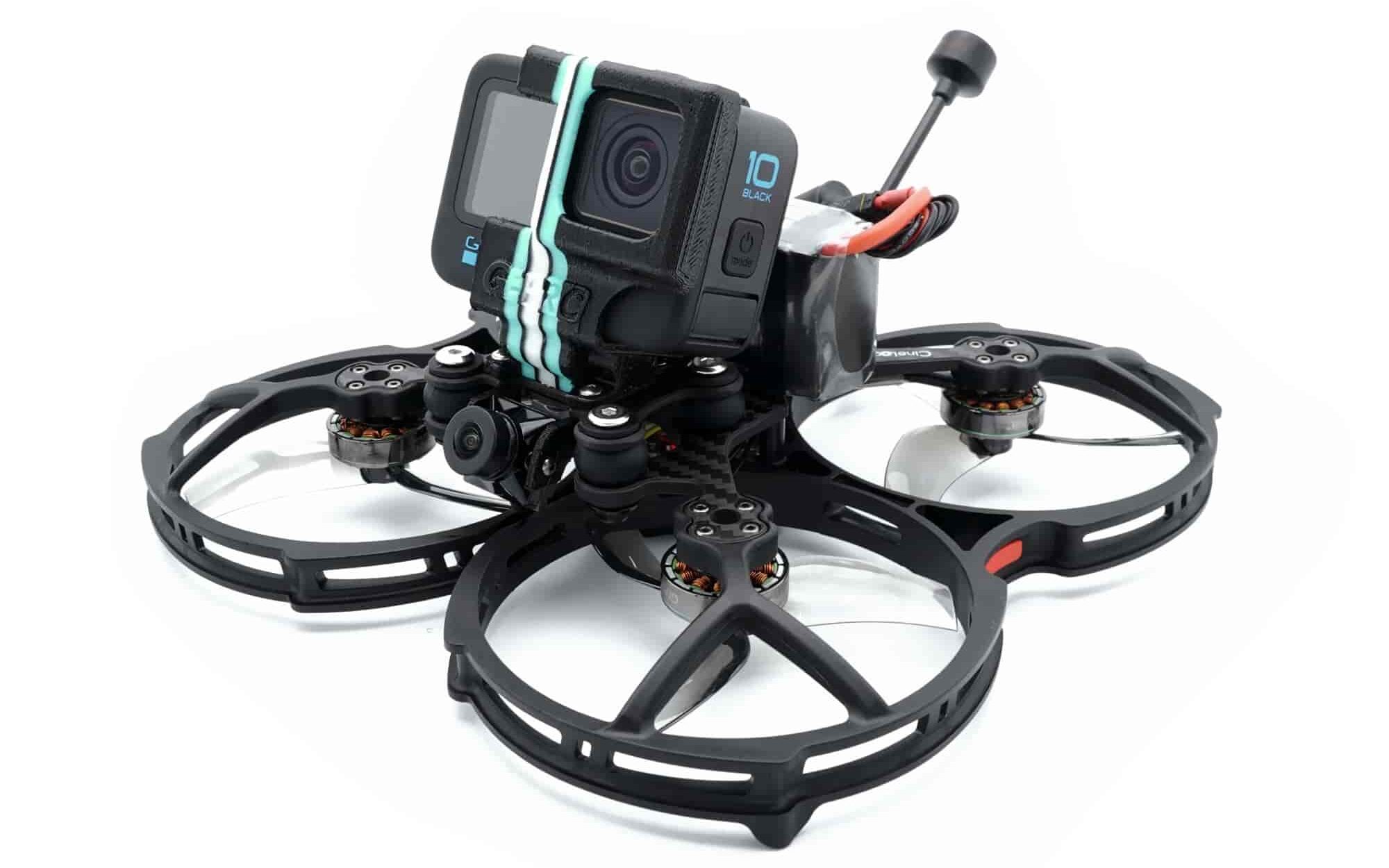 GEPRC CineLog35 has a 3.5-inch integrated protection guard to ensure flight safety. It ensures the new design is well-suited for many aspects such as low noise, vibration reduction, durability and high strength structural design. This is ideal for shooting stability with improved damping rings, improving your handling qualities in any environment!
The drone is equipped with VISTA HD VTX & Nebula Pro Camera. Still, if you're looking for something different, it also offers an insta360 Go2 camera/Naked GoPro Hero 8 or even CADDX peanut peeler mountable via accessory mounting plate too (included).
GEPRC CineLog35 Specs:
Model: GEPRC CineLog35 HD Nebula Pro
Frame: GEP-CL35
Wheelbase: 142mm
FC system: GEP-F722-45A AIO(6S)//GEP-F722-35A AIO(4S)
OSD: BetaFlight OSD w/AT7456E chip
ESC: BLheli_S 45A
VTX: Vista
Camera: Caddx Nebula Pro
Propeller: D90-3
Antenna: Momoda Long version UFL LHCP 175mm Atenna
Motor: GR2004-1750KV 6S Version, GR2004 2550KV 4S Version
Weight: 236.6g (CineLog35 HD VISTA Nebula Pro 4S PNP)
Receiver: PNP(Vista built-in DJI receiver)/Frsky R-XSR/TBS Nano RX

Recommended Battery:LiPo 4S 850mAh-1500mAh
LiPo 6S 850mAh-1100mAh
Foxeer Foxwhoop 25 Cinewhoop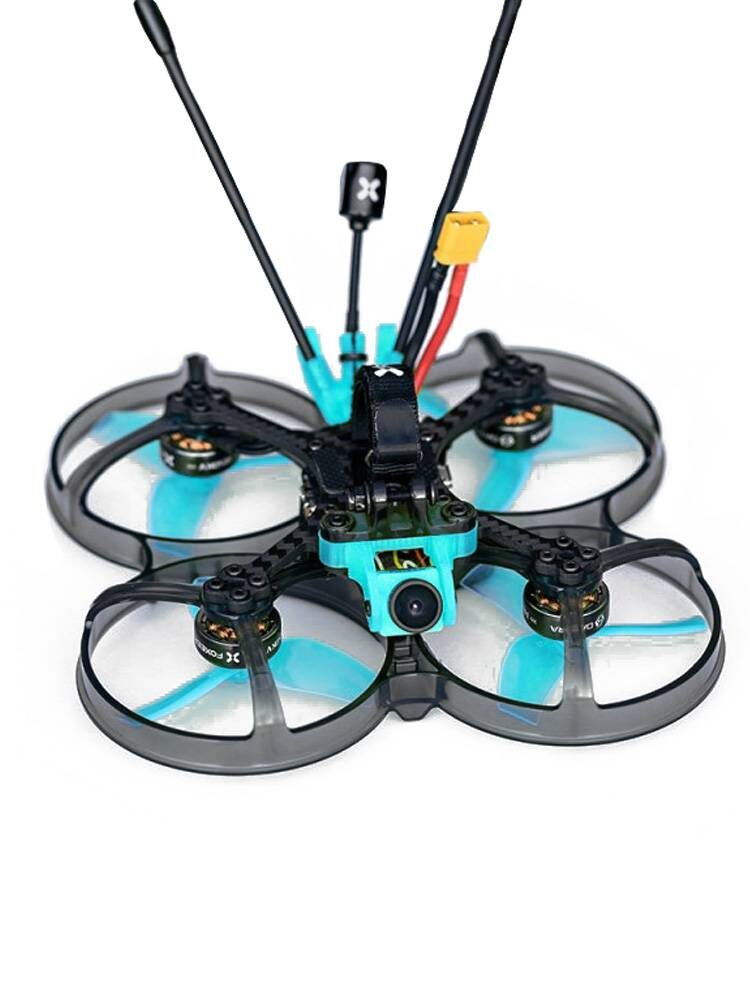 Introducing the Foxwhoop 25 Cinewhoop, a groundbreaking marvel of engineering and design that will revolutionize your aerial videography experience. Crafted with precision from T700 carbon fiber, this rugged frame ensures unmatched durability, while the "unbreakable" prop guards provide the ultimate protection for your valuable components.

Equipped with the formidable Foxeer 45A Reaper AIO V2, this Cinewhoop packs an immense power that guarantees unrivaled performance. The seamless integration of the all-in-one system eliminates unnecessary clutter and simplifies your setup, allowing you to focus on capturing breathtaking footage.

With a recommended battery of 4S 650mAh or above, the Foxwhoop 25 Cinewhoop achieves a remarkable flight time of up to 7 minutes. This means you'll have ample time to capture every cinematic moment without interruptions.

Unleash your creativity and elevate your aerial cinematography with the Foxwhoop 25 Cinewhoop. It's time to soar above the competition and capture stunning visuals like never before.
Foxwhoop 25 Specs:
Material: Toray T700 carbon with silky coating
Wheelbase: 104mm
Bottom plate mounting hole: 20×20/25.5×25.5mm M2
AIO: Foxeer 45A Reaper AIO V2
Props: Dalprop New Cyclone T2530
Camera: Apollo/Digisight
Camera size: 14mm/ 19mm optional
Motor: Datura 1404 3850KV
Antenna: Micro lollipop ufl tube – RHCP
Motor Mount: 9mm
VTx: HDZero
Recommended Battery: 4S 650mAh or above
Weight: Analog version weight 125g(without receiver and battery)
Axisflying CineON Z25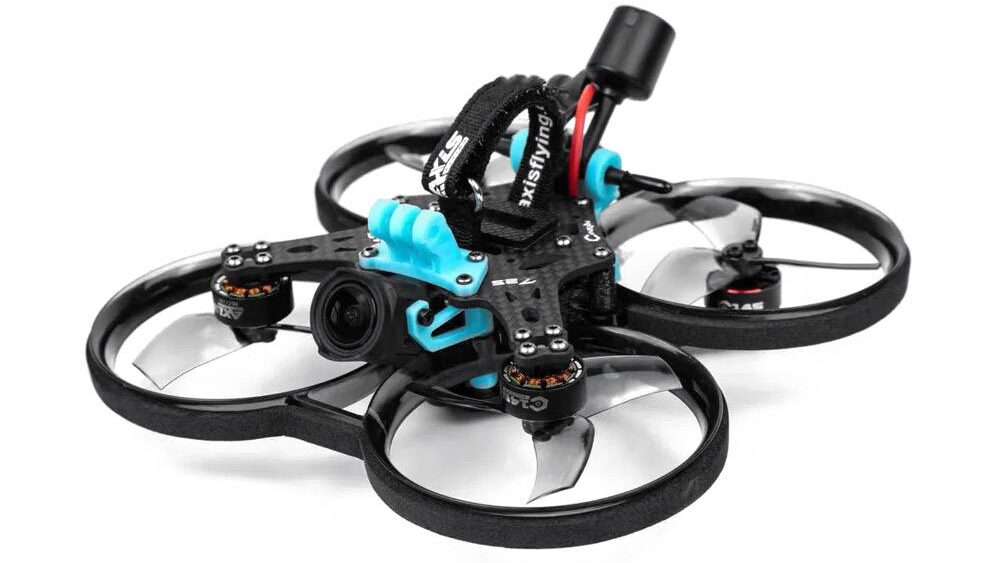 Introducing the Axisflying CineON Z25, the ultimate 2.5″ 4S Cinewhoop that takes your aerial videography to the next level. Engineered to perfection, this Cinewhoop is compatible with the DJI O3 Air Unit, ensuring breathtaking HD footage with exceptional clarity and detail.

The ducted aerodynamic layout of the Axisflying CineON Z25 is designed to minimize flight noise, allowing you to capture your shots without any distracting disturbances. The motor mount's innovative two positive and two reverse design enhances stability and maneuverability, ensuring smooth and precise flights every time.

Featuring an independent receiver storage, binding becomes a breeze, offering convenience and efficiency. The Axisflying CineON Z25 boasts excellent wind resistance, allowing you to fly confidently in various conditions and capture buttery-smooth footage even in challenging environments.

Equipped with the high-performance 20A/F411 AIO and C145 Motors, this Cinewhoop delivers unparalleled power and torque, enabling dynamic maneuvers and precise control. Elevate your aerial cinematography with the Axisflying CineON Z25 and unlock limitless creative possibilities in fpv drone videography.
You can also check the new Axisflying C25 V2 here.
Axisflying CineON Z25 Specs:
Flying time: 4′ with Action 2 / 4'30" with Insta360
Propellers: Gemfan D63-5 Props / D63-3 Props
Motors: Axisflying C145-4500KV
Weight: 58.2g (with all TPU)
AIO: Over 20A / F411
Wheelbase: 113mm
Carbon Fiber: T700
Props: Max 2.5inch
iFlight BumbleBee Cinewhoop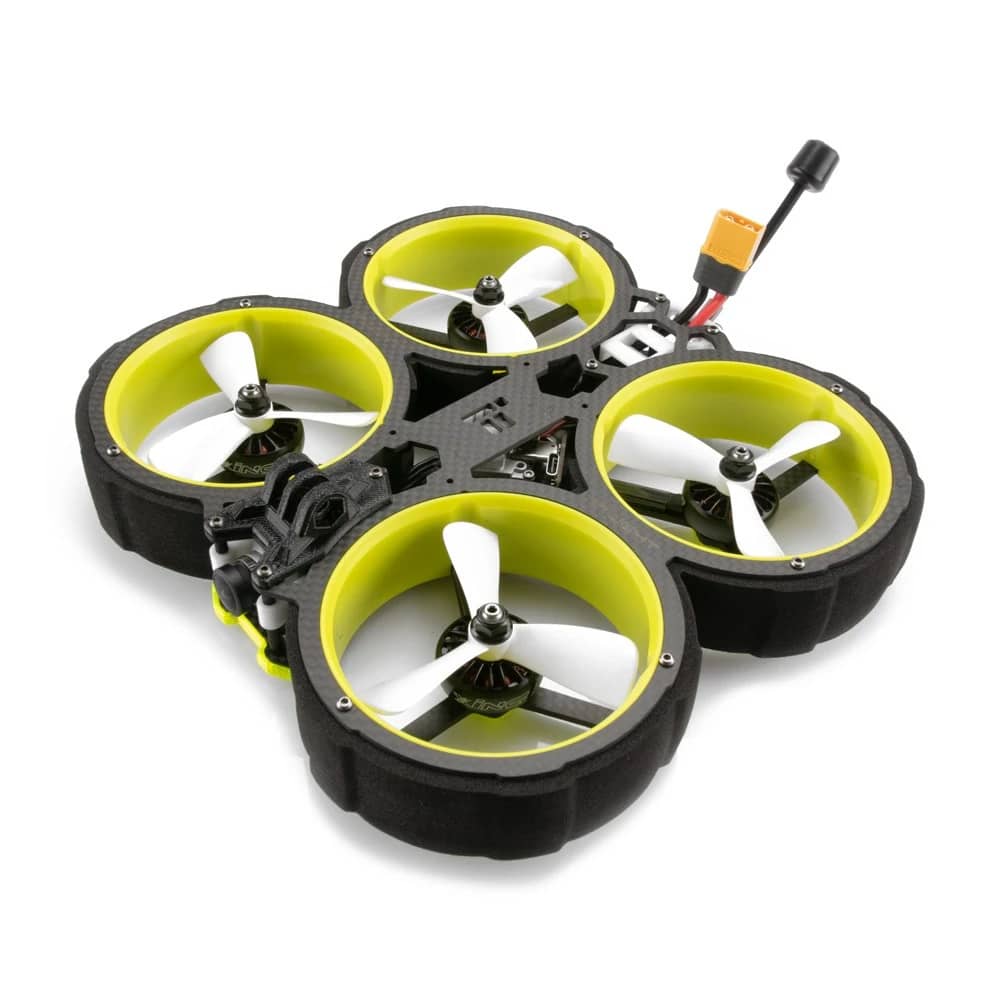 The iFlight BumbleBee V3 6S 3 Inch Cinewhoop FPV Racing Drone is one of the best drones on today's market! It has a lightweight, durable frame that can make your flight more enjoyable.
The high-performance True-AIO Board Beast STD F7 45A helps save weight and space while remaining efficient with its power management features for true performance in any terrain or environment you might find yourself flying over.
With pre-tuned settings to help create smooth freestyle aerial footage, it will surely give amazing demonstrations at home! The iFlight BumbleBee V3 6S, 3 Inch Cinewhoop drone, is a great choice for those who need an efficient, lightweight drone that can be used with their DJI FPV goggles and DJI FPV remote controller.
BumbleBee BNF Specs:
FC & ESC: Beast STD F7 45A BLHeli-S true AIO board
Motor: XING 6S 2205 2300KV
Wheelbase: 145mm
Body Size: 111*93mm
Bottom plate thickness: 2.5mm
Top plate thickness: 2mm
Top and bottom plate spacing: 27mm (aluminum standoff height)
Propeller size: 3 inch
FC pattern: 20*20mm,30.5*30.5mm
FPV cam spacing: 19mm
Weight: 355.6g (without battery)
Recommended Battery (Not Included):

Fullsend 4S 95C 1300mAh(5-6 minutes flight time w/GoPro Hero8
Fullsend 4S 95C 1550mAh(6-7 minutes flight time w/GoPro Hero8)
Fullsend 6S 1050mAh
Buy iFlight BumbleBee on Amazon.
Diatone TAYCAN Cinewhoop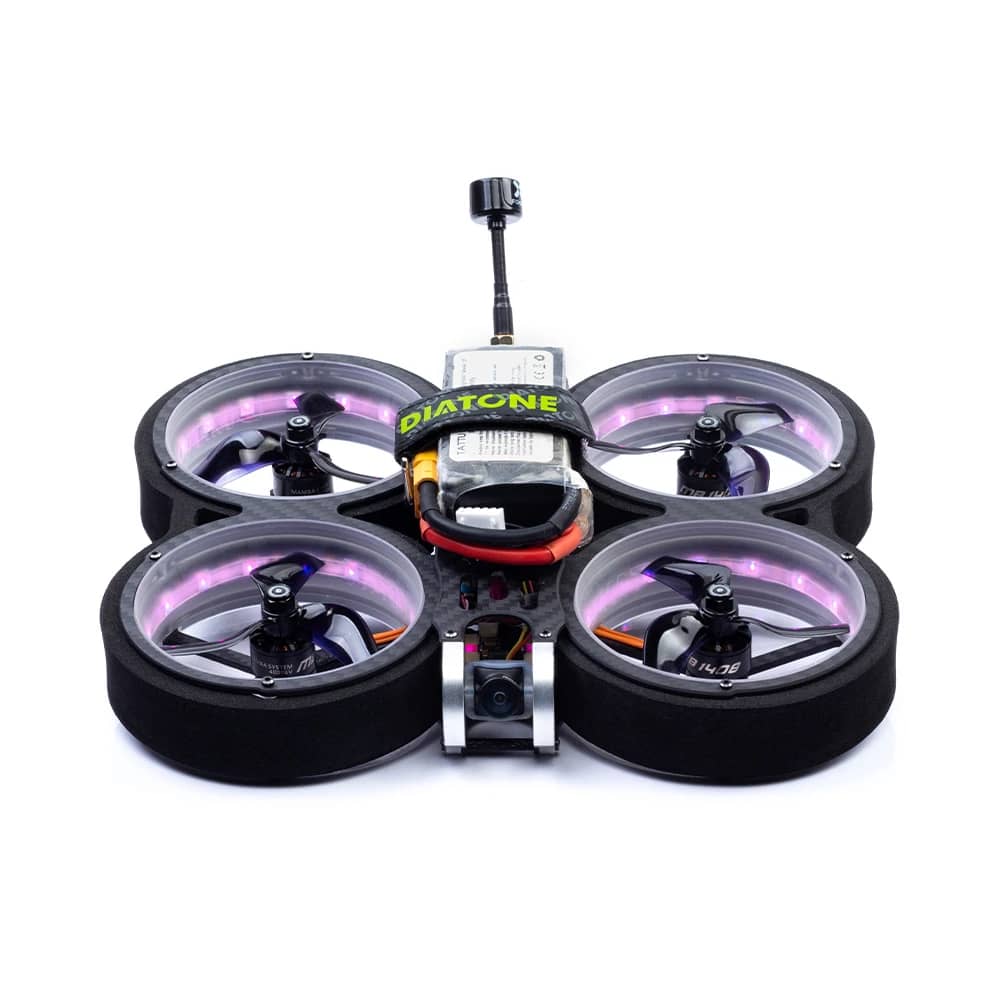 Diatone MXC TAYCAN Cinewhoop is the perfect drone for those who want to fly with style and class. With its sleek frame, this 3-inch cinewhoop will be your new best friend on every occasion!
The lightweight design also makes it easy for you when things get rough during flight time. It is not too heavy nor bulky like other drones out there, making them difficult (and dangerous)to control while airborne, thanks to their wide range of safety features, including prop guards built right into each propeller blade. It protects both yourself and anything else nearby from potential collisions or damage caused by flying objects tossed around inside an Airframe due to pilot error!
Diatone Taycan Specs:
Model: Diatone MXC TAYCAN 369 3 Inch 6S Cinewhoop drone
Frame Wheelbase: 158mm
Camera: Runcam Nano 2
Antenna: FOXEER Lolipop 3
VTX: MAMBA TX400 400mW
FC: MAMBA F405MINI MK3
ESC: MAMBA F35 /35A 6S ESC Dshot 600
MOTOR: MAMBA Racing MB1606 2700KV
LED: SW2812 Led Strap
Weight: 295g
Recommend Lipo size(Not Included):

6S:1050 mah (Flight time:6-9 min)
4S:1500 mah (Flight time:5-7 min)
Buy MXC TAYCAN on Amazon.
Holybro Kopis CineWhoop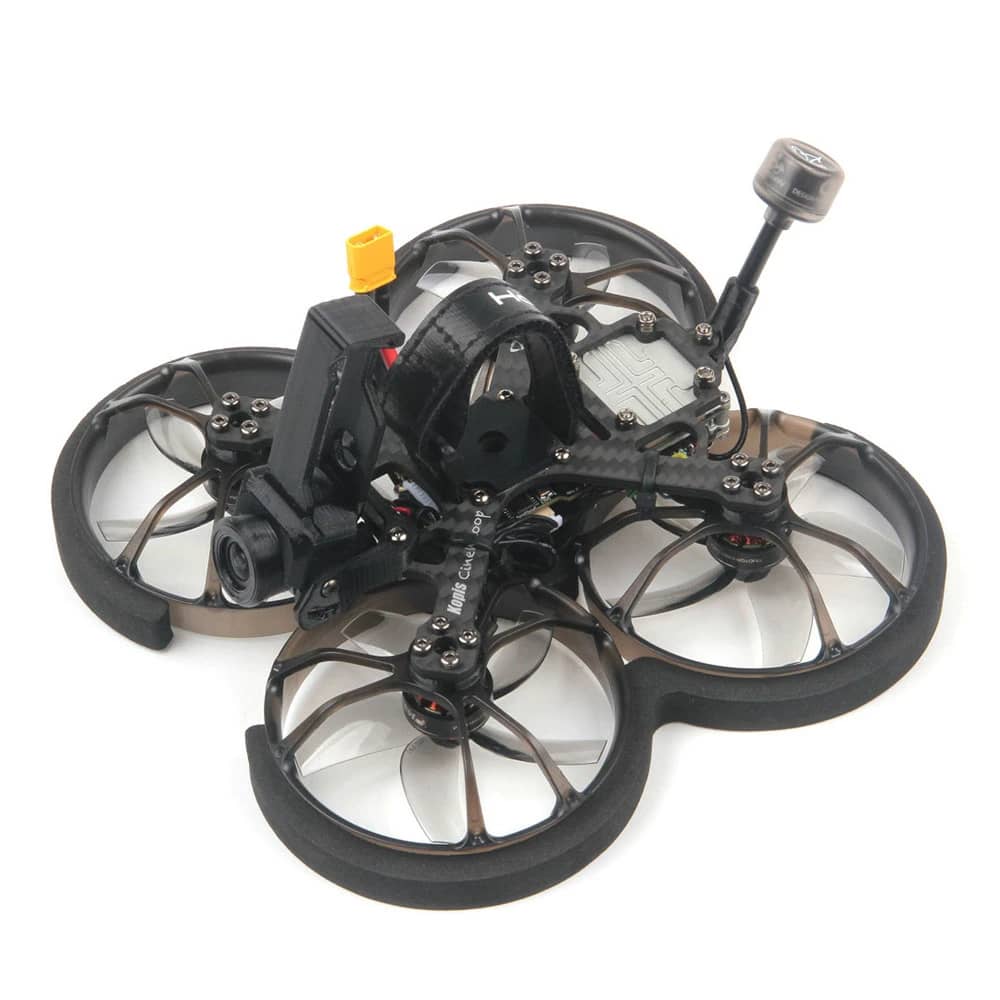 The Holybro Kopis CineWhoop is perfect for beginners in the world of drones! With this product, you can enjoy whooping through all those obstacles on your field with ease thanks to its mini size and lightweight frame made from 3K carbon fiber that only weighs 157g.
The drone wheelbase measures out at 105mm, making them super easy to handle while also giving room enough so larger propellers cant get stuck inside the frame while flying. This also means the ends are open, so you can still take off if you do get stuck. The Holybro Kopis CineWhoop is a drone that can be used with DJI's latest products, including the company's new FPV Goggles V2 and DJI FPV Radio Controller.
Holybro Kopis Specs:
Model: Holybro Kopis Cinewhoop 2.5
FC: Kakute F4 V2 Mini Flight Controller
ESC: Tekko32 F4 4in1 mini 45A ESC
FPV Camera: CADDX Vista Nebula Nano HD Digital System
Motors: T-Motor F1404 3800KV Brushless Motor
Props: Gemfan D63-5B 2.5 Inch 5-Blade Propeller
Version: PNF ( Without Caddx Nebula Pro Vista Kit HD Digital System Version)
Drone Wheelbase: 105.5mm
Frame Material: 3mm 3K Carbon Fiber
Weight:157g (Without battery)
Take-off Weight: 248g (take an example as 4s 850mah Lipo)
BETAFPV Beta95X V3 Cinewhoop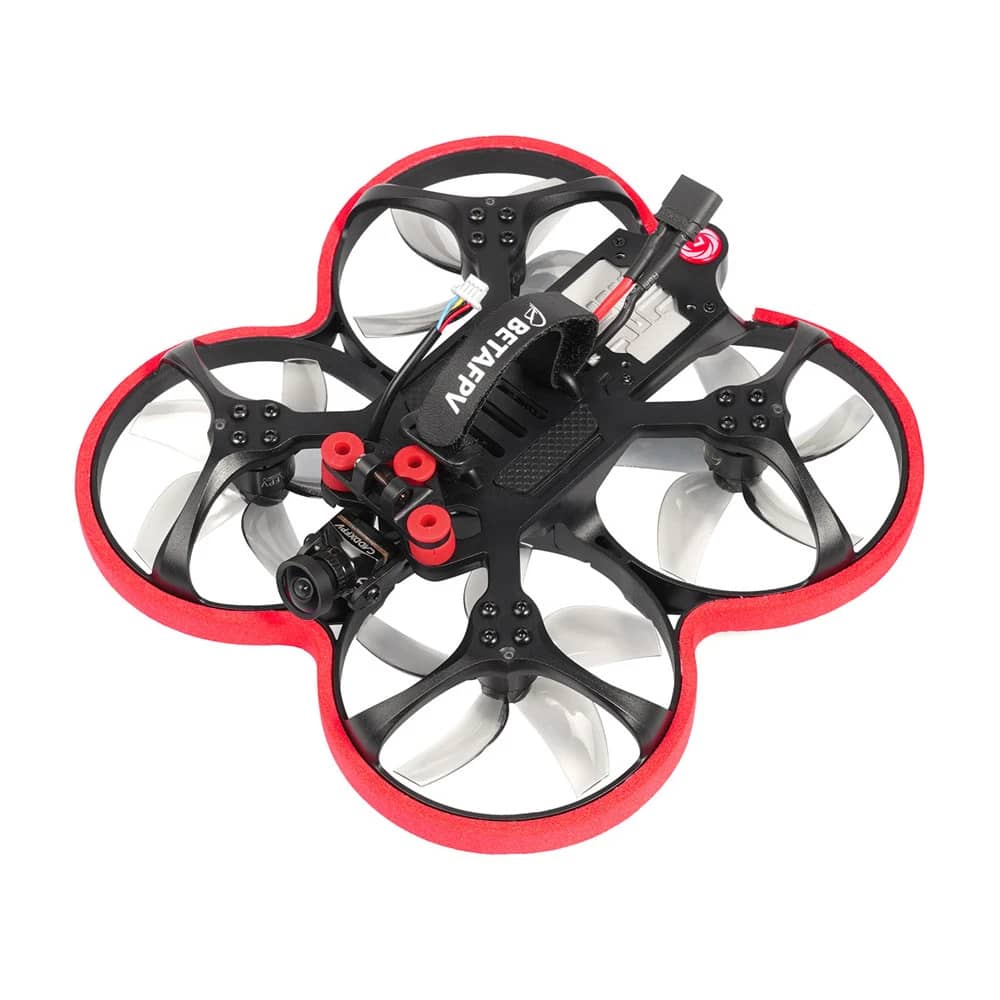 BETAFPV's new Beta95X V3 HD Digital VTX F4 AIO 20A Toothpick FC quadcopter is the perfect drone for any FPV racer! It comes with Caddx Nebula Nano HD System and supports SMO cameras.
This high definition flyer will bring pilots an amazing flight experience. Giving them a clear vision of every highlight moment in their journey through challenging terrains or aerial battles. Just like never before seen on traditional cinematics drones that are out there today.
The Betafpv Whoop Quadcopter(Hd-DigitalTx)reinvents how cinematic footage can be captured while still staying close enough to get close-up shots too. The updated & improved toothpick frame design is lightweight and durable, made of high strength carbon fiber. It has to be the best FPV racer whoop that's available today.
Beta95X V3 Specs:
Model: Beta95X V3 (HD Digital VTX)
Weight: 116.7g (without battery)
Wheelbase: 95mm
FC: F4 AIO 20A Toothpick Brushless FC V4
Frame: Beta95X V3 Frame Kit
Motors: 1404 4500KV Brushless Motor
Props: Gemfan D63 3-Blades Props
Receiver Option: Frsky FCC/TBS/PNP
FPV Camera Degree: 25°- 45°
HD digital camera & VTX: Caddx Nebula Nano HD System
Camera Mount: SMO 4K camera Mount
HD Camera Mount Degree: 5°- 45°
Antenna: Air 5.8GHz Antenna (LHCP)
Battery: 450mAh 4S battery(Not included)
Charge Connector: XT30
Flight time: About 3.5 min flight with 450mAh 4S battery
Receiver Option: PNP without receiver/ Frsky XM+(fcc)
Buy Beta95X V3 on Amazon.
GEPRC CineQueen 4k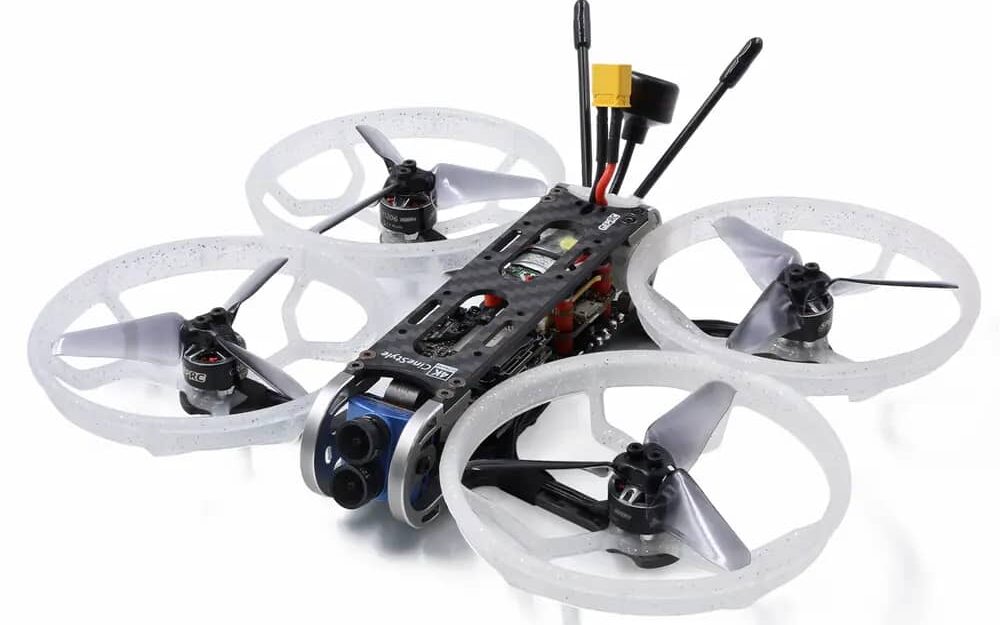 GEPRC has created a new edition to their line, with the refined design and high performance of an FPV racing drone. The 4K 3inch Tarsier V2 CineWhoop drone is perfect for those who want something more than just capturing video from their flights or aerial photography but also having some fun in flight!
Features such as 500mW TX power output effectively improve your flight distance while still managing stable operation on your gyro without any noticeable lag time at higher speeds.
This quadcopter will make you feel royalty when performing stunts before audiences large enough to fill up entire stadiums using its Full Soft Mounted FC System. It provides a clean operating environment, ensuring nothing gets in the way of achieving perfect flying.
GEPRC CineQueen 4k Specs:
Model Name: CineQueen 4K
FC & ESC : STABLE V2 F4 30A
Camera: Caddx Tarsier V2 4K
Motor: GEP-GR1206 3600KV Motor
Propeller: 3inch 3-blade
Frame: Full 3K carbon fiber
Wheelbase:145mm
VTX 5.8G 500mW
Antenna: Momoda 5.8G RHCP
Input Battery: 3-4S(4S 650mAh – 4S 850mAh)
Receiver option: Frsky XM+ / Frsky R-XSR / TBS NanoRX / FlySky A8SV2
Weight: 156g(without battery)
Buy GEPRC CineQueen on Banggood
Eachine Cvatar Cinewhoop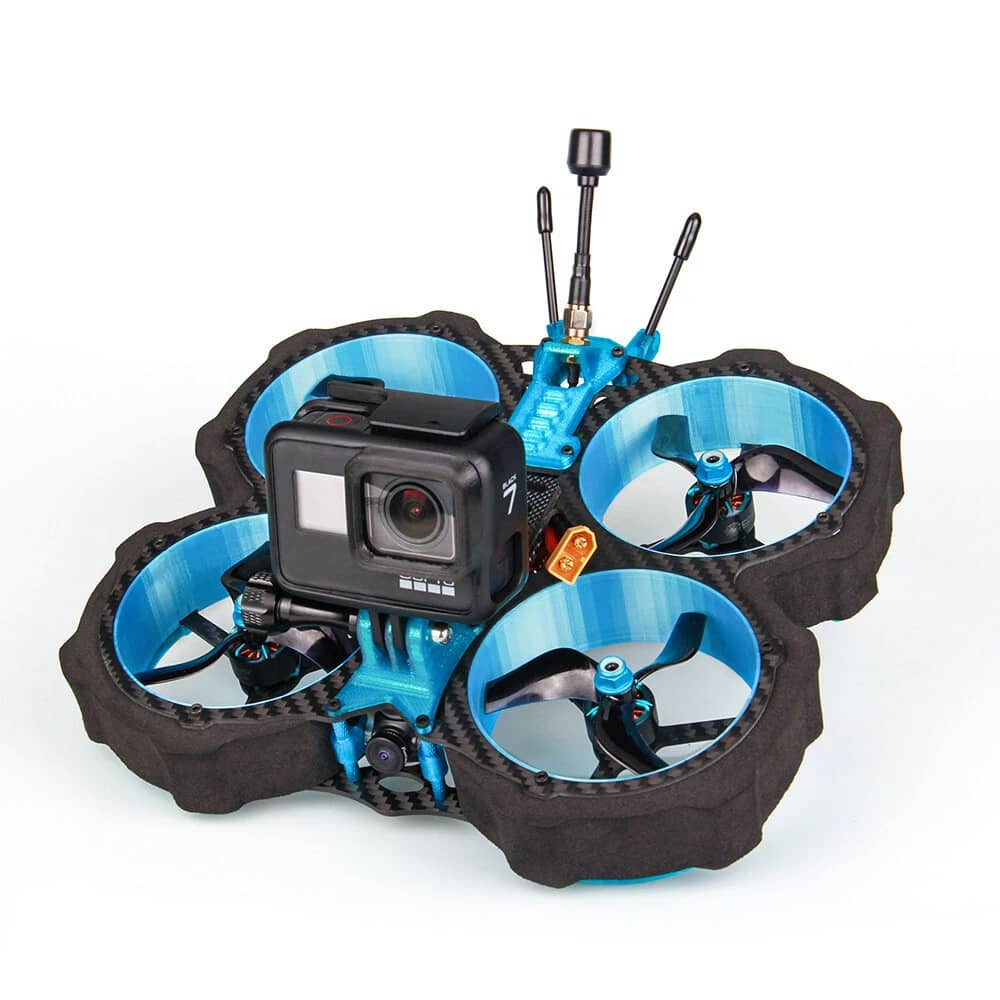 The new Eachine Cvatar cinewhoop drone is the perfect combination of form and function. With its durable frame, lightweight components, a high-performance camera system that can fly safely around people or property – it's no wonder why this sleek competitor has taken over many races in just a few months!
Alongside its F722 FC plug for DJI digital systems compatibility with ease of use, you can't go wrong with the Cvatar drone.
Eachine Cvatar Specs:
Model: Cvatar 142 Cinewhoop FPV Racing Drone BNF/PNP
Net Weight:288.2g (Weight with receiver)
Frame Wheelbase:142mm
FPV Camera Compatibility: 19/20mm
Type: 3 Inch Cinewhoop Frame
Weight:92.4g (Excluding TPU PLA)
Flight Controller: F722 Mini Flight Controller
ESC: 35A Blheli_S 3-6S 4in1 ESC
VTX: EACHINE TXC23 VTX
Camera: RunCam Nano2 FPV Camera
Motors: 1507 3600KV Brushless Motor
Props: Gemfan 75mm 3 Inch 3-Blade Propeller
Recommended battery(Not Included):4S 1300-1550mAh
Flywoo CineRace20
In the world of FPV racing drones, there is a new player in town called Flywoo CineRace20. This sleek and stylish drone features an onboard camera that provides those amazing first-person views as you fly around your favorite course or race track!
With almost all parts being injection molded, it's very lightweight but still tough enough to take some abuse from crashing into things on purpose, too ( although we can't say no one has ever done this before).
The power setup was designed with efficiency at its core, so pilots don't have any problems staying airborne for long periods without running low on battery life during their races. It is a feature not many other competitors offer right now either!
Finally, because most people want something unique when they're out exercising their competitive nature, Flywoo CineRace20 is fully customizable with several different color options to suit your style and your flying preferences if you're using it for racing.
Flywoo CineRace20 Specs:
Model: Flywoo CineRace20
Item Name: CineRace20 Analog w/ Caddx Ant
Weight: 93g (without battery)
FC & ESC : GOKU GN 413 13A AIO
Frame: CineRace20 Frame Kit
Motors: NIN V2 1203PRO 3400Kv
Props: Gemfan D51-5
VTX: VTX625 450mw
Antenna: Flywoo Circular RHCP 5.8Ghz Ant ( UFL-Length: 115mm Tube 45mm )
Recommended (Not included): 4S HV 300mAh – 900mAh battery
Geelang Ligo78X PRO V2 HD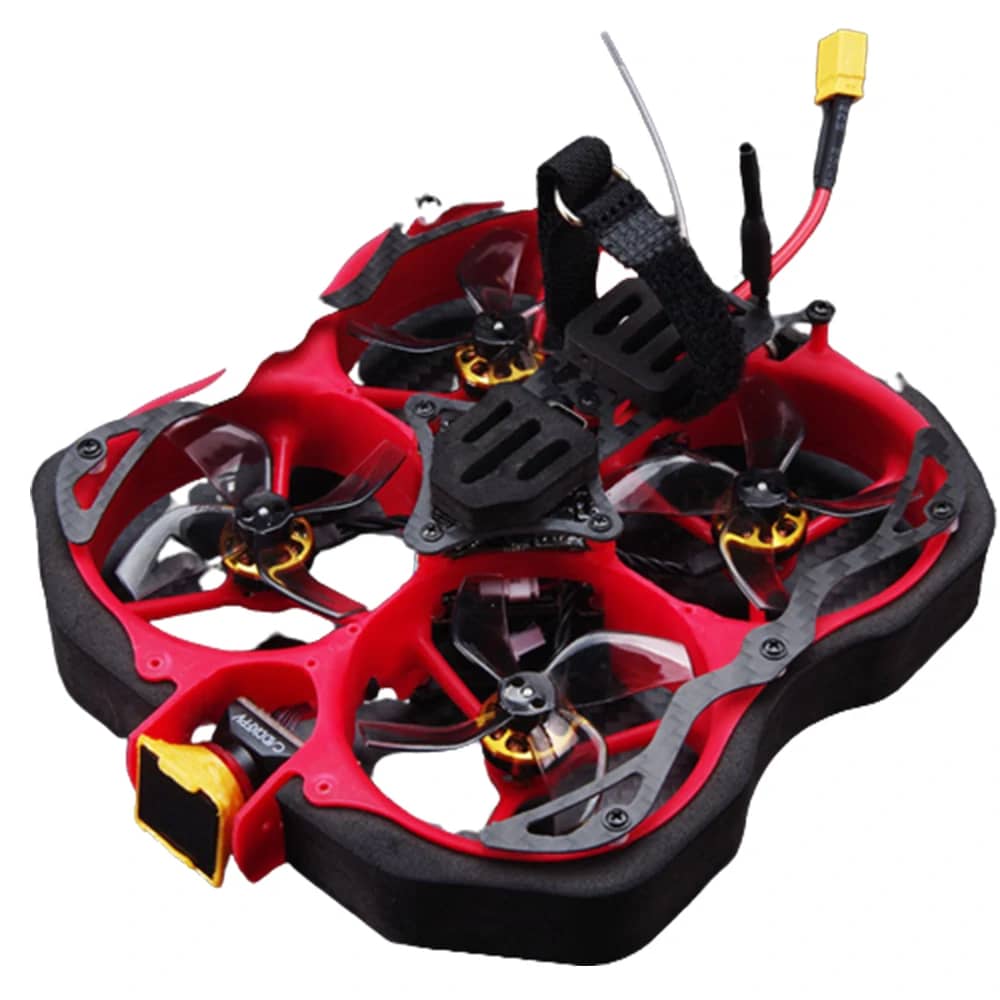 This Ligo78X PRO V2 is 78mm 2 Inch 3S ducted cinewhoop FPV racing drone ready to take your racing experience to the next level. Integrated injection molding material, beautiful and solid with reliable structures that will not cause massive weight loss compared to other cinewhoop drones in its class.
This model also comes equipped with an adjustable flight control system of RGB LED lamps for those who want more than just speed!
Geelang Ligo78X PRO V2 Specs:
Model: GEELANG LIGO78X PRO V2 ( 1080P HD)
Wheelbase: 78mm
Size: 119x132x23mm(Camera mount not included)
Weight: 73g(Camera mount not included)
Motors: GL1202 KV8700
Flight controller: SH50AF4 MATEKF411
ESC: Onboard 4in1 ESC MCU upgraded to EFM8BB21
Camera: Caddx baby turtle whoop version
Battery recommended ( NOT Included): 2s-3s 450 – 550mah with XT30 Plug
Receiver (Optional):

Compatible Frsky NON-EU Receiver
Compatible TBS NANO receiver
HOMFPV Wingsuit Cinewhoop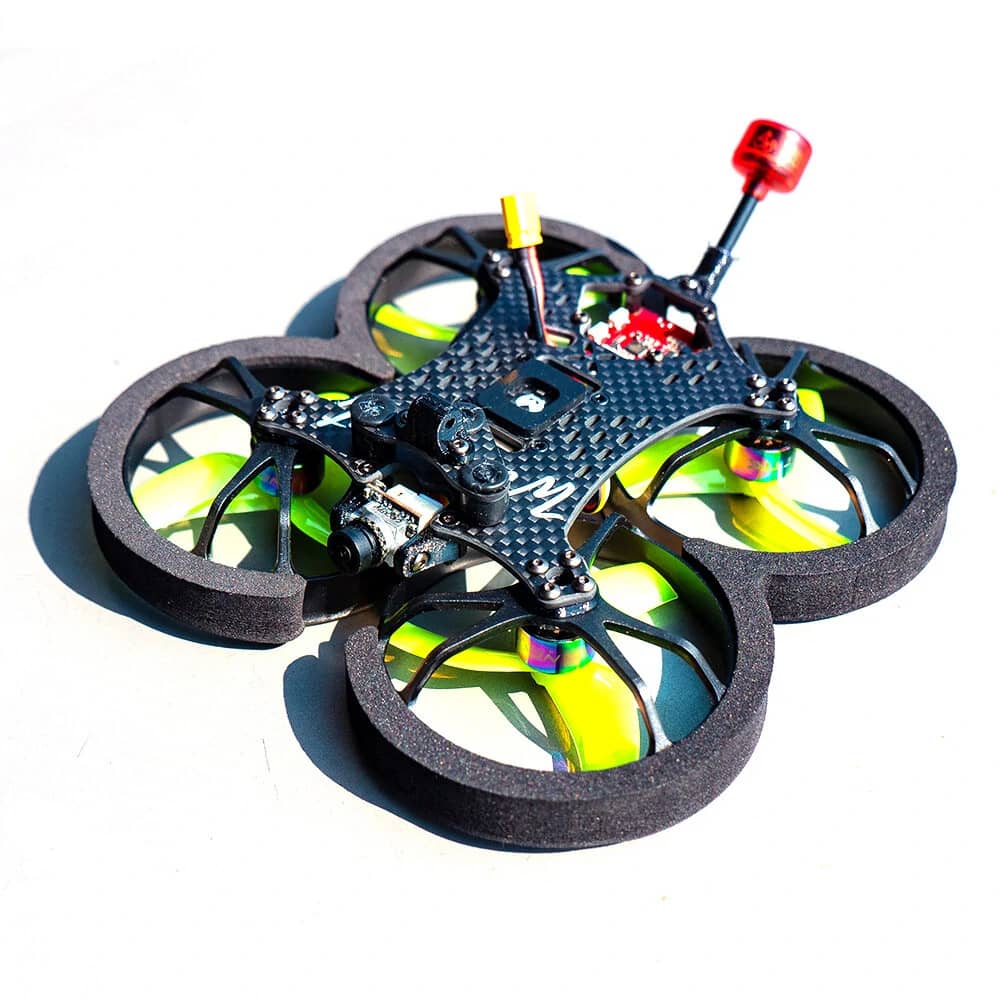 The HOMFPV Wingsuit is a compact drone with high-efficiency, form fitting wings that can be used for both indoor and outdoor flights. The compact design size of 100mm wheelbase and high-efficiency aerodynamic layout wing decorate the best Cinematic Drone to give you an excellent flying experience.
It has Caddx Vista Nebula F405F4 FC 4S 25A Blheli_S AIO ESC capable of reaching a maximum speed up to 45 mph with clean power!
The lightweight design (less than 250 g) allow for easy carrying around while taking off time only takes 7:30 minutes using TATTU 850 mAh 4s battery – making it perfect as your next traveling companion when on vacation or a business trip overseas!
Place any suitable antenna near enough so that signal quality will not be compromised during flight plus compatible Receivers like Futaba/CRSF/FrSky/Flysky.
HOMFPV Wingsuit Specs:
Model :HOMFPV Wingsuit
Wheelbase: 100mm
FC: F405 2 In 1
ESC: 25A, BLHeli_S AIO
Motor: 1106 4500KV Brushless Motor
Propeller: D63 2.5 Inch
Built-in Camera Shock Mount: For Naked Gopro6 / Insta360 GO
Battery(Not Included): TATTU 4S 650~850mAh
PNP HD Weight: 105g
HD Vista Weight: 135g
HD Vista Version: VTX: Caddx Vista
Camera: Caddx Nebula
BetaFPV Pavo30 Cinewhoop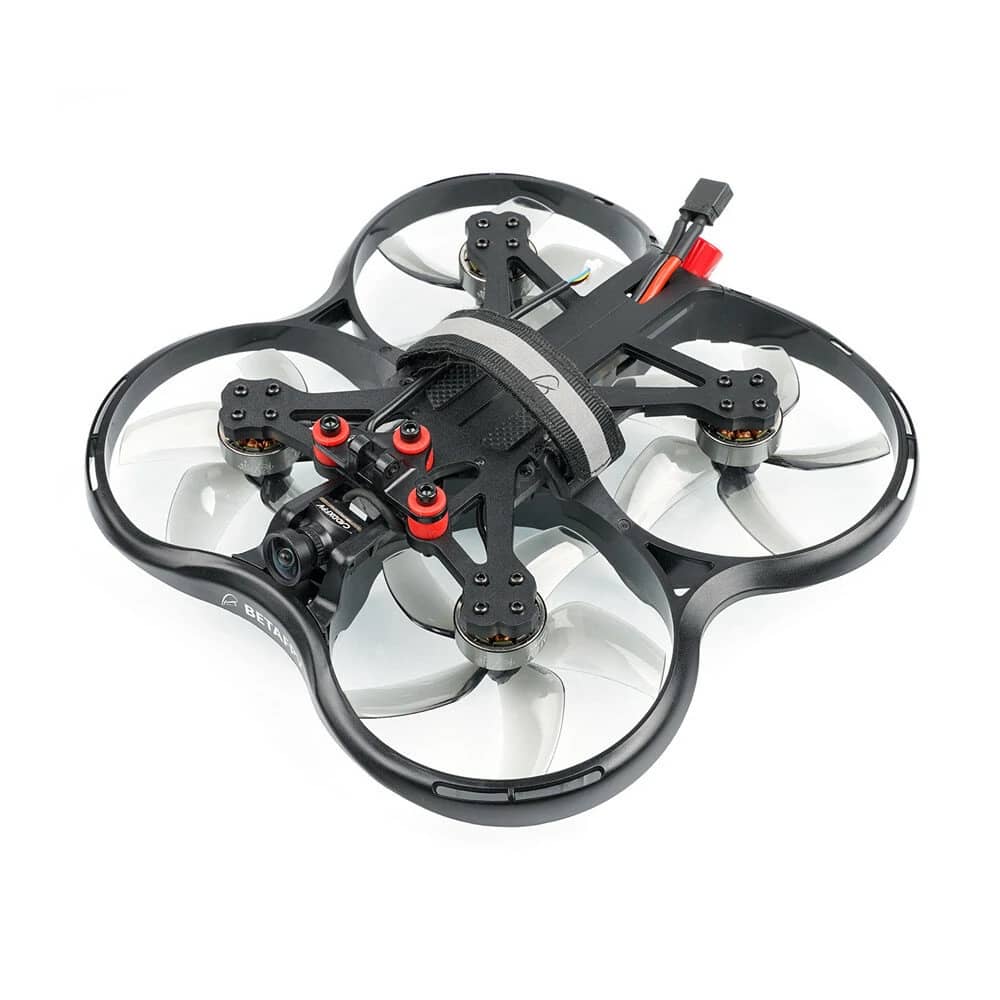 The perfect drone for both freestyle and cinematic shots, the BetaFPV Pavo30 is an all-purpose RC whoop that can handle any task at hand. With its 3″ propeller guard body size, it's not just compact but also durable enough to take on even more challenging obstacles than before with your favorite camera attached!
It can do everything from carrying SMO cameras or GoPro mounts depending on your needs and being able to record cool footage using either one at once thanks to its lightweight camera housing design, which makes flying more fun.
BetaFPV Pavo30 Specs:
Model: Pavo30 Whoop Drone (HD Version)
Weight: 73g (without battery)
Wheelbase: 118mm
Flight Controller: F722 AIO 35A FC
Frame: Pavo30 Frame Kit
Motor: 1506- 3000KV motor
Propeller: Gemfan D76 5-Blade props with 5mm shaft hole
Receiver Option: Frsky Xm+(FCC) /TBS /PNP without receiver
FPV Camera: Nebula Nano camera
VTX: VISTA HD Digital VTX
Camera Mount: SMO 4K camera Mount
Battery: 750mAh 4S battery /850mAh 4S battery (Not included)
Charge Connector: XT30
Flight time: About 6-8 minutes
HGLRC Veyron30CR Cinewhoop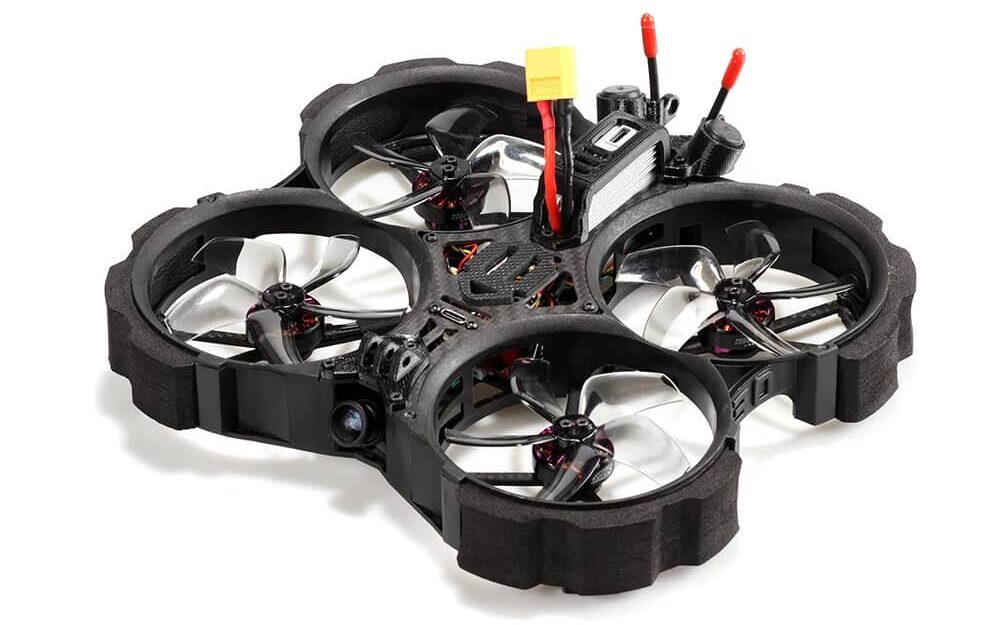 The HGLRC Veyron30CR Cinewhoop is a high-end racing drone that features an upgraded duct design with half eva protection. It can withstand tough crashes, making it perfect for those who want to race their drones without fear of damaging them!
The frame has been streamlined to reduce noise and weight while simultaneously protecting your electronics from harm during flights.
It comes with all the equipment you need to get started, including an amazing HD 140mm 3 inch FPV racing quadcopter frame and sleek Zeus35 Pro AIO 35A ESCs, so your flying experience will be top-notch!
HGLRC Veyron30CR Specs:
Model: HGLRC Veyron30CR
Weight: 251g
Flight controller: Zeus35 Pro AIO 3-6S Flight controller
Motors: AEOLUS 2004 Brushless Motor
Propellers: Gemfan D76 3 inch 5-blades
Camera: CADDX Polar Air Unit Digital System
Recommended battery (Not Included):

6S Version: 6S 650mah-850mAh
4S Version: 4S 750-1300mAh
We've provided some of the best Cinewhoop drones on the market in this blog post. If you are looking for high quality, affordable cinewhoop drone to fly around your backyard or office space, then these options will be perfect. All of these models offer impressive features and capabilities that make them worth considering before making a purchase decision.