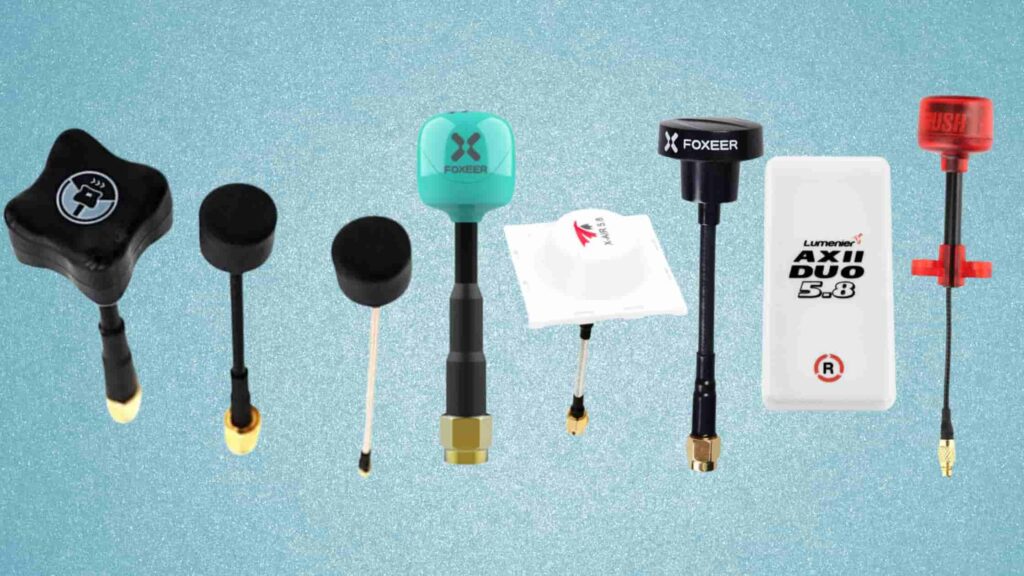 FPV flying requires a compatible device, such as a drone, and an appropriate antenna. Choosing the right antenna for your FPV drone can make all the difference in your enjoyment and performance. We've compiled a list of the best FPV antennas available today.
Foxeer Lollipop 4 Plus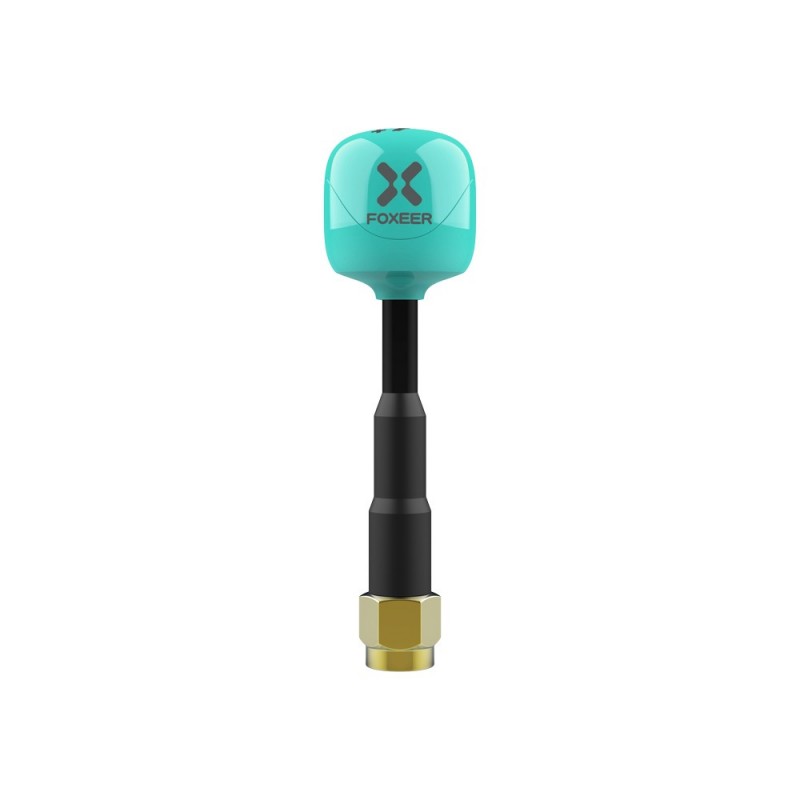 The Lollipop 4 Plus offers higher gain, better durability, and more advanced materials, making it a better choice for those looking for the best performance. With a gain of 2.6dBi and a frequency range of 5.8GHz, the Lollipop 4+ omnidirectional antenna is perfect for FPV flying.
Foxeer Lollipop 4+ Specs:
Center Frequency: 5.75GHz
Gain: 2.6dBi
Axial Ratio: Close to 1
Band Width: 5.5G~6GHz
Radiation Efficiency: 98%
SWR: 1.07 at Center Frequency
Polarization: RHCP/LHCP
Case Material: PC+ABS
Connectors: SMA/RPSMA/Straight MMCX/Angle MMCX/UFL Tube
LUMENIER AXII 2 5.8GHz Antenna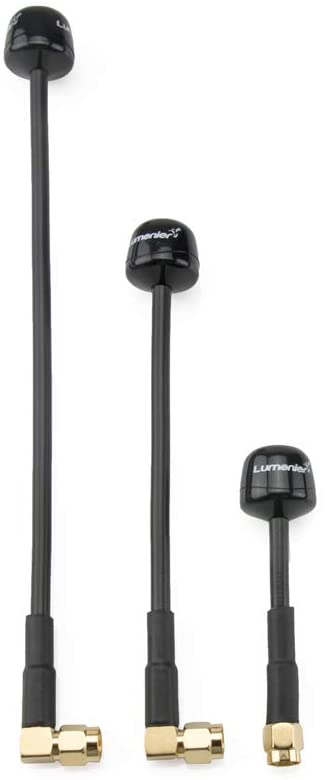 If you're looking for an upgrade to your current antenna solution, look no further than the Lumenier AXII 2 5.8GHz Antenna. This antenna offers a significantly improved range, with a higher gain (2.2dBic Gain) and wider bandwidth (5.3-6.2GHz).
It also has a cleaner signal and better interference rejection, making it a better choice for indoor and outdoor use. Plus, its injection-moulded housing is more durable than conventional antennas, making it the perfect choice for long-term use.
Lumenier AXII 2 Specs:
Gain: 2.2dBic
Axial ratio: 1.0 (near perfect)
Bandwidth: 5.3GHz-6.2GHz
Radiation Efficiency: 98%
SWR: <=1.5:1
Weight: 7.8g
Size: 73mm x 17.5mm
Cable: Semi-rigid RG402
Connector: SMA
VAS Ion Pro 5.8GHz Antenna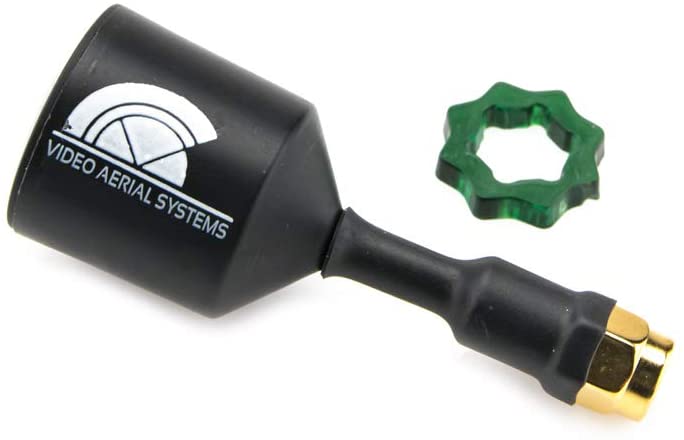 If you're a professional pilot looking for an antenna that can do it all, look no further than the Ion Pro 5.8GHz antenna. This versatile antenna is designed to be both a Tx and Rx, making it ideal for all environments.
Whether you need to get your signal to a far-off location or need to pick up signals from other FPV drones, the Ion Pro will help you get the job done quickly and efficiently. So, if you need an antenna that can handle any situation, check out the Ion Pro 5.8GHz antenna!
VAS Ion Pro Specs:
Gain: 2.5dbic
Axial ratio: 0.95 (measured)
Antenna Frequency: 5.8GHz
Polarization: RHCP
Antenna Connector: SMA
RushFPV Cherry 5.8GHz Antenna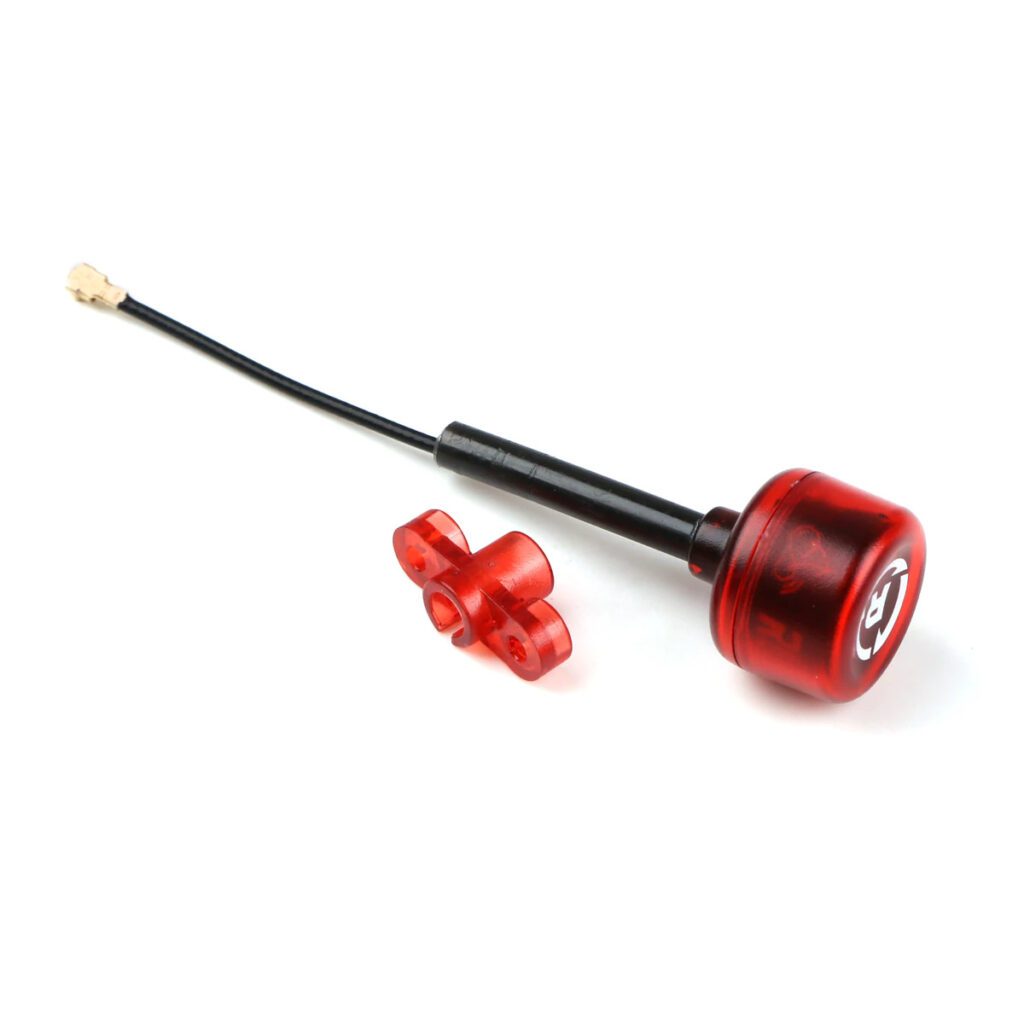 If you're looking for the best budget antenna to cover a large area with maximum signal coverage, look no further than the RushFPV Cherry 5.8GHz Antenna.
With its 5.6-6GHz bandwidth and circular polarization axis ratio, this antenna can cover all race bands, and all channels have nearly uniform transmission strength. Plus, it's easy to install and use to get the most out of your racing experience!
RushFPV Cherry Specs:
Gain: 1.2dBi
S11 SWR: 1.4 max – 1.1 min
Band Width: 5600-6000-MHz
Axial Ratio: Around 1.0
Polarization: LHCP or RHCP
Connectors: MMCX,SMA,UFL
XILO AXII 5.8GHz Antenna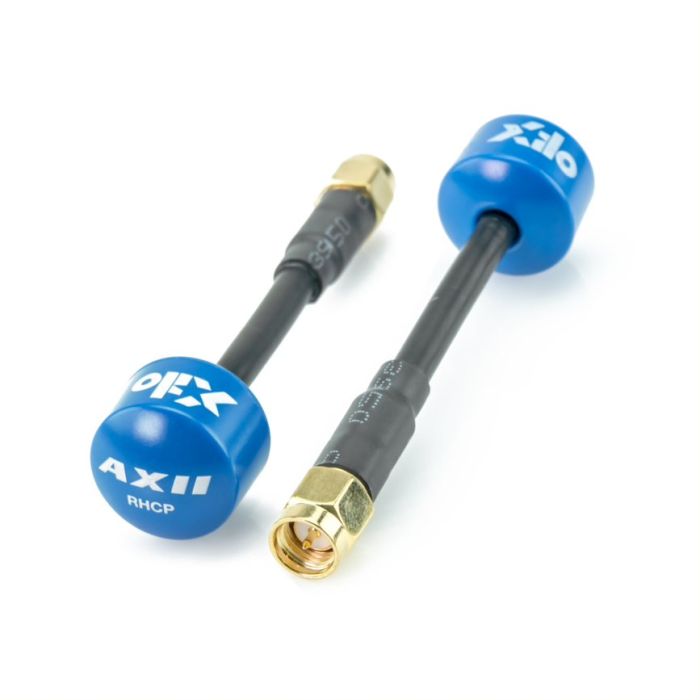 Are you looking for a compact and high-performance 5.8GHz FPV antenna? Look no further than the XILO AXII 5.8GHz Antenna!
This mini-sized omnidirectional antenna is perfect for pilots who want a powerful and efficient antenna that can reach long distances. With a 1.6dBic and near perfect axial ratio, the XILO AXII will surely provide superior performance.
Its extended stem is ideal for pilots needing a longer antenna length. So don't wait any longer and upgrade your FPV gear today with the XILO AXII 5.8GHz Antenna!
Xilo AXII Specs:
Gain: 1.6dbic
Axial ratio: 1.0 (near perfect)
Bandwidth: 5.5GHz-6.0GHz
Radiation Efficiency: 98%
SWR: <=1.5:1
Weight: 10.5g
Size: 125mm x 16mm
Cable: Semi-rigid RG402
Connector: SMA
*Works great as both a transmitting and receiving antenna.
Menace Invader Patch Antenna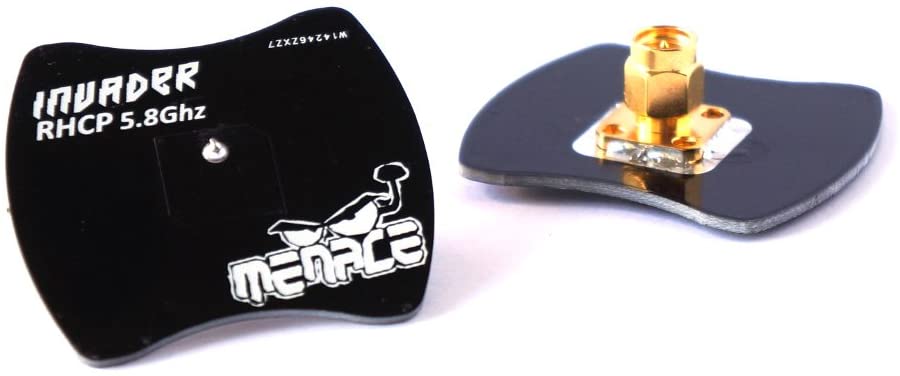 Introducing the INVADER antenna – the small, compact, and powerful receiving patch that packs outstanding performance when paired with a circular polarised clover skew style Tx antenna.
With its low profile and sleek design, the INVADER is perfect for making those elusive receptions in confined spaces.
So, the INVADER is the perfect option whether you're looking for an antenna that can handle heavy traffic conditions or simply looking to make some serious improvements to your video signal strength.
Menace Invader Patch Antenna Specs:
Frequency Range: 5645 – 5945MHz
Gain: 6.5 dBi
Beam Width: 150° at -7db, 120° at -5db, 90° at -3db
Left or Right Hand Circular Polarised ( LHCP or RHCP)
SMA Connector (Fits Fatshark Goggles)
Dimensions: 45mm x 41mm x 16mm
Weight: 11grams
TrueRC X-Air 5.8GHz Antenna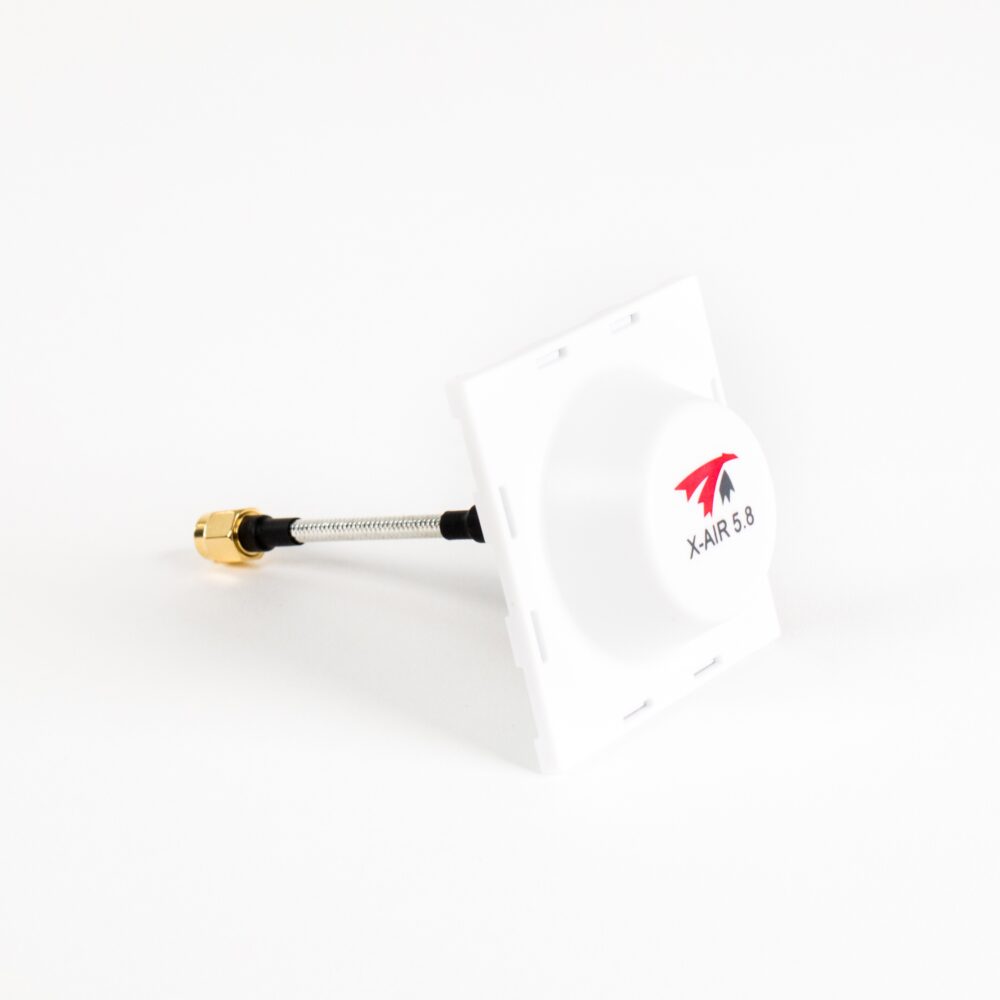 This directional antenna is perfect for flying close to obstacles, as it has a powerful beam width and high axial ratio that keep your signal clear and strong even behind bushes and trees. Its versatile design makes it perfect for use with any quad.
So whether you're a beginner looking for a quality antenna to start with, or an experienced pilot who needs an antenna with the widest coverage possible, the X-AIR 5.8 FPV Antenna is a perfect choice!
TrueRC X-Air Specs:
Bandwidth: 5.1GHz-6.0GHz
Gain: 10 dBic
Beam-width*: 120deg
Beam-width @-3dB**: 68deg.
Connector: SMA male
Dimension: 2.1″x2.1″x0.6″
Lumenier AXII Patch 5.8GHz FPV Antenna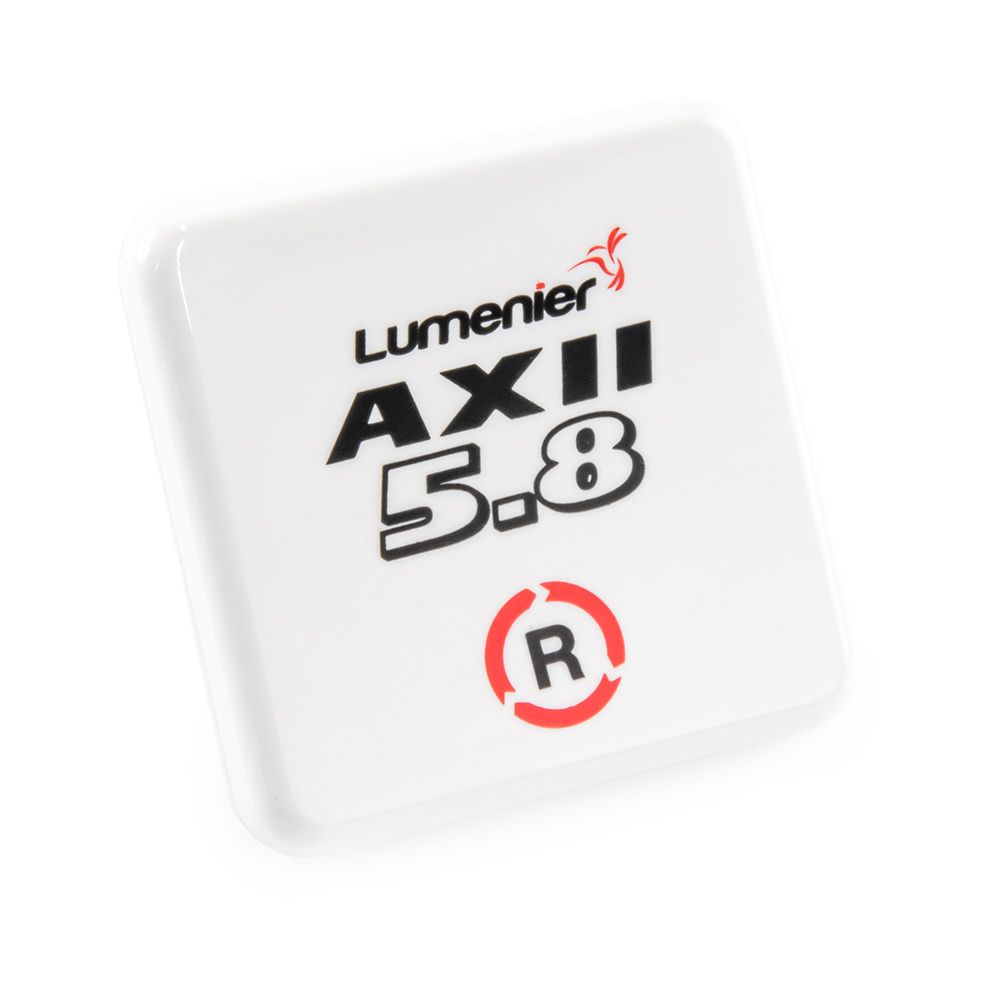 If you're serious about FPV flying, you need an antenna that can handle the long distances and strong signals required for a great flight.
The Lumenier AXII Patch is designed with these requirements, with an industry-leading 8.4 dBiC gain that will let you fly farther and stronger than ever before.
Additionally, it can penetrate through objects better than any regular omnidirectional FPV antenna, so you'll never have to worry about missing a beat when capturing those fantastic aerial views.
So don't wait any longer; add the Lumenier AXII Patch 5.8 GHz Antenna to your FPV arsenal today!
Lumenier AXII Patch Specs:
Frequency: 5.8GHz
Bandwidth: 220 Mhz
Gain: 8.4 dBiC
Beam Width: 76°
Right Hand Circularly Polarized
SMA Connector (Fits Fat shark Goggles and others using SMA)
Lumenier AXII DUO 5.8GHz Patch Antenna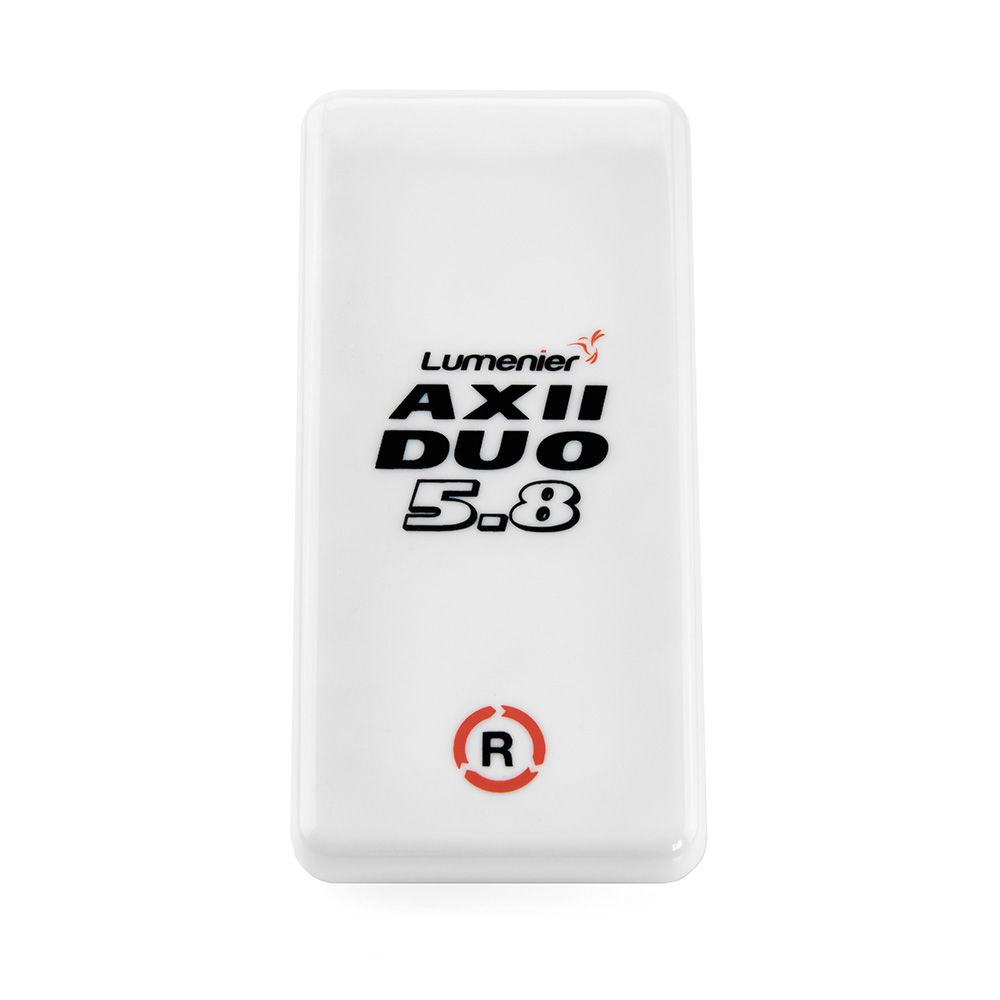 The Lumenier AXII DUO Patch Antenna is designed for FPV pilots who require the highest performance possible. With an industry-leading 12.2 dBiC gain, the AXII DUO offers better performance than any other mini patch antenna on the market.
This antenna is also excellent at penetrating objects, granting you a fantastic coverage range and less signal interference. Coupled with the latest electronic design and construction, the AXII DUO offers a top-notch experience for FPV pilots everywhere.
Lumenier AXII DUO Patch Antenna Specifications:
Frequency: 5.8GHz
Bandwidth: 280 Mhz
Gain: 12.2 dBiC
VSWR: 1:1.1 – 1:1.3
Beam Width: 80° H. 40° V.
Right Hand Circularly Polarized
SMA Connector (Fits Fat shark Goggles and others using SMA)
Foxeer Pagoda PRO 5.8G FPV Antenna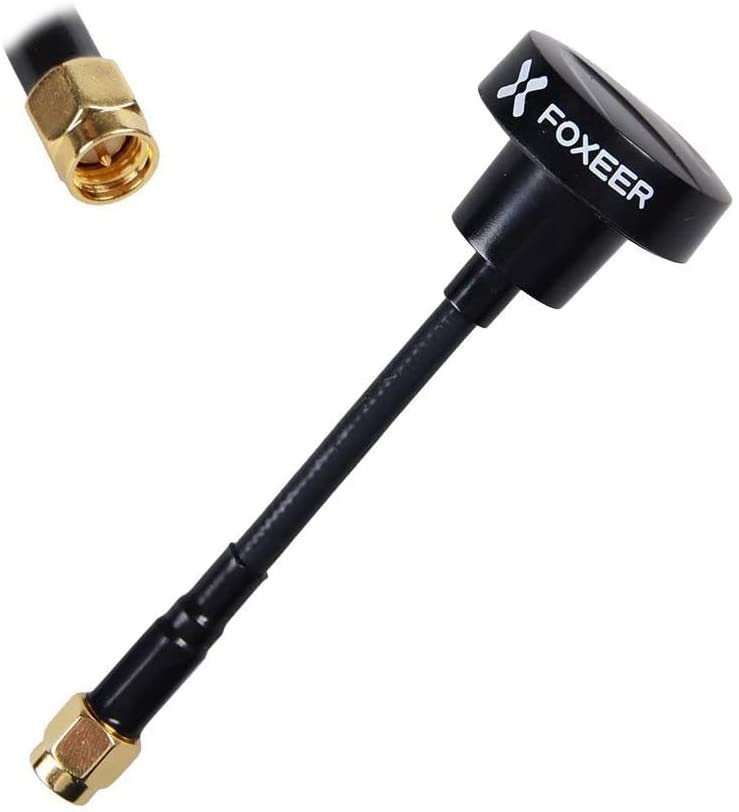 This antenna boasts an omnidirectional gain that provides superior performance in all directions, making it perfect for indoor and outdoor use.
The range and signal quality are top-notch, making it ideal for both beginner and expert pilots. With its low weight and compact design, the Foxeer Pagoda PRO 5.8GHz is perfect for flying indoors or outdoors.
Finally, the double-jacket semi-rigid cable is designed to withstand heavy impact and provides extended life without breaking.
Foxeer Pagoda Pro Specs:
Material: Imported PC+ABS
Antenna length: 150mm
Gain: 2 dbi
Center frequency: 5.8 GHz
Bandwidth: 500 MHz (5.5 – 6.0GHz)
Matching: S11 <-20 db,VSWR <1.15 (at center frequency)
Axial ratio: <1.3
Radiation efficiency: 95%
Polarization: RHCP
Connector: RP-SMA / SMA
TBS Triumph Pro 5.8 GHz Antenna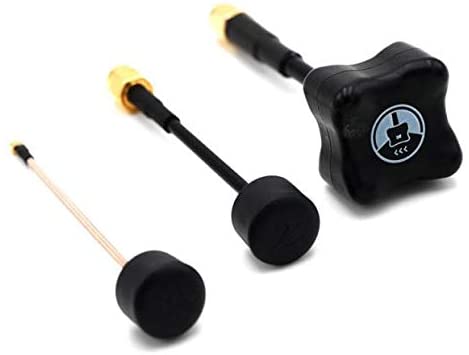 The TBS Triumph Pro is a well-performing and compact circular polarized antenna. The next iteration in 5.8 GHz circular technology offers greater noise and reflection rejection than the TBS Triumph, equivalent circularity, and much longer range. Tiny in design, tough and durable, it is also very small.
TBS Triumph Pro Specs:
Frequency range: 5500-6000MHz
Polarization: RHCP
Gain: 1.6dbic
Axial Ratio: 0.99
Weight: 6g
Height: 95mm
Connector: SMA
VAS BlueBeam HD Dual Antenna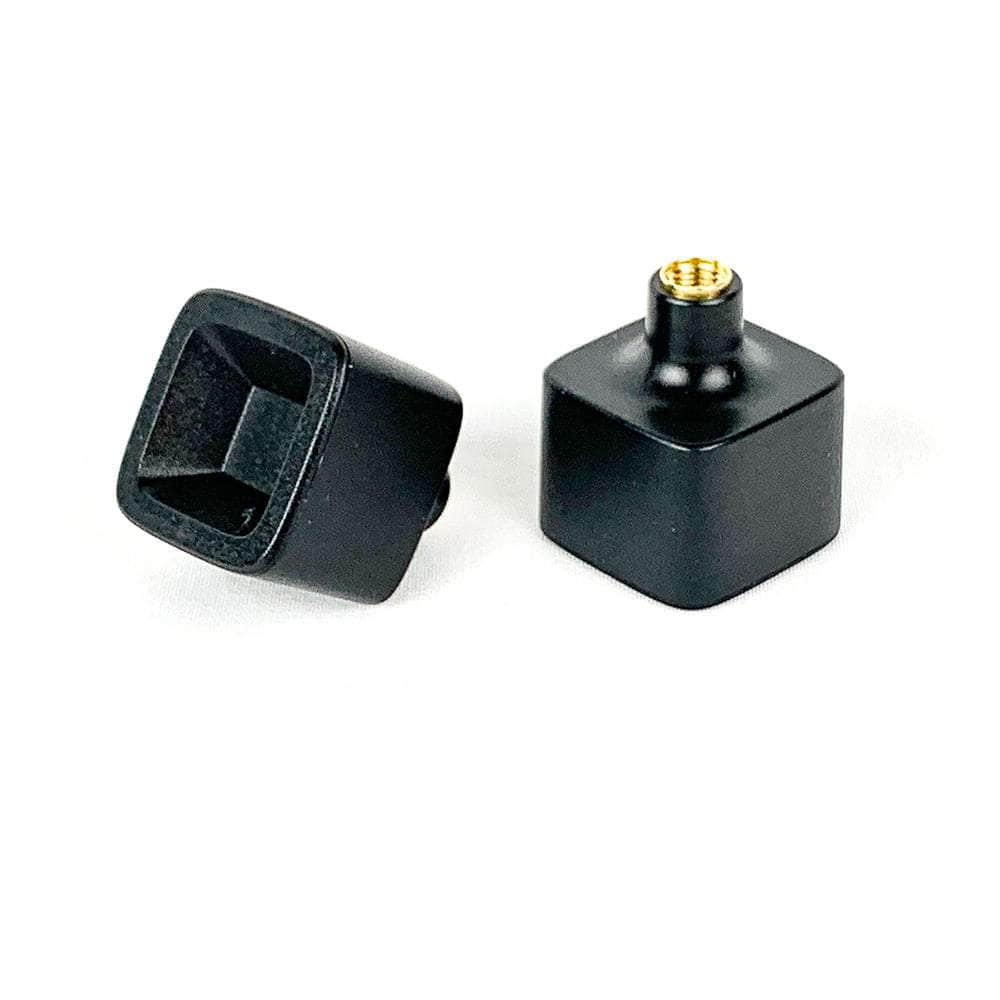 The BlueBeam HD is a dual-band (2.4GH/5.8 GHz) antenna designed for HD video systems and WiFi connections.The BlueBeam HD is an excellent symmetrical antenna designed to support High Definition Video systems and WiFi links.
Featuring dual antenna systems, the device receives signals at precisely the correct frequencies from more angles than a conventional antenna.
VAS BlueBeam HD Dual Antenna Specs:
Frequency range: 2380-2600MHz (2.4GHz) / 5500-6200MHz (5.8GHz)
Gain: 1.95dbic (2.4GHz) / 2.5dbic (5.8GHz)
Weight:
Connector: RP-SMA connector
Polarizaton: LHCP
What is the difference between directional and omnidirectional antennas?
Directional antennas are designed to capture and transmit signals in a specific direction, while omnidirectional antennas can receive and transmit signals in any direction.
This is an important distinction in wireless technology as directional antennas are better suited for streaming media or voice calls over the internet. In contrast, omnidirectional antennas are more versatile and can be used for both purposes.
When choosing a directional antenna, you should ensure that the design is optimized for your location. For example, a typical omnidirectional antenna may be insufficient if you live in an area with solid reception from towers close to your home.
On the other hand, using a directional antenna will provide increased coverage throughout your home or office if you're located far away from any towers.
Types of Antennas
Monopole Antenna
A monopole antenna is a type of antenna that uses a straight rod-shaped conductor, often mounted perpendicularly over some conductive surface, called a ground plane. Monopole antennas are usually preferred for their narrow radiation pattern, making them ideal for point-to-point communications. They are also popular for their resistance to wind and rain and their ability to handle high radio frequencies.
Dipole Antenna
A dipole antenna commonly comprises two identical conductive elements, such as metal wires or rods. The driving current from the transmitter is applied, or the output signal from the receiver is used for receiving antennas. The driving current is applied to a current flow in both wires or rods. This current flow creates a force which tries to keep the two rods or wires together.
Skew-Planar Wheel & Cloverleaf Antennas
The Skew-Planar Wheel is a type of antenna with similar properties to the Cloverleaf antenna, but with one notable exception. The Skew-Planar Wheel has 4 lobes instead of 3, positioned at 90° apart. This makes it an excellent choice for antennas that need to cover a large area or can handle high RF interference levels.
Pagoda Antenna
The Pagoda antenna is an omnidirectional circularly polarized antenna designed to provide excellent performance in all directions. It features a good radiation pattern and an axial ratio that is reasonable for antennas of its size. Additionally, it is one of the smallest circularly polarized antennas on the market, making it perfect for high-density applications.
Helical Antenna
A helical antenna consists of one or more conducting wires wound in the form of a helix. A helical antenna made of one helical wire, the most common type, is called monofilar, while an antenna made of several helical wires is called a multifilar.
Many wireless devices, such as cell phones and WiFi routers use monofilar antennas. They work well and are relatively cheap to build. However, they have one disadvantage: They are sensitive to radio frequency (RF) interference.
That's why most modern cell phones use a Multi-input, Multi-output (MIMO) antenna. MIMO antennas have several antennas that can be used simultaneously to get better reception.
Patch antenna
A patch antenna is a type of antenna with a low profile, which can be mounted on a surface. It consists of a planar rectangular, circular, triangular, or any geometrical sheet or "patch" of metal, metal foil, or plastic.
It has an omnidirectional radiation pattern that can be used for broadcasting and receiving signals. Patch antennas and cellular and satellite communications are often used in the military and commercial aviation industries.
FAQs
What is FPV Antenna?
FPV Antennas collect the VTX video signals and wirelessly transmit them to a receiver. Another Antenna processes the video signals from FPV Antennas and transmits them to FPV goggles.
What are the main types of antenna polarization?
There are three general types of antenna polarization configurations: linear, circular, and elliptical.
What is RHCP & LCHP antenna?
What are an LHCP antenna and an RHCP antenna? LHCP stands for left-hand circular polarized, and RHCP stands for right-hand circular polarized. LHCP antennas produce left-hand corkscrew patterns on the wire, whereas RHCP antennas produce a right-hand corkscrew pattern from the wire lobe.
What is a VTX antenna?
VTX antenna is a radio antenna that converts power into electromagnetic waves. The receiving antenna converts the electromagnetic waves back to electrical power. For FPV, an antenna takes the place of video transmission between a video transmitter and receiver.
Which antenna would I get for FPV drone flying?
It mostly depends on what you plan to do for FPV drone flying, but for standard FPV drone flying, it is an excellent option to get a circular-polarized antenna.
What are the most common antenna connectors in FPV?
Types of connectors most often used for FPV transmitters, receivers, and antennas include SMA (reverse polarity SMA), MMCX, and U. FL.
What is antenna gain?
Antenna Gain refers to how antennas are used for transmitting or receiving signals. When it comes to FPV, Antenna Gain is important because it determines how effectively the signal can be transmitted and received. The higher the gain, the better-quality image your drone will be able to send and receive.
There are a few factors that affect Antenna Gain:
Location (higher gain indoors).
Aerial environment (more obstructions will reduce gain).
Receiver quality (better receivers have more sensitive antenna).
Each factor plays a part in determining what kind of flying experience you'll enjoy.
How does an antenna work?
1) Electricity flowing into the antenna makes it vibrate and produce radio waves.
2) As the radio waves travel through the air at the speed of light, they make electrons move up and down the antenna.
3) When the radio waves arrive at the Rx antenna, the vibrations produced inside it cause them to vibrate.
How do I choose the best FPV antenna?
There are a few things to keep in mind when choosing an FPV antenna. First, ensure the antenna is designed for your specific flying configuration. This includes your drone's model and transmitter type (assuming you're using one).
Second, consider the size of the antenna. Larger antennas tend to be more powerful and can cover larger areas, while smaller antennas may be better if you have limited space or need to save on cable costs.
Third, consider how difficult it will be to install/adjust the antenna. If an installation is difficult or time-consuming, this might not be a good choice.
Fourth, determine whether an omnidirectional or directional design best suits your needs. An omnidirectional design provides coverage from all directions equally, whereas a directional design target signals towards either end of its range (360 degrees around).
How can I improve my FPV signal?
If you're interested in improving your FPV signal, there are a few things that you can do. First and foremost, use a good antenna for your drone.
This will help to boost the quality of your video footage. Additionally, try using a better transmitter or receiver if possible. By doing this, you'll be able to minimize interference from other signals and improve the clarity of your videos.
If these measures don't seem to be working well enough for you, then it may be time to consider upgrading your equipment altogether. Many options on the market today offer improved performance over traditional drones and transmitters/receivers.
What is a diversity receiver?
Diversity receivers are devices that help to improve the quality of video signals in FPV. When used with a transmitter, they allow for a more stable and accurate transmission, which is essential when flying complex manoeuvres or shooting videos in challenging environments. Diversity receivers can also be used to boost signal strength if necessary.
The best FPV antenna is the one that best meets your needs and budget. So, whatever antenna you choose, test it before flying to ensure optimum performance.