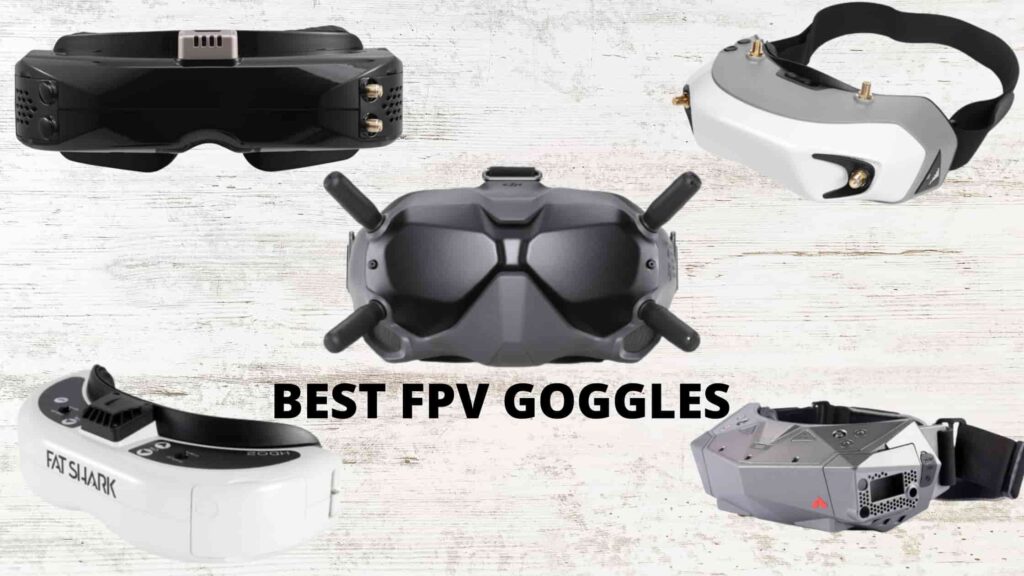 If you're looking for the Best FPV Goggles for your immersive flying experience, you'll need to consider how comfortable they will be when worn for extended periods. You also need to think about what features you want in a pair of goggles. Do you want them to be lightweight, durable, and easy to use? Or do you prefer something more expensive that offers better quality optics?
FPV goggles are perfect for pilots who love flying and want to see the world from a new perspective. These goggles give you a clear view of the world outside your aircraft, making navigation and flying much safer. There are many different FPV goggles on the market, so it's important to find one that fits your needs perfectly.
DJI FPV Goggles V2
The DJI FPV Goggles V2 is still one of the best digital FPV goggles on the market. It offers high definition, low latency, and long-distance transmission, which makes it perfect for immersive flying experiences.
The DJI FPV Goggles V2 comes with crystal clear video that can be streamed directly to your goggles.
In low-latency mode, the video stream is delivered at a latency of 810p, which makes it perfect for racing and aerial photography. In HQ mode, the latency is reduced to 60fps, making it smoother and more responsive for watching videos or playing games.
The DJI FPV Goggles V2 are available at retailers worldwide, so get ready to experience the best immersive virtual reality experience yet!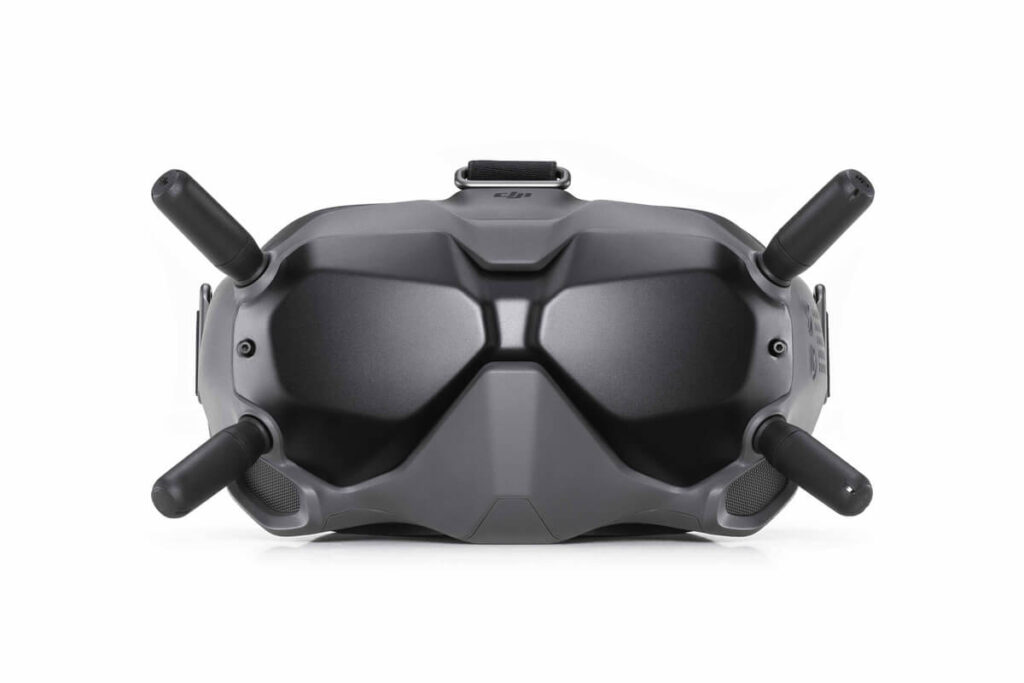 DJI FPV Goggles V2 Specs:
Screen Size: 2-inches (×2)
Screen Refresh Rate: 144 Hz
Communication Frequency: 2.400-2.4835 GHz & 5.725-5.850 GHz
Communication Bandwidth: 40 MHz (Max.)
Live View Mode: Low-Latency Mode: 810p/120fps ≤ 28ms*
High-Quality Mode: 810p/60fps ≤ 40ms*
* A 150 FOV is available when shooting at 50 or 100 fps. For other frame rates, the FOV will be 142."
Max Video Bitrate: 50 Mbps
Transmission Range: 10 km (FCC), 6 km (CE), 6 km (SRRC), 6 km (MIC)
Video Format: MP4 (Video format: H.264)
Power Input: Dedicated DJI Goggles batteries or other 11.1.-25.2 V batteries.
FOV: 30 to 54; Image size: 50-100%
Interpupillary Distance Range: 58-70 mm
Supported microSD: Cards microSD (up to 256 GB)
DJI Goggles 2
The new DJI Goggles 2 are very comfortable and easy to use. It is smaller, lighter, and has Micro-OLED screens, so you can see obstacles with great clarity as you move around them.
The new goggles have an OLED screen with 1920 x 1080 resolution. It also has a 51-degree field of view and a diopter that can be changed to give the best first-person view of flying.
*Please be aware that the latest firmware of this goggles only works with the DJI Avata drone for now.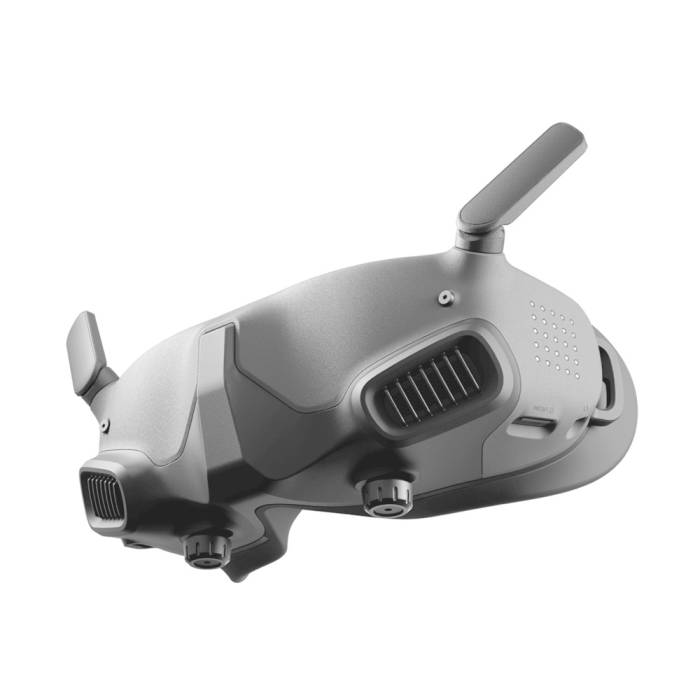 DJI Goggles 2 Specs:
Wi-Fi Wireless Streaming: Supports DLNA Protocol
Screen: .49 inch OLED
Resolution:1920×1080
Weight: 290 grams
IPD: 56-72 mm
Diopter: +2.0 D to -8.0 D
FOV: 51°
Storage: microSD (up to 256 GB)
Transmission Bitrate: 50 Mbps
Power Input: DJI Goggles 2 Battery
Fat Shark Dominator HD Digital FPV Goggles
The Fat Shark Dominator Digital HD FPV Goggles are a new addition to the FPV goggles market. They support a new 1080p video transmission protocol, it is more compact and easier to use than previous models of Fatshark goggles.
Additionally, they have two OLED displays for clear FPV footage. This device is perfect for users who want to be able to adjust the optics for a more comfortable viewing experience.
With its wide range of IPD and focus adjustments, the Dominator can be adjusted to fit nearly any user. The Fat Shark Dominator Digital HD is a powerful video transmitter supporting Betaflight Canvas Mode.
The Dominator also has an integrated HD DVR for recording your flights and adjustable anti-fog vents for optimal performance.
Whether you are looking for a way to improve your viewing experience or you need a device that can be adjusted specifically for your eyes, the Fat Shark Dominator Digital HD is perfect for you.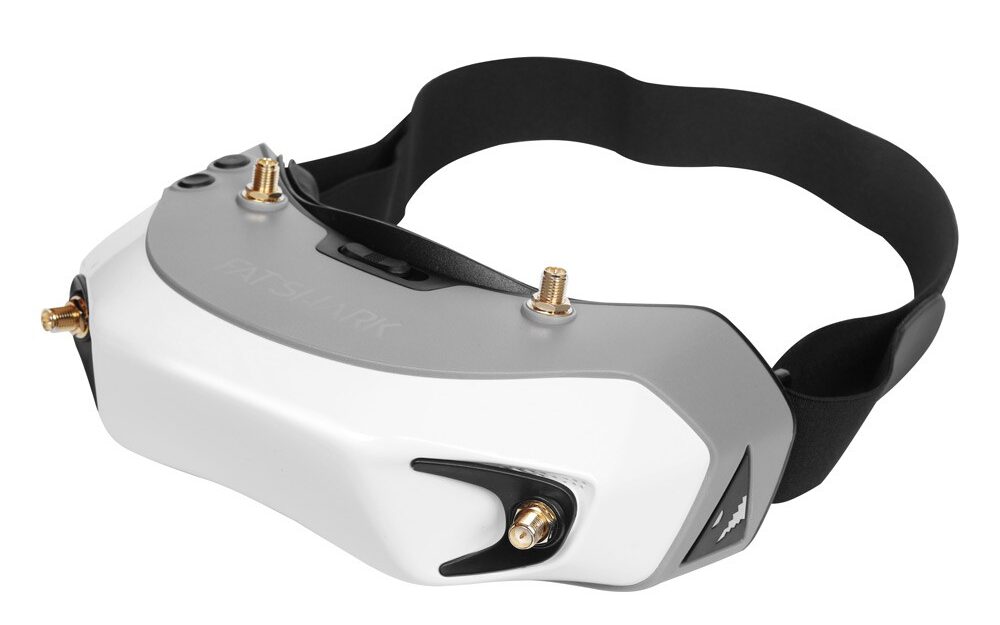 Fat Shark Dominator HD Digital Specs:
Inter-Pupillary Distance (IPD): 57 ~ 70mm (adjustable)
Adjustable Focus Range: +2 to -6 diopter
Field of View (FOV): 46
Full HD 1080p OLED Dual Micro Displays
INPUT VOLTAGE: 7-21V (2S-5S)
Walksnail Avatar Digital HD FPV Goggles
The Walksnail Avatar Digital HD FPV Goggles let you immerse yourself in FPV action by giving you a crystal clear view of your surroundings. The high-fidelity Full HD OLED displays make every moment feel right in front of you, and the 1080p video transmission protocol makes for smooth and crisp image quality. The compact design makes them easy to take with you wherever you go, so there's never any shortage of excitement on your flights.
It has a wide range of IPD, and focus adjustments allow the user to tune the optics for any eye, giving you a clear view no matter your orientation. It is compatible with the new Walksnail Avatar HD system.
These goggles have high-end features like a full-color graphical user interface and a USB-C video. So, whether you're a new pilot or experienced, these goggles have everything you need to get started. And don't forget that HD DVR recording will save all your flights for the future.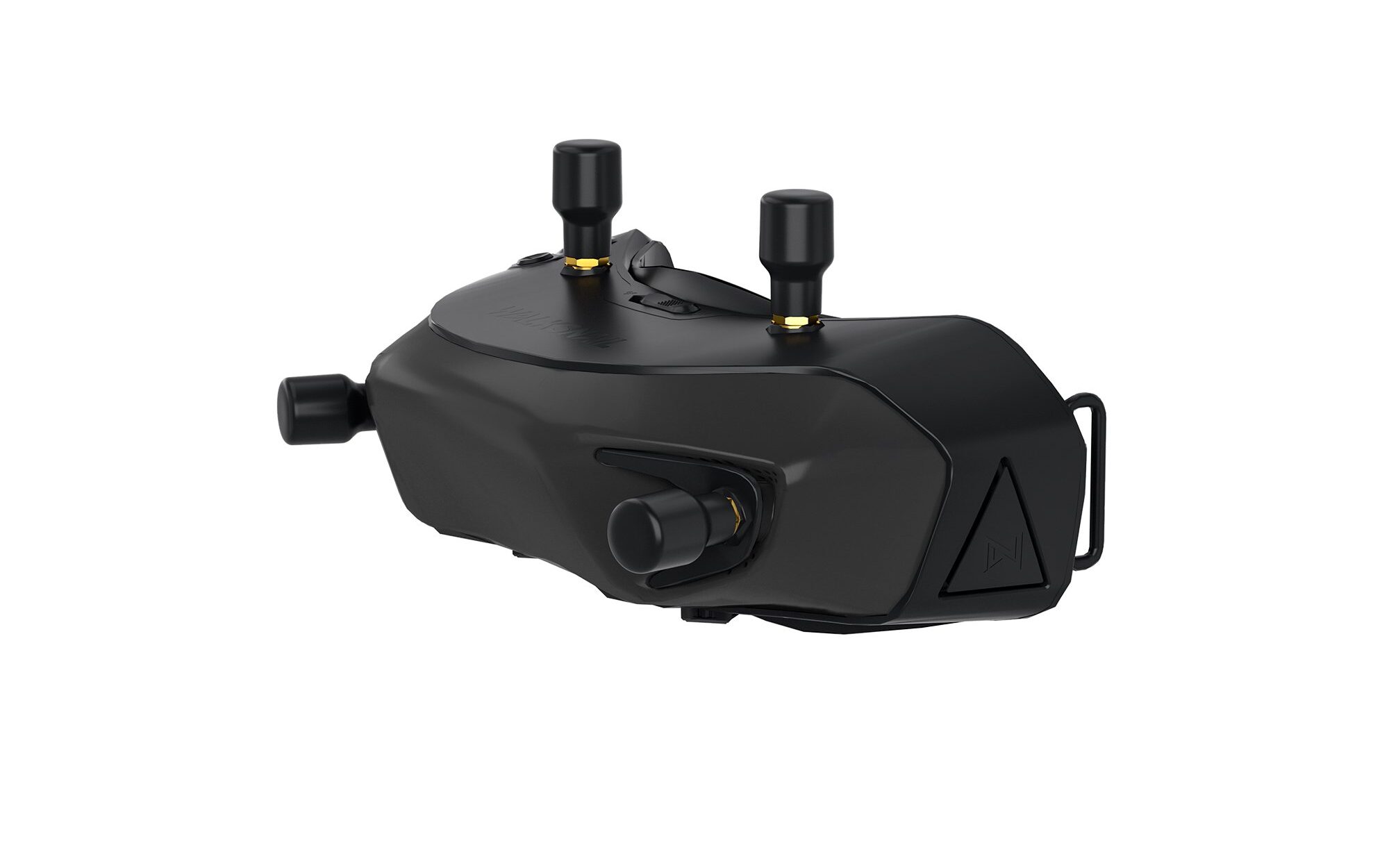 Walksnail Avatar Specs:
Transmitter Power: FCC: <30dBm: CE: <14dBm: SRRC: <20dBm: MIC: <25dBm
Micro Displays: Full HD 1080p OLED Dual Micro Displays
Inter-Pupillary Distance (IPD): 57 ~ 70mm (adjustable)
I/O Interface: Type-C, MicroSD Card, DC 5.5×2.1mm
Adjustable Focus Range: +2 to -6 Diopter
Communication Frequency 5.8GHz
IPD Mechanical Range: 28-70mm
Power Input: 6V-25.2V (2S-6S)
Screen Resolution: 1920×1080
IPD Visual Range: 54-74mm
Model: Avatar HD Goggles
SD Card: Supports 256Gb
HDMI Output: Supported
Field of View (FOV): 46°
Screen Size: .49 Inches
HDZero FPV Goggles
HDZero FPV goggles are designed to provide an immersive, high-quality flying experience for drone enthusiasts. These goggles feature a range of unique features that make them stand out from the competition.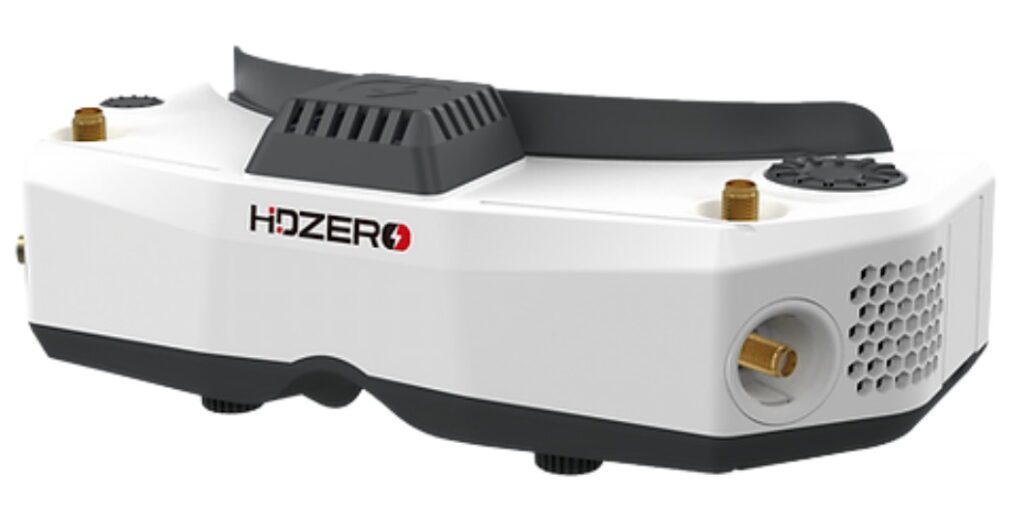 The HDZero goggles feature 90Hz 1080p OLED screens with sliding IPD adjustment and dials for focus adjustment. These screens provide a crystal-clear, lag-free image that is perfect for flying fast-moving drones. The goggles also support diopter lens inserts, so you can adjust the lenses to match your eyesight.
Another feature of these goggles is the on/off sliding switch, which allows you to easily and quickly turn the goggles on or off without having to fumble with buttons or menus.
The HDZero goggles are also designed to be open source, with all code for the user interface being new and open-source. This makes the goggles highly customizable and perfect for those who like to tinker with their equipment.
HDZero goggles Specs:
HDZero Camera glass-to-goggle glass latency: <3ms
Adjust IPD range: 57-70mm
Adjustable focus range: +6 to -6 diopter
Resolution: Full HD 1920x1080p 90fps OLED
FOV: 46 deg
Input voltage: 7V-25.2V
Skyzone 04x FPV Goggles
Are you a drone pilot looking for top-of-the-line FPV goggles? Look no further than the SKY04X V2 FPV Goggles! This set comes with a 48CH Steadyview receiver, 1280×960 OLED display, and 46-degree diagonal FOV. It supports 5.8GHz frequency and can be easily adjusted with the built-in 3D/4D rotary controller. Whether you're an experienced drone pilot or just starting, these goggles will give you a competitive edge!

Skyzone 04x Specs:
Screen: OLED
Resolution: 1280X960
FOV (Diagonal): 46
AspectRatio: 4:3/16:9
Focus: -6~+6 adjustable
Interpupillary distance(IPD): 58-71mm
Receiver: 5.8Ghz 48CH Steadyview Receiver
Power Supply: DC6.5-25.2V/USB5V
Power Consumption: 720mA at 12V
DVR: H264,60fps, MOV6Mbps, SD Card support up to 128Gb
Head Tracker: 3-axis Accelerometer, 3-axis gyroscope
Fat Shark HD02 FPV Goggles
Fat Shark's Dominator HDO 2 is the perfect headset for FPV drone racing and freestyle flying. It has a resolution of 1920×1080, and it uses an OLED display for stunning image quality. The headset also includes digital head tracking and an adjustable IPD to provide a perfect fit for any user. The Dominator HDO 2 is comfortable and has a built-in fan to keep your face relaxed. You can connect the goggles to any video device with an HDMI output.
This headset has a built-in digital video recorder, which means you can capture all your flights in HD quality. It also includes a 5.8GHz receiver, which gives you crystal clear reception and eliminates any interference you might experience.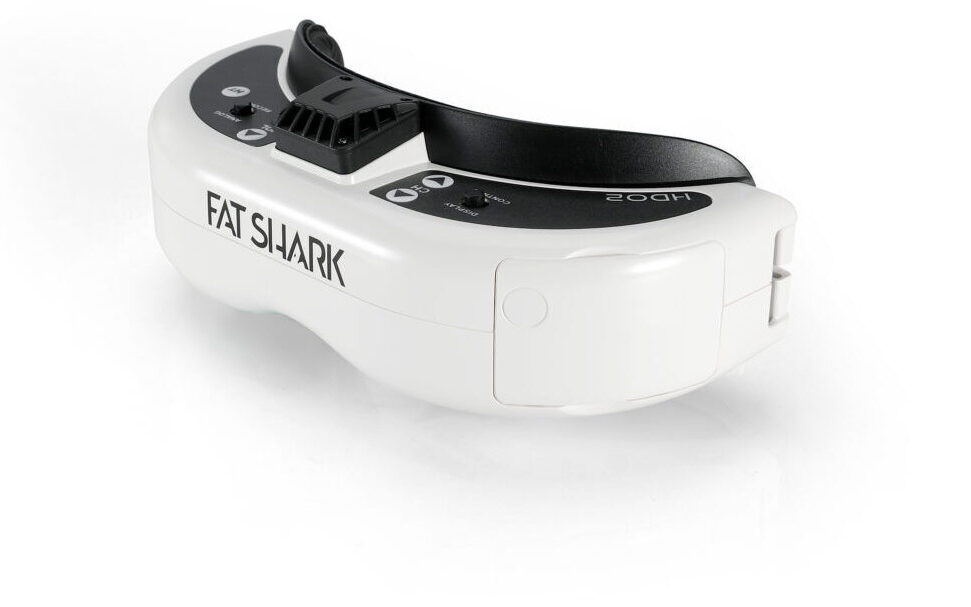 Fatshark HD02 Specs:
FOV (field of view): 46 degrees diagonal
IPD (interpupillary distance): 54 to 74 mm (adjustable)
Focus: +2 to -6 diopters (adjustable)
Two Sony 0.5" OLED displays
Resolution 1280 X 960
NTCS/PAL auto selecting
AV Mode 4:3
AV Mode 16:9
HDMI Mode 16:9
Orqa FPV.One PILOT Goggles
Orqa FPV. One Pilot goggles offer sharper images than ever before. Their new design features an optical engine to improve the clarity of the image.
Their lenses are coated to reduce any distortion. They also include a focus adjustment mechanism as well as an IPD adjuster.
Orqa FPV.one pilot goggles come with a 1280×960 resolution at 37 degrees or 32 degrees at a 16: 9 aspect ratio. They use 2X 0.5-inch Sony OLEDs for high-definition images. Enjoy the crispest picture edges on the top-end OLED displays for FPV goggles.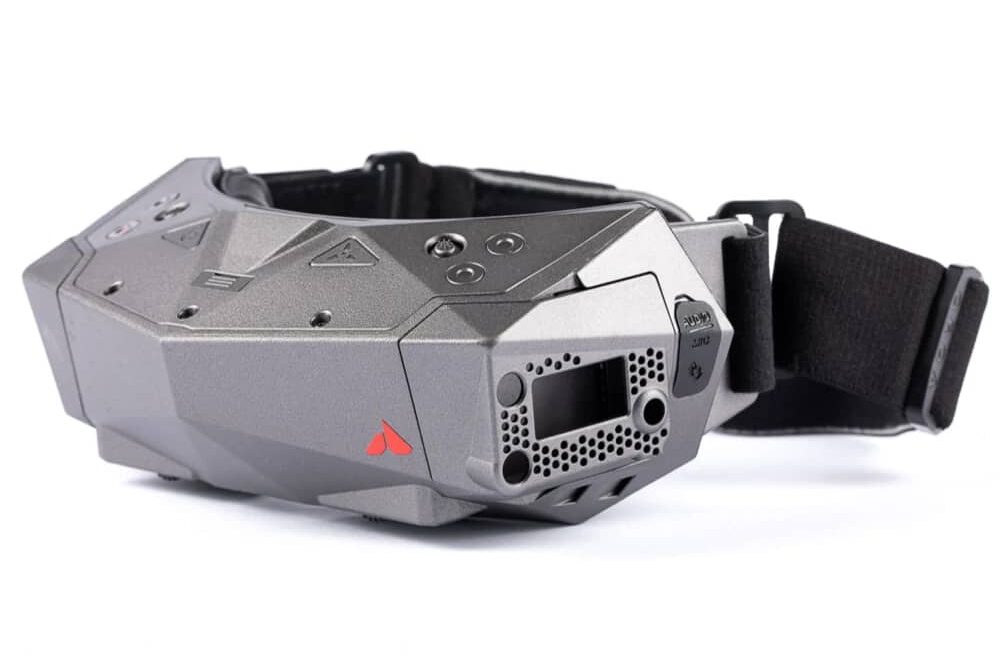 Orqa FPV.One PILOT Specs:
Viewing Angle: 44 or 30
Screen Resolution: 1280 x 960 pixels
Aspect Ratio: 4:3 native, 16:9 (720p)
Power Supply: 6-10VDC (2S LiPo Battery)
Power Consumption: 4.2W max.
Integrated Head Tracker Output: 3.5mm jack
Headphones Audio Out: 3.5mm jack
Composite Video Input: 3.5mm jack
HDMI Video Input: Micro HDMI
Battery Connector: 2.1 x 5.5mm barrel connector
IPD Range: 56 – 74 mm
Integrated Defogging Fan: Yes
Integrated DVR: 1280×960 25-60 fps, H.264, 18mbps .mp4
How to choose the Best FPV Goggles
There is no one-size-fits-all answer to this question, as the best FPV goggles will vary depending on your personal preferences and needs. However, some factors that you may want to consider when choosing FPV goggles include: video quality, low latency, field of view, comfort, and price.
Video quality and low latency are likely the two most significant aspects to consider when shopping for first-person view (FPV) goggles. This is because having goggles with both qualities will allow you to see more clearly and with less lag while flying.
This list of the Best FPV Goggles offers low latency footage, comfortable wearing, clear video footage, and long battery life. They also have a long transmission range and a great field of view. So if you are looking for a great FPV setup, these goggles are a great choice. If you don't want to spend a lot of money, then check our list of best fpv goggles for beginners.