If you're looking for the best budget FPV goggles, then look no further. This blog post will tell you about a few different options to find the right one for your needs. It's not as easy as it sounds, though!
With so many FPV goggles out there on the market, it may be challenging to know which one best suits your needs. Read on, and hopefully, by the end of this blog post, you'll have a much better idea of what type of FPV goggles would work best for you.
Best Budget FPV Goggles
Eachine EV100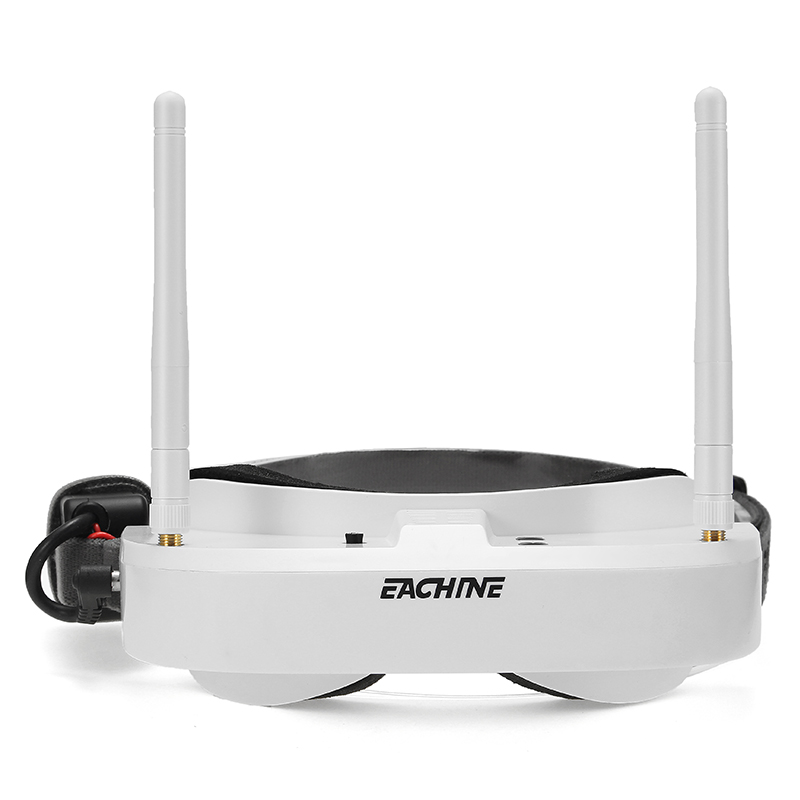 If you are looking for a cost-effective pair of FPV goggles that will get the job done and don't require any tinkering or adjustments, then these may be what you're after. The Eachine EV100 have 72 channels built-in, so there is no need to buy an expensive receiver separately, saving time and money.
These economical Fat Shark form factor FPV goggles come with their battery as well! Just plug them in once they arrive at your doorstep and enjoy hours upon hours of travel through virtual space, knowing these affordable googles won't let you down when it matters most when flying solo across vast landscapes from atop lofty mountaintops.
Eachine VR D2 PRO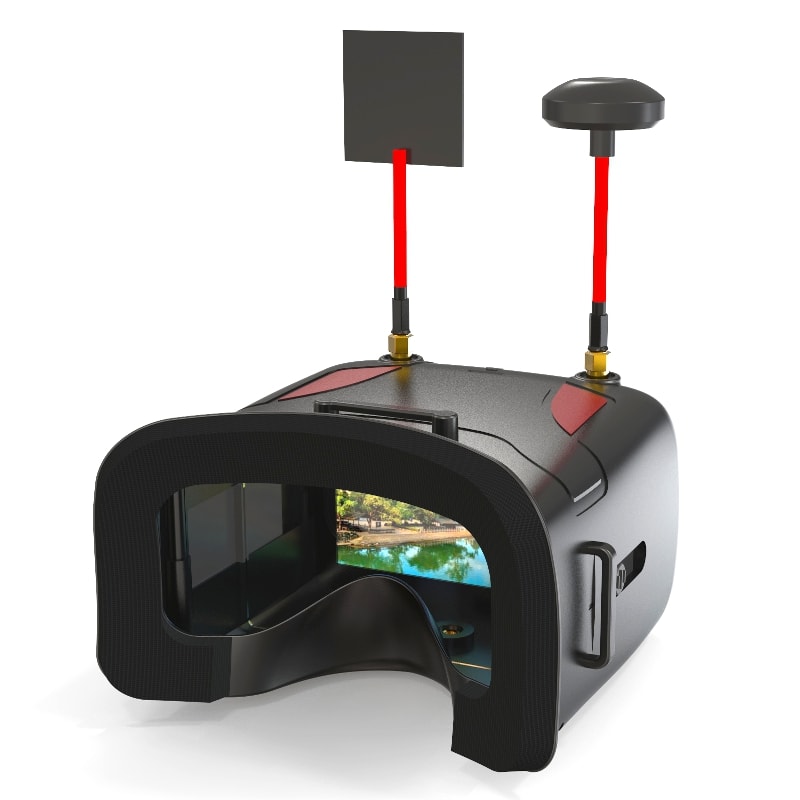 These FPV goggles from Eachine boast a 5-inch screen, making them easy to see in any light. The resolution is at 800×480 and has 40ch channels built into the receiver. You can tune your frequency for better reception. This headset includes adjustable head straps, so you will never feel discomfort while wearing this Eachine VR D2 Pro Goggles during long flights.
Eachine EV800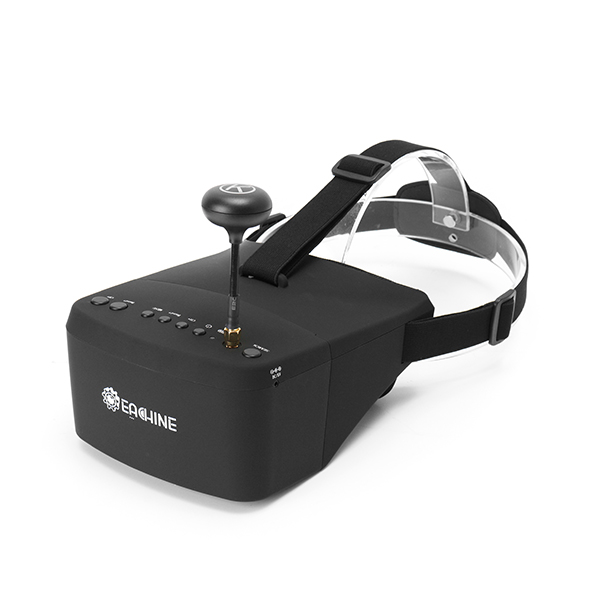 The Eachine EV800 is a really impressive set of goggles that features an HD screen with 800×480 resolution and 40 channels. The best part about these goggles? They're detachable into two parts, so you can remove them from your head to mount on top of any tripod if desired! With Raceband for superior signal reception, they're equipped with the latest technology at just $60 – what could be better?
Eachine EV800D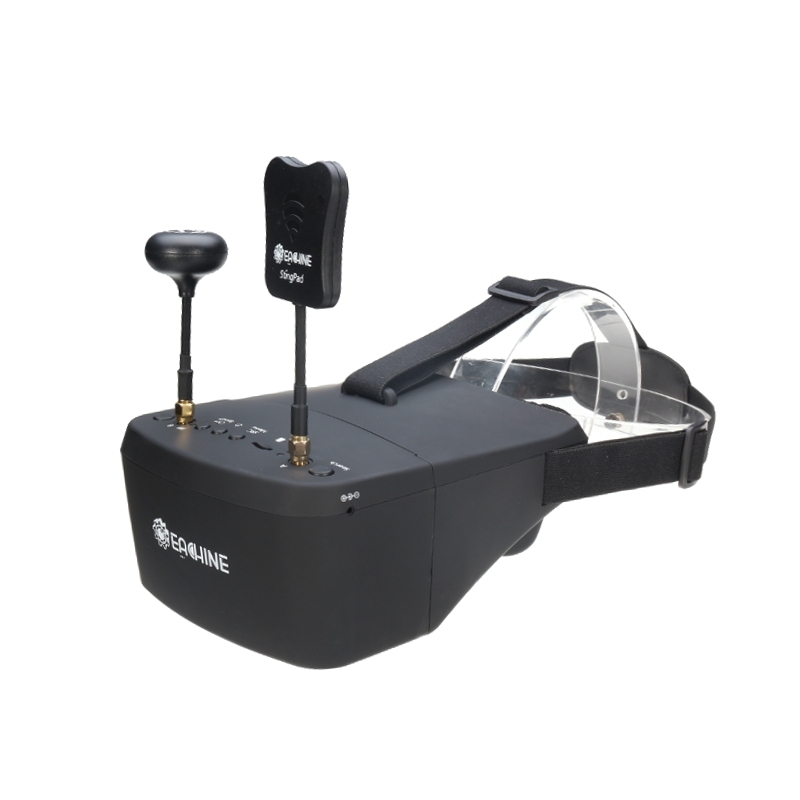 The Eachine EV800D one of the best goggle systems on the market. It has an advanced receiver with diversity to eliminate any signal interference that you may encounter while flying in a group. It also comes with dual video transmission for laterally separated viewing screens.
The EV800D goggles are high-quality HD lenses that allow excellent visibility even when things start getting blurry from sweat or fogging by weather conditions such as windy days. They're comfortable enough, so they can be worn all day without discomfort but will stay put if needed, thanks to ear hooks and nose pads included in their design.
Eachine VR008 Duo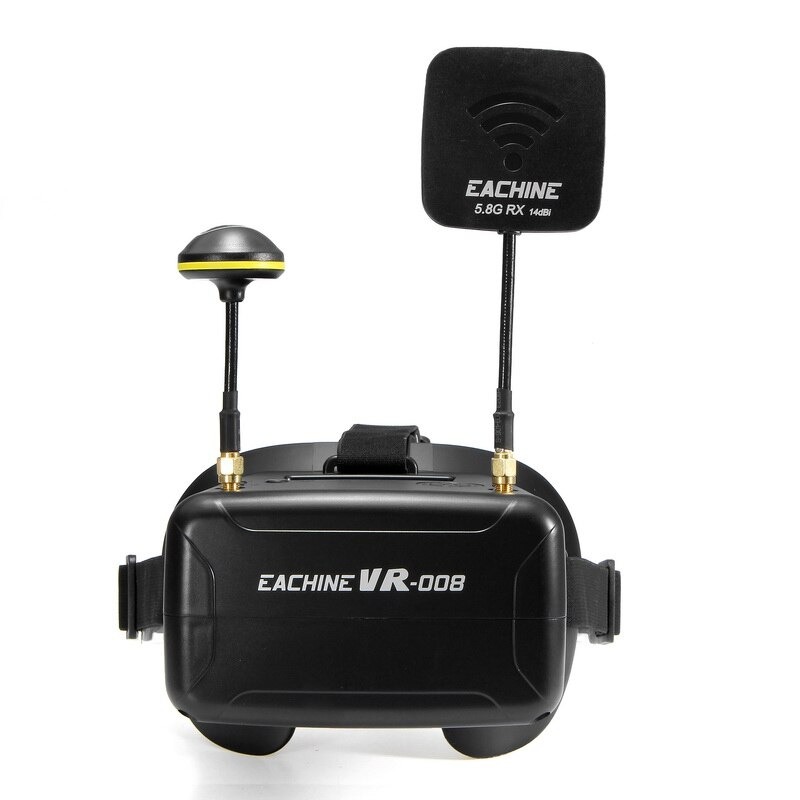 Introducing the VR008 by Eachine, a budget dual-antenna setup with an integrated 4.3-inch screen and 480×272 resolution amplify without true diversity! Wearing one of these boxes on your face for hours at a time may be noticeable given its small size, but this is still quality FPV equipment in an economical package worth considering if you're looking to get started right!
Skyzone 020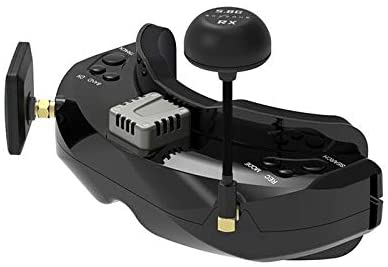 The SKY02O has a 640*400 resolution OLED screen, which is higher than the one on their classic SKY02 series. With this new feature, pilots can see more detail about what's going on in races with vivid colors and high contrast ratio. The receiver merges two signals to make it easier for images not to tear or roll when experiencing challenging conditions like other screens might experience; these are just some of its perks! In addition, there's been an update that offers user-friendly menu navigation, so you never have trouble changing settings again – no matter where your next flight takes you.
Fatshark Dominator HDO 2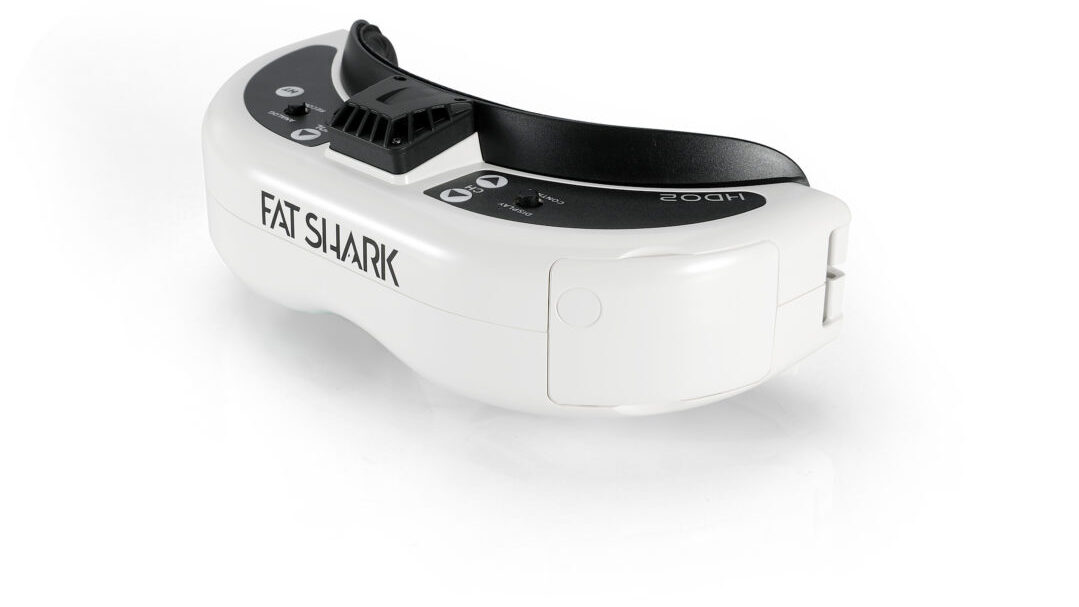 FatShark's Dominator HDO2 FPV goggles are the latest and greatest in drone racing technology. The 46-degree FOV(field of view) guarantees that you'll get a great look at everything around your aircraft, whether trees or buildings, without any lag whatsoever for more precise flying through tight spaces.
Display customization is now possible using FatShark's new OSD with expanded controls to customize these goggles as easily as pie! These excellent googles even allow adjustable focus on the top of all their other features like adjustable IPD (InterPupillary Distance), adjustable faceplate curvature, selectable image ratio, and configurable power button; so they're perfect for just about anyone!
Skyzone 04x OLED

The Skyzone SKY04X is the newest and most advanced in their line of FPV goggles, beating out even other top-of-the-line models like the Fatshark HDO2. The 1280×960 display has a massive 46° field of view that offers an immersive experience for beginners to experts alike–but there are many more features on offer with this model than its competitors. It has an adjustable IPD (interpupillary distance), head tracking through gyro sensor integration, video recording capabilities at 1080P/30fps or 720P/60fp modes – not just live viewing!
Fat shark Scout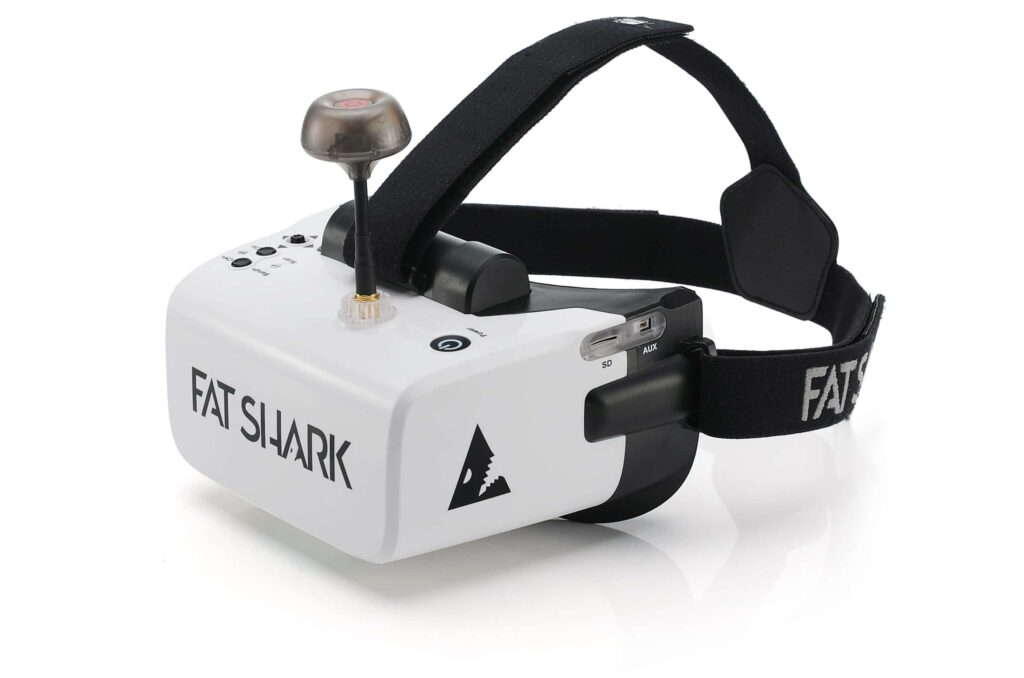 Introducing the revolutionary high-performance goggle at an entry-level price. The Fat Shark Scout features a patented panel optical module, 1136 x 640 resolution, and a 60 fps refresh rate comfortable wearing a headset. Its display is nothing short of impressive, with its 50-degree field of view (FOV), diversity RX, embedded 10 dB patch antenna for maximum reception, and simple USB charging capabilities all on board this one smart device!
Skyzone Cobra X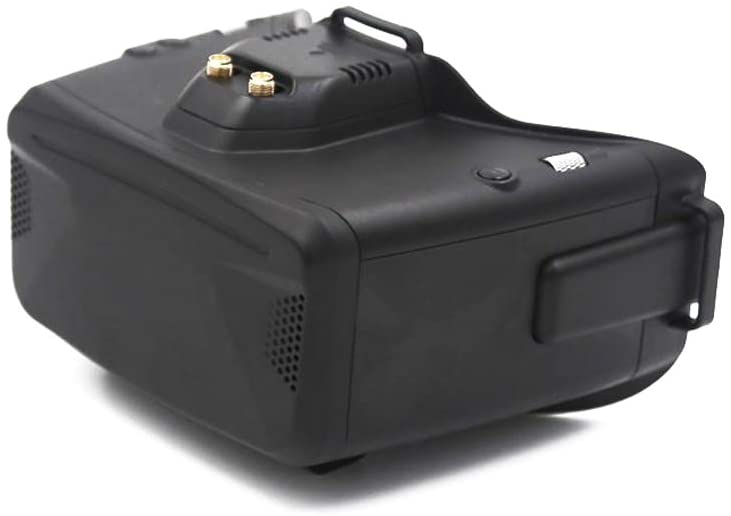 SKYZONE Cobra is an FPV goggle with an LCD screen, making it easier for pilots to see. The high luminance and vivid colors make the pilot feel like they're there racing around in their favorite track or location. With SteadyView receiver technology merging two signals into one, image tearing doesn't occur when the signal becomes weak and video rolls.
This digital experience will be more stable than ever before! Pilots can wear glasses while flying without any difficulties because of SKYZONE's new OS interface language selections; if you have trouble setting up your settings during flight, then simply use the easy-to-use shuttle wheel instead!
Aomway Commanders V2

The Aomway Commander Goggles V2 are some of the most innovative googles on the market. They come with many new features that make FPV viewing much better, such as dual high sensitivity 48 Channel diversity RF modules combined with an 8dbi patch and a 4-cloverleaf antenna for a great reception.
It has two backlit LED SVGA screens (800×600) offering 45 degrees field of view to support side-by-side 3D videos comfortably in front of your face because they can be easily adjusted due to their IPD maximum range reaching 72mm. These goggles have been very popular among enthusiasts who enjoy flying drones at night!
Fat shark Recon V3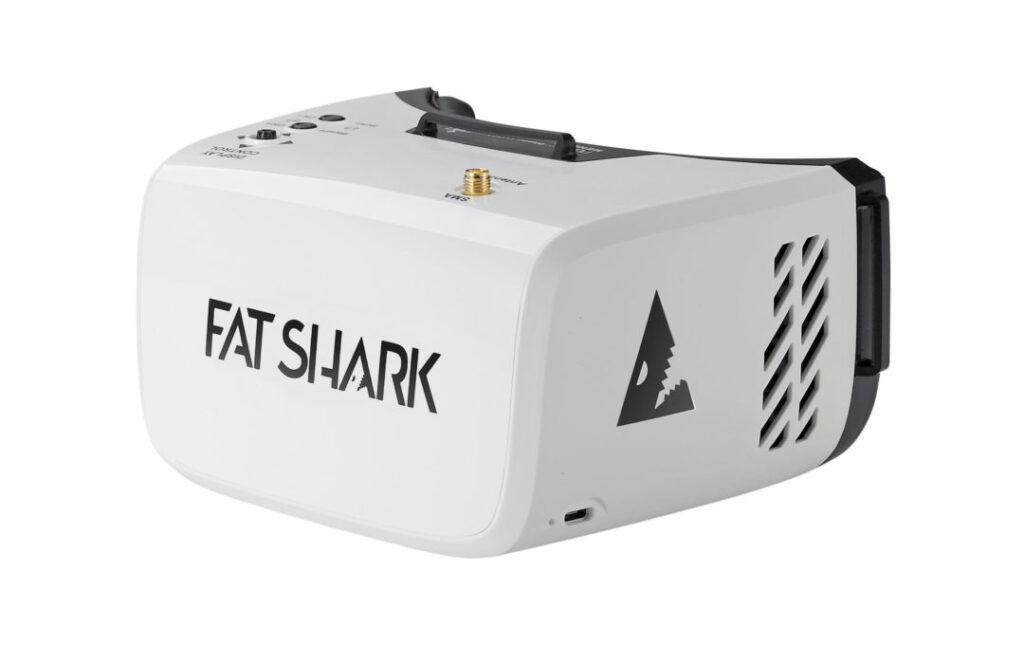 If you're looking for a simple, affordable FPV headset that will provide an immersive experience while flying your drone or quadcopter, the Fatshark Recon V3 is perfect. With its four-band receiver and USB charging built-in, this model has everything pilots are looking for without any extra cables to worry about.
The new version 3 has additional features such as DVR capability built-in from day 1 so pilots can record their flights without worrying about cables or accessory components. Version 3 is also more advanced than the previous models, with improved resolution power through its 800 x 480 TFT display for even crisper images!
Fat Shark Attitude V6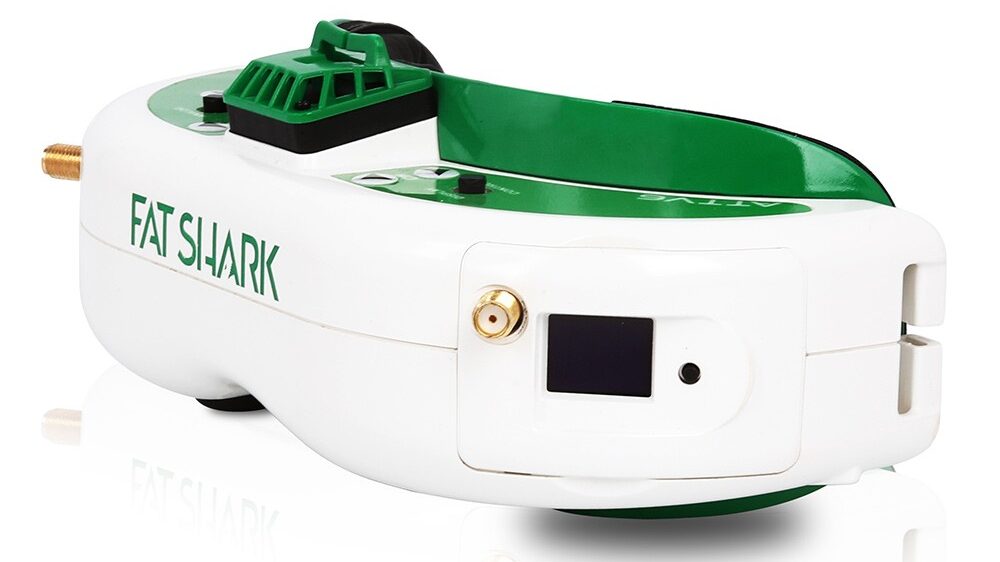 The new Fat Shark Attitude V6 will take your FPV experience to a whole other level. With 1280 x 960 LCOS panels and adjustable diopters, you'll be able to focus on the finer details of what's ahead without missing any important information or detail!
The 39-degree FOV(field of view) will provide an immersive first person view experience for all our pilots out there while simultaneously selecting different image ratios depending on whether it is racing day around town with friends or just cruising along enjoying nature at its finest.
In addition, this Fat Shark Attitude V6 comes fully equipped with analog diversity receivers that are interchangeable, so if one fails, then we've got another waiting in the wings, ready for action!
FPV Goggles Buying Guide
FPV Goggles are an essential part of a good FPV rig. They help by giving you a first-person view of your aircraft, which helps keep you oriented, allowing you to see where you go. Without FPV goggles, it would be like driving with your head stuck out of the car window, looking at the ground ahead while someone else drives for you.
There are FPV Goggles that come in all sorts of shapes and sizes, including monoscopic and binoculars. Most FPV goggles used on RC models have a built-in 5.8G receiver with an antenna attached to it (usually shown as a small black stub on the front). They also usually have a selector for channel frequencies, so you can choose depending on what frequency your pilots are using.
The FPV headsets typically use Single-Lens Reflex technology instead of binoculars or dual monocular lenses, which allows them to be lighter and offer fewer blind spots when viewed through. When looking at Drone accessories, always make sure you do not buy second-hand items that look like they have been worn out or are falling apart. It is not worth saving a few dollars when buying cheap FPV Goggles for your drone if they will be bad for a short time and become useless.
When staring at the ground from above, it can be easy to lose orientation of up and down since the landscape usually appears as an obstacle course marked by tall objects instead of seeing the horizon line. It's also important to keep in mind that what you see on the screen is exactly how things appear through FPV goggles.
Flying forward does not seem like moving straight ahead because your body is telling you otherwise, which may cause disorientation among new pilots. So make sure that if any Drone accessories are purchased online, especially with FPV cameras, the seller is reputable and trustworthy.
You might want to consider upgrading from your factory stock FPV Goggles which might have limited options, and see what else is available on the market. There are plenty of new FPV Goggles that are larger or offer a better field of view (FOV) than stock models, and some even have additional features such as HDMI input.
Although this may seem overkill for flying drones, it's still nice to have all those extra features if you're planning on doing other things with the goggles besides watching first-person videos from RC aircraft in flight. If you already own an RC Drone with a built-in camera, try out different FPV Goggles that give you a wider FOV and check the different options before making a purchase.
One of the advantages of FPV Goggles is that you don't have to worry about video latency since they're paired with something right on top of your head, so there's no delay in viewing what's happening.
This makes FPV flying far safer than just using a screen like a smartphone or a tablet because if you lose orientation or sight of where the drone is, you won't crash into anything! However, due to how small drones are compared to an airplane, it can be harder to judge how high up yours is about the ground: without a reference point, the ground below can be hard to gauge.
Some FPV Goggles offer FOV options like 'Narrow' and 'Wide', which change how much of your drone's camera view is seen through the goggles screen. The narrow option makes it more like you're looking out a window, while the wide offers a larger field of view but can also cause neck strain since you have to turn your headless often when moving around (don't forget that FOV is measured as degrees).
When choosing which pair of FPV goggles might be right for you, consider what kind of flying style there will be. Farmers who use their drones for checking crops or inspecting buildings tend not to need something overly broad or with lots of weight as they will be stationary most of the time. In contrast, a speedrunner who needs every edge in their competition tends to use bigger FPV Goggles with heaps of features.
Now that you know all about what FPV Goggles are and how they can make your drone flying experience more enjoyable, it's time to choose your new pair! The first thing to keep in mind is the purpose of the goggles.
If you only plan on using them for casual recreational flying around the house or outside, then you might not need something too fancy. However, if you're looking at racing drones, there are plenty of options designed to work well with these high-speed crafts with long-range capabilities.
Another factor you should consider is your eyesight and how much of a challenge it might be to use FPV Goggles. If you already wear glasses, then you'll probably want to get something that fits over the frames instead of trying to squish them in. If you often have headaches or eye pain, then an inexpensive option might save you some trouble from things like FOV changes.
No matter what kind of drone flying is being done, FPV Goggles can enhance the experience. Giving more appreciation for how tiny quadcopters are about our surroundings while making piloting much easier on those who want to try out flying without having a huge investment right off the bat. There are plenty of options out there to choose from, so do some research and get the best FPV Goggles that the pilot can afford!
To summarize, FPV goggles allow you to enjoy the hobby of flying RC quadcopters and other aircraft in a new way. You can see things from your perspective as if you're sitting inside an airplane cockpit or driving a car on the ground.
If you are interested in exploring this exciting world for yourself, we recommend getting some FPV goggles so that you can get started right away. We hope these tips have been helpful and wish you all the best on your journey into FPV flights!