The best FPV cameras for your drone will depend on the type of racing or flying you want. There are specific camera setups for each style and specification that might be better suited to you. For beginners, I recommend a low-cost HD camera with a wide-angle lens.
If you're flying in areas with trees or buildings, a high-quality HD camera is best suited because they have more light sensitivity than their counterparts. The most important thing when choosing an FPV Camera is the resolution! The higher the number, the clearer it'll look on your screen and, therefore, easier to fly! Keep this in mind as we explore some of our favorite picks below.
What Is An FPV Camera?
FPV cameras are an innovative way for drone enthusiasts to fly and race their drones. FPV stands for First Person View, meaning that the video feed is transmitted from the camera mounted on a remote-controlled vehicle so you can see what it sees in real-time!
To use these amazing devices, there needs to be another device called ground station, which transmits live footage to FPV Goggles, FPV monitors, or Screen onboard if available, where viewers will watch all of this happen as they're taking place.
Things to Consider When Choosing an FPV Camera
One of the most important decisions you'll have to make when choosing your FPV equipment is what kind of camera to use. With a wide variety of models, it's important to do some research and find the best one for your particular setup. This article will look at the features and characteristics you should be looking for when making your purchase.
Field of View (FOV)
The field of view is the angular measurement in degrees that an object can be seen from a given position. Imagine standing somewhere with a camera and seeing how much of your surroundings can be seen from that vantage point. A camera with a wide field of view will show you more, while one with a narrow FOV is best for close-ups.
These days, most ground cameras have a 90-degree or 110-degree FOV (the smaller number is the horizontal measurement). You'll also find that some cameras have a "superwide" FOV, which can be handy for seeing the surroundings but not so good at capturing detailed shots of your subject.
Resolution & Sensor Size
The resolution or megapixel count of a camera is an indication of its ability to capture detail. Higher resolutions are better here, although this isn't always true when dealing with FPV cameras. On top-end models, it's more important that you get one capable of delivering crisp 1080p video signals than having gobs and gobs of pixels being captured by a low-res sensor.
One thing to keep in mind is sensor size: Bigger sensors produce bigger images while smaller sensors produce smaller ones. This may seem like a silly thing to worry about, but sensors are generally measured in "millimeters" while resolutions are usually given in "inches." The bigger your sensor size, the closer you'll be able to get your camera to something without it seeing things that lay beyond its field of view.
Lens Quality
The lens quality is important because it will determine how much light gets into the camera's sensor and limit distortion during shooting. A simple plastic lens might allow all kinds of glare (and give you substantial ugly black spots on your footage), while a multi-coated glass one should do a better job at cutting down on reflections and producing crisper images.
Image Stabilization/Gimbals
Most FPV cameras come with built-in gimbals for stabilization, but some models come with this feature. Instead, they rely on built-in camera controls to keep the shot appropriately framed.
This works quite well, with most cameras able to turn and tilt so that your video is always smooth without any shaking or jittering. You'll find that some models have integrated CMOS sensors (for motion detection) that help prevent excessive rolling.
Video Transmission
Most FPV cameras can transmit their video directly from the sensor through a digital interface like a Flight Controller's VTx (video transmitter) input port or analog (using a line converter). However, you'll want to make sure that your model can handle light conditions that vary greatly from dawn to dusk. 
If you plan on flying in and out of trees or near busy highways, your camera should be able to handle a wide dynamic range with lots of contrast between dark and light areas. Most cameras come with adjustable gain settings that can increase the brightness or limit the exposure range.
Antenna Size
Antennas are usually rated by their length in millimeters (mm). The longer it is, the more efficient it will be at receiving weak signals from a long distance away. However, using a big antenna means sticking an antenna on your plane!
This could interfere with flight performance if you're not careful and potentially snag branches or crash into other obstacles during flight. It's important to find an antenna that balances reception quality against drag and weight.
Audio/Video
Some cameras contain an audio recording feed so that you can capture your voice while flying. This is a neat feature, but it uses up memory, and the video quality usually suffers when these are enabled.
You'll find various methods for adding audio to your camera, such as using an analog microphone or connecting a wire-based wireless adapter (which has more latency than radio-based ones). The bottom line here is that audio capability depends on the size of your camera's memory and the demands of what you do in flight.
Memory Capacity
Memory capacity will determine how long you can record high-quality video before you run out of space. Most cameras come with 4GB or 8GB microSD cards, but some can handle 128GB.
What are the best FPV Cameras?
The RunCam 5
Caddx Nebula Pro
The Caddx Baby Ratel 
The RunCam Eagle 2 Pro
The Foxeer HS1190 Arrow
Caddx Polar Starlight
Runcam nano 2
The Runcam Swift 2
Best FPV Cameras
Caddx Nebula Pro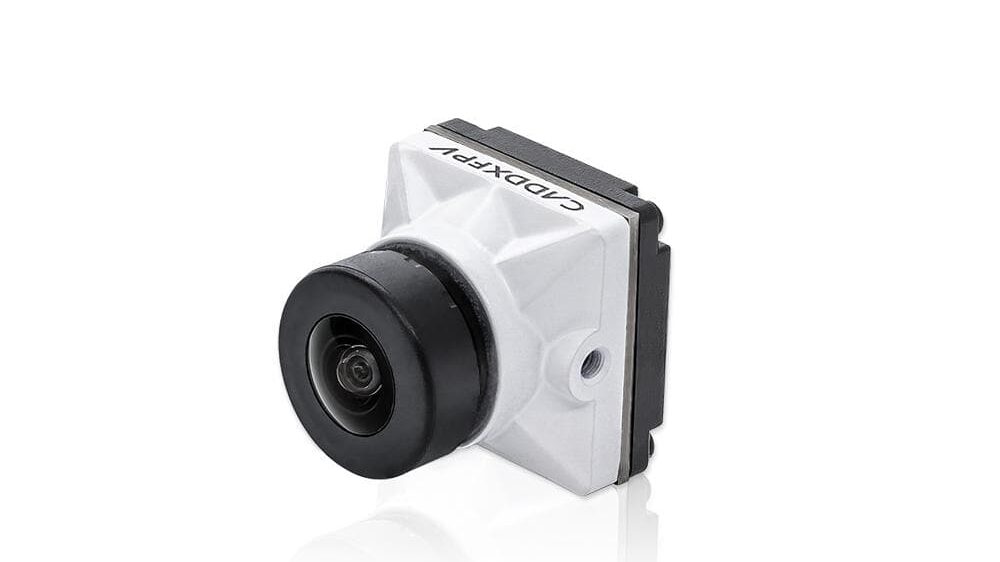 The Nebula Pro HD FPV camera has 120 frames per second video recording capability and features 720P resolution for crisp footage.
Nebula's new pro-series of cameras are designed to be the ultimate in aerial photography, with state-of-the-art image quality that can't even compare to other models on the market today!
The wide-angle lens captures every detail possible from up above–so you'll never miss anything again!–while being able to record high-definition videos at an astounding rate of 320×240 pixels all day long. Check Nebula Pro HD on Amazon.
The RunCam 5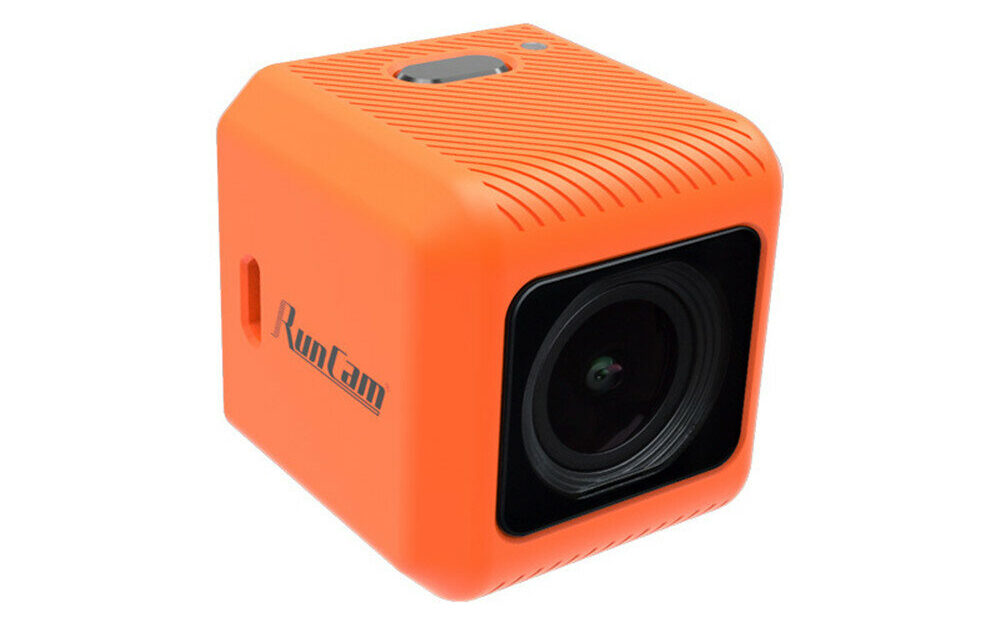 The RunCam 5 is a high-quality, ultra-lightweight camera that can shoot 2.7K 60 fps videos and supports 4K recording for up to 105 minutes! It has a vast field of view with the ability to capture true 1080p footage from its native 12MP sensor when you're flying at speeds over 40 mph (64 km/h).
This compact HD action cam also features EIS stabilization so your video will be smooth even in bumpy conditions – this is the perfect drone companion if you want crystal clear aerial shots without weighing down your aircraft or sacrificing performance.Check the updated price of Runcam 5 on Amazon.
The Runcam Swift 2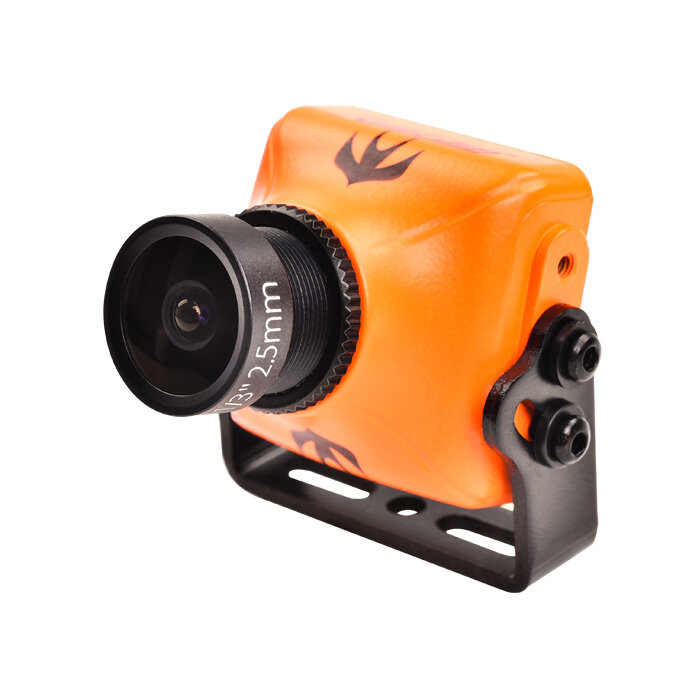 The Swift 2 from Runcam is a sleek, lightweight FPV camera with high-quality components and features that outperform the competition.
The Swift 2 camera by Runcam offers many improvements over their previous model while still maintaining an affordable price point for beginners who are just getting started in drone racing.
The wide FOV lens allows you to capture more of your surroundings during flight and keep all four propellers in view without any interference caused by flying at low altitudes or obstructions on the field like trees or buildings. It also has a built-in OSD (on-screen display) which can be tailored exactly how you want it, so there's no need to buy extra equipment since this one does everything! Buy Runcam Swift 2 on Amazon.
Runcam nano 2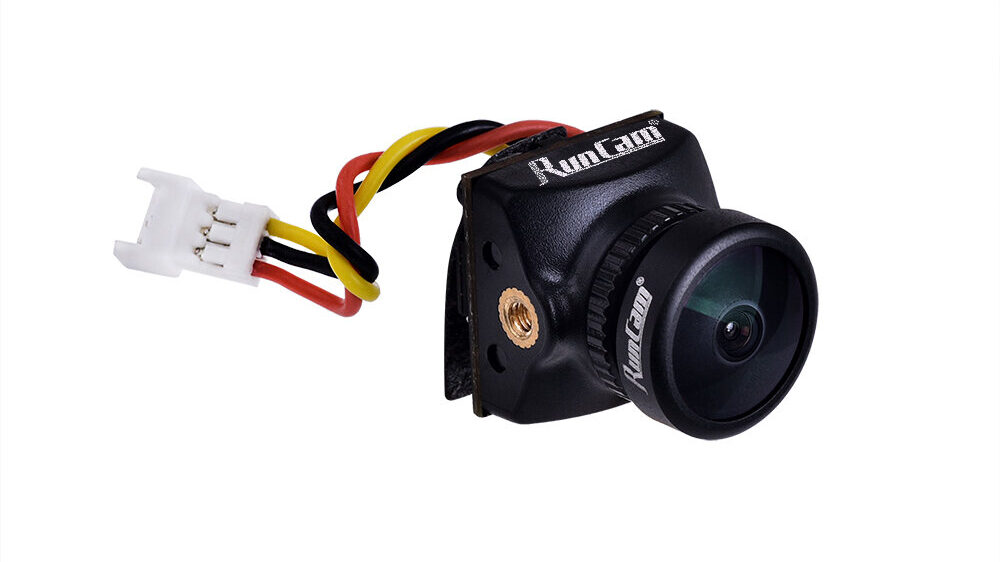 The Runcam Nano 2 Camera is a small but powerful little device with an impressive number of features. This camera will help make all those adrenaline-inducing activities more enjoyable to watch at incredible clarity, and it can capture everything in HD because of its 700TVL resolution and 1/3″ CMOS sensor. The FOV (field of view) on this product reaches up 155 degrees wide, which means every moment can be captured no matter how fast you are moving or what's happening around you! Buy Run Cam Nano 2 on Amazon.
The Caddx Baby Ratel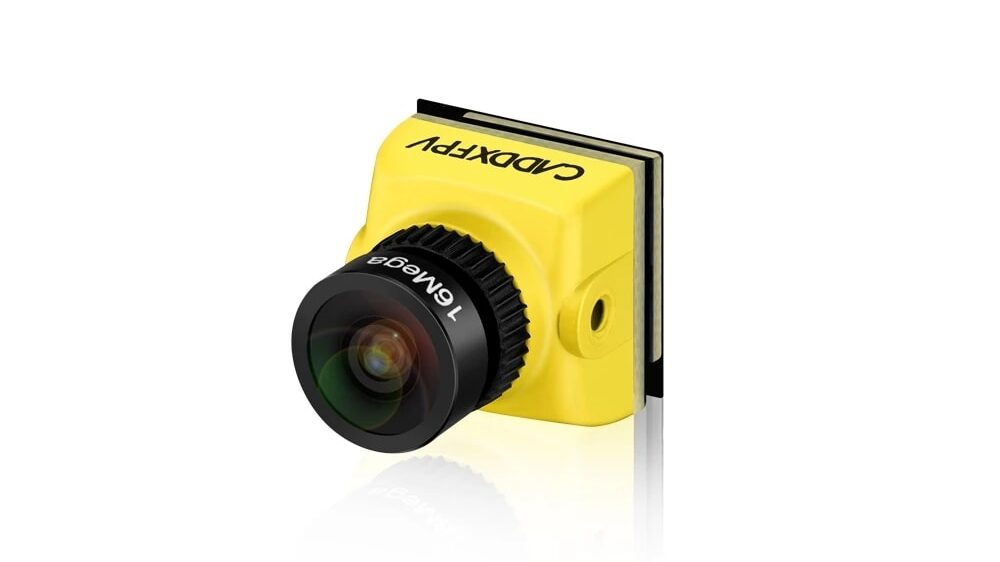 The Caddx Baby Ratel has superb night vision performance in addition to an excellent daytime image with ultra-low latency. It is a 1/2″ sensor, and it uses CMOS technology for the best possible images day or night. This camera also features WDR (Wide Dynamic Range), which helps you see more of your surroundings while still maintaining detail even in poorly lit areas!
The Caddx Baby Ratel features a Sony IMX258 1/2.7″ CMOS sensor as well as an impressive F1.8 24mm wide-angle lens, giving you an angular field of view (AFOV) of 130°! It's perfect for covering large areas, all while getting a wide, clear picture.
This lens allows you to see more so you can make better decisions. The camera runs on 2.8 – 9.2V power with the help of an external voltage regulator (not included), and it can be used up to 60m underground!
The Caddx Baby Ratel is a truly professional camera at an unbeatable price! This budget-friendly, high-performance FPV camera has been designed to give you an edge in your FPV racing or freestyle flying.
The Caddx Baby Ratel is a perfect addition to any FPV system. It is exceptionally well suited for those looking for a high-quality camera that captures excellent video at night! Get Your Caddx Baby Ratel on Amazon.
The RunCam Eagle 2 Pro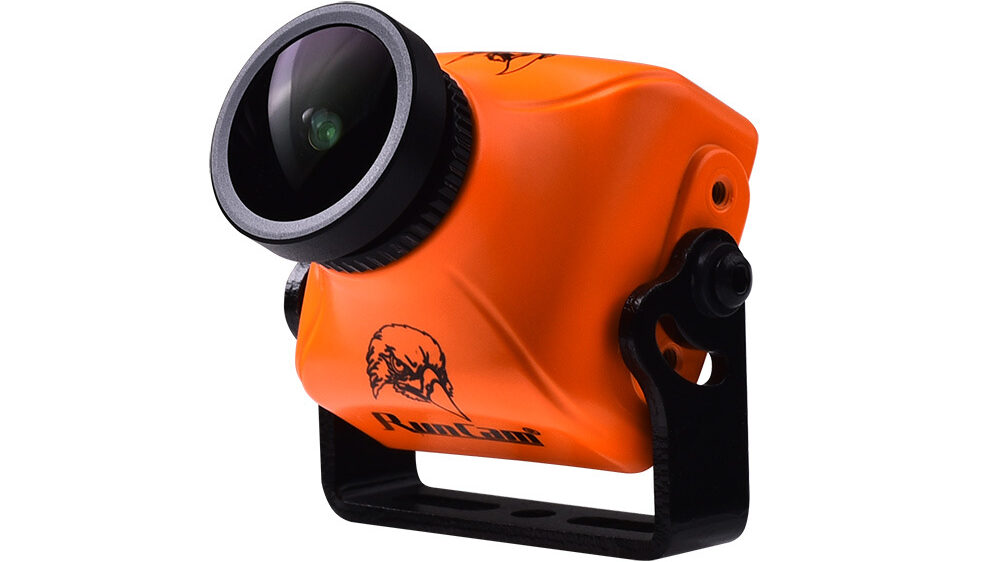 The Runcam Eagle 2 Pro is an excellent camera for FPV enthusiasts, offering an extremely high quality 1/1.8″ CMOS sensor and 800TVL resolution that will be sure to please the most demanding of users! The horizontal FOV can range from 170 @ 16:9; 140 at 4:3, giving you the maximum flexibility in what type of footage you want to capture.
If your preferences fall on one side or another when it comes to screen format- don't worry, because this little beauty has got us covered with full switchable capability between NTSC & PAL formats as well!
The Foxeer HS1190 Arrow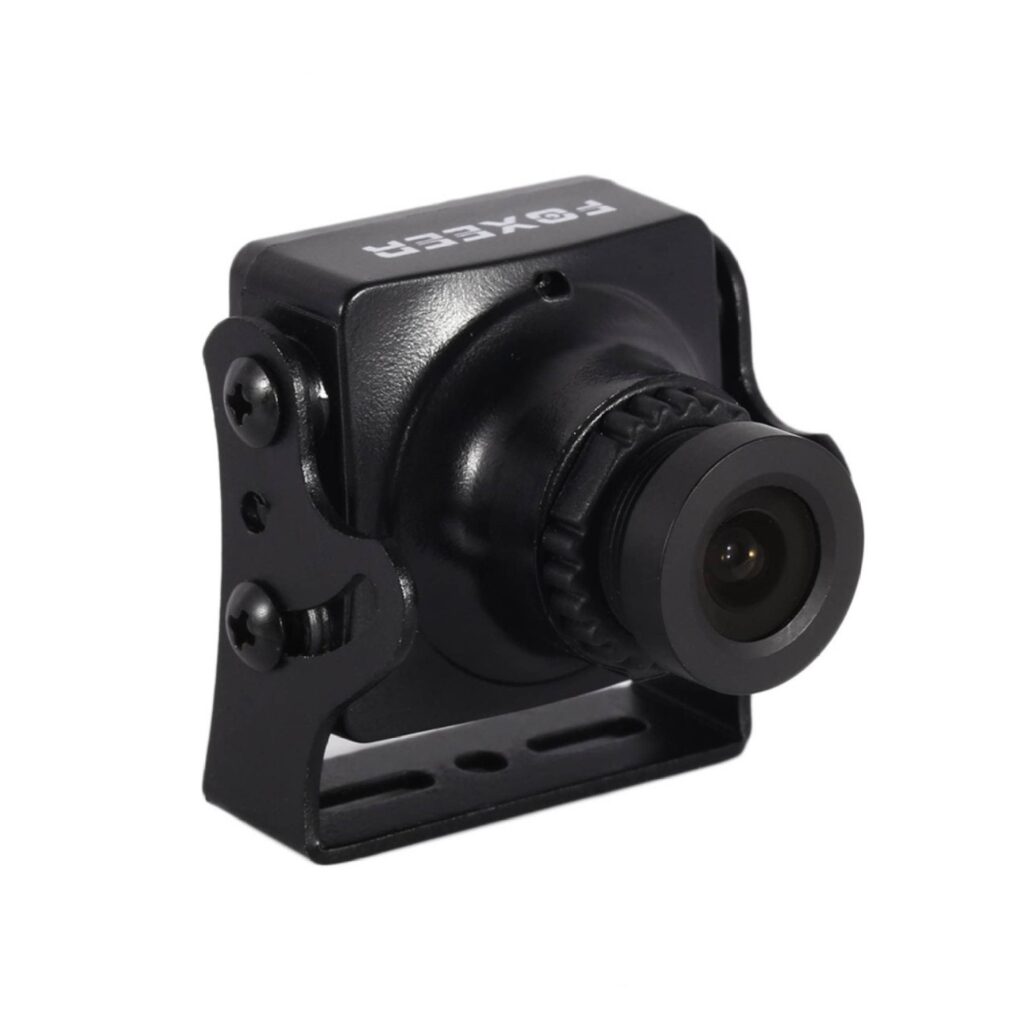 The Foxeer HS1190 Arrow is a fantastic 2.8mm CCD camera for FPV and first-person view applications, with 600TVL resolution to help provide excellent image quality in the sky. The OSD system provides you with an easy way of adjusting exposure settings so that all your footage comes out great, no matter how bright or dark it may be outside! It also has NTSC/PAL compatibility, which makes this unit even more universal.
This camera features an IR block filter as well as infrared-sensitive chips (the lens can see up to 40 meters), making sure you won't miss any action during night flights due to other aircrafts' lights interfering by blinding the pilot's vision!
Caddx Polar Starlight
Caddx Polar Starlight FPV Camera, a compact and portable camera with high-quality video capture capabilities, is perfect for airborne and cinematic footage.
Caddx Polar Starlight Digital HD FPV Camera can capture stunning footages in low-light conditions using one of the best CMOS sensors.
The Polar Starlight's FPV camera has the longest range and is the most advanced Caddx camera. With its high-quality lens, this camera can capture full HD video at 720p HD resolution at 30 frames per second.
It is a compact camera with an extensive range. This makes it ideal for when you want to capture all the action.
We hope the FPV cameras we've listed here have given you a better sense of what features are important to you. Remember that it's important that your goggles or FPV monitor has at least four channels so they can display footage in full HD resolution–no matter which camera you get. It also helps if the goggles/monitor is compatible with HDMI input since most FPV cameras come as an analog signal- meaning this will be easier than having them convert into digital signals on their own (and takes up valuable power).