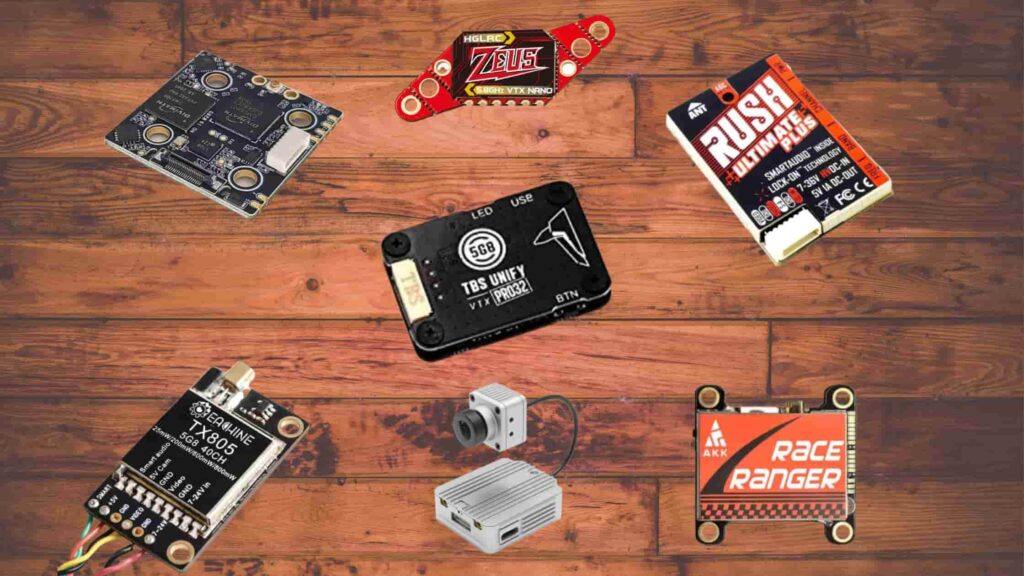 If you're looking for the best FPV VTX for your next build, you've come to the right place! In this article, we'll look at the best FPV VTX on the market and help you decide which one is right for you. We'll also provide a buyer's guide to help you make the most informed purchase decision.
TBS Unify Pro32 HV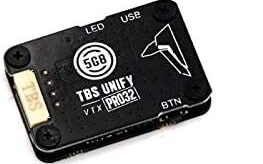 TBS Unify Pro32 HV is the best 5.8GHz VTX for analog drones. TBS Unify Pro32 HV VTX is built for incredible cooling and durability.
It has a double-decker construction to improve airflow and provide superior cooling performance. It can handle the most demanding FPV racing conditions, with 1000mW and more output power. You can also enjoy the ultra-clean transmission, supporting up to 16 pilots! It ensures steady video transmission, even during hectic races.
TBS Unify Pro32 HV VTX is the ideal drone for beginners and intermediate FPV pilots. It has an easy Flight Controller, RC channel and OSD changes. A fallback menu also allows you to switch between channels if there is no signal quickly. Because it is compact, you can easily take it wherever you go. You can fly for fun or competition with the TBS Unify Pro32 HV VTX.
TBS Unify Pro32 HV Specs:
Operating Voltage: 6V – 25V (2 – 6S)
Operating Temperature: watch for normal airflow
Video Input Impedance: 75 Ohm
Weight: 8.7g
Dimensions: 37 x 25 x 5.8mm
Antenna Connector: MMCX
Video Format: NTSC/PAL
Output Power: 14dBm (25mW), 20dBm (100mW), 26dBm (400mW), 30dBm+ (1000mW+)
RUSHFPV Tank Solo 25-1000mW 5.8GHz VTX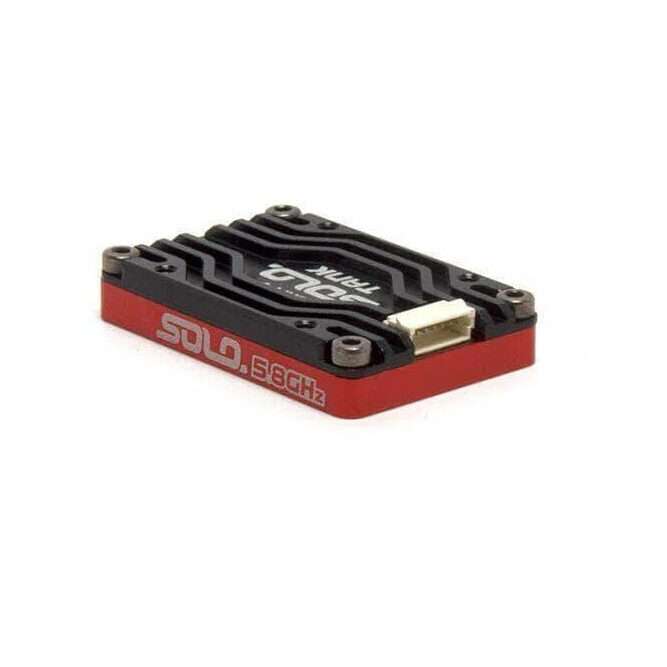 Rush FPV Tank Solo 25 – 1000mW 5.8GHz FPV VTX is the best choice if you're looking for a powerful FPV VTX. This VTX has a maximum power output of 1.6 Watts. That's enough power for any compatible FPV system.
The VTX's low-latency transmission ensures smooth streaming even during high-action aerial stunts. If you're looking to purchase a powerful VTX for all your FPV needs, then the Rush FPV Tank Solo 25-1W 5.8GHz VTX might be worth your consideration.
RUSHFPV Tank Solo Specs:
Input Voltage : 7-36V DC (6S IPO )
Output Voltage : 5V/1A (Max 600mA).
Channels: 48CH/37CH(US)
Input Voltage: 7-36V DC (6S LIPO )
Output Voltage: 5V/1A (Max 600mA)
Channels: 48CH/37CH(US)
Power: PIT/25/400/800/MAX mW
Audio: Support audio input
Microphone: Built-in high quality AGC mic
Video Format: CVBS PAL/NTSC
Dimensions: 37x24x6.7 mm
Weight: 12g (without cable)
RUSH TANK Ultimate PLUS VTX 25-800mW 5.8GHz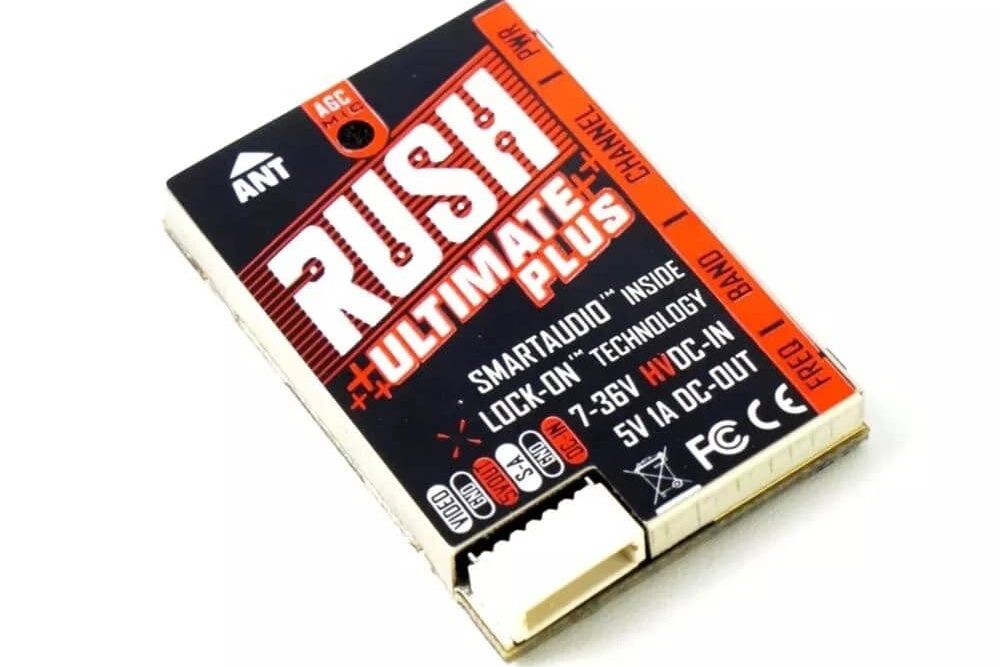 The Rush Tank Ultimate Plus has a 25-800mW power output, making it the perfect drone for FPV pilots who require the highest quality and performance.
This VTX is made for racing drones. It has a high-quality construction that ensures smooth audio and video playback.
It has an anti-interference design to ensure stable transmission in tight spaces. The Rush Tank Ultimate Plus VTX should be part of your kit whatever you do with your drone!
RUSHFPV Tank Ultimate Plus Specs:
SpeedyBee TX800 25-850mW VTX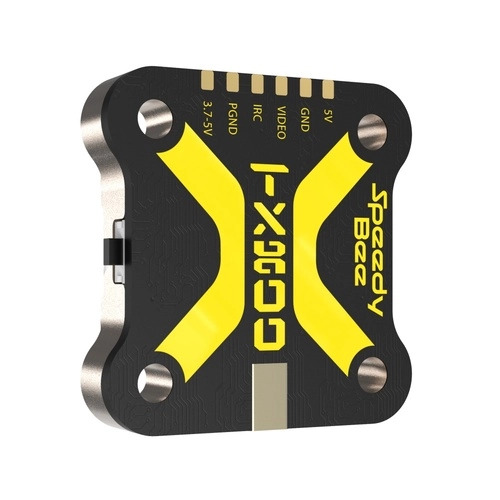 SpeedyBee TX800 VTX is a 5.8GHz video transmitter made explicitly for FPV racing drones. This highly integrated VTX Module can handle up to 850mW and is ideal for high-performance drones or multi-rotors.
The TX800 allows you to connect multiple video cameras or transmitters to create a seamless FPV experience. The VTX is compatible with the IRC TRAMP protocol.
SpeedyBee TX800 specs:
Frequency Channel: 5.8GHz 48CH
Output Power: PIT/25mW/200mW/400mW/800mW
Working Current: [email protected]~750mA
Voltage out: [email protected] 250mA
Voltage in: 3.7-5.5V
Video input impedance: 75 Ohm
Antenna Connector: MMCX
Weight: 5.6g (without antenna)
TBS Tracer Sixty9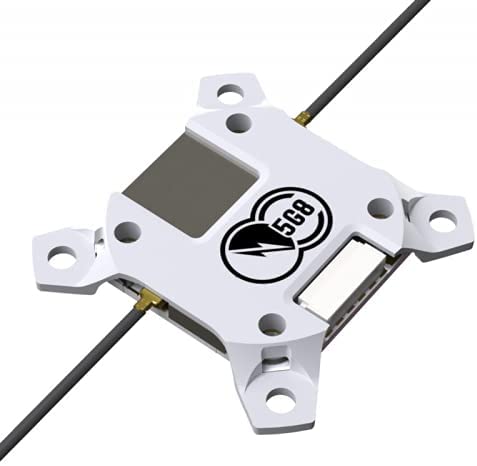 TBS Tracer Sixty9: A race-friendly, long-distance capable video transmitter/receiver AIO board. This pair has a powerful VTx and a reliable receiver to create the ideal racing solution. This VTX transmits up to 1W and has perfect cooling making it suitable for any situation.
The Tracer Sixty9 has superior performance and features for demanding racers. The Tracer Sixty9's long-range capabilities and race-friendly design make it perfect for high-level racing events.
TBS Tracer Sixty9 specs:
Weight: 4.1g (board only)
Antenna ports: 1x video transmitter, 1x R/C receiver
Size: 24mm x 24mm
Requires Firmware V5.62+
CRSF V3 is ready
Input voltage: 6V – 25V (2-6S)
AKK Race Ranger VTX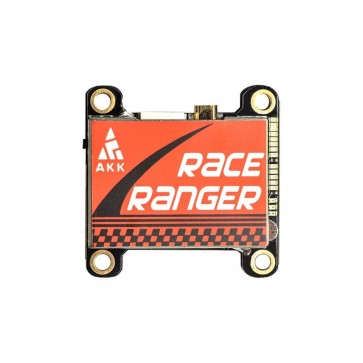 AKK Race Ranger VTX can handle any aerial racing or filming. This 5.8GHz VTX delivers up to 1600mW power, which will allow you to fly further and faster. With smart audio support, you can be sure that every sound you record during your flight is clear and precise.
AKK Race Ranger VTX Specs:
Input voltage: 7V to 28V
Extra features: Smart audio 1600mW
Power supply: 5V camera @ under 500mA max.
Output power: 200/400mW/800mW/1600mW
Antenna connector: MMCX
Cable connector: JST, 6pin
Dimension: 36x36mm(W*D), 30.5×30.5mm (hole)
Weight: 16.81g (excluding antenna)
TBS Unify Pro32 Nano VTX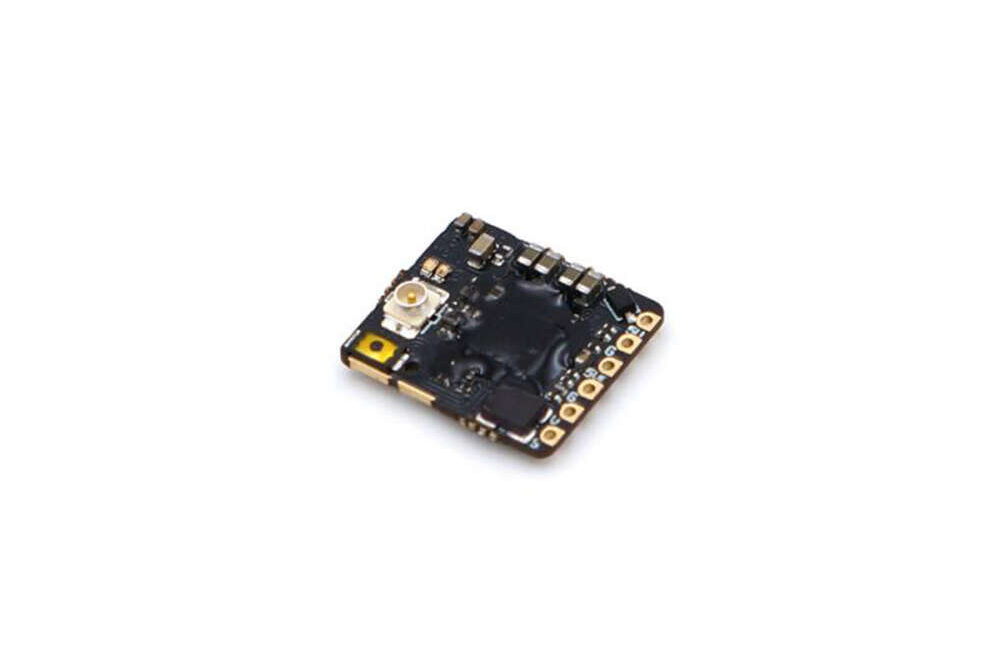 TBS Unify Pro32 5.8GHz Video Transmitter lets you send high-quality videos to your quad. This micro VTX is extremely lightweight and easy to transport, making it great for race use.
It can produce up to 500mW power, which ensures that you can transmit your video and photos without interference. PitMode also allows you wirelessly to power your quad while racing. This lets you focus on the race at the moment without worrying about losing power.
TBS Unify Pro32 Nano Specs:
Frequency: 5.8GHz
Operating Voltage: 3-13V
Video Input Impedance: 75 Ohm
Antenna Connector: u.FL socket
Video Format: NTSC/PAL
Output Power: 14dBm (25mW), 20dBm (100mW), 26dBm (400mW), 28dBm (500+mW)
Weight: 1 gram
Eachine TX805 VTX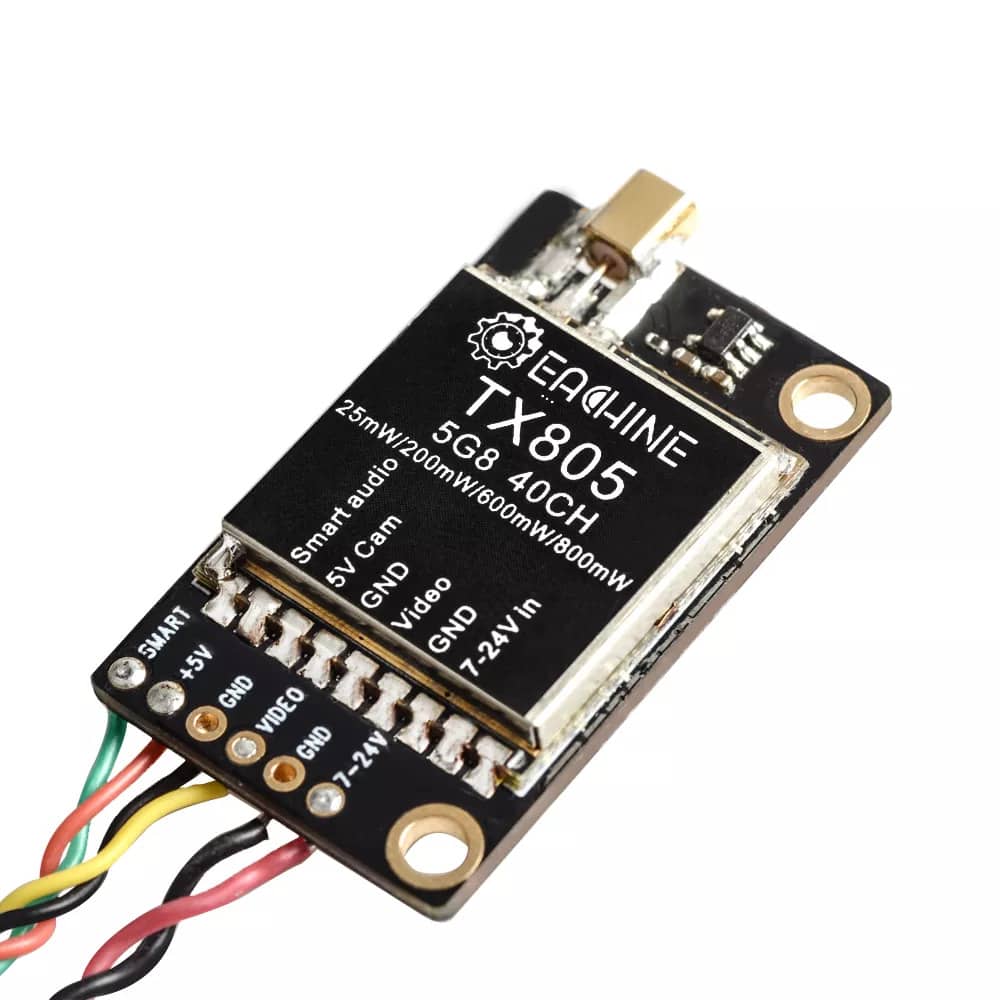 The Eachine TX805 VTX comes with all the basics you need and also includes a diversity receiver that ensures good reception.
The Eachine TX805 VTX is an excellent choice if looking for a reliable and robust FPV transmitter. The Eachine TX805 VTX supports Smart audio, 40 channels, power failure memory, and Smart audio.
This transmitter is perfect for anyone wanting to fly FPV with minimal hassle. It has a switchable power range that can be adjusted to your specific needs, such as 25/200/600/800mw. You can also use the OSD configurator on the TX805 VTX to make you are flying even more fun.
Eachine TX805 Specs:
Frequency: 5.8GHz
Channels: 40CH
Input voltage: 7V~24V
Extra features: Smart audio
Power supply: 5V output for Camera
Output power: 25mW/200mW/600mW/800mW switchable
Antenna connector: MMCX
Cable connector: Solder pads
Weight: 8g(excluding antenna)
HDZero Race V2 VTX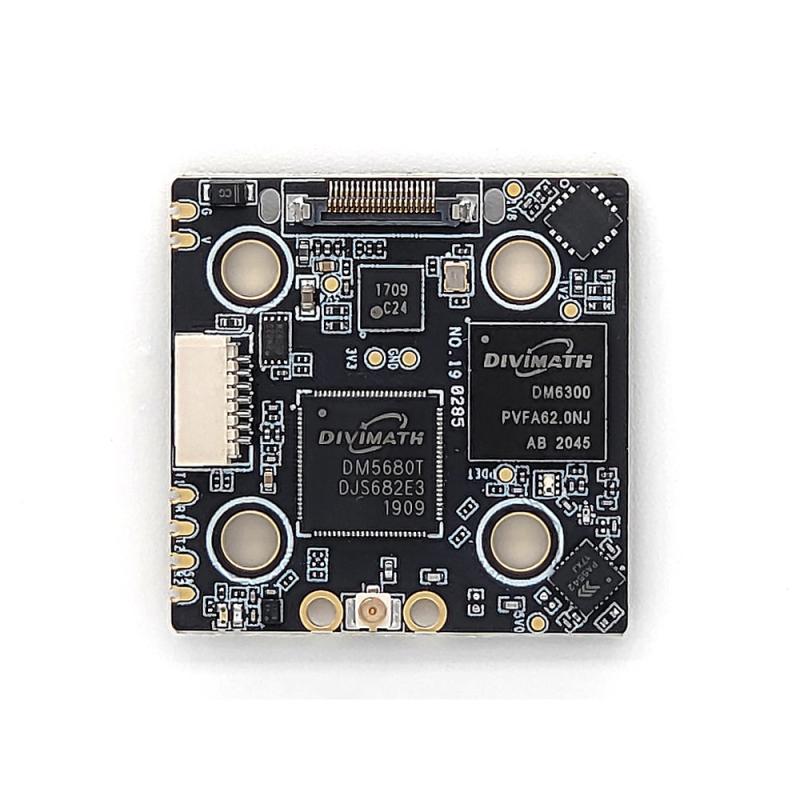 HDZero Race V2 VTX will provide your FPV racing needs with a high-quality video transmitter. This digital transmitter is made for durability and performance.
You can adjust the strength and power of your signal while you fly with the built-in switchable 25/200mW signal. The HDZero Race V2 VTX has a 60fps frame rate and HD 720p resolution. This makes it perfect for FPV racing.
HDZero Race V2 Specs:
Operating Frequency: 5.725-5.850GHz
Transmitter Power: 25mW,200mW
Operating Frequency: 5.725-5.850GHz
Transmitter Power: 25mW,200mW
Mounting Pattern: 20x20mm with M4 to M3 gummies
Antenna Interface: Secured u.FL
SmartAudio: Yes
MSP Canvas Mode: Yes
Input Power: 7-26V
Operating Temperature: 32?F-104 ?F (0?-40?C)
Power Consumption: 25mW: 5.0W – 200mW: 5.8W
Dimensions: 34x34x5mm
Weight: 6.2 g
RUSHFPV Tank Mini 25-800mW 5.8GHz VTX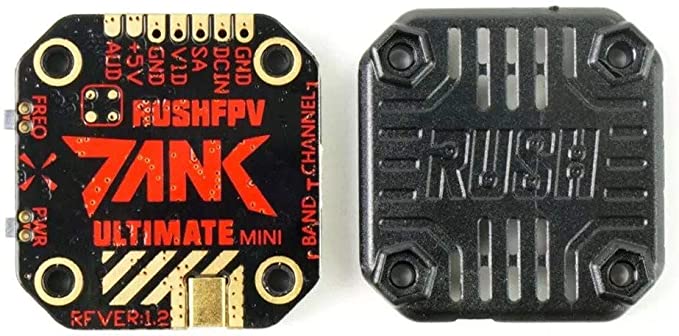 Are you looking for a high-quality mini VTX to handle both your racing needs and your recreational flying? You won't be disappointed with the RUSHFPV Tank Mini VTX. This unit has a compact, robust design ideal for aerial photography and FPV racing.
You can power your FPV equipment with a variable output range of 25 to 800mW. Pit Mode will prevent interference from other pilots. Smart Audio features will ensure clear audio with no distortion. Protect your equipment against scratches and damage with the optional protective shield.
RUSHFPV Tank Mini Specs:
Input Voltage: 7-36V(2-8S)
Transmission Power: PIT/25/200/500/800mW
On Board DC Output: 5V 1A Max
12V Input Current:
Channels: 48 RaceBand/LowRace
Feature: Available with External Mic
Dimension: 28x28x3.3mm
Weight: 4.46g (w/o Cover), 5.40g (w/ Cover)
Eachine Nano V2 25-400mW 5.8GHz VTX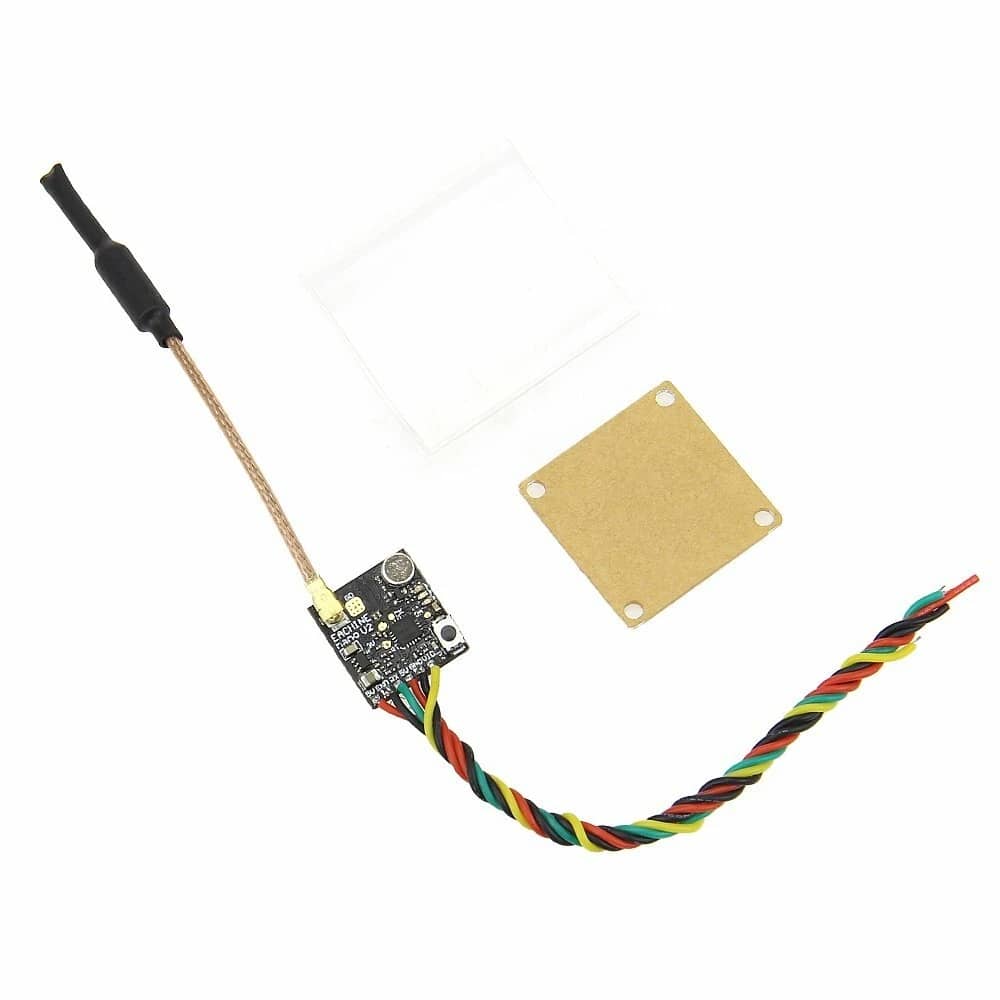 This VTX simulates the exact 5.8GHz ISM spectrum transmission used in real-world racing drones. It can provide predictable, stable power output even under challenging conditions.
Thanks to the strong power filter, your images will be free from interference and snowflakes. You can choose the Eachine NANO V2 VTX if you're looking to race or just for general use.
Eachine Nano V2 Specs:
Frequency: 5.8GHz 6 bands, 48 channels
Input Voltage: DC 5V
Output Power: PIT/25mW/100mW/200mW/400mW switchable
Control Mode: BFOSD Control(RX)/Button
Video System: NTSC/PAL
Antenna Interface:IPEX
Size: 15mm x 14mm x 4mm
Weight: 3g
HGLRC Zeus Nano 25-350mW 5.8GHz VTX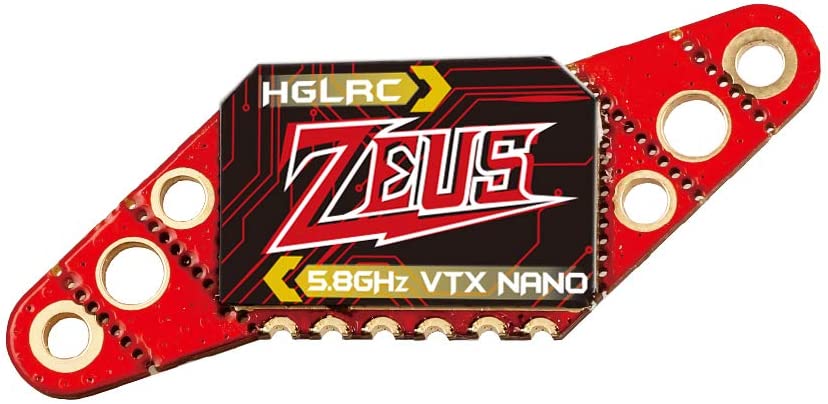 HGLRC's Zeus nano VTX is among the most versatile and powerful transmitter for fpv drone. This VTX can transmit at PIT /25/100/200/350mW switchable transmission VTX via Betaflight Flight Control Board. This makes it a good choice for experienced pilots. Zeus nano VTX will boost your flying with its incredible capabilities and solid build quality.
HGLRC Zeus Nano Specs:
Input voltage:DC 5V
Antenna interface :ipex
Output power:PIT/25/100/200/350mW
Standard 40 channels. A/B/E/F/R frequency group
Installing Hole:16X16/25.5X25.5mm.M2
20X20mm.M3
Size:18.6mm x 13.6mm x 6mm
Weight:2.4g
Caddx Air Unit DJI System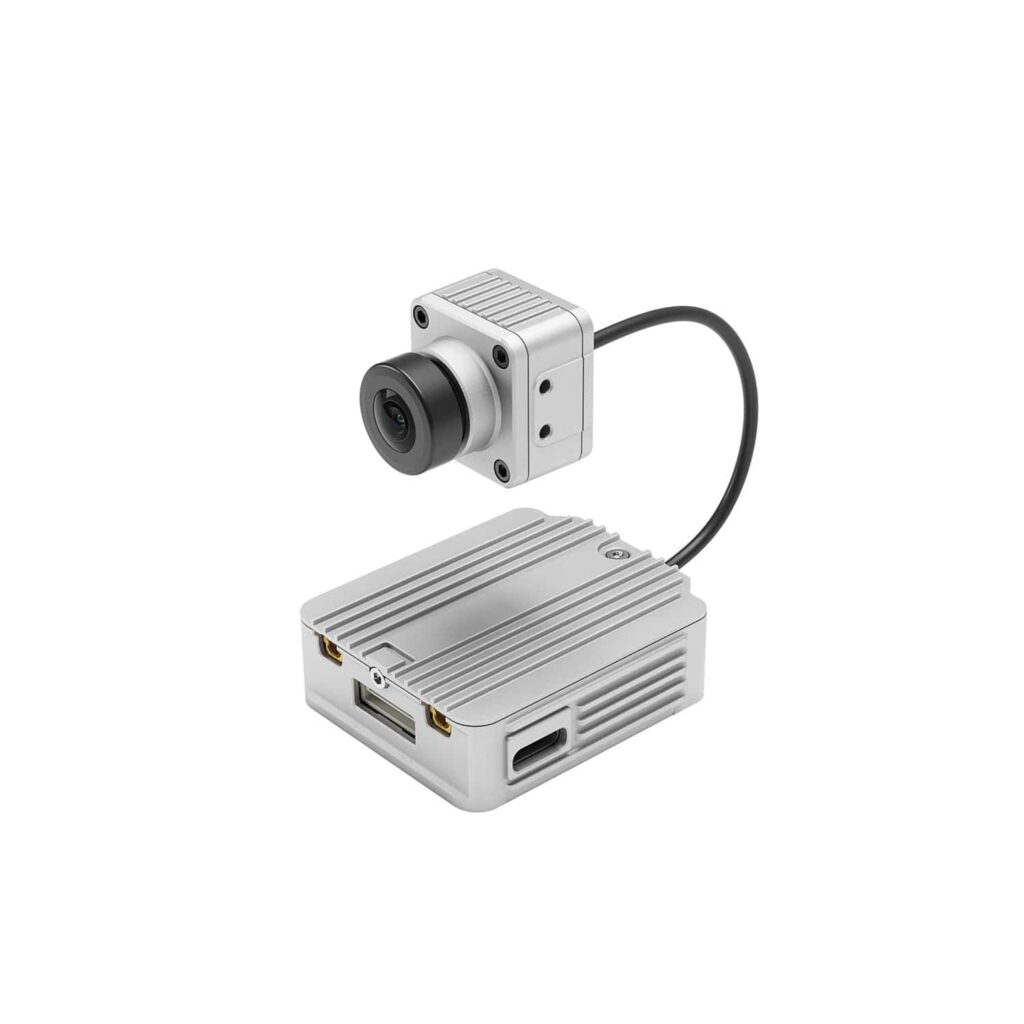 Caddx DJI Digital Air Unit FPV system is ideal for aerial photographers and pilots who require the highest quality video and performance. The system features a 720p/120fps transmission speed and 28ms latency. It records 1080p HD at a remarkable frame rate of up to 120fps.
It also features an anti-interference digital transmission that allows clear pictures in congested environments. This makes it an excellent tool for aerial footage of sprawling cities and breathtaking landscapes.
Caddx DJI Air Unit Specs:
Weight: Air Unit (Camera included): 45.8 g, 3.9 g (MMCX elbow each)
Dimensions Air Unit: 44 × 37.8 × 14.4 mm, Camera: 27.4 × 21.1 × 20.1 mm
Coaxial Cable: 100 mm
Operating Frequency: 5.725-5.850 GHz
Transmitter Power (EIRP): FCC/SRRC: <30 dBm; CE: <14 dBm
Min. Latency (end-to-end)
Low Latency Mode (720p/120fps): <28 ms
High-Quality Mode (720p/60fps): <40 ms
Max. Transmission Distance: FCC/SRRC: <4 km; CE: <0.7 km
Video Format: MP4 (Video format: H.264; Audio format: ACC-LC)
I/O Interface: USB-C, MMCX, 3-in-1 port, microSD card slot
Operating Temperature Range: 32° to 104°F (0° to 40°C)
Input Power: 7.4-17.6 V, about 4-9 W
Sensor: 1/3.2" CMOS; Effective Pixels: 4 M
Lens: 2.1 mm, f/2.1
Shutter: Rolling shutter
ISO: 100-25600
FOV: 150°(D); 122°(H); 93°(V)
Dimension: 22.1 × 21.1 × 20.1 mm
Weight: 8.2 g
Channels: 8
BetaFPV A01 VTX AIO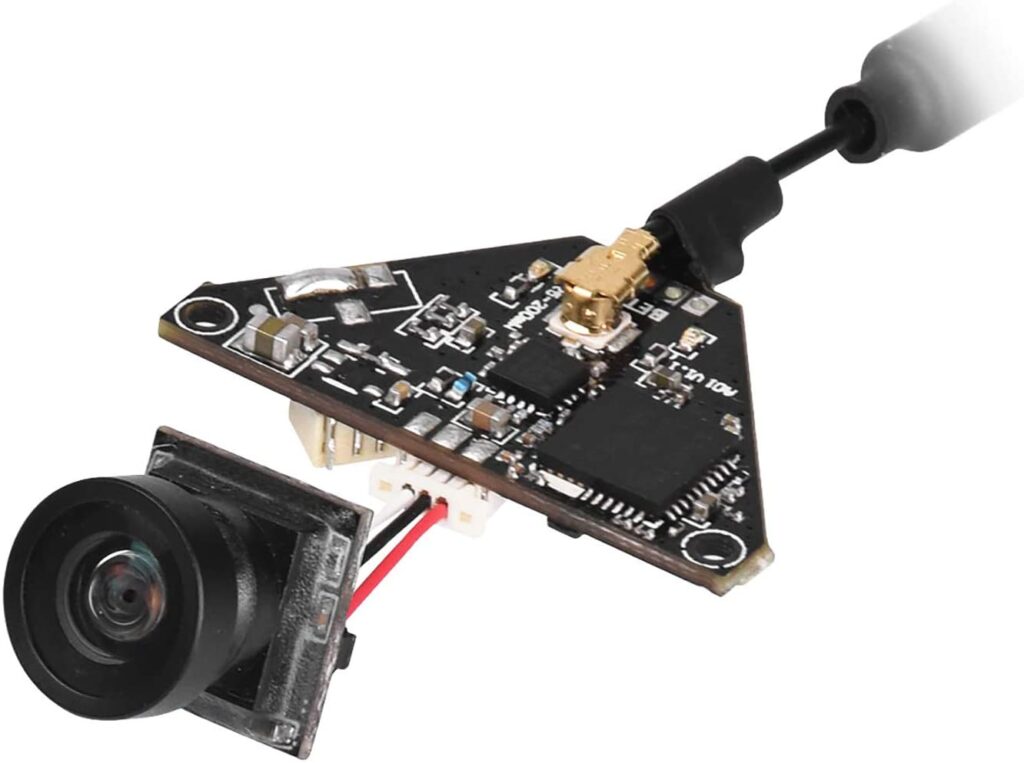 The BETAFPVA01 AIO combo of quality fpv camera and transmitter is ideal if you are looking for an easy-to-use combination. The integrated camera/VTX has a 5.8GHz frequency.
Power on VTX can be adjusted through the transmitter. The transmitter can be operated at three speeds depending on your requirements: 0mW to 25mW and 200mW.
BetaFPV A01 AIO Specs:
TVL: 1200TVL
FOV: H:120°/V:100°
Video System: NTSC/PAL(Switchable)
Horizontal Resolution: 640X480 1/4"
Output power: 0/25mW/200mW adjustable (Set output power on 0 to avoid frequency interference)
Supply Voltage: 5V
Size: 28x19x5mm(VTX)
Antenna: RG178 Dipole Whip Antenna
Frequency: 5.8GHz 6 bands 37 channels, with Raceband: 5650-5925MHz
Weight: 3.2g
ImmersionRC Tramp HV VTX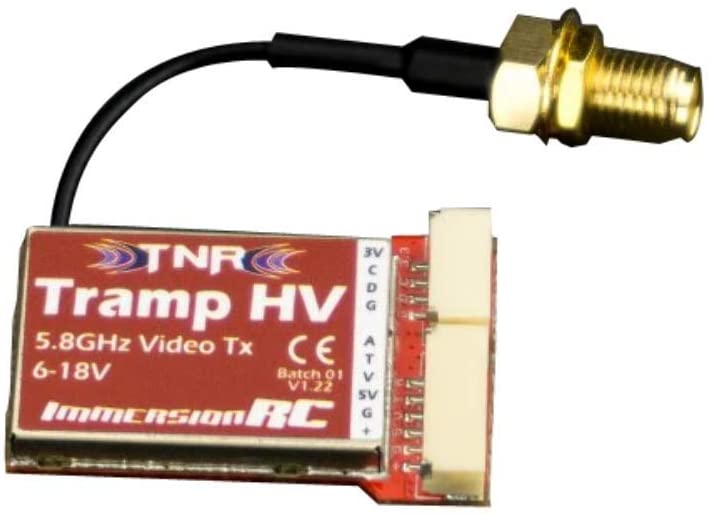 The ImmersionRC Tramp HV VTX is ideal for pilots who want the best possible performance from their video transmitters. The transmitter's impressive linear power control of 1mW ->600mW makes it easy to power any video receiver.
This transmitter can also transmit signals over a wide distance, making it ideal to use for aerial footage or racing applications. The transmitter's compact design makes it easy to mount and upgrade. This makes it great for anyone interested in UAVs.
ImmersionRC Tramp HV Specs:
Power Output: Programmable, 1mW to > 600mW
Channels: 48 standards, arbitrary using race wand
RF Impedance: 50 ohms
RF Connector: U.FL
AV Connector: JST-GH, 6 pins, locking
TNR Connector: JST-GH, 4 pins, locking
Audio: Mono, Subcarriers on 6.0 and 6.5MHz (cloned)
Modulation: FM, Audio and Video
Pit Frequency: User/Race Organizer Definable
Video Impedance: 75 ohms
Power Requirements: 2s-6s HV Lipo batteries
Power Consumption: ~4W max. @ 600mW, ~1.9W @ 200mW
Dimensions: L=32mm x W=14mm x H=5mm
Weight: 4g (Tx only, without SMA cable)
VTX FAQs
What is VTX in FPV?
A VTX is a part of a FPV system. It is a component for transmitting video from the FPV camera to a video receiver so it can be viewed on an FPV goggles or a monitor.
What is the best FPV VTX?
The best FPV VTX is the TBS Unify Pro32 HV; it is a powerful VTX that can output up to 1000mW. This means that it can transmit clear and strong signals, even in difficult environments. The transmission quality is very high, making this VTX an excellent choice for your FPV VTX system.
What is the best FPV frequency?
There is no definitive answer since everyone's situation and needs will differ. Using a frequency that is comfortable for you and allows you to see the aircraft is likely going to be the best bet. When it comes to FPV frequencies, FPV enthusiasts often use 5.8 GHz or 2.4 GHz to avoid interference from other wireless devices nearby.
What is a VTX antenna?
A VTX antenna is a type of antenna used in video transmission. It is a small, compact antenna mounted on the aircraft or ground station.
Is long-range FPV illegal?
There is no definitive answer to this question as it varies depending on the jurisdiction. Generally speaking, long-range FPV flying is not illegal, but specific regulations may exist that prohibit this type of flying.
How do FPV drones transmit video?
Most FPV drones use a radio transmitter to send video and control signals to the drone's receiver. The transmitter typically operates at a frequency specific to the drone's model and type, and it sends signals to the receiver using an antenna.
Why does VTX get so hot?
There are a few reasons why VTX can get so hot. One reason is that the chip itself gets quite warm when working hard, and this heat is spread out over the whole chip.
How do you choose a good FPV VTX?
There are a few things to consider when choosing a good fpv VTX. First, you will want to ensure that the vtx has a high frame rate. This means that it can generate a lot of video frames per second and give you smooth video footage. Second, you will want to ensure that the VTX is easy to use. It should be simple to set up and control to get great videos.
FPV VTX can be used in a few different ways. They are either connected directly to the camera or don't need to be, so you will have higher quality video if they connect directly.
The VTX usually controls your flight direction and keeps track of altitude information with help from your drone's barometer system. FPV cameras also require some receiver, commonly called an antenna on aerial cameras, and sometimes they are used together.
What's the difference between analog and digital FPV?
Analog FPV (first person view) systems use a camera and monitor to give the pilot a clear, real-time image of what's happening outside the copter. These systems are usually simpler and less expensive than digital FPV systems, which give the pilot a virtual image on a screen.
Digital FPV systems use a video transmitter and receiver to send a live video feed from the camera to the pilot. This system is usually more complicated and expensive than analog FPV systems, but it offers many advantages, including greater clarity and flexibility. Some pilots prefer digital systems because they can see what the camera is seeing, even when the helicopter is moving.
There's no doubt that FPV flying is a great experience, and with the right equipment, it can be even better. However, without the right FPV VTX, your experience will be sorely lacking.
That's why we put together on this blog the best FPV VTX on the market. Whether you're just starting and need a basic VTX to get started or looking for an upgrade to something more advanced and capable, we have you covered! So what are you waiting for? Make the best possible investment in your flying experience!