The best FPV drone radio transmitter for you will depend on your needs and budget. Many different types of transmitters offer a range of features, but the one thing they all have in common is their ability to help you fly more accurately and safely. We'll take a look at the various options available to determine which type is right for you.
Best FPV Drone Radio Transmitters
Frsky Tandem X20S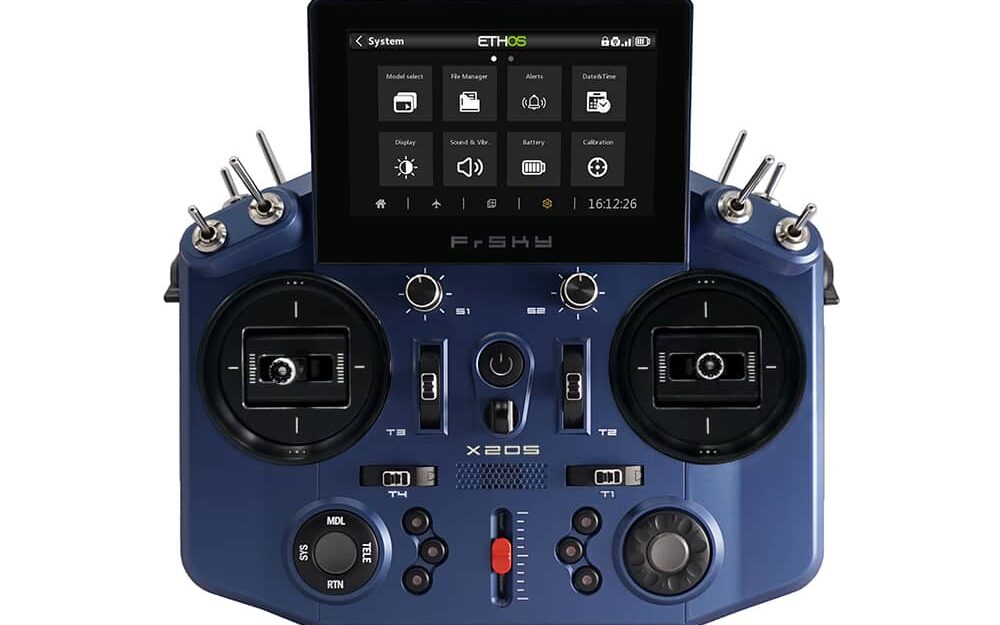 Frsky's latest radio is the Tandem X20S. It features an internal dual-band RF module, capable of working under 2 different modes (2.4G and 900M) with telemetry that displays a range of up to 100KMs or 4ms end-together latency! In addition, it has a touchscreen, 6 quick front modes, and 2 momentary rear buttons.
The Tandem X20S is a relatively solid radio at $399. It is certainly not aimed at the average RC pilot but instead towards long-distance fliers, available for commercial purchase. It is Frsky's answer to TBS' Crossfire.
The Tandem X20S looks clean, with 6 quick mode buttons in the front and 2 smaller momentary style switches. It has a beautiful touchscreen that is 800*480 resolution. The screen is bright and easy to read. But you don't have to use the touchscreen if you choose not to; all buttons are assignable via software.
The Tandem comes with the internal RF module installed inside its sleek design but can also be used externally if needed.
The Tandem X20S has a built-in OSD (On Screen Display) which shows you your current channel and control stick position. It will also show the throttle, battery voltage, and timer for flight duration. Even an OSD setup screen allows you to change the OSD menu's name or adjust its brightness.
One notable addition to the Tandem X20S is its ability to use Frsky receivers in D16 mode (like the R9M), with telemetry and full range out of the box. This includes two variants of their upcoming R9 series long-range wireless receivers!
The internal dual-band RF module provides both 2.4Ghz ACCST and 900Mhz D16 mode. As a result, the Frsky Tandem X20S is compatible with Frsky ACCST 2.4Ghz (range of up to 50KM) and 900 Mhz receivers (range of up to 100KMs).
The Tandem X20S has a built-in telemetry module, which allows you to view important information like your aircraft's battery voltage on its screen. You can also choose how intense the backlight is (or if it has one at all).
If your screen stops responding or requires calibration, there are buttons located under this and a menu for advanced settings that includes your choice between normal/course stick modes. It also allows you to adjust how sensitive those sticks travel from the center and the dead band.
The Tandem X20S has a built-in speaker that is more than capable of crisp and clear audio. The volume wheel located at the bottom left side is also adjustable. Like many other radios, it features a trainer port and an external module port for future expansion.
Talking about future expansion, the Frsky Tandem X20S comes with an SD card slot next to its USB socket from where you can load software from your computer into the radio via its included miniUSB cable. In addition, you can download shortcuts from their website or install them yourself using your PC/Mac.
This allows you to insert new models into your radio as well as calibrate it if needed. It's worth mentioning this is not an update process for your radio; but instead, it is a full-fledged "refresh" of the radio.
The Tandem X20S comes with a 2000mAh LiPo battery and a LiPo charger capable of charging both 1s and 2s batteries via its JST plug. You can also use your radio while it's plugged in and charging at the same time.
The Frsky Tandem X20S has an OSD menu when you long-press the rotary knob when turned on where you can set it to either D16 mode, A2 mode, or Off (no RF module), change throttle curve settings such as low/med/high rates, servo reversing options and timer configuration.
FrSky Horus X10S Express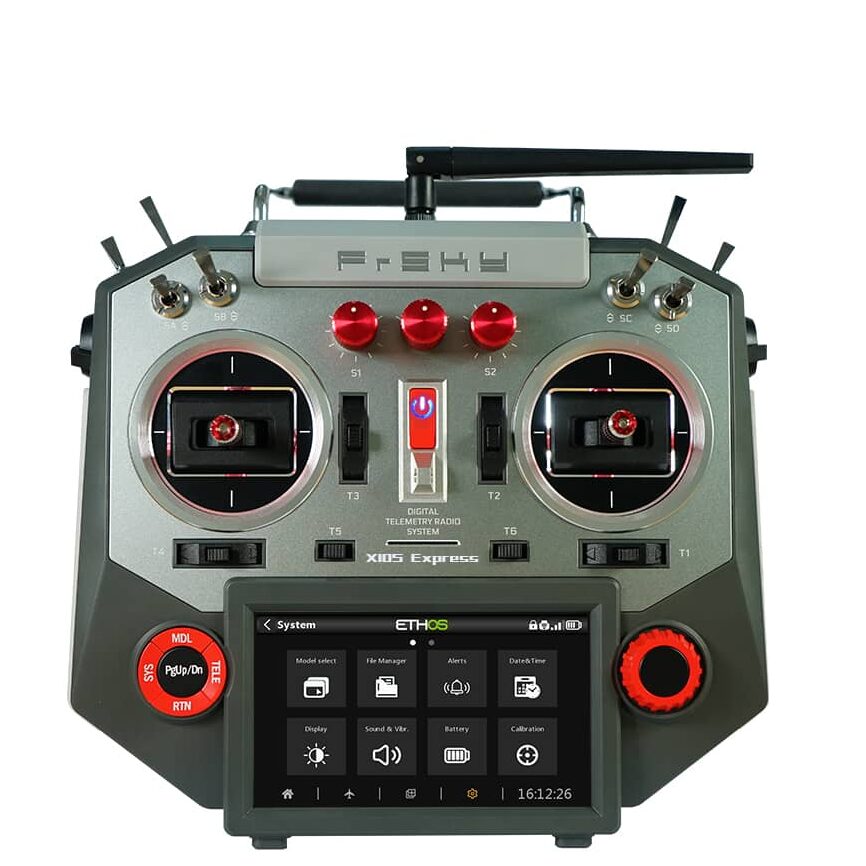 The FrSky Horus X10S Express Transmitter is a lightweight and compact 2.4G & 900M+TD Mode (Compatible with Tandem Receivers) transmitter that offers long-range control up to 50-100km away, low latency incoming telemetry data reception as well as 16/24 channel operation via six quick mode custom buttons on the front panel or rear switchable momentary function keys respectively.
The X10S comes with a brand new Ethos platform which provides an easy to use, versatile, and powerful set of programming features, including 4 fully programmable switchable/smooth Hall-Effect gimbals, 8 customizable axis mapping options, backlit touch screen GUI designed for simple operation in all conditions along with several other advanced customization settings.
The X10S also has a built-in antenna diversity module for superior signal reception. In addition, it works with a wide range of FrSky Receivers, including the full range of D Series modules, making it a perfect choice for many modern RC multirotor platforms.
The FrSky Horus X10S Express is a fantastic piece of hardware that allows you to experience the ultimate in RF performance. The built-in 6-axis gyroscope, super-low latency & high precision CRSF sensor, as well as Hall Sensor Gimbals – 3 Adjustable tension 8 ball bearing gimbals, make this RC transmitter perfect for any pilot looking for long-range flight reception with a radiation pattern diversity antenna system!
Radiomaster Boxer Radio Controller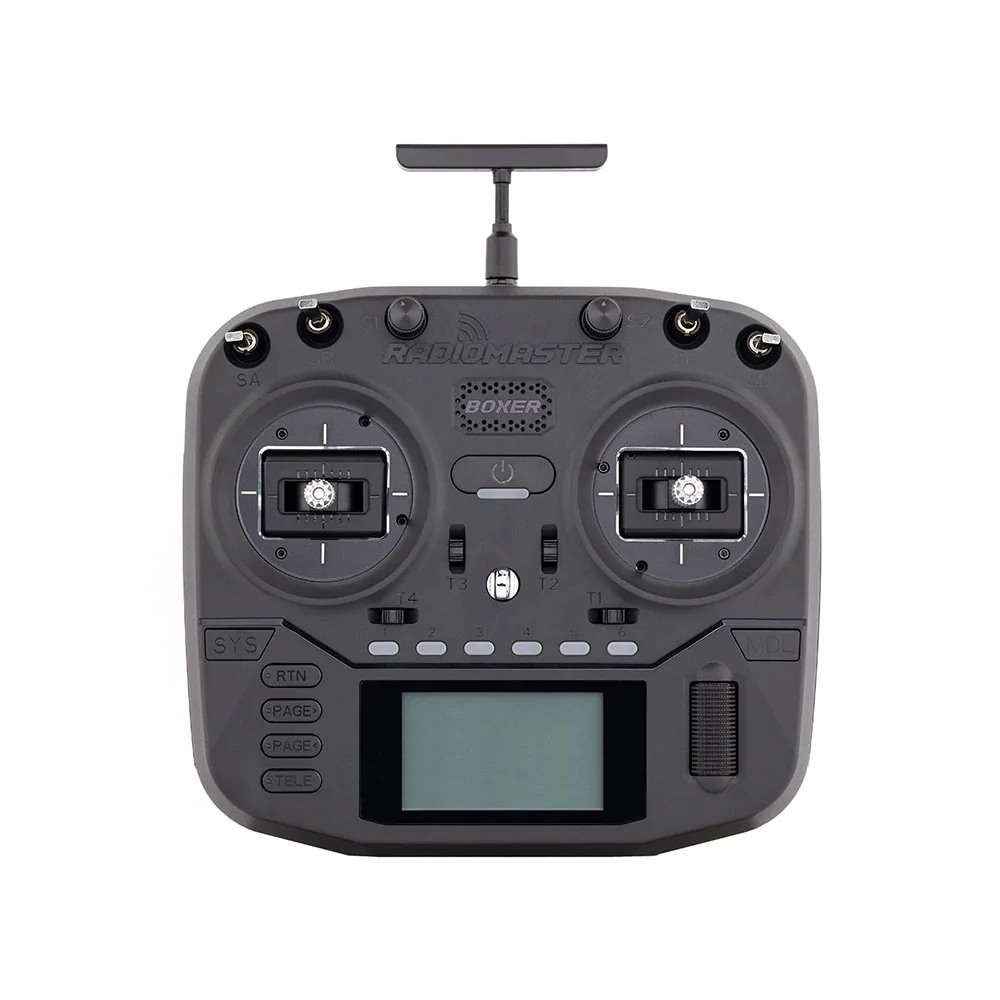 Radiomaster Boxer is a powerful radio controller with an STM32VGT6 processor and 1MB of RAM. It can receive frequencies up to 1,000Hz and transmit signals at 20dBm. Additionally, it has adjustable ELRS RF output for better reception in noisy environments.
The BOXER is an excellent choice for pilots because it has the right size and design to make flying easy and enjoyable. The BOXER is a compact radio with full-size hall gimbals for precision control and an intuitive button layout. It's also lightweight, so you'll be able to fly longer with less fatigue.
iFlight Commando 8 Radio Transmitter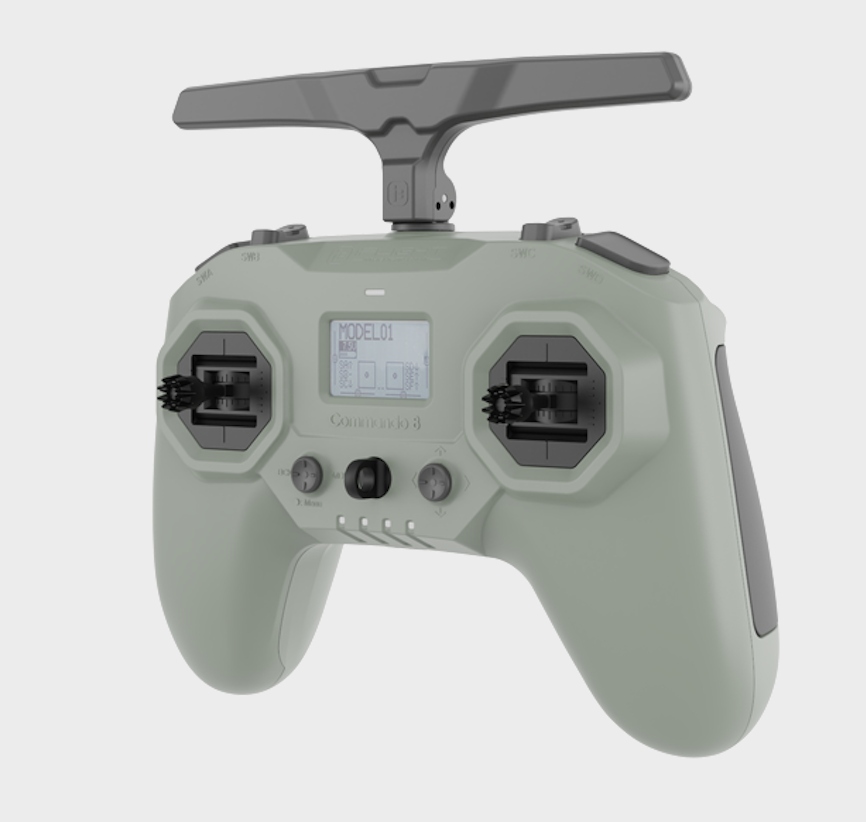 The iFlight Commando 8 Radio Transmitter is a highly anticipated product for the drone community. It is equipped with internal iFlight ExpressLRS hardware, eliminating the need for an external module to run ELRS. However, an external module bay is available for those planning to use another TX module. The ExpressLRS Team has developed the TX modules in close cooperation with iFlight, and firmware targets have already been released.
The Commando 8 also features the market's lowest crystal frequency deviation, which translates to low packet loss and high-frequency stability.
The transmitter has high-quality digital hall sensor gimbals, providing maximum precision in controlling your drone.
It also comes with single and dual-band (900/2400MHz) radio antennas on a high-performance PCB, ensuring seamless connectivity. The inbuilt 4000mAh battery allows up to 20 hours of power, thanks to the 2x 2000mAh 18650 batteries.
The Commando 8 Radio Transmitter runs on Stock EdgeTX firmware with pre-installed Lua scripts, making it easy to set up and use. Additionally, the transmitter has several gimbal stick ends available, with the stock size being 18mm.
FrSky Taranis Q X7
The FrSky 2.4G Accst Taranis Q X7 is one of the most popular and highly rated models on the market for its excellent performance in all areas, including 6~15V (2S, 3S Lipos are acceptable), 210mA maximum operating current with both RF module(s) turned ON, 60 model memories that can be extended to over 200 total through SD card use as well other features like Quad Ball Bearing Gimbals which will make your flying more immersive!
It also has great compatibility within our product lineups, such as a FRSKY series Receivers or D series + V8II Plus if you'd rather use another brand's external module instead – whatever works best suits your needs; whether they're for casual flying or customizing the settings to your preference.
The Taranis Q X7 has an internal antenna, which is great for interference-free flying; it is adjustable if you need to fine-tune it for improved reception.
You won't go wrong with this model as it has a real-time flight data recorder that allows you to monitor critical flight information such as 3D flight hours, model name, how long you've been flying, flying style statistics, etc.
It also has a Receiver Signal Strength Indicator (RSSI) Alert, so you will know when it's time to bind or replace your battery.
FrSky Taranis X9 Lite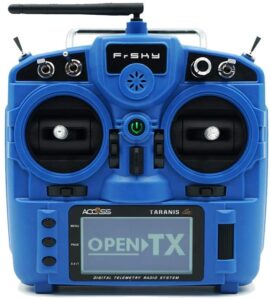 From its lightweight and compact design, the FrSky Taranis X9 Lite RC transmitter is a perfect fit for any drone pilot. In addition, the integrated RF module ensures stable connections to your radio system during flight, which means you can get straight back in there without worrying about dropped connections or signal interference from other sources like cell phones near metal objects!
Not only does this come with 24 channels but also compatibility with ACCST D16 receiver modules so that even more options are at their disposal when it comes down right selecting one of many models available on a Micro SD card (upgradeable).
With the Frsky Taranis X9 Lite being so lightweight, it will have your back when you need to carry it for long periods or if you are always on the move. In addition, the ergonomic classic design layout makes it easy to access all of the functions needed right at your fingertips.
At a glance, the X9 Lite delivers a host of features that make it an excellent option for the modern-day enthusiast.
With its easy-to-operate functions, lightweight design, and all-around compatibility with other makes and models, this is an excellent RC transmitter for the occasional pilot and the seasoned veteran.
​​TBS Tango 2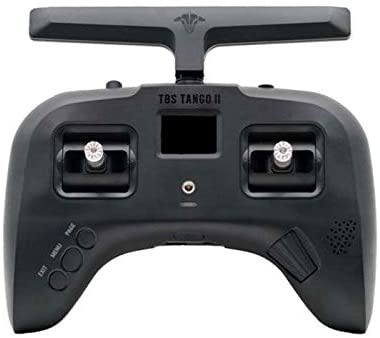 ​​The TBS Tango 2 is an RC FPV radio transmitter with built-in crossfire micro TX that ranges up to 30km / 20mi. It comes equipped with full-size hall gimbals, unbreakable 3 & 2 position switches for the most customizable experience possible; a swivel antenna, which also doubles as a kickstand so you can set it down and use your phone instead if desired!
The Tango 2 has the most stable video link out there with a built-in crossfire – no need for external modules or cumbersome antenna switches. It is lightweight at only 530g and comes with a 5000mAh built-in li-ion battery.
Charging is done via USB, making it easy for everyone to power up the radio system; no more hunting around for batteries or charging cables! TBS Crossfire technology is very energy efficient so that you can fly up to 30km on a single charge – you'll be hard-pressed to drain the battery.
Tango 2 comes with its unique LUA script, TBS VOS – a virtual on-screen display making it quick and easy to change any setting from your RC transmitter or even from an attached phone! The TBS Crossfire protocol is open for everyone to develop their scripts and share them with others.
With all this power, you need to control it! That's why we've equipped the Tango 2 with full-size hall sensor gimbals, ball bearing on throttle & pitch axis.
The unique swivel antenna allows you to work both ways – attach it up or down! Either way, you're interference-free with a clear line of sight.
Radiomaster Zorro Remote Controller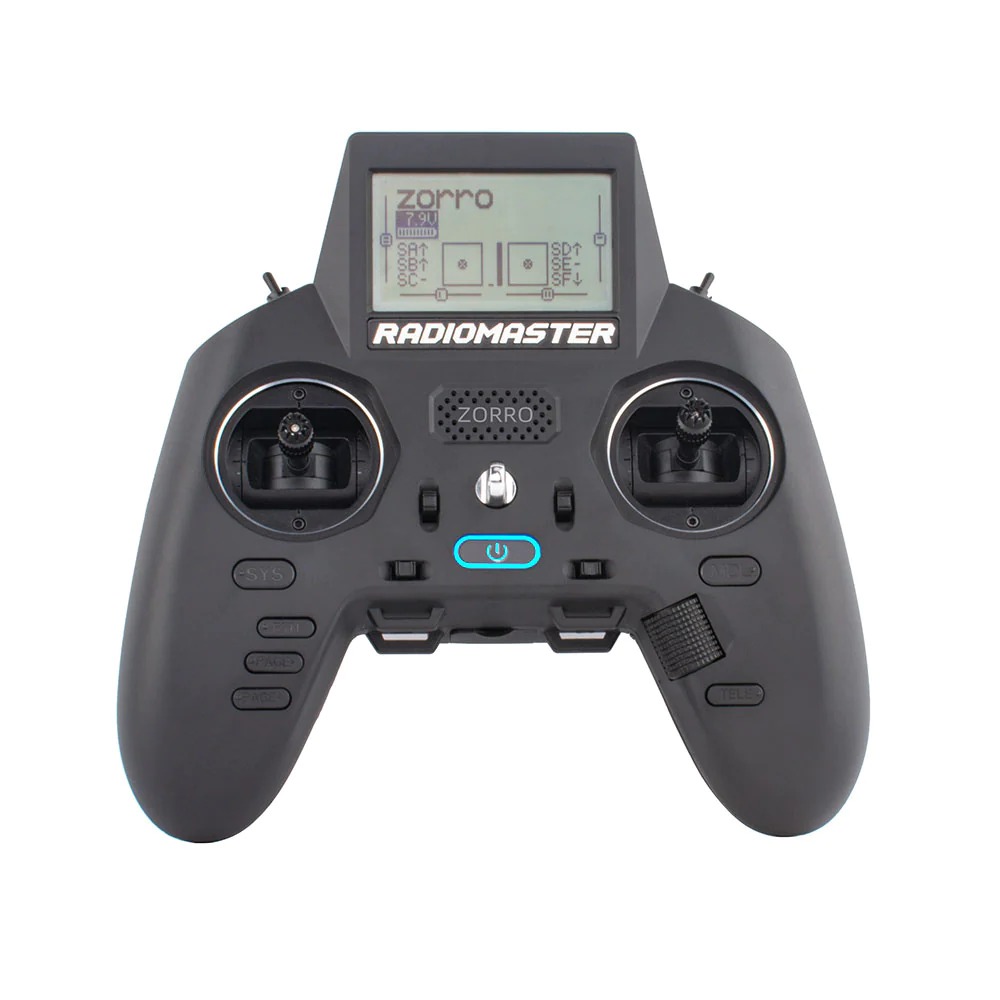 The Radiomaster Zorro Remote Controller is a decent remote controller designed for the most demanding pilots. Its ergonomic design and bright LCD screen provide a comfortable and intuitive control experience. At the same time, its many advanced features make it a standout choice for anyone looking for a high-performance remote controller.
One of the standout features of the Radiomaster Zorro is its travel-adjustable HALL sensor gimbals. These gimbals provide precise and responsive control over your aircraft, ensuring that you can make fine-tuned adjustments to your flight. Another of the standout features of the Radiomaster Zorro is its external module bay for use with Crossfire / ELRS and other compatible modules.
Another important feature of the Radiomaster Zorro is its built-in USB-C Charging and USB-C Data port. This allows you to charge the controller and update its firmware easily and also allows you to use the Zorro as a controller for playing simulators. The Zorro also features rear and top assignable push buttons and scroll wheels, making it easy to access all of the controller's functions and make fine-tuned adjustments to your flight.
The Radiomaster Zorro also features RadioMasters 7 button menu navigation system, which makes it easy to navigate the controller's many advanced features. Additionally, the Zorro has a headphone audio output, allowing you to enjoy immersive audio while flying your FPV aircraft. The Zorro also features an external power source input, allowing you to connect an external battery to the controller.
FrSky Taranis X9D Plus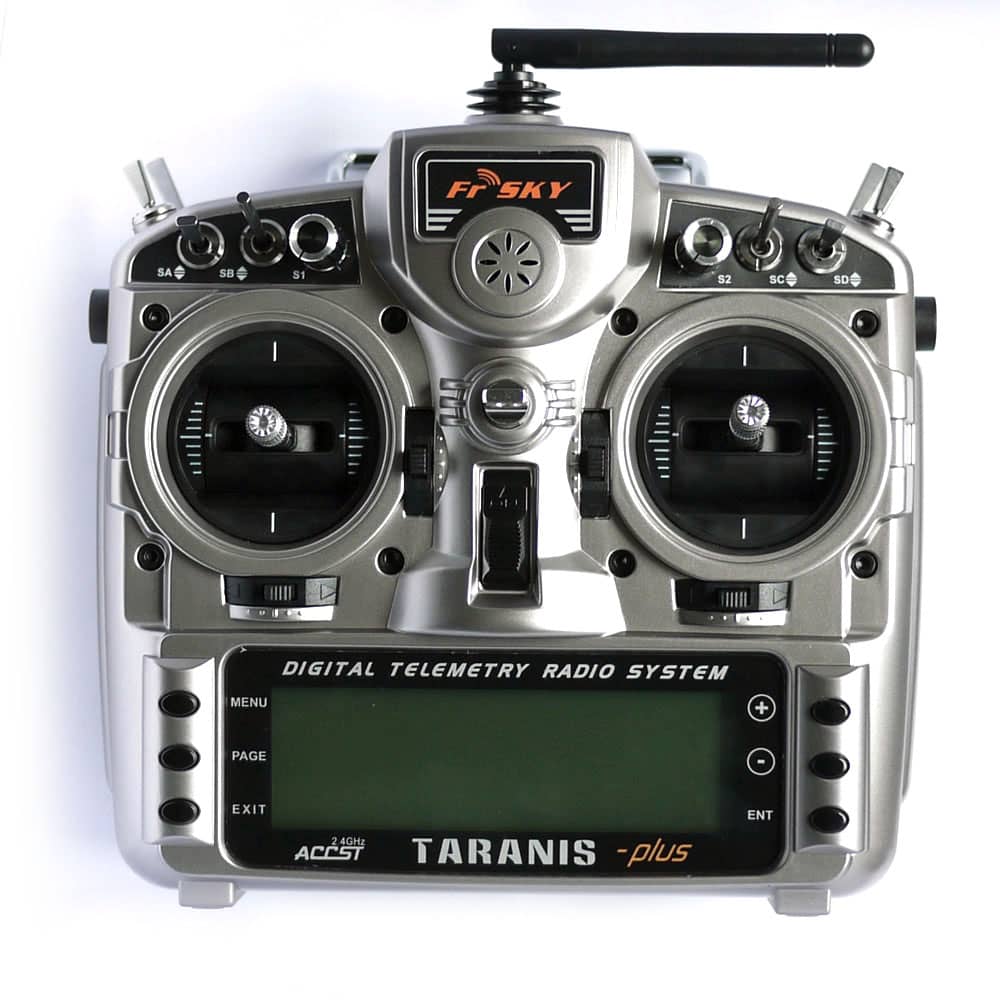 The FrSky Taranis X9D Plus is a radio that offers exceptional range and signal strength in the 2.4GHz band, perfect for those who want to use their hobby as something more than just casual fun but an investment of time.
It has 16 channels (up to 32) with quad ball-bearing gimbals on all axes, which makes this model relatively easy to protect from external impacts or shocks while flying due to its durable construction; vibration alerts go off when there's interference nearby, so you can avoid potential crashes before they happen!
Best yet? The receiver comes preprogrammed, allowing users instant access to the radio's features; talk to your friends or other pilots on community-sourced data with the SD card reader that holds up to 32GB of data. The Taranis X9D is loaded with features that make this radio, in my opinion, the best 2.4 GHz RC transmitter on the market.
The Taranis X9D Plus offers a huge model database that can hold many models for different types of flying. If you're new to the hobby and don't know what model to start with, a simulator mode comes in handy that allows you to virtually fly through different terrains at the click of a button.
It comes pre-loaded with six models, including a plane, a multirotor, a helicopter, and a quadcopter with a beginner mode to practice flying on the ground before taking to the sky.
In addition, you can easily link it to your PC via USB to install third-party firmware updates. So if you are looking for the next step in your flying career, look no further than the Taranis X9D Plus, truly one of the best RC transmitters on the market today.
Flysky Nirvana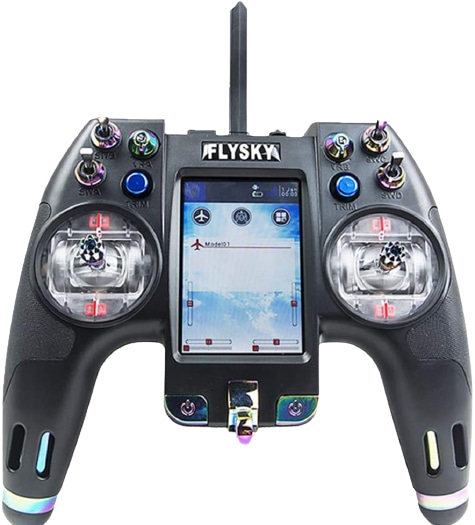 The Flysky Nirvana is a sleek, high-quality RC transmitter that supports 14 channels and features an intuitive interface. The screen can display up to 3.5 inches in height with 480 X 320 resolution for clear graphics on your fingertips as you fly!
Not only does this system have great functionality, but it's also backed by superior durability thanks to its rugged aluminum exterior housing dual M4 cores (32bit), 2MB RAM/10V battery-powered systems into one compact package perfect if space or weight isn't at issue for you.
Additionally, the Nirvana NV14 comes with a DeviationTX V2.1+ 2GB Card pre-installed, which includes more than just the base flavors of Open TX you know and love. It also includes tons of amazing modifications available for free download directly from the folks at Underground FPV!
The Flysky FS-NV14 features dual integrated 32-bit ARM core processors, one dedicated to the Bluetooth Smart functions and the other for non-Bluetooth functions.
The NV14 is made to be tough, featuring rugged aluminum exterior housing with hall sensor gimbals that are rated for millions of operations.
In addition, the NV14 contains a micro USB port that lets you connect the transmitter to your computer to change settings or firmware through the DeviationTX companion software, which is available for free on the Deviation website.
RadioMaster T8 Pro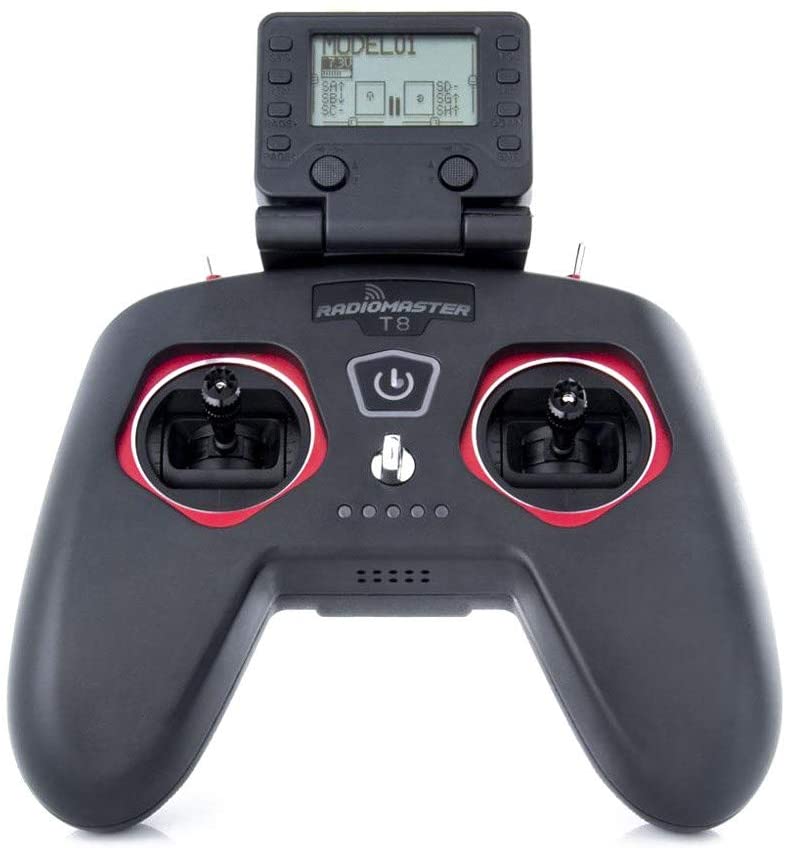 RadioMaster T8 Pro is a multi-protocol radio transmitter that works with all CC2500 protocols supported by Multi-Protocol Module projects like FrSky D8 or Futaba S-FHSS, to name some; select the right one through the menu system and customize your model configuration using the full capability of OpenTX at your fingertips!
Furthermore, the 1000mah battery provides up to 6 hours of standby time before needing another charge. It can be done via a clip-style control unit for Graupner HoTT users who will enjoy greater flexibility when building their models.
The T8 Pro is an excellent radio for newbies and pros alike, equipped with the most commonly used features you will need to get started.
With the easy learning curve of OpenTX and an incredibly affordable price point, RadioMaster has outdone itself yet again! As a result, the T8 Pro offers incredible value.
RadioMaster TX16S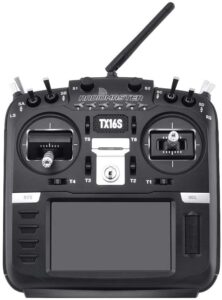 RadioMaster TX16S is a 16 channel 2.4 GHz radio system that supports telemetry and vibration reminder function for your RC aircraft/drone; it features an impressive 480 *272 multi-touch color screen with up to 128K colors on the high-quality Hall sensor gimbals that make sure you have no problems when flying indoor or outdoor.
The STM32F429BIT6 MCU (Microcontroller) keeps track in memory where every button has been pressed, so there won't be any confusion about what settings were activated during previous flights!
With 6 flight mode buttons at hand, including an improved JR module bay offering new functions like power management options, this product allows pilots to do more than ever before without ever getting lost while exploring their creativity levels!
OpenTX software is also supported, which offers you an easy way to adjust the transmitter without connecting it to your PC.
With its high quality 4.3″ outdoor-readable touch screen, TBS Crossfire compatibility, and internal multi-protocol RF System offering five different protocols all in one radio, this RadioMaster is here to change your perception of what a suitable transmitter should be!
Jumper T12 Pro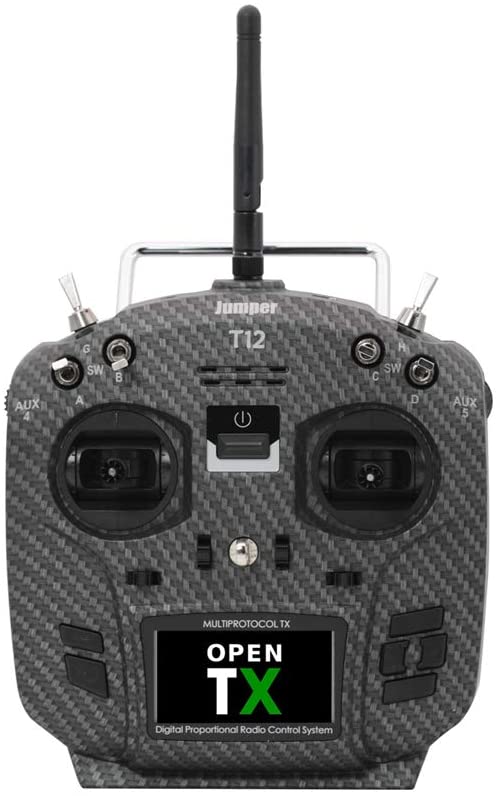 The Jumper T12 Pro radio transmitter is a high-quality, affordable option for the indoor severe aerial photographer or drone pilot. This gimbal-equipped device can produce up to 16 channels (depending on your receiver) and has vibration reminder functionality as well!
The external module supports all four supported modules: CC2500 chip from Acton Laboratories; NRF24L01 Broadcom WiFi Adapter Module; A7105 TI DC Motor Control chips paired with its own specific RF Chip – CYRF6936.
It also features an onboard LUA script that will allow you more control options than ever before when using this system indoors without any line-of-work interference.
The T12 Pro has a mini USB for firmware upgrades. The external module accomplishes both functions – acting as an onboard receiver (with its antenna) or as an external transmitter (with its antenna).
Taking advantage of the lightweight battery packs popular in micro multirotor, the Jumper T12 Pro comes with a mini USB slot for easy charging without removing the battery.
Full OpenTX Support. The T12 Pro supports OpenTX as well as the popular D8 and D16 mode protocols. In addition, T12 Pro features a 2.4 inch LCD with 128*64 resolution and comes equipped with side buttons that can change settings on the fly!
In addition, the Jumper T12 Pro has onboard JR/FrSky type compatible module support – allowing you to add Spektrum compatible modules with ease.
Jumper T18 Pro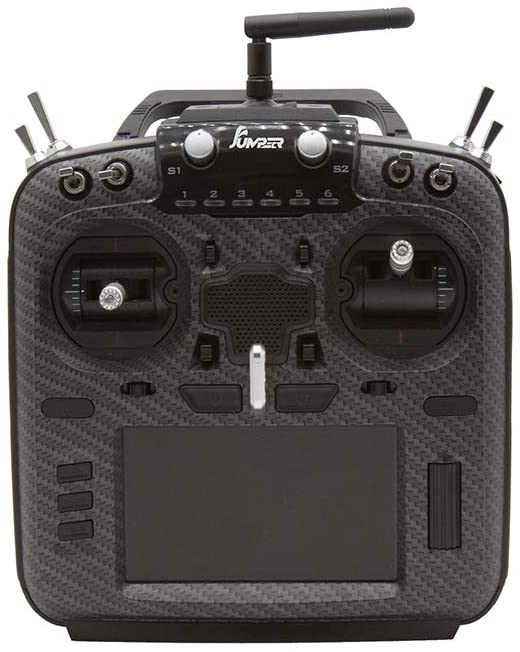 The Jumper T18 Pro is an open-source, multi-purpose radio controller that can be easily paired with your FPV drone. It brings the best features from our popular radio (and award-winning)T16 series together with an upgraded JP4IN1 module for better range and signal strength while transmitting–making it perfect for both beginners or experienced pilots!
Jumper's T18 Pro is a super-powered flight controller that will take your quadcopter to new heights! It works with most radio systems, has 32 channel capability (depending on the receiver), supports simulator mode outputting 3.5mm standard ppm or USB HID for monitoring when using an external monitor during runtime applications like OpenTX 2.
Jumper T18 Pro adds a 915MHz band to make sure the drones and controllers in America's airspace (902-928Mhz) can operate simultaneously with no interference, which is impossible with 2.4GHz transmitters when flying far away from friends or relatives' homes due to lack of signal coverage! Jumper T18 Pro is a great option for those who prefer having Jumper as the controller of their first drone.
FrSky Taranis X-Lite Pro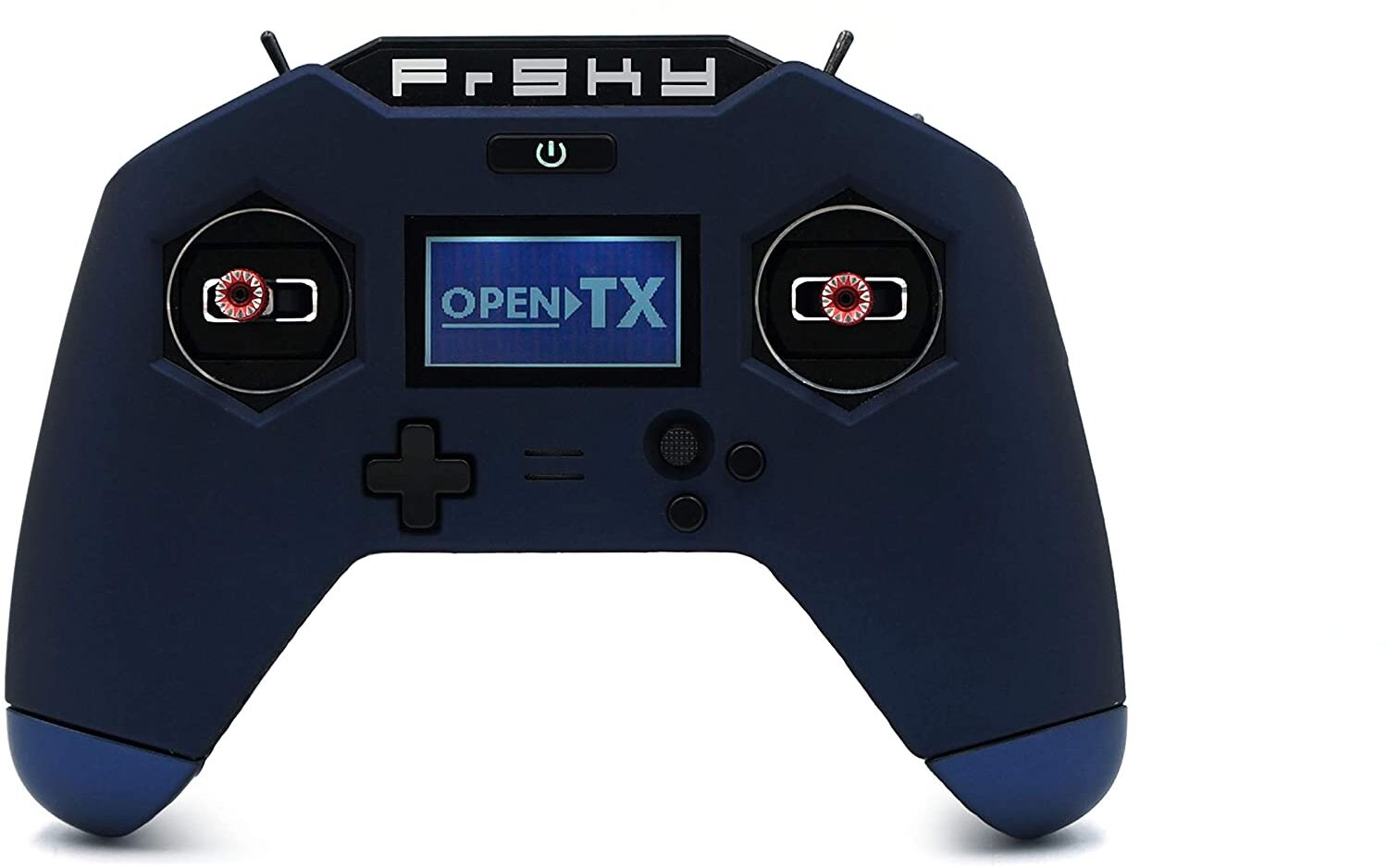 FrSky Taranis X-Lite Pro is a powerful radio with 24 channels. It has an internal RF module that supports ISM frequencies, precision within 1dB up to +50 dBm or -10 dBm (depending on option), and weight of only 328g/390g when using two batteries for power!
This lightweight terminal also includes a backlit LCD resolution 128 * 64 display screen which can show signals in real-time as well as models 60 stored profiles, each consisting of pilots plus their settings like audio delay times, among other preferences, so users do not need to search through all those old pages anymore; just select "new model" then name your new profile, and you're all set.
You can even connect a micro TF card to store more models if you have many friends using the FrSky X-lite Pro.
This radio has an antenna with an SMA connector plus a 5dbi gain which is ideal for pairing with TBS Crossfire. The included 4-way switch stick plus two additional programmable switches are also great to have when flying with friends or in competitions.
Taranis X-Lite Pro is compatible with both ACCST D16 and D8 receivers which are the most common in the market. Therefore, it can be a perfect radio to fly in a park or compete with your friends.
The FrSky Taranis X-Lite Pro has a unique new "para wireless training system," allowing you to share your model data with friends. When using the same model, you can see all the other pilot's names appear on your unit.
You may also read or change their settings and save a different mode to each of them. This is helpful since everyone has personalized preferences and might even have another way of flying the same model.
Jumper T-Pro Remote Controller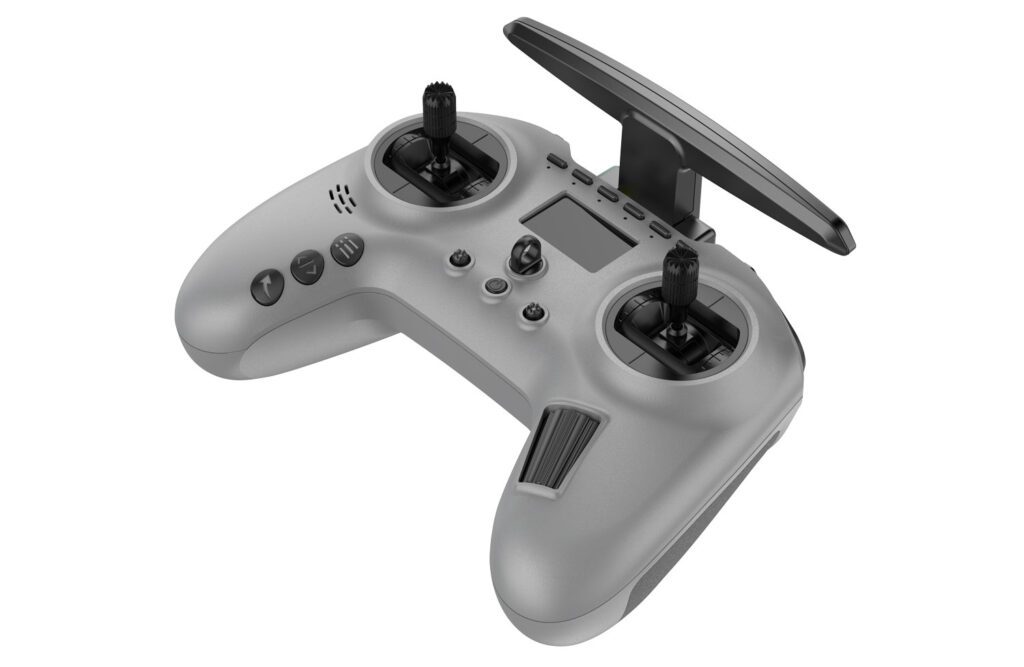 The Jumper T-Pro Remote Controller is a versatile and powerful remote controller for FPV pilots. With its JP4-in-1 Multi-protocol module, the Jumper T-Pro can support a wide range of protocols, including DSM2/X, FrSKY, SFHSS, FlySky, FlySky AFHDS2A, Hubsan, and more. This means that you can use the Jumper T-Pro with a wide range of FPV aircraft, making it an excellent choice for pilots who fly multiple aircraft types.
The Jumper T-Pro runs on OpenTX/EdgeTX firmware, providing a user-friendly interface and advanced features such as LUA script support. This allows you to customize the T-Pro to suit your specific needs and preferences. Additionally, the T-Pro features hall sensor gimbals, providing precise and responsive control over your aircraft.
One of the standout features of the Jumper T-Pro is its ELRS Nano / TBS CRSF Nano compatible module bay on the rear side. This allows you to add additional modules to the T-Pro, further expanding its capabilities. The T-Pro also features USB-C internal charging, so you can charge the controller without removing the batteries.
Another essential feature of the Jumper T-Pro is its support for telemetry (depending on the receiver). This allows you to view important information, such as battery voltage and flight duration, in real-time, giving you greater control and awareness of your aircraft. The T-Pro also supports LUA Script, allowing advanced users to customise the controller to their specific needs.
BETAFPV Literadio 2 SE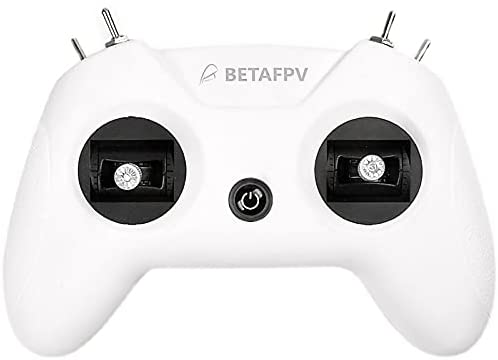 The BETAFPV Literadio 2 SE is a remote controller that can act as a USB joystick when connected to your personal computer. This means you could use it for playing FPV simulators like EREADRONE!
The LiteRadio also has a multi-protocol mode, supporting Frsky/Futaba transmitters depending on what protocol they are set up with (e.g., D8 vs. D16).
With this type of versatility in one device, there's no need to waste time changing between models every time we want. FPVLite Radio provides long-lasting battery life, too – using only 1000MAH but still playing 8 hours before needing another charge.
Flysky FS-i6X Transmitter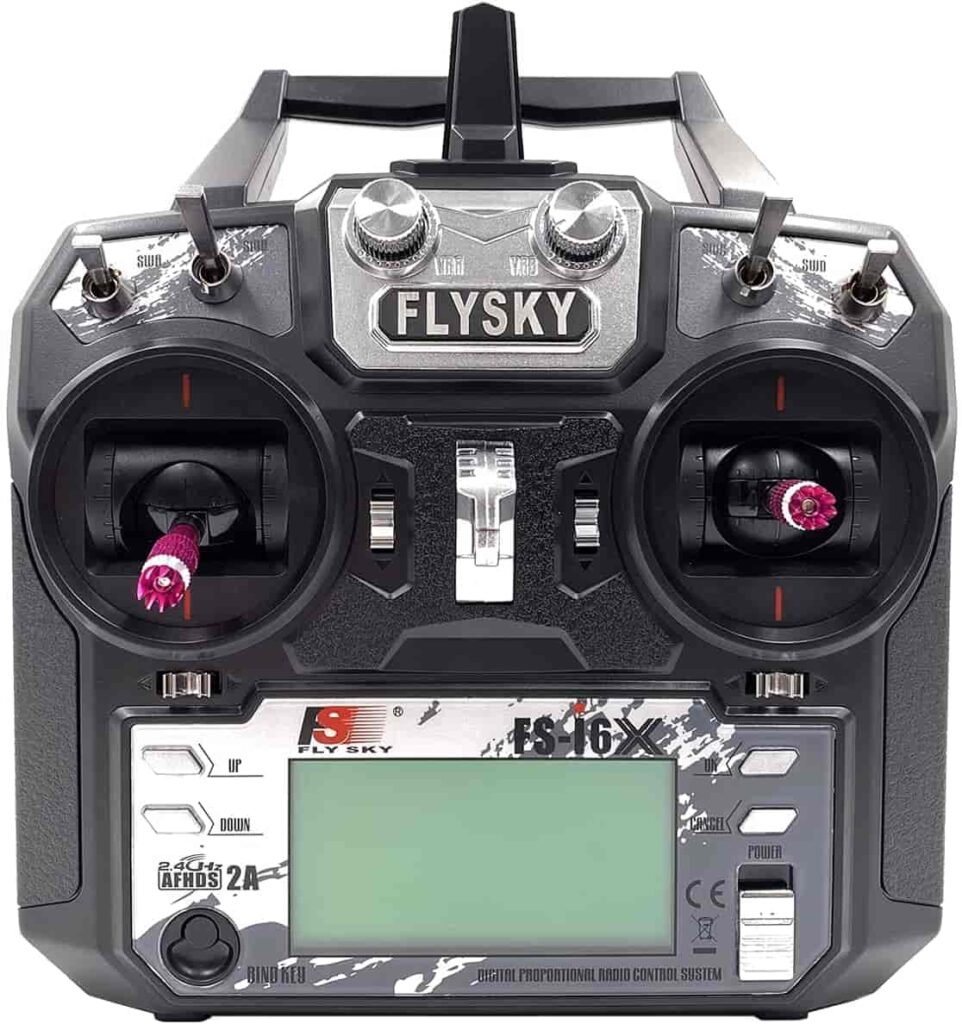 The Flysky FS-i6X is a newer model than the more popular Flysky fs-i6. The best part about this RC transmitter is its ability to help you learn how to fly safely while still giving enough power and range for larger models like helis or small planes that require a lot less throttle input from their pilots because they're so lightweight!
The system offers 10 channels with an RF range of 2.408-2 transmitting power up to 20dBm. Using only 135Hz channels over 500KHz bandwidth makes it perfect if you're looking into emerging technologies or want some freshness in your hobby!
With its lightweight design at 392 grams (16 ounces), this device isn't going to break any records when coming down from higher altitudes either. So whether PV racing on propeller blades or enjoying our beautiful planet below, this little guy makes sure you're in charge. Flysky FS-16x is one of the most popular budget radio transmitters on the market.
How Do Drone Controllers Work?
A drone controller is the equivalent of a video game remote, but for drones. It's used to maneuver and control your quadcopter in midair without ever having direct contact with one (or more) blades!
These devices come with many built-in features that make flying more fun, like LED lights on their sticks so you can see at night or even vibration motors which produce feedback just as if something had touched down gently onto the grass—yours will know when someone has landed nearby because they're not alone out there anymore. Still, the controller will have felt it, too.
Basic Drone Controller Features
Any drone remote controller's most basic feature is an LED light bar that indicates whether the battery level is low or high.
The more LEDs there are, the higher the charge state of the batteries inside the drone.
Some drone controllers will also include buttons that allow you to change camera resolution, video quality and even turn off the motors altogether if needed.
Other standard features found on many drone controllers include:
LED Lights
For example, some models may indicate how much fuel remains in the tank, while other drones might show the current temperature of the motor's internal cooling fan. Some even offer a "night vision mode" where the LED lights glow red during flight time to help pilots navigate safely through dark areas.
A joystick/stick
Most commonly seen on multirotor, these joysticks usually consist of two knobs connected by a long shaft. One knob moves forward and backward while the second rotates left and right.
LCD and Vibration Motors
An LCD panel displays essential information about the drone, including altitude, speed, GPS coordinates, etc. Vibration motors that provide tactile feedback to the pilot.
When hovering over a surface, vibrations feel similar to landing on solid ground. They can also be used to simulate wind gusts or raindrops falling on the craft.
Battery indicators
Many drones use lithium-ion cells, meaning that the amount of energy stored in each cell decreases over time. If the battery indicator shows less than 50% capacity, then the drone should land immediately.
Battery charging ports
To recharge the batteries, most drones require external chargers. However, some newer models now incorporate USB ports into the controller, allowing users to plug directly into computers or wall outlets.
Remote Control Functions
Once you've purchased a drone, you'll need to learn how to fly it properly. There are several different ways to do this, depending on what type of drone you own. Here we'll discuss three popular methods:
Manual Mode: Manual mode allows you to take complete control of the drone yourself. You must first understand all aspects of its operation before attempting manual flights. Once mastered, however, the manual mode offers unparalleled freedom and flexibility.
Automatic Flight Modes: Automatic modes let you program certain actions to occur automatically once conditions reach specific thresholds. While automatic flight modes are convenient, they cannot respond quickly enough to changing situations. As a result, they often lead to crashes.
Triggered Flights: Triggered flights rely on sensors to detect changes in air pressure, distance from obstacles, and other factors. By using triggers, you can create complex maneuvers that would otherwise be impossible.
Drone Safety Tips & Guidelines for Beginners
Before taking off with your new toy, there are a few things you should know. First, always keep an eye out for people who aren't familiar with flying drones. It's easy to get distracted when operating a small vehicle like a quadcopter, so make sure everyone around is aware of their surroundings at all times.
Also, never fly near airports or large crowds, as well as avoid flying above buildings. Finally, don't forget to check local laws regarding where you're allowed to operate your drone. Some countries have strict regulations against unmanned aerial vehicles, which means you could face hefty fines if caught violating them.
How To Fly Your Drone Safely?
Flying safely starts with knowing basic safety rules. The best way to ensure safe operations is to follow FAA guidelines. These include notifying nearby pilots about your intentions, keeping clear of manned aircraft, staying below 400 feet, avoiding controlled airspace, and obeying traffic signs. 
So, which is the best FPV drone radio transmitter for you? Well, it depends on your needs.
Do you need long-range with FPV Goggles? What's your budget? Is durability important to you? How much do you fly each week, and how far away are the flying sites from your home base?
All of these questions should help narrow down your options so that when it comes time to make a purchase decision, there shouldn't be any guesswork involved. The right transmitter can save setup time and ensure that all of those precious flight hours aren't wasted with intermittent connection issues!