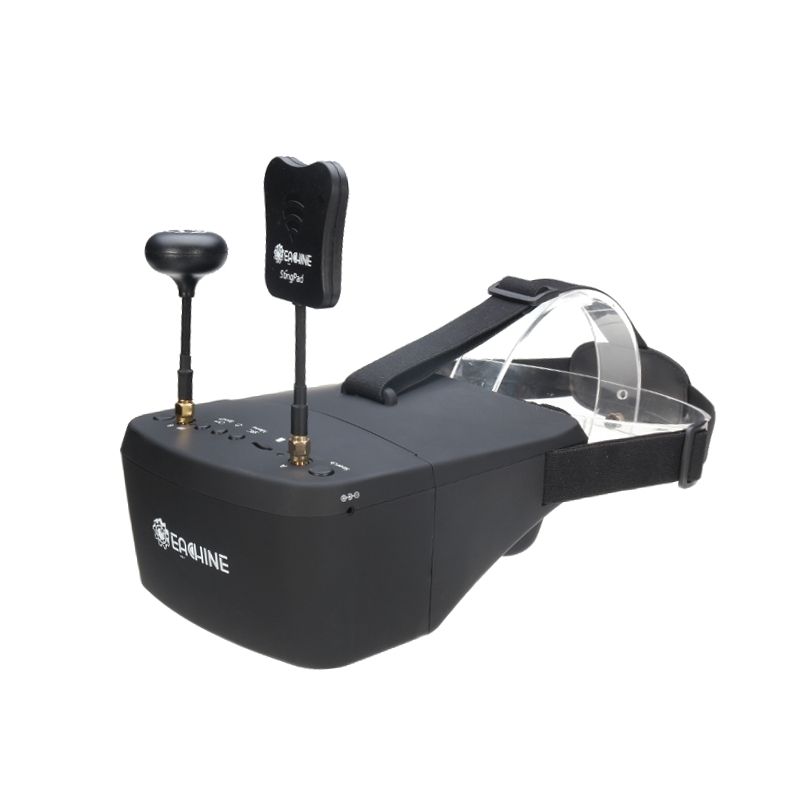 EV800D is a high-quality, well-crafted FPV Goggles with up to 800×480 resolution and a built-in head tracker from Eachine. Ergonomic design conforms to your face and has three sets of foam facial cushion sizes for the perfect fit.
Exclusive EV800D DVR functionality that records your flight right onto a Micro SD card can then view on any device when you're not flying. Low latency video signal decreased motion sickness by at least 80%.
Eachine EV800D FPV box goggles have many similarities with the Fatshark Dominator V3, but it is cheaper.
Though not in the best design and quality, the affordable price range for beginners entering into the exciting world of FPV, Eachine EV800D, can be a good choice because of its lower cost.
Eachine already provided similar low-cost goggles named Aomway Commander V1 and Skyzone SKY-01. However, the resolution and capability are still far from reality, like the Fat Shark Dominator V3 or other high-end goggles.
Ev800D Specs:
Video transmitter: 5.8GHz 32CH 25mW (adjustable)
Output power: 802.11b (DSSS)
Modulation: DBM
Max Distance:300m
Video Format supported: NTSC/PAL
Auto-Search Channels and Bandwidth
DC: 5-17V input voltage
Screen Resolution: 800*480 pixels
Built-in DVR function(Support up to 128G TF Card )
FOV: 40 degrees
Battery: 2000mAh 3.7v battery, Up to 15 hours working time
Dimension: 195mm X 130mm X120mm
Weight: 330g
Dual Antenna with Diversity: Clover & Panel Antenna
Eachine EV800D FPV Goggles Review:
Build quality is ok but not best in class. However, For about $90, it's excellent value. The front cover comes off quite quickly, so I suggest you don't put them in a backpack without wrapping them up nicely.
Resolution is relatively poor, especially when looking at the text. I can only read the large texts on my controller (Fat Shark Teleporter V4).
Battery life was around 2 hours.
It is not very comfortable to wear these type of FPV box goggles, but that's a given as other budget FPV goggles.
The included DVR microphone isn't sensitive enough to pick up sound from your video feed.
The EV800D is perfect for FPV racing enthusiasts who want to hear the high-pitched screams of their quadcopter.
This display also includes a sunshade that will make it easier for you to see in bright light and an extra screw hole where users can mount this monitor on top of any tripod they have lying around at home!
The diversity system allows for a stronger signal and less interference from other transmitters on your local frequency spectrum.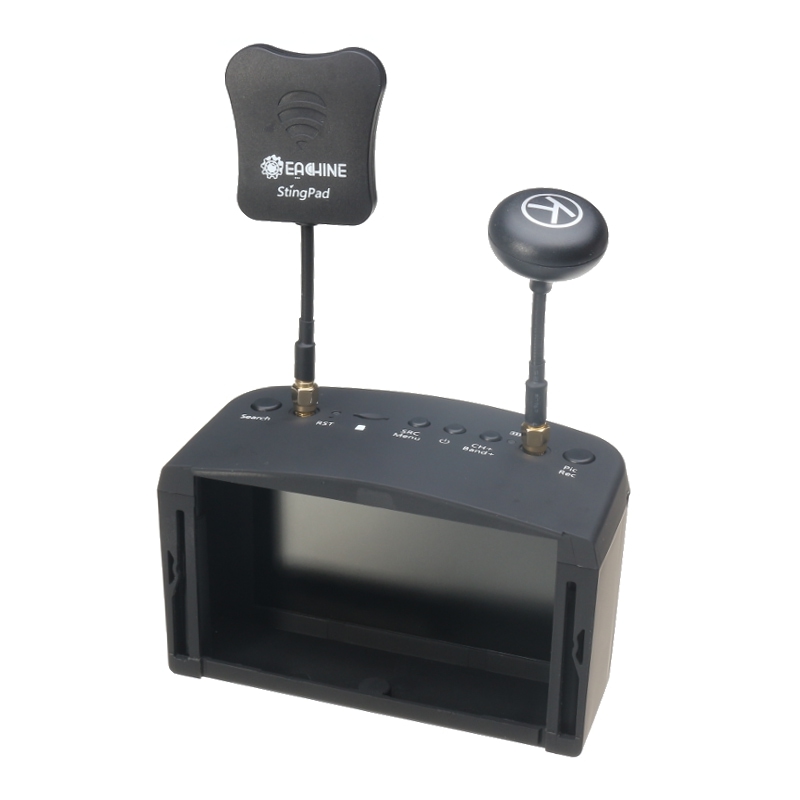 As an entry-level radio FPV box goggles, Eachine EV800D FPV Goggles may give you a satisfactory experience at such a low cost.
However, it might not be the best FPV goggles for you if you are a frequent user or looking for better quality for a more expensive price range.
If you want to save money on your first FPV Goggles, I can recommend these as they seem pretty tough and also, it has a diversity antenna that allows strong signal with less interference.
Click to download Eachine EV800D Manual here.