Want the best FPV Drone Kit with Goggles? Stop looking! These kits have everything you need to fly in first-person view right away. This article will review some of the best FPV drone kits with goggles and help you decide which is right for you.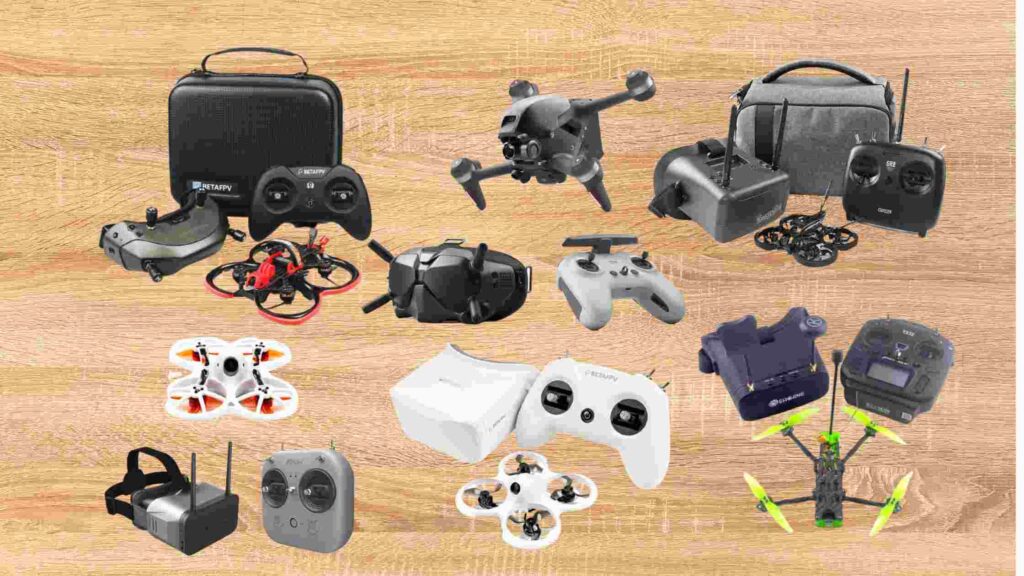 DJI Avata Pro-View Combo
Introducing DJI Avata FPV Drone! This FPV drone has a 1/1.7-inch CMOS sensor with 48MP image resolution, making it perfect for capturing 4K stabilized video footage.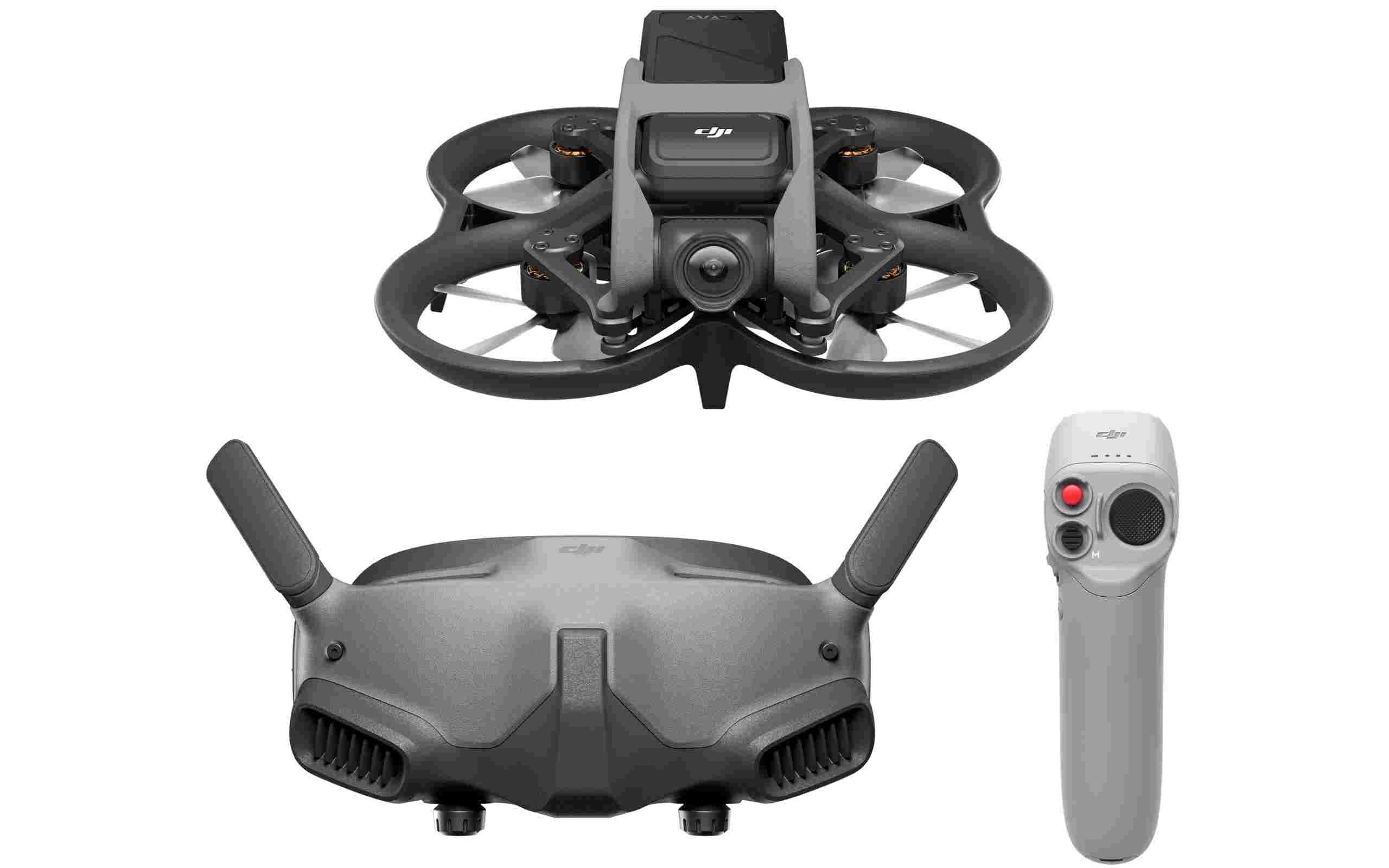 DJI Avata is the perfect drone for anyone looking to fly in tight spaces. The propeller guard means that if it comes into contact with an object, it can bounce back and stay in the air. With its sleek, compact design, Avata is perfect for beginners or professional FPV Pilot. The Avata Combo Kit comes with a DJI Goggles 2 and a motion controller.
Read more about DJI Avata accessories here.
DJI FPV Fly More Combo Kit
Anyone interested in FPV flying should get this DJI FPV Combo Bundle as it is the ideal beginner equipment. The FPV drone comes with a 1/2.3" sensor camera, allowing you to take spectacular high-resolution footage of your flights. It is also equipped with a GPS and uses an intelligent flight battery that provides up to 20 minutes of flight time.
DJI FPV has several safety features to make sure you can fly at high speeds without worrying about crashing, including an auxiliary bottom light, Smart Return to Home (RTH), Low Battery RTH, and forward and downward obstacle detection sensors.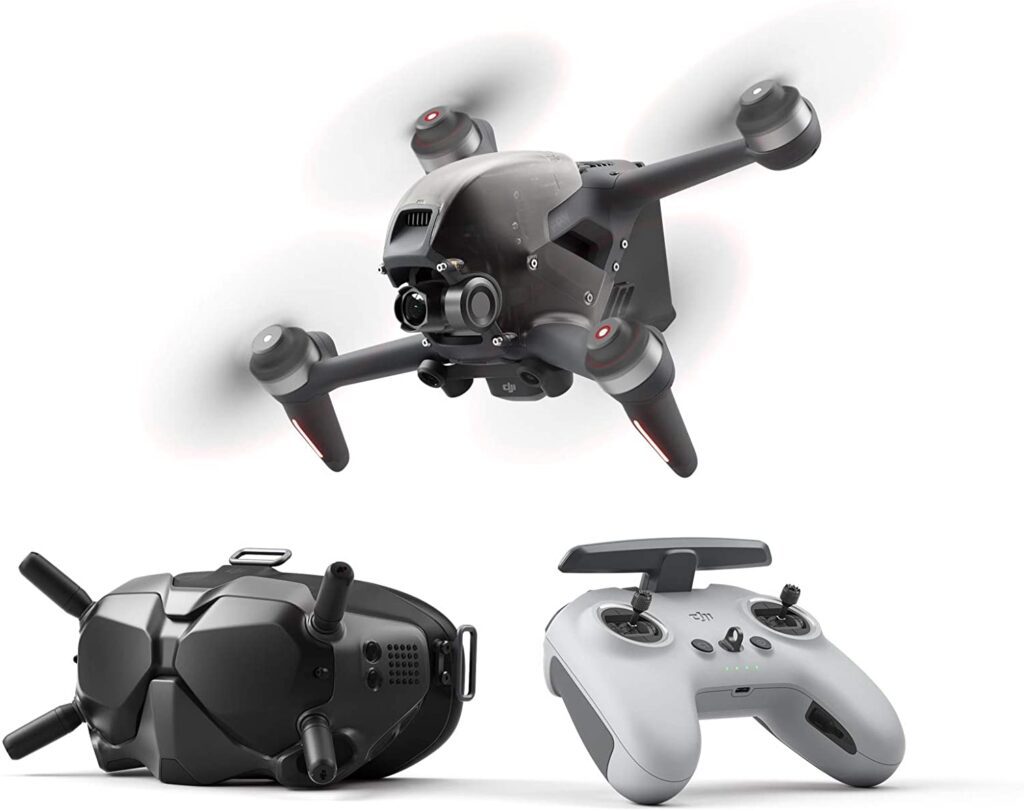 The DJI FPV Combo Bundle lets you start flying right out of the box. With everything you need to get started, this ready-to-fly bundle includes an FPV Quad, DJI FPV Goggles V2, Intelligent Flight Battery, DJI FPV Remote Controller and DJI accessories. Thanks to these essential components, you can enjoy immersive flying experiences with ease and precision.
BetaFPV Pavo25 Walksnail Whoop Kit
Pavo25 Walksnail Whoop Kit comes with the Pavo25 whoop quadcopter Walksnail HD VTX, a LiteRadio 3 radio transmitter, and Walksnail avatar HD goggles. With this complete kit, you'll be able to explore your garden or backyard like never before.
The Pavo25 whoop quadcopter has a frame kit made of high-quality PA12 material and carbon fiber that is both strong and long-lasting. This helps the quadcopter fly more steadily and improves the structure that keeps the camera mount from shaking.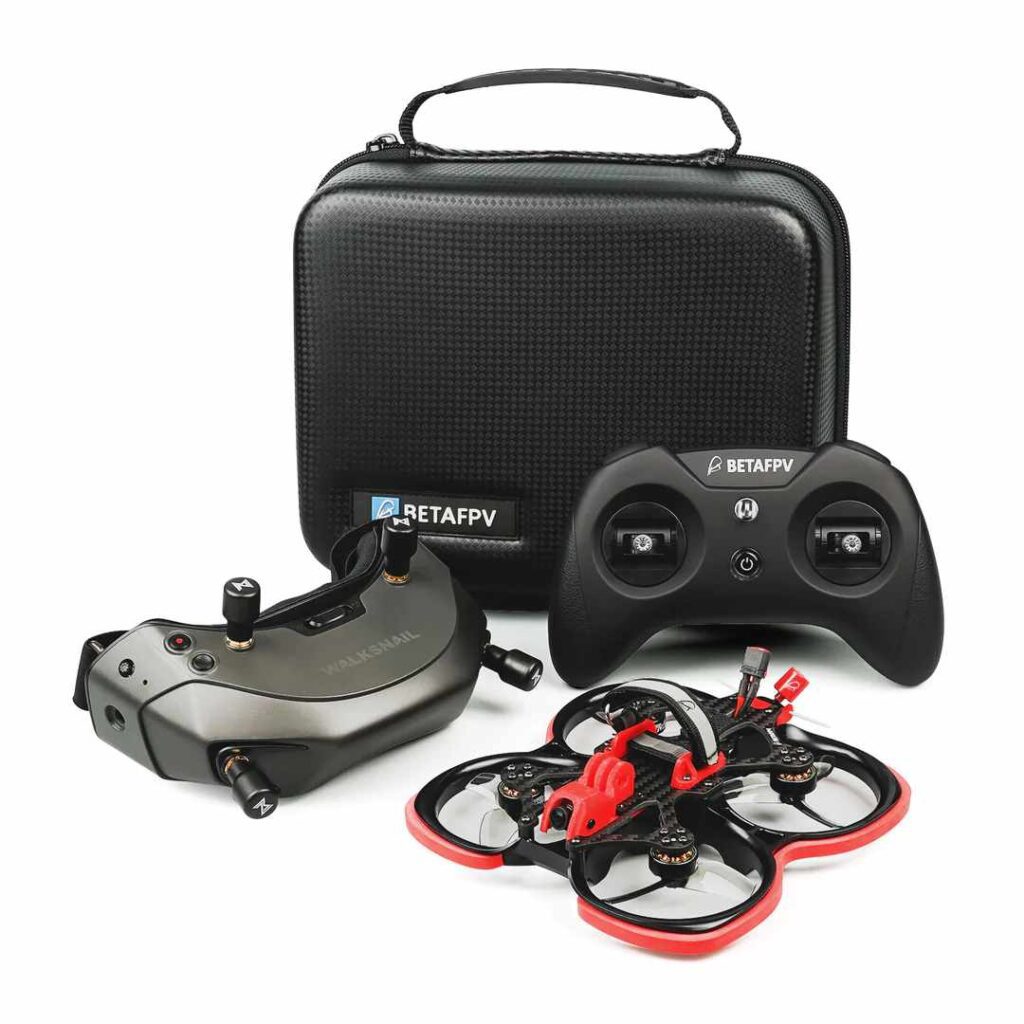 The Walksnail Avatar HD Goggles have a compact design and high-fidelity Full HD OLED screens that support a new 1080p video transmission protocol. These goggles' field of view (FOV) is 46 degrees, and they also have a focus adjustment and HDMI output. Furthermore, using four antennas ensures that video transmission signals are steady.
The LiteRadio 3 Radio Transmitter, with its ergonomically crafted grip and impressive performance in terms of working duration, freshly updated gimbal, and nano module compartment for external TX module compatibility, is a great choice.
The Pavo25 Walksnail Whoop Kit is an excellent choice for capturing FPV footage both indoors and outdoors. Everything you need to get started with your first-person view (FPV) hobby is included in the Pavo25 Walksnail Whoop Kit, ready to use immediately.
Eachine Novice-IV FPV Drone Kit
Introducing the Eachine Novice-IV FPV Drone! This compact and lightweight drone is perfect for those just starting in the drone hobby. It's made of a carbon fiber frame, durable and lightweight. With its switchable VTX output power of 25-400mw, this analog quadcopter allows you to compete with the best in the world. It has a Caddx Baby Ratel2 camera that is an excellent choice for anyone starting in FPV flying.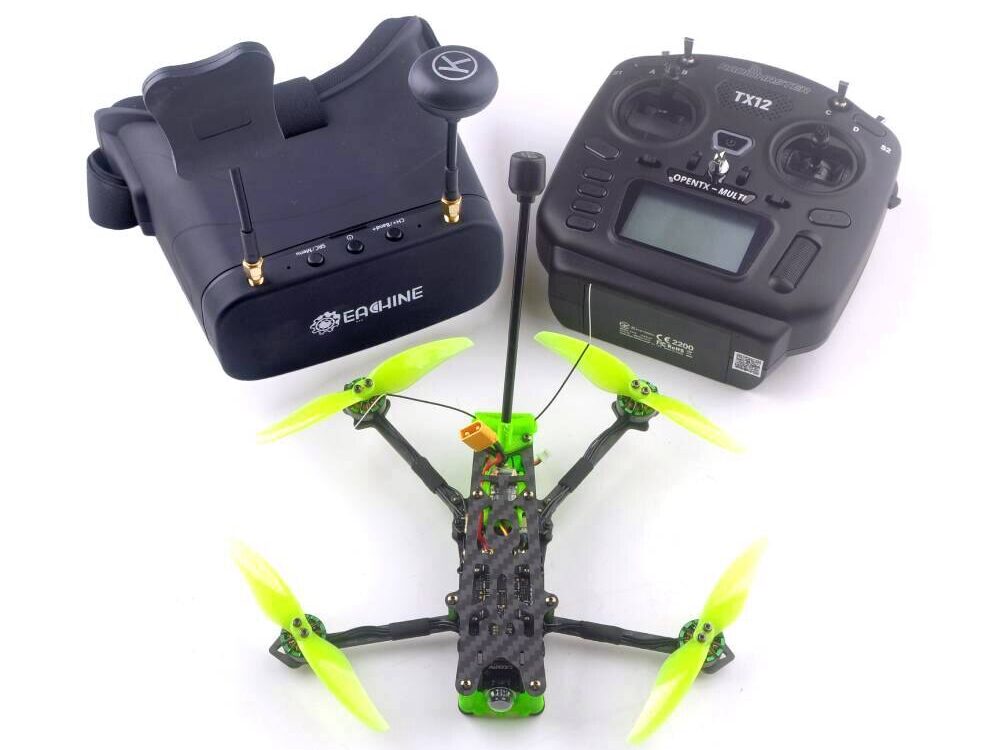 The ready-to-fly kit provides you with everything you require to get started, including a pair of EV800DM FPV Goggles and a Radiomaster TX12 transmitter. Beginner drone pilots seeking a high-quality FPV freestyle racing drone at a price point within their budget will find the Novice-IV an excellent choice because of its long-range capabilities and quick speeds.
GEPRC TinyGO 4K Whoop RTF FPV Drone Kit
Are you interested in purchasing a first-person-view (FPV) drone to record high-quality footage? If this is the case, the GEPRC TinyGO 4K FPV drone is an excellent choice for you. The camera on this drone is a Caddx Loris, and it can shoot footage at a resolution of 4K at 60 frames per second. Additionally, it is reliable and steady because of its GEPRC-12A-F4 FC system.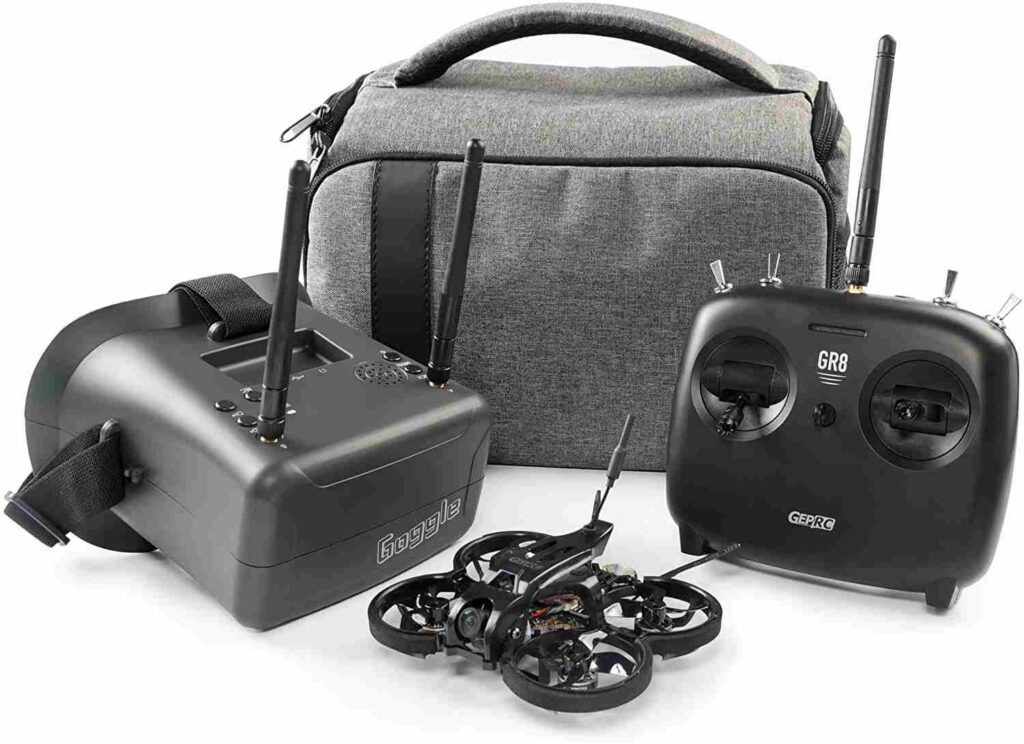 It is simple to fly and comes with first-person view goggles with a resolution of 800x480px. It has a battery life of over 6 minutes, making it the ideal drone for anyone interested in learning how to pilot a drone. This kit provides you with everything you require to begin flying right away, including the GEPRC GR8 remote, FPV goggles, FPV drone, lipo charger, and batteries. You can start flying right away with everything you need in this package.
Emax Tinyhawk III RTF Kit FPV Racing Drone
The EMAX Tinyhawk III RTF kit is perfect for beginners who want to get into the FPV drone hobby. With this easy-to-use kit, you'll be able to fly your drone using goggles in no time at all. Its RunCam Nano 4 camera produces detailed images and videos that are clear and realistic in even the darkest environments. The included receiver is compatible with SPI and FrSky D8 modes, so you're ready to go right out of the box.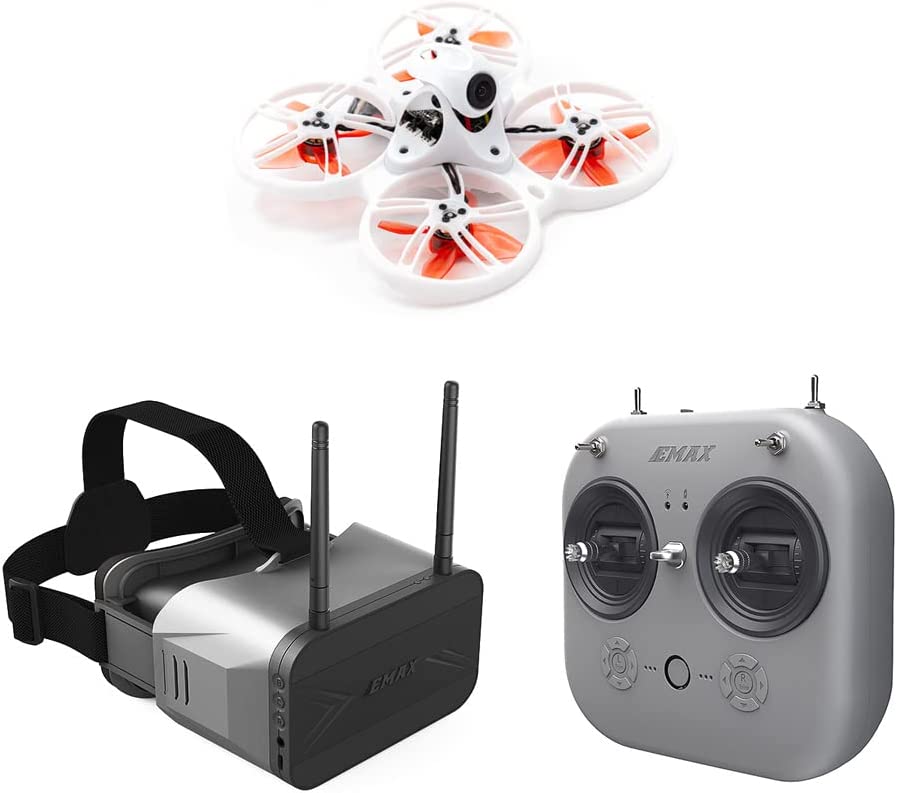 The FPV goggle with a detachable screen and built-in DVR that lets you record your flights in stunning high definition. With its stable flight and easy controls, this little drone is perfect for a beginner learning how to fly FPV. You'll be able to explore your surroundings and capture amazing aerial footage in minutes to share your adventures with friends and family.
The EMAX Tinyhawk 3 Quadcopter is the perfect beginner drone because it includes everything you need to get started. The Transporter 2 Goggles make it easy to see the scene ahead, while the E8 Radio Transmitter provides precise control of your drone. And finally, the TinyHawk III quadcopter is small enough for beginners but has plenty of power and features to keep you entertained.
BETAFPV Cetus Pro FPV Drone Kit
The BETAFPV Cetus Pro FPV Drone Kit is an excellent choice for indoor and outdoor flying. The kit comes with a Cetus Pro brushless quadcopter, a LiteRadio2 SE transmitter, VR02 FPV Goggles, and other accessories to help you get started. With this package, you'll be able to practice your flying skills indoors or outdoors and reach new heights while having tons of fun.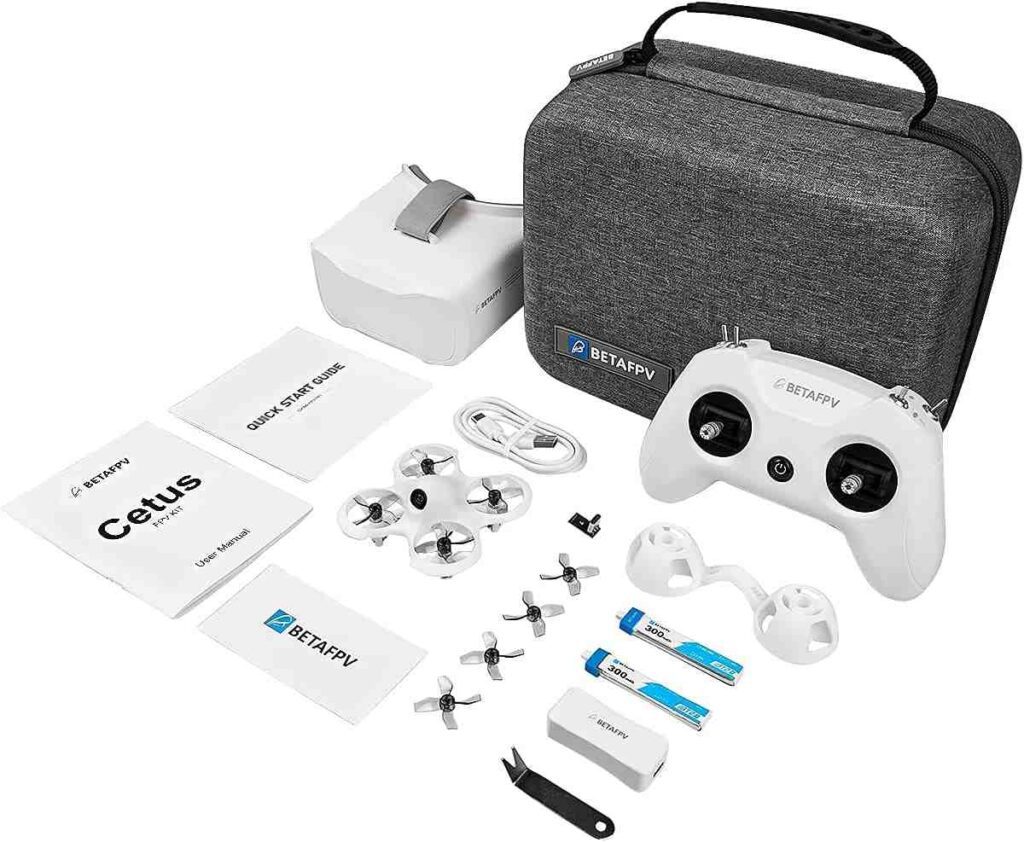 The Cetus Pro has altitude hold, making it easy to keep your drone stable in the air. It's also equipped with a self-protection mode that will help prevent you from getting into dangerous situations. Turtle Mode makes flying this drone simple and stress-free – no burden to fly away!
The BETAFPV Cetus Pro FPV Drone is the perfect way to take your flying to the next level. Powered by an 1102-18000KV brushless motor, this kit offers an impressive flight time of 4-5 minutes and a flight distance of 80m. With its easy-to-use controls, this drone is excellent for beginners and seasoned pilots. You can also use the remote controller when practicing in an FPV Drone Simulator like DRL (Drone Racing League).
EMAX Tinyhawk II Ready To Fly Kit
If you want to get into first-person-view (FPV) drone racing, the Emax Tinyhawk 2 II RTF Kit FPV is the perfect starter kit. You'll be able to take your flying skills to the next level with the F4 flight controller and a 700TVL CMOS camera. It's ideal for short bursts of excitement whenever you need them because it can fly for up to 4 minutes on a single battery.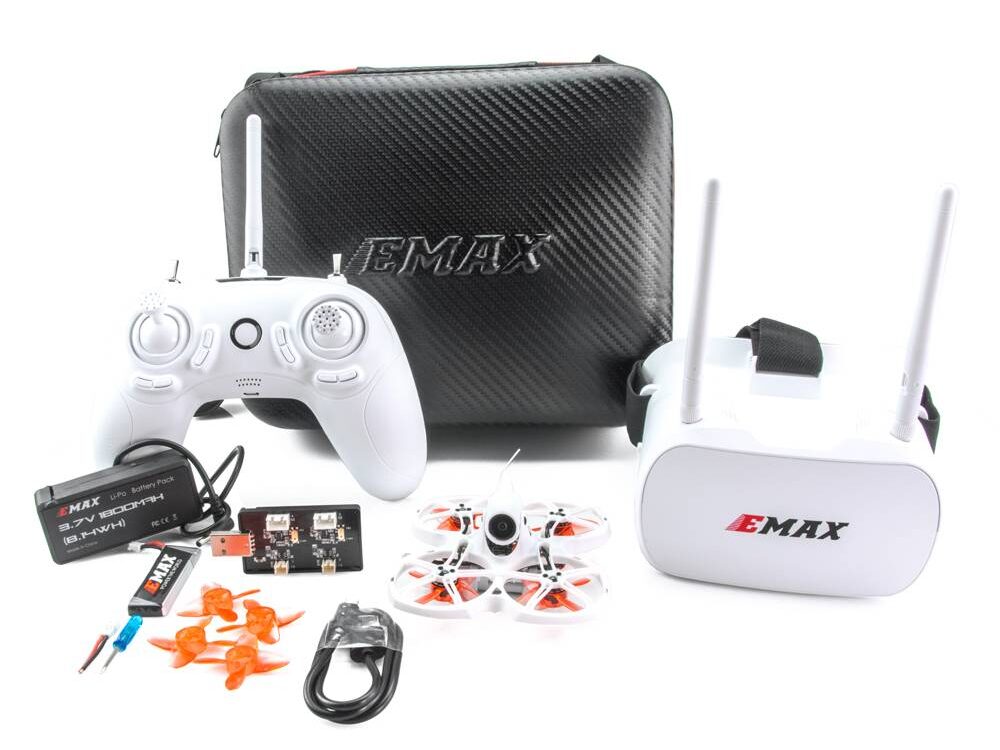 The Tinyhawk II Drone Kit is an excellent choice for anyone interested in First-Person-View (FPV) flight. The Tinyhawk II fpv drone, remote controller, battery, and goggles are all included in this starter kit. The Tinyhawk II user-friendly controls and sturdy construction make it a good choice for beginners.
NewBeeDrone RTF Acrobee65 BLV3 Kit
Looking for a drone that's both fun and functional? Look no further than the NewBeeDrone Acrobee65 BLV3 kit. This complete package comes with the Acrobee 65 BLV3 fpv drone, remote controller, battery, props and fpv goggles – perfect for beginner pilots. Whether you're new to drones or want an easy way to keep up with your friends, the Acrobee65 is an excellent choice. This kit comes pre-assembled and configured with Betaflight software. There's no need to build or tune it – just turn it on and fly!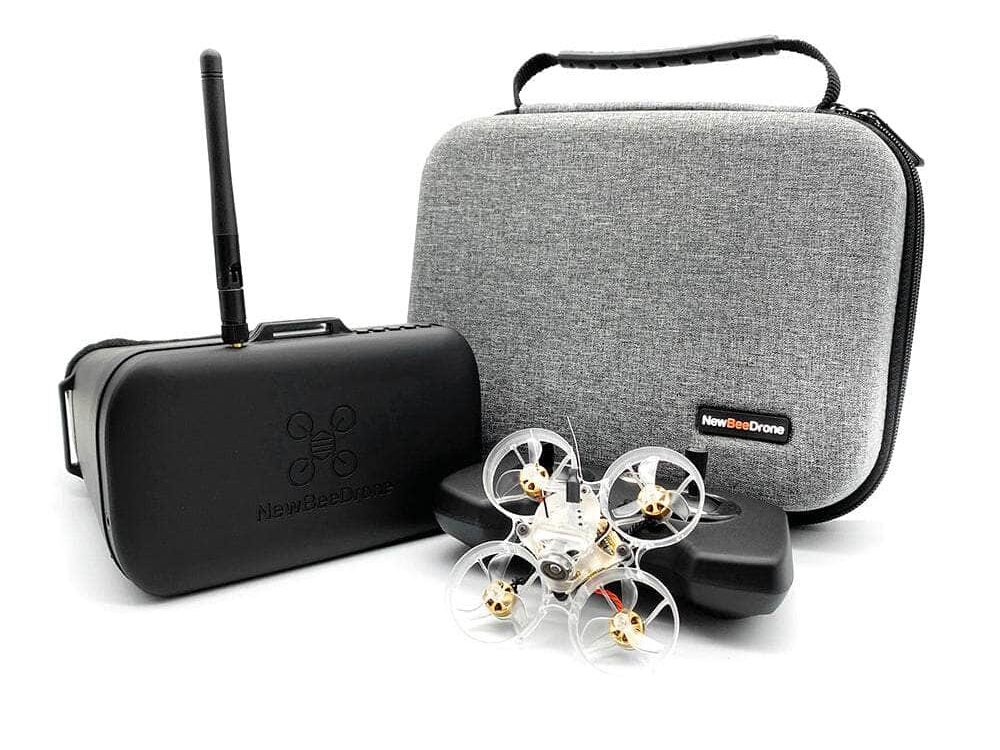 This AcroBee65 V3 drone features 18000kv motors and a Beebrain brushless flight controller, making it one of the most advanced tiny drones on the market. Whether a beginner or an experienced pilot, this drone is a perfect choice!
EMAX EZ Pilot Pro FPV Drone Kit
Emax EZ Pilot Pro is perfect for newbie pilots just getting started in FPV (First Person View) drone racing. This drone includes an Emax EZ Pilot Pro drone, EMAX Transporter 2 Goggles without DVR, EMAX E8 transmitter, propellers and USB charger – all you need to get started flying. The beginner-friendly design makes it easy to understand and fly, while the durable construction ensures that your drone will last long.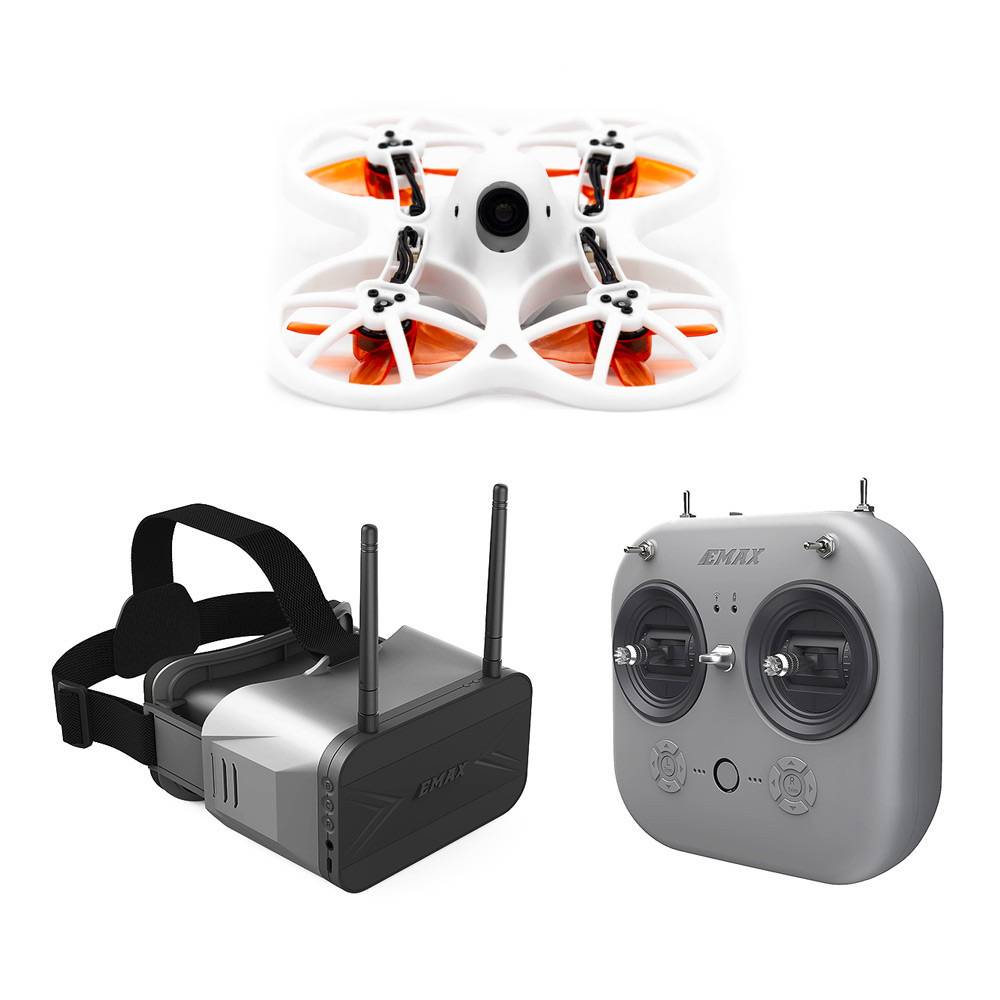 The powerful brushless motors provide plenty of power, and this indoor fpv drone is stable and easy to fly. With EZ Pilot Pro, you can practice your flying skills without worrying about crashes or lost equipment. So if you're ready to take your flying skills to the next level, the EMAX Ez Pilot FPV Drone is a great option!
QWinOut FPV Racing Drone RTF Kit
QWinOut FPV Drone RTF Kit with goggles is a great way to get into the exciting world of FPV drone racing. This kit has everything you need to get started, including an F4 X1 FPV drone, Flysky FS I6 transmitter, 750mAh 3S 11.1V 80C lipo battery, and compatible FPV goggles. With this complete package, you're ready to start capturing stunning footage and photos right out of the box.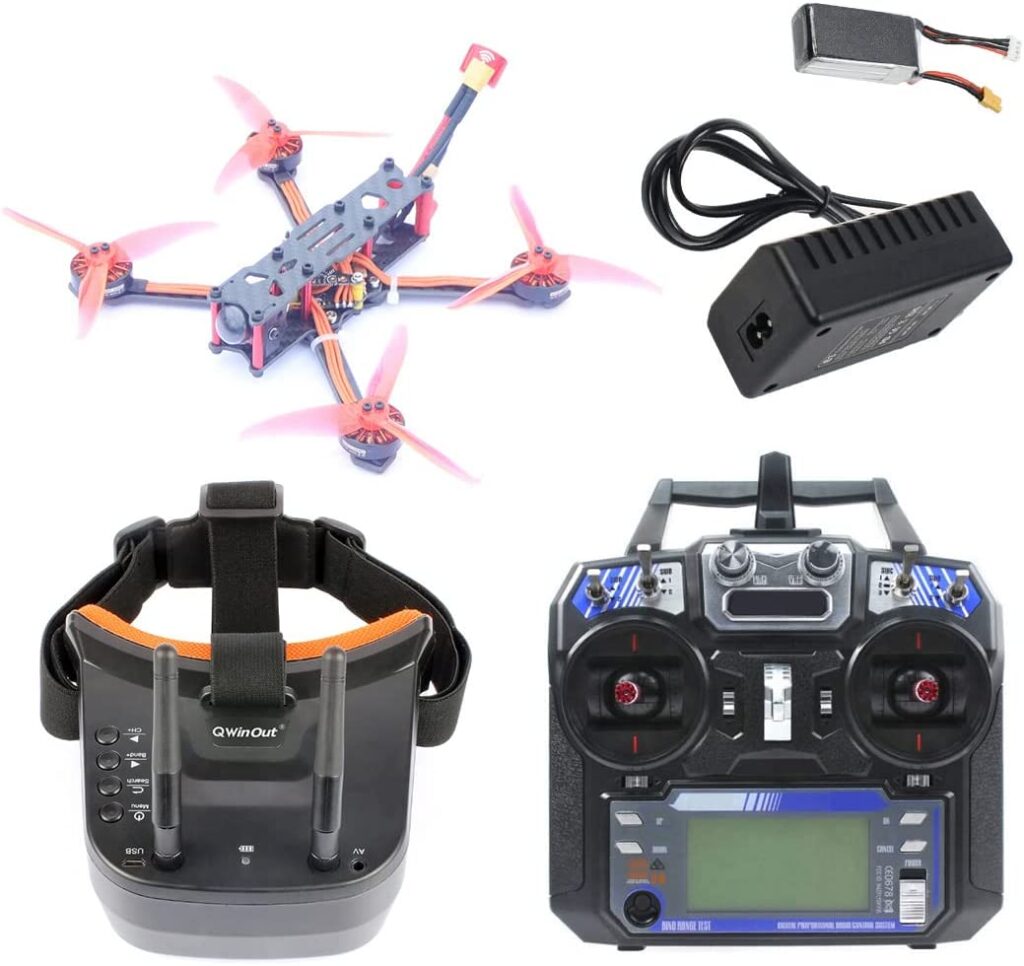 This drone features a carbon fiber construction equipped with 2900KV motors and a 35A AIO BLHELI flight controller for simple operation and control. This drone gives you an incredibly clear perspective of your surroundings thanks to its Caddx Ratel camera and 300mw OpenVTX transmitter. With this view, you can take the fight to the other pilots in your race head-on.
Makerfire Micro FPV Drone with Goggles
Makerfire's Micro FPV Drone Kit is the perfect place to start your journey into drone flight. This fpv drone kit for beginners includes an fpv quad, RC transmitter and fpv goggles that lets you fly right out of the box.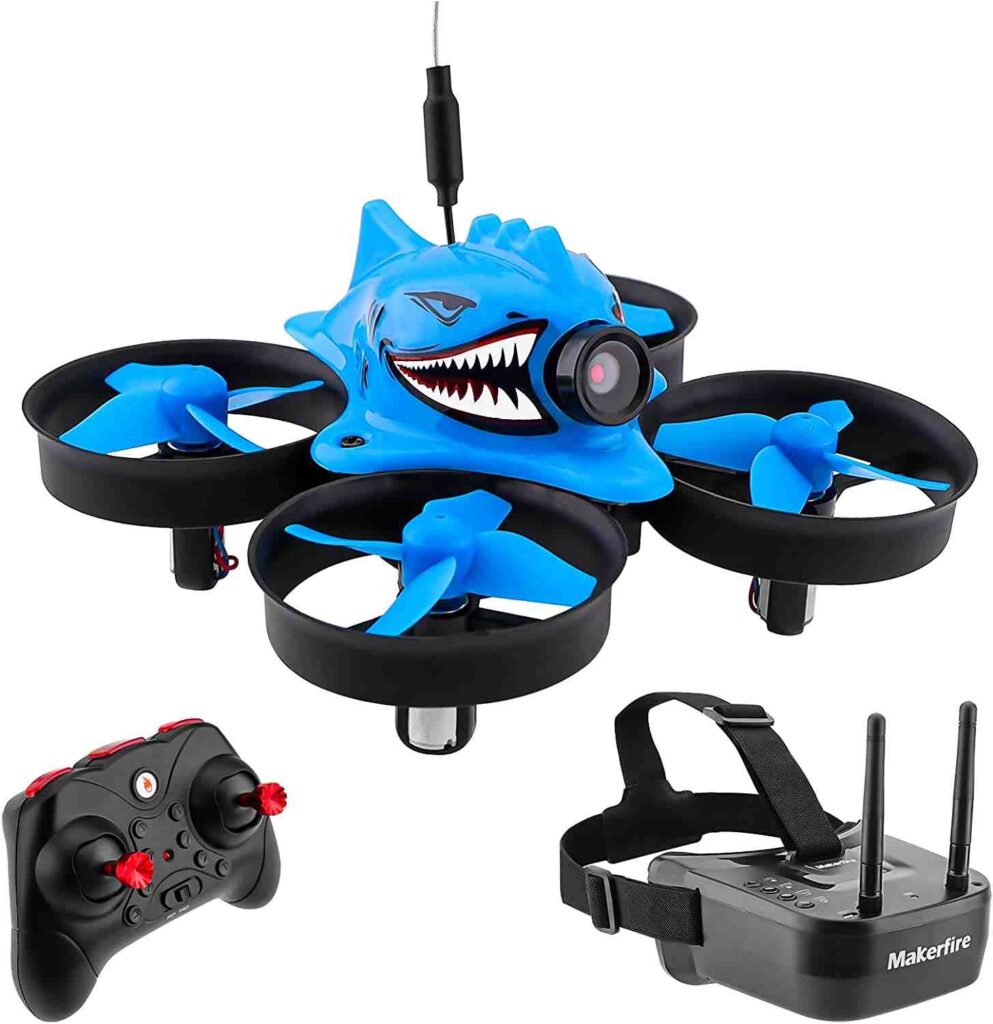 The drone has an FPV camera with a 1000TVL resolution to see everything in clear detail. It also features an altitude hold to keep your drone at the perfect height and one key return, so you don't have to worry about losing the drone during your flights. Finally, the headless mode allows you to fly without keeping track of the drone's orientation flight.
Makerfire Micro FPV Drone is the perfect drone for beginners. This Tiny Whoop Mini FPV Quadcopter is compact, making it easy to take with you on your adventures.
Eachine E013 Micro FPV Kit
Introducing the Eachine E013 Micro FPV Drone! This budget fpv drone kit includes everything you need to start flying, including a quadcopter, transmitter, and battery.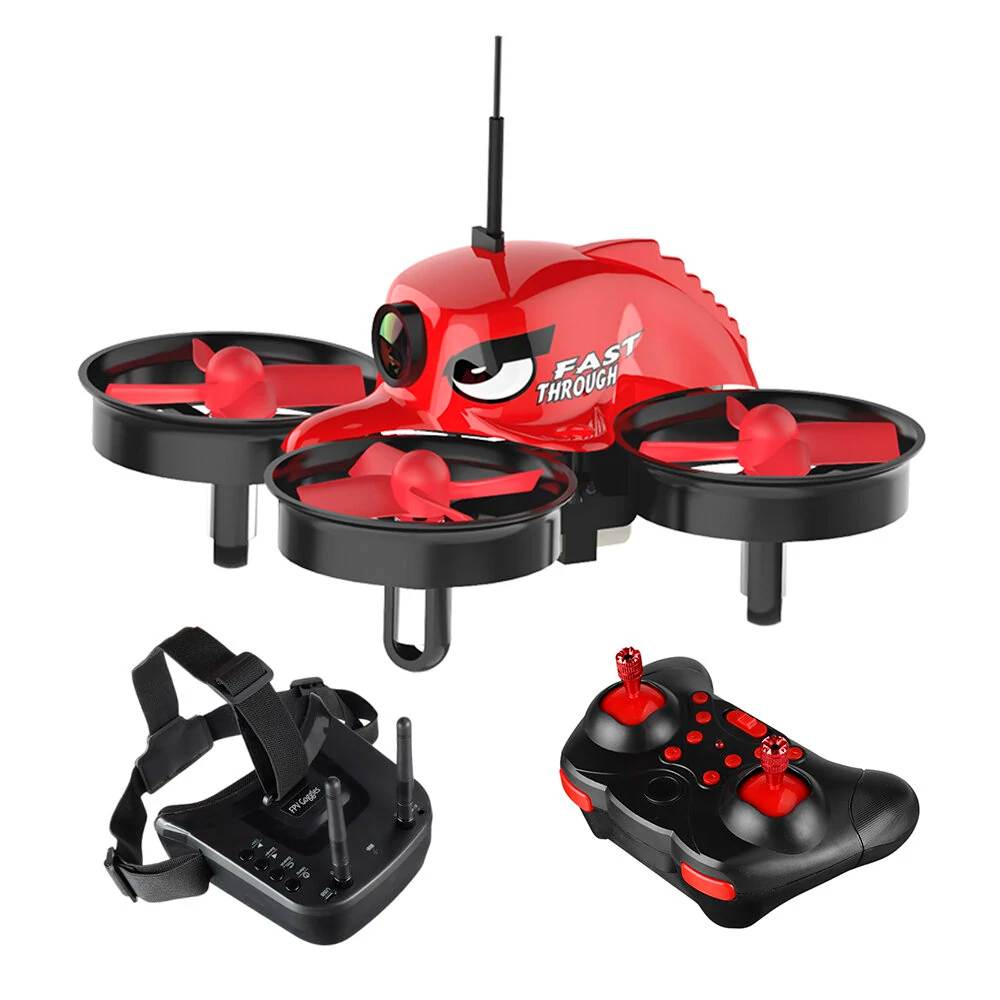 With its 1000TVL camera, you can easily capture high-definition videos and photos. The real-time video transmission makes flying this drone super simple, making it the perfect choice for beginners and experienced pilots. Plus, its Headless mode makes navigation a breeze – no need to worry about getting lost!
Eachine&ATOMRC Seagull FPV Combo
The Eachine&Skyzone ATOMRC Seagull FPV Kit is perfect for beginner to intermediate drone pilots. This FPV Drone Kit with Goggles ready-to-fly combo comes with everything needed to get started flying, including the Seagull drone, machine T8 Lite radio, Cobra LITE FPV goggles, battery, and charger. With this setup, you'll be able to take your aerial photography and videography skills to a new level.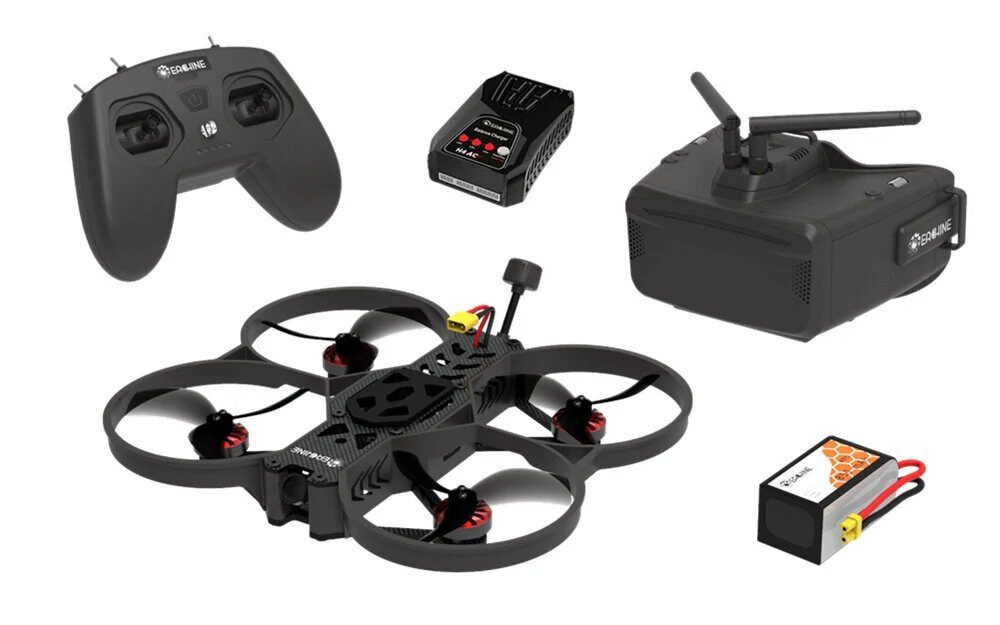 The Seagull FPV is perfect for those looking to get into FPV racing. The kit comes equipped with the ATOMRC Exceed F405 MINI FC, ATOMRC Exceed 30A BLS 4in1 ESC, and the Foxeer Razer nano FPV Camera.
The Seagull FPV is a high-performance drone with the latest 2004 2700KV motor. This allows you to fly for 9 minutes using a 4S 850mAh battery. With its durable construction and lightweight design, the Skyzone ATOMRC Seagull FPV is perfect for those looking for an exciting and fun way to experience flight.
What Is The Best FPV Drone Kit with Goggles?
There isn't a single answer to this question because the best FPV drone kit with goggles depends on your needs and preferences. But the DJI FPV Combo, the BetaFPV Pavo25 Walksnail Kit, the Eachine Novice IV Kit, the Emax Tinyhawk Kit, and the GEPRC TinyGo Kit are some of the best FPV drone kits with goggles.
Is DJI FPV good for beginners?
The DJI FPV is good for beginners because it has an emergency brake and a hover feature. It also has GPS, return to home, and obstacle sensors, which make navigation simple.
Get ready for serious fun with a first-person-view drone if you want to fly with a truly immersive experience. Perhaps one of the options from our list of the best fpv drone kits with goggles will work best for you.
Disclosure: Some links are affiliate links. As an Amazon Associate,
I earn from qualifying purchases at no extra cost to you.