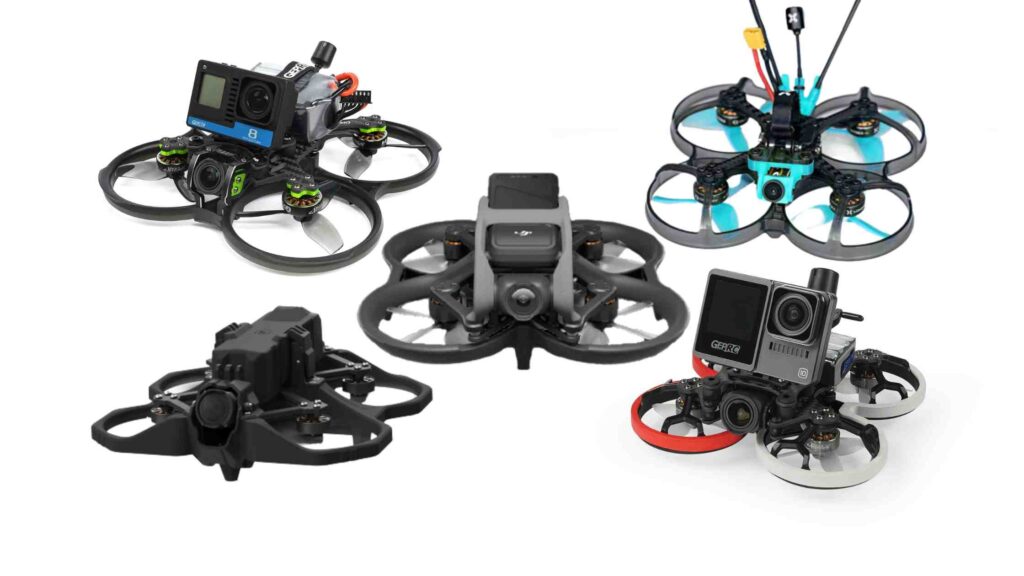 Searching for the perfect indoor FPV drone can be overwhelming with the abundance of choices. To simplify the process, we have curated a list of the best indoor FPV drones available in the market. Whether you want a small or a high-performance drone, these options cater to both leisurely flying and professional indoor videography like real estate. These indoor drones are sure to offer an exhilarating flying experience.
The Cinebot30 is a top-of-the-line FPV drone specifically designed for indoor use. Its compact size and lightweight design make it ideal for navigating tight spaces and complex environments. Utilizing high-strength 7075 aircraft-grade aluminum alloy materials for its aluminum parts, it features a TPU shock-absorbing pad on its bracket structure, effectively isolating high-frequency vibrations for smooth, jello-free footage during high-speed flight. The O3 Air Unit, currently the most advanced FPV system on the market, is utilized for its video transmission capabilities.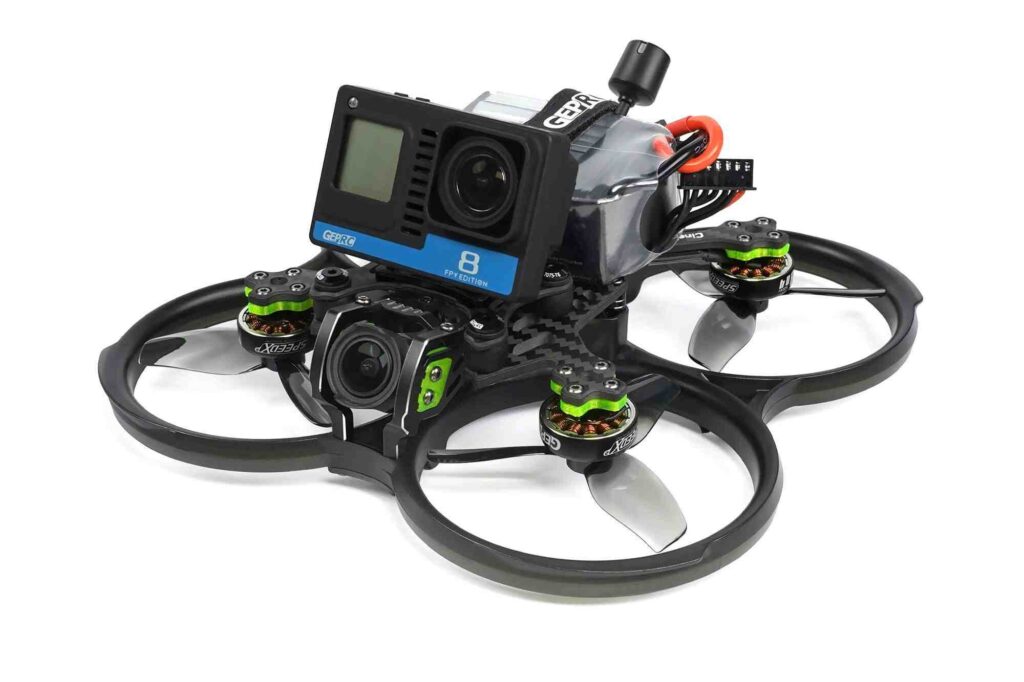 It can transmit 1080P 60fps real-time images and record up to 4K 60fps anti-shake images simultaneously. The video transmission system has also been upgraded with market feedback. The gimbal top plate of the fuselage is now compatible with 4-hole screw fixed camera bases, allowing for a full-sized GoPro camera to be mounted.
The battery life can reach up to 10 minutes of flight time when using a Naked GoPro 10. The Cinebot30 also has a powerful 1804 motor, optimized motor magnetic circuit, and surging torque, allowing easy ultra-low altitude shooting and HQ prop T76mm*3 propellers for minimal noise. It also uses the GEP-F722-45A AIO v2 flight controller for higher performance redundancy and easy handling of unexpected situations.
The DJI Avata drone is engineered for ease of use; its design makes it easy to fly for both beginners and experienced pilots. Its impressive capabilities allow users to capture immersive FPV footage in 4K resolution at 60 fps, making it one of the best FPV indoor drones on the market.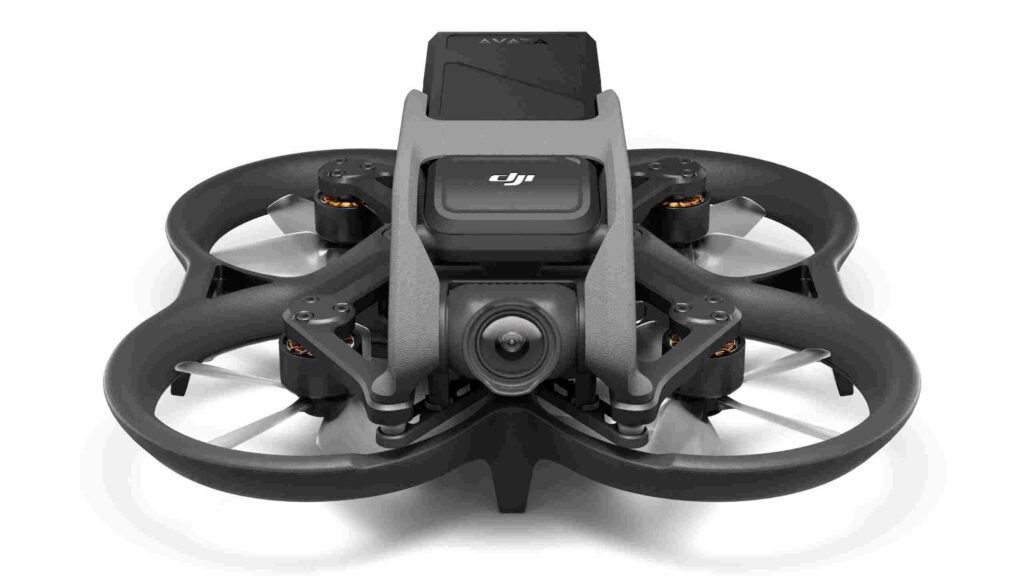 The Avata has features such as O3+ video transmission and 2T2R omnidirectional antennas that give it unparalleled stability and responsiveness during flight. The drone has a long battery life that allows up to 18 minutes of flight time. This extended flight time enhances the flying experience by allowing longer sessions and more opportunities to capture desired footage. The Avata's design and features make it an excellent choice for a reliable and efficient indoor drone.
This allows for a smooth, clear real-time view in the goggles, even in environments with interference. The drone is designed to provide a fun and less stressful flying experience, with features like GPS, an Emergency Brake button, and RTH support for added protection. The built-in propeller guard, downward binocular vision, and ToF infrared sensor also add to the safety of the drone and make it suitable for low-altitude or indoor flight.
The Avata is one of the best drones designed to provide a truly immersive and unparalleled FPV experience while flying indoors. This can be achieved by using either DJI FPV Goggles V2 or DJI Goggles 2. Both goggles are compatible with the Avata and are designed to give users an immersive and smooth flying experience by providing a high-quality video transmission, low latency, and a wide field of view. This combination of the Avata and either of the DJI goggles will ensure that users have an enjoyable and smooth indoor flying experience.
Read more about the in-depth comparison of DJI Avata vs GEPRC Cinebot30.
The GEPRC CineLog20 is a new release perfect for the shooting needs of complex indoor environments. This 2 inches cinewhoop is now available in Link Wasp, O3 AIR Unit, Walksnail, and Analog, four mainstream VTX systems on the market.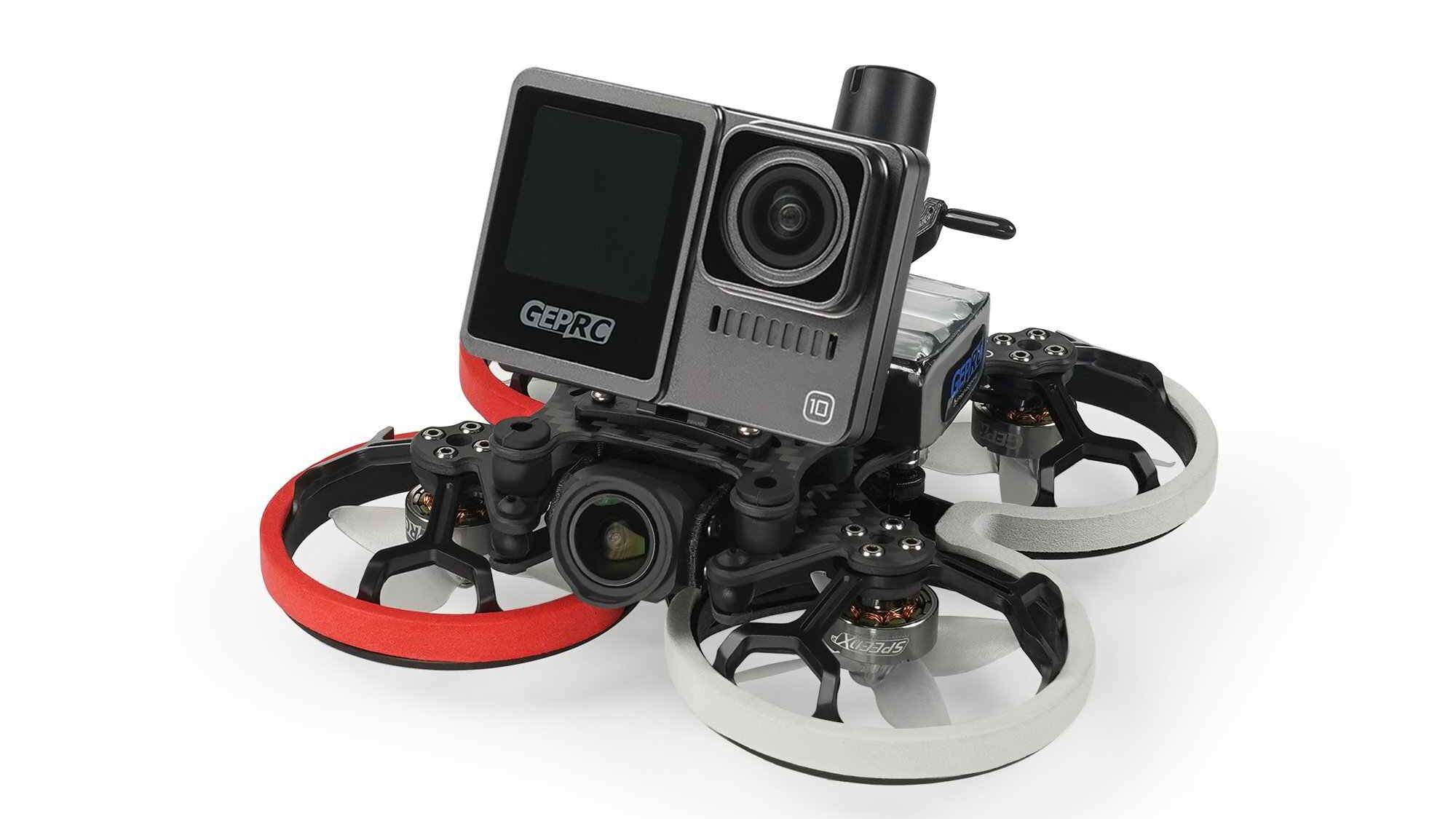 The CineLog20 is equipped with the GEPRC SPEEDX2 1303.5 5500KV motor and GEP-F411-35A AIO and features Emax Avan Micro 2×2.4×4 propellers. This efficient power system makes the CineLog20 quiet and has a long battery life.
The 2-inch pusher design is small and lightweight, making it more suitable for complex and narrow environments flight shooting. The CineLog20 also features the vibration-dampening structure of the CineLog series, which effectively eliminates the jello of the image caused by the body when flying with a Naked GoPro mounted.
The Defender25 is a lightweight, small drone that typically does not require registration in many nations because its weight is less than 249 grams. It is ideal for indoor use, particularly for capturing footage within one's property, for real estate purposes.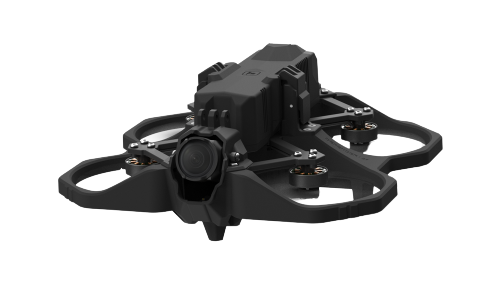 The built-in 2.5-inch propeller guards are created for flying with ease, giving users new creative freedom to fly wherever and whenever. The durable, injection-molded frame protects the motors and propellers from damage and guards against small flying errors.
The latest technology from DJI, the O3 Air Unit HD transmission system, is incorporated in the Defender25, allowing for 4K video and up to 155° super-wide FOV footage for stunning visuals. The D-Cinelike color mode provides more options for color grading, enabling users to edit and adjust their footage. A unique vibration-damped camera mount is included to keep raw footage smooth and ensure good Gyro Data for in-built or in-post camera stabilization.
The GEPRC CineLog 25 is a top-performing best indoor drone designed to meet the needs of both professional and hobbyist pilots. The GEPRC Team has put a lot of effort into making the CineLog25 one of the best indoor drones on the market, and they are excited to release the latest version, the GEPRC CineLog25 HD Pro CineWhoop, which features the Caddx Polar Vista.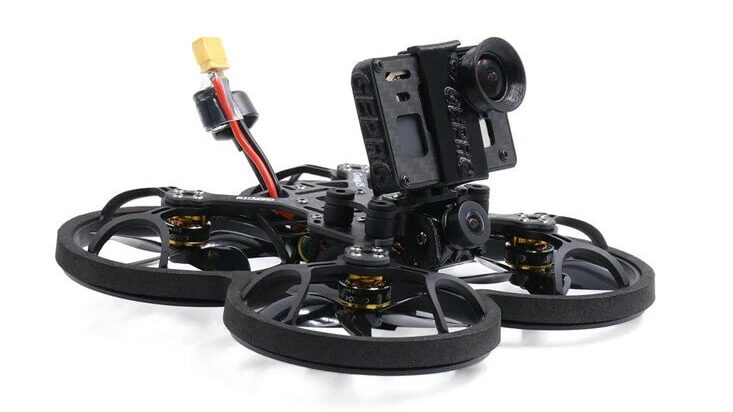 One of the most notable features of the CineLog25 is its ability to shoot video with a naked GoPro. The drone adopts the popular backward push design, which allows for more efficient use of the propeller's thrust-weight ratio, resulting in higher flight efficiency. The overall layout of the drone is also well-designed, with the Vista HD located at the center of the quadcopter, ensuring that the center of gravity is in the middle.
The propeller inlet is also smoother, resulting in lower noise levels. The redesigned shock absorption structure of the camera mount eliminates camera jellies and using 3, 4, and 5 damping rings (depending on the flight state) ensures the best stability in vibration and noise.
The CineLog25 has a flight time of around 5.5 minutes (depending on flying habits), and the stable electronic equipment and advanced frame materials make this quadcopter stable for FPV freestyle tricks. The customized EVA protective foam cushioning around the frame is more elastic and can effectively protect the fuselage during crashes.
The Foxeer Foxwhoop is an ideal cinewhoop for indoor FPV flying; it's constructed from tough T700 carbon and has "unbreakable" prop guards, which enables it to withstand indoor flying conditions. Its steady performance and superior materials make it a top pick for indoor FPV drones. The Foxwhoop 25 frame comes in both Analog and HD formats, catering to all your indoor flying preferences.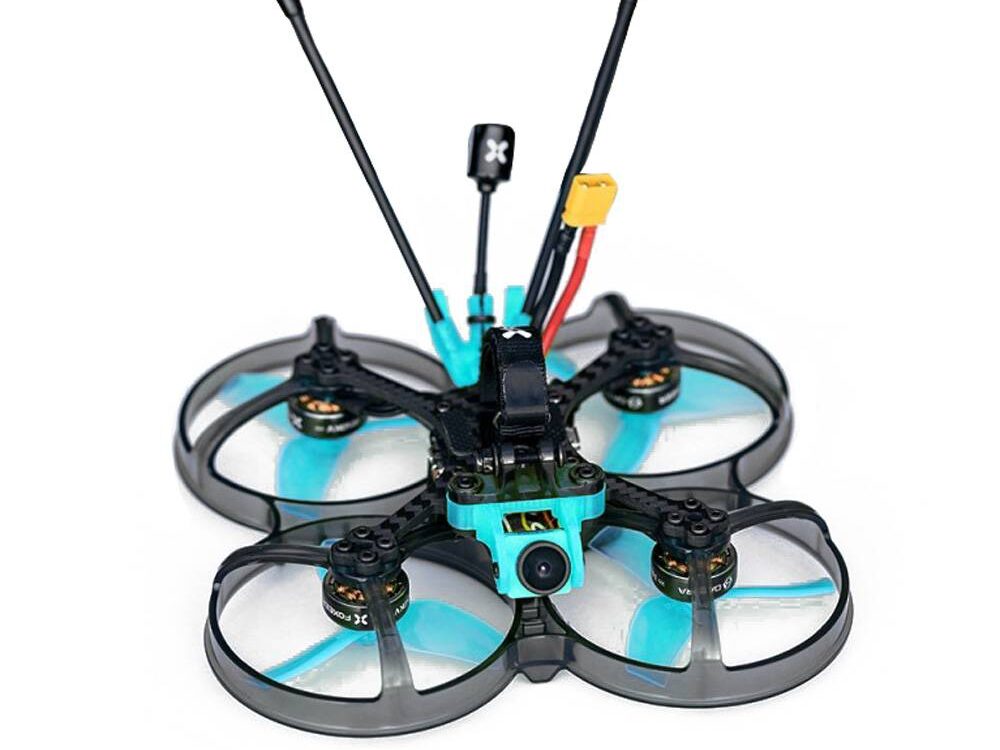 The Foxeer Foxwhoop 25 is a top-of-the-line indoor FPV drone that offers a variety of options for different flying preferences. The frame comes in both Analog and HD formats, including the Foxeer Reaper Nano analog, O3 Air Unit, Vista, and HDZero Whoop. This allows pilots to choose the format that best suits their needs, whether they prefer the traditional, more budget-friendly Analog format or the more advanced HD format with higher resolution and more features.
The Foxwhoop 25 is designed specifically for indoor flying, making it perfect for those who want to fly in tight spaces or navigate obstacles with precision. The drone is small and lightweight, making it easy to maneuver, and it also features durable construction that can withstand crashes. The Foxeer Foxwhoop 25 is a versatile and reliable option for those looking for the best indoor FPV drone.
What is the best indoor fpv drone?
Choosing the best indoor FPV drone depends on your needs and budget. Many options from manufacturers like DJI, GEPRC, and others, each with unique features and capabilities. Research and compare before making a decision. All options are great for indoor flying.
When it comes to determining the best FPV indoor drone, it ultimately depends on the user's preferences and intended use. However, a few factors to consider when choosing an indoor FPV drone are size, weight, durability, and flight characteristics. Cinewhoop drones are popular among indoor FPV enthusiasts due to their small size, low weight, high-quality camera, and stable flight characteristics. Ultimately, the best FPV indoor drone is the one that fits your needs and allows you to have fun and enjoy the experience.
What equipment is necessary to operate an FPV drone?
To fly an FPV drone, there are a few essential pieces of gear that you will need. The most important piece of equipment is the FPV goggles, which provide a first-person view of the drone's flight. The goggles are connected to the drone and display a live feed from the camera, allowing the pilot to see what the drone sees.
Another important piece of gear is the remote controller, which controls the drone's movements and functions. The remote control or transmitter typically comes with joysticks, buttons, and a display screen that shows flight information.
Additionally, you will need a battery and a lipo charger to power your drone. The battery is typically a lithium-polymer (LiPo) battery, which is lightweight and provides long flight times. The lipo charger is used to charge the battery and typically has safety features to prevent overcharging and short-circuiting.
Other accessories that you may need include spare propellers, a carrying case, and a screwdriver set. Spare propellers are important to have on hand in case of damage or wear, a carrying case protects your gear during transport, and a screwdriver set is handy for making repairs or adjustments to the drone.
Overall, it is important to carefully consider all the gear you will need to fly your FPV drone safely and comfortably. The right equipment will make your flying experience much more enjoyable and allow you to capture the best footage possible.
How do you know if a drone is good for indoor fpv flying?
Several key factors are needed to determine if a drone is suitable for indoor FPV flying:
The size and weight of the drone should be small and lightweight enough to maneuver easily in tight spaces.
The drone should have a durable frame and propeller guards to protect against collisions.
The drone should have a stable and responsive flight control system for precise control.
What are the benefits of indoor FPV drone flying?
Indoor FPV drone flying offers a unique and exciting way to experience the thrill of piloting a drone without the limitations of weather or location. Some benefits of indoor FPV drone flying include the following:
The ability to fly in any weather: Indoor FPV flying allows you to enjoy the hobby regardless of outdoor conditions, making it a great option for those living in inclement weather areas.
Increased control and precision: With indoor flying, you can fly in a controlled environment, allowing for more precision and control.
Greater safety: Indoor flying eliminates many safety concerns associated with outdoor flying, such as the risk of collisions with buildings or power lines.
The opportunities for creative expression: Indoor FPV drone flying allows you to fly in tight spaces, explore new perspectives and capture unique footage, giving you more room for creative expression and videography.
The ability to fly all year round: Indoor FPV drone flying is not limited by season; you can fly all year round, making it a great hobby to pick up and enjoy.
Which is better: An indoor FPV drone or an outdoor FPV drone?
Both indoor and outdoor FPV drones have their unique strengths and weaknesses. Indoor FPV drones are well-suited for flying in tight spaces and inclement weather, while outdoor FPV drones are ideal for capturing high-quality aerial footage and covering greater distances. It ultimately depends on the user's preferences and intended use.
Can you fly the DJI FPV indoors?
Yes, with proper modifications, such as installing propeller guards, you can fly the DJI FPV indoors. Still, it's important to be aware of the limitations of indoor flying and the potential hazards.
Is fpv drone suitable for beginners?
FPV drone flying can be a good hobby for beginners, but it requires more practice and skill development than traditional drone flying. It's important to start with a small and simple drone, be patient and practice regularly to master the skills and enjoy the experience.
In conclusion, the world of indoor FPV drones is vast, and finding the perfect one can be challenging. We hope this article has helped you decide which drone best fits you. All these indoor drones listed are good choices and will surely provide an exciting and enjoyable FPV experience. Remember always to fly safely and have fun. Happy flying!