The GEPRC Cinelog 25 is a game-changing 2.5″ fpv drone that offers a unique combination of smooth flight experience, low noise, and excellent performance. This drone is designed for pilots who demand the highest level of precision and control, whether flying for fun or professional purposes.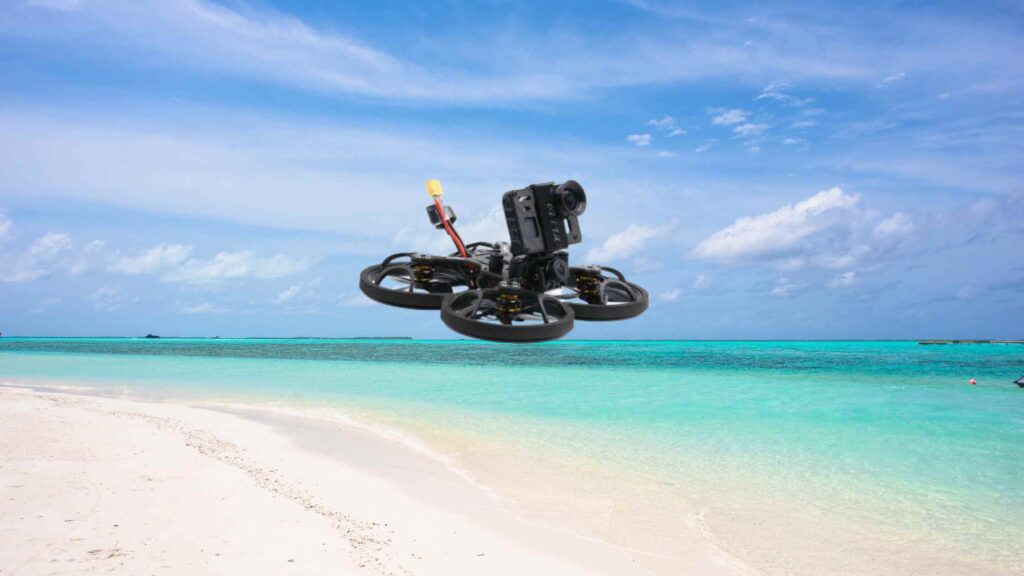 Why is Cinelog 25 so popular?
The GEPRC CineLog 25 is a popular RC FPV drone that has gained a reputation for its outstanding performance and best stability.
The CineLog25 is available in three different versions, each designed to meet the specific needs of different users. The CineLog25 HD PRO, CineLog25 HD Nano, and CineLog25 Analog are all designed to provide users with the best possible FPV experience.
Wheelbase: 109mm
Flight Controller: GEP-20A-F4 AIO
MCU: STM32F411
IMU: MPU6000(SPI)
OSD: BetaFlight OSD w/ AT7456E chip
ESC: BLheli_S 20A
VTX: Caddx Polar Vista
Camera: Polar Micro
Propellers: GEMFAN D63-3
Motor: GR1404 4500kv(Upgraded Version)
Antenna: GEPRC Momoda 5.8G Antenna Long Version LHCP UFL(85mm)
CineLog25 HD PRO Weight: 145.5g(without battery)
Battery: Recommended 4S 450-750mAh or GEPRC 4S 660mAh 90/180C HV 3.8V/4.35V LiPo Power Batteries
GEPRC Cinelog 25 Features
Damping system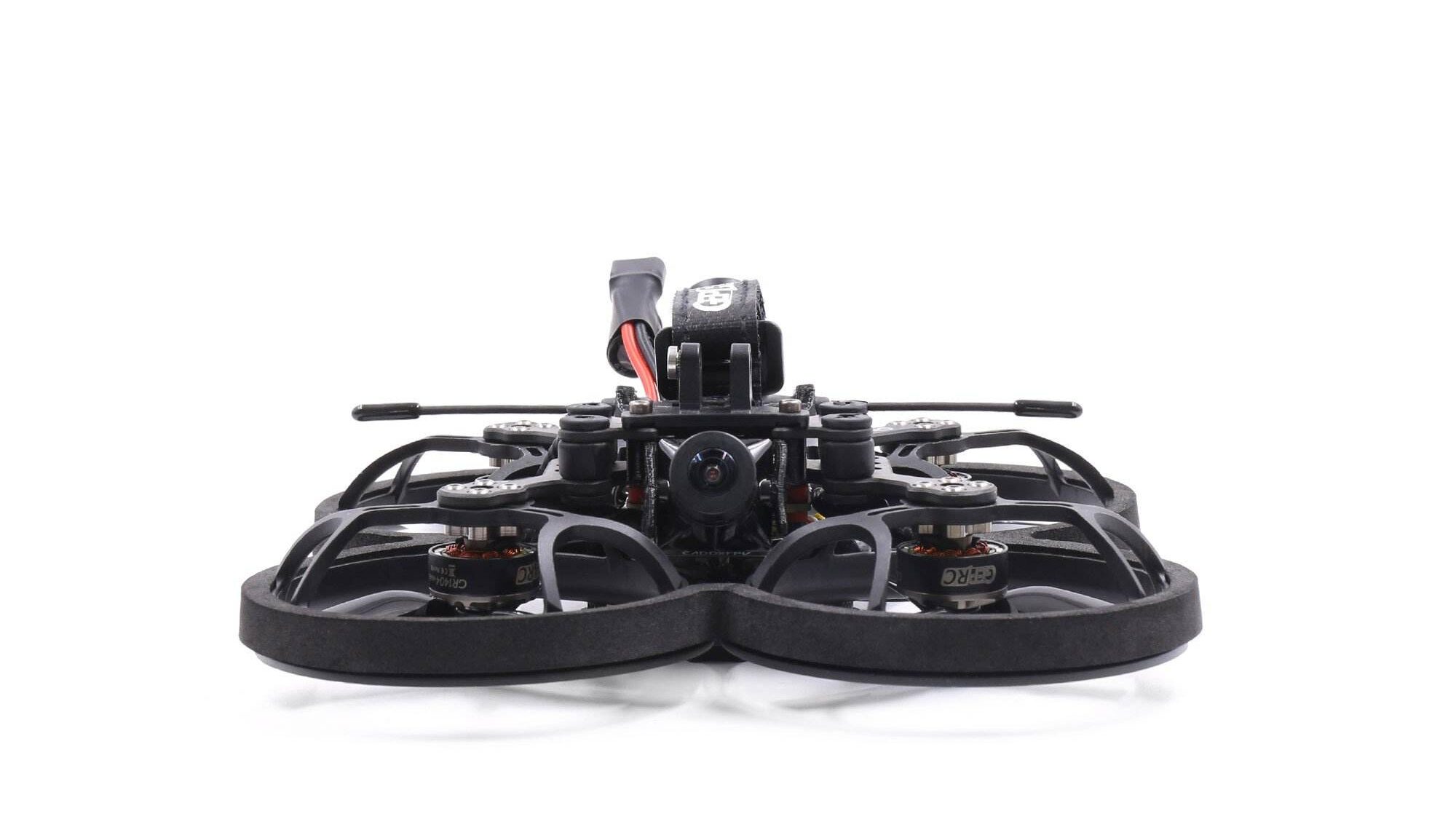 The CineLog 25, a highly sought-after FPV drone from the GEPRC team, has undergone a significant upgrade with a new camera damping system. This new system is designed to eliminate common issues like the jelly of the camera and vibrations in the video footage captured by the FPV camera.
The damping construction can be adjusted to suit the flight state, allowing users to fine-tune their settings for optimal stability and performance. The drone offers three, four, and five damping rings options, ensuring that users can find the perfect balance of stability and noise reduction. 
Exclusive pusher frame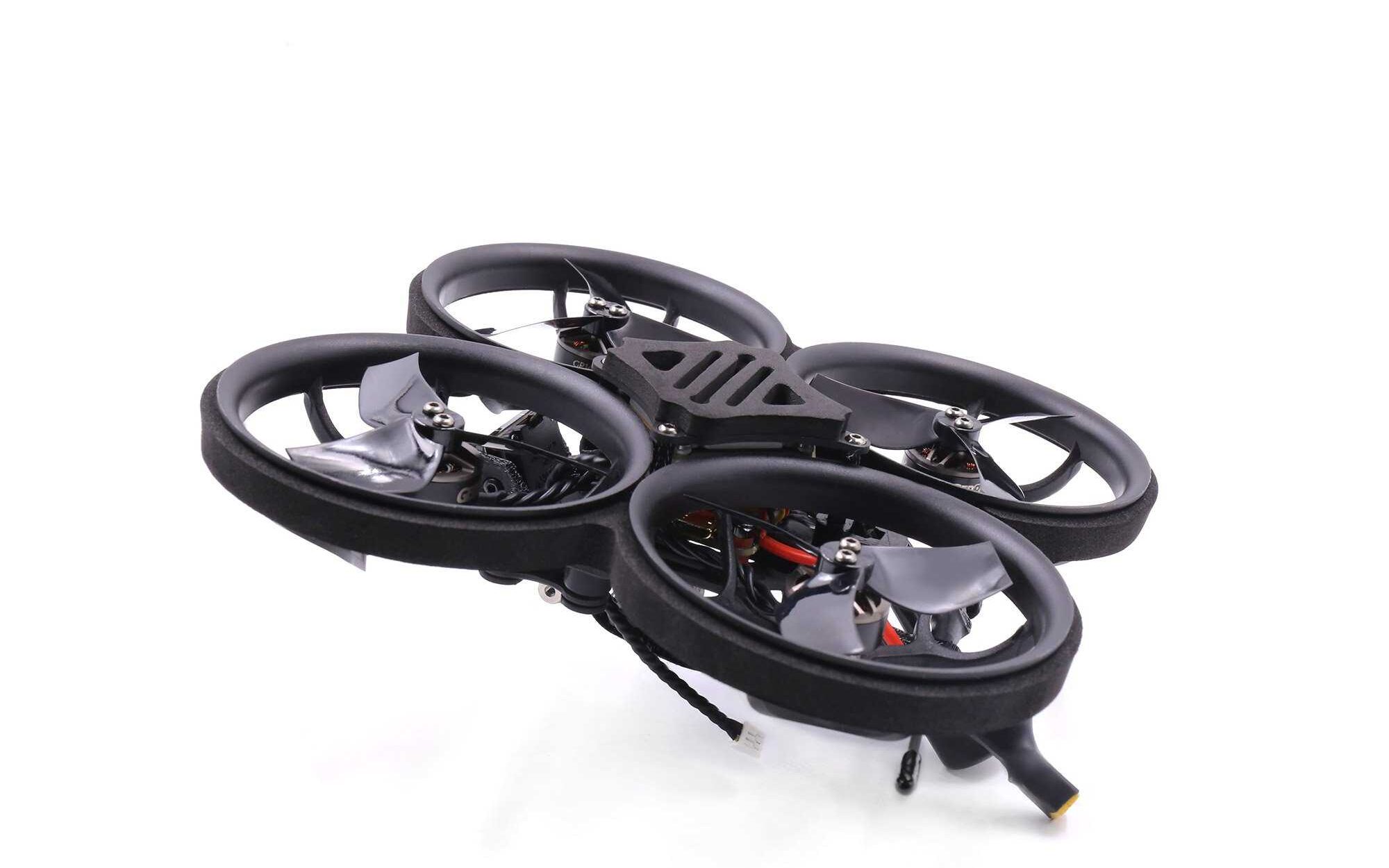 The CineLog25 is a lightweight quadcopter that has undergone a significant upgrade with the introduction of its exclusive pusher frame design. It is made of ultra-light carbon plates and other advanced frame materials that significantly enhance the strength and efficiency of the drone. The result is a 20% increase in strength and a 15% increase in efficiency, making it one of the most advanced drones in the fpv field today.
This new design not only improves the overall performance of the drone but also provides a sleek and modern look. The CineLog25 Quadcopter continues to push the boundaries of FPV technology, providing users with the latest and most advanced features.
Low noise optimization
The GEPRC CineLog 25 FPV cinewhoop continues to innovate with its new design that increases the air inlet volume. This feature and integrated EVA foam cushioning significantly reduce airflow resistance, resulting in an extremely low flight noise.
The reduction of external vibrations also adds to the overall quietness of the flight. This design advancement sets the CineLog 25 apart as it offers a more pleasant flying experience for both the fpv pilot and those around them.
Higher flight efficiency
The GEPRC CineLog 25 is known for its long-range flight capabilities, thanks to its high-efficiency power matching system. The drone features the upgraded GR1404 4500kv power output scheme and Brilliant Tune, significantly increasing its flight time.
This allows users to fly farther and for more extended periods, making it a great option for those who want to explore new areas or shoot videos in remote locations.
Additionally, the advanced power system ensures that the drone runs at optimal efficiency, which helps to conserve energy and prolong flight time. The CineLog25's long-range flight capabilities make it a top choice for those who want to push the limits of their FPV experience.
Low center of gravity design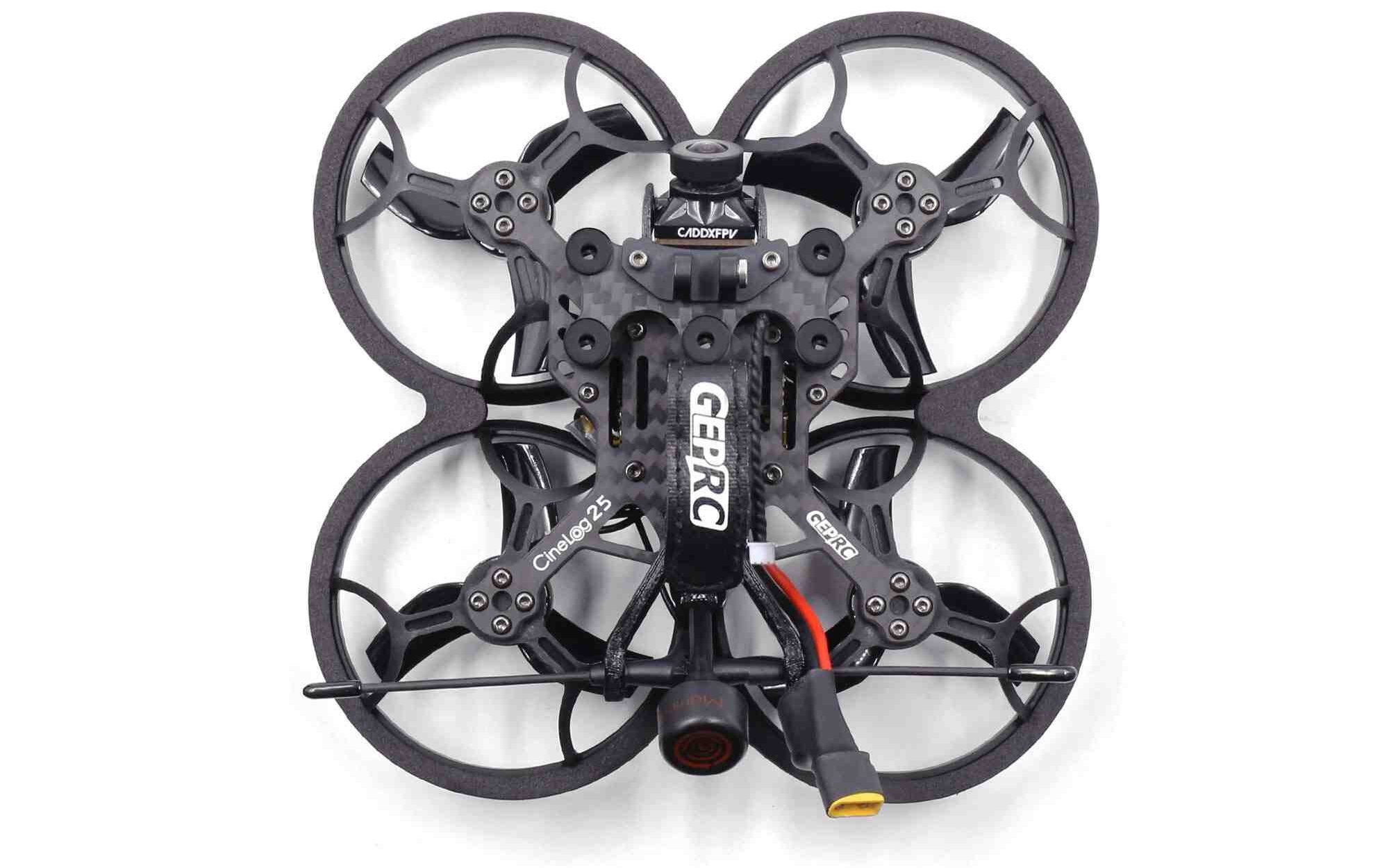 The GEPRC CineLog 25 has undergone a significant design change with the introduction of the CADDX VISTA HD version. This version has been placed at the bottom to optimize the air inlet structure. The most crucial aspect of this design is the low center of gravity "pusher-style" inverted frame, which increases the drone's efficiency by at least 15%.
This feature allows for greater stability and control during flight, making it an ideal option for cinematic and some fpv freestyle tricks.
Action camera compatibility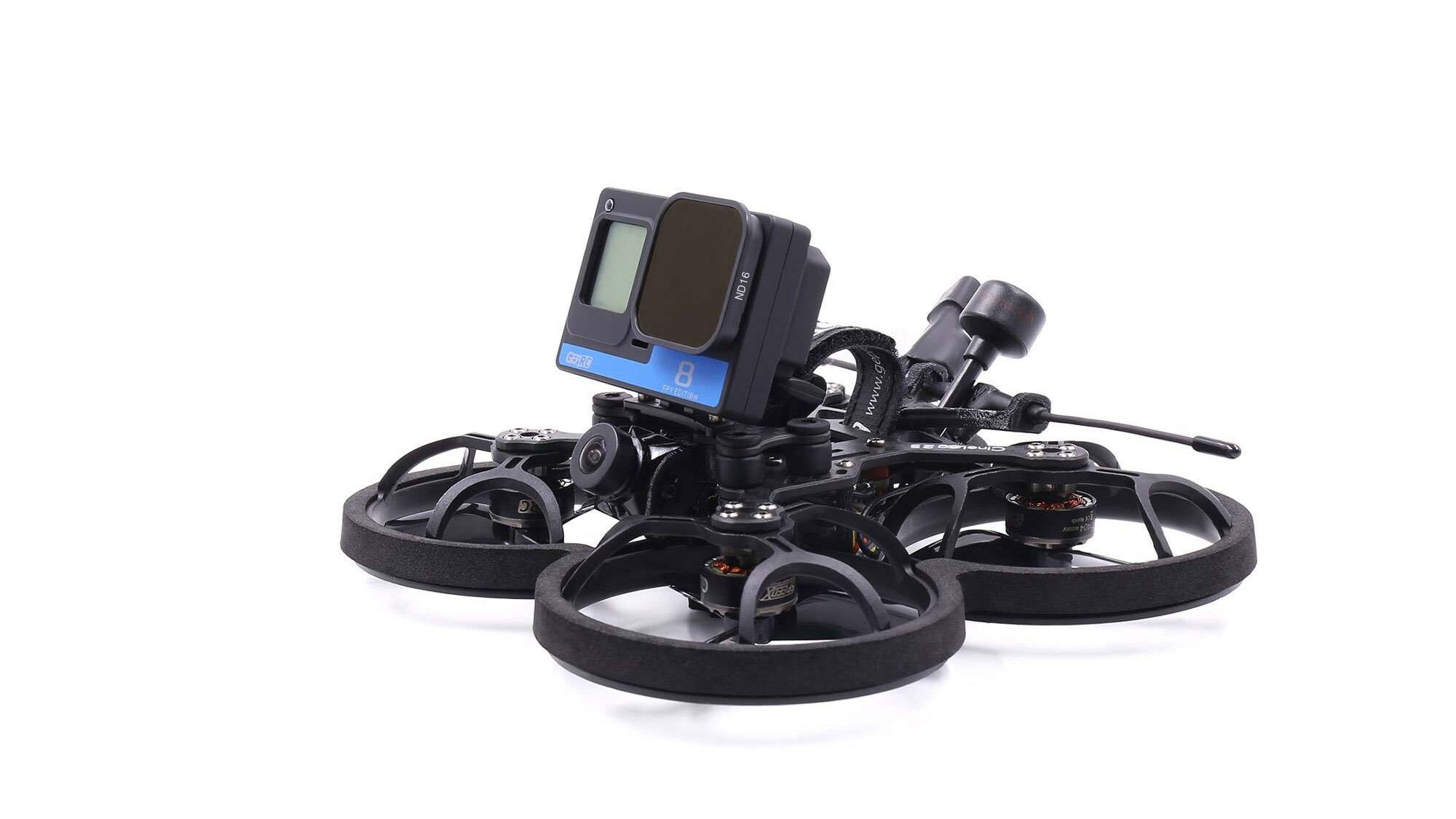 The GEPRC CineLog 25 is a versatile drone compatible with a wide range of mainstream cameras. This includes the Insta360 Go 2, Runcam Thumb Pro, SMO 4K, Naked GoPro Hero 6, and GoPro Hero 8. This compatibility allows users to use the action camera of their choice to capture their FPV experience.
Adjustable lens angle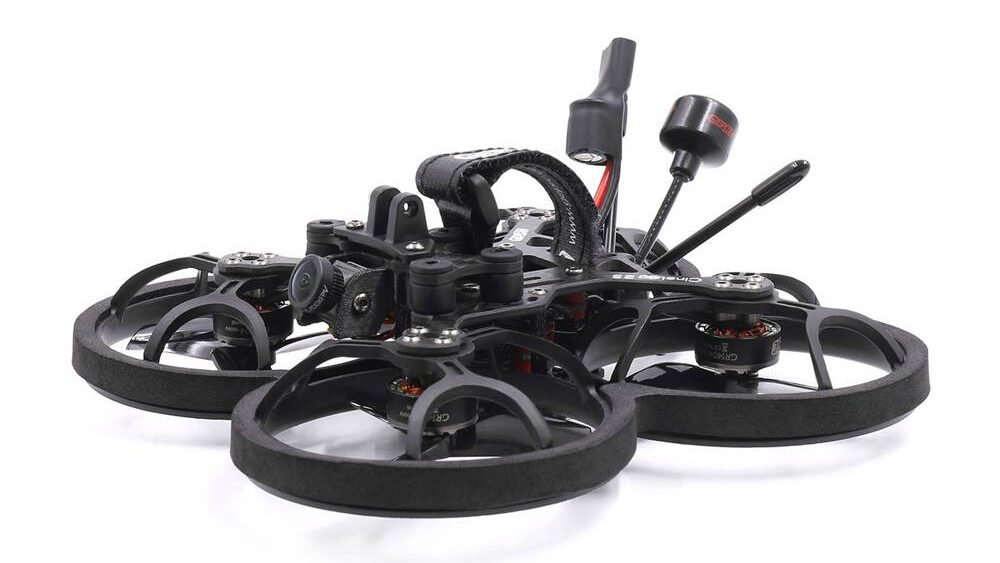 Another feature is the adjustable lens angle which allows users to adjust the flight angle from 0-40 degrees, depending on their specific flight requirements. Users can adjust the camera's angle to suit their shooting needs, capturing wide-angle shots or more focused images. This feature is especially useful for users who are looking to capture a variety of different types of footage.
Design and Safety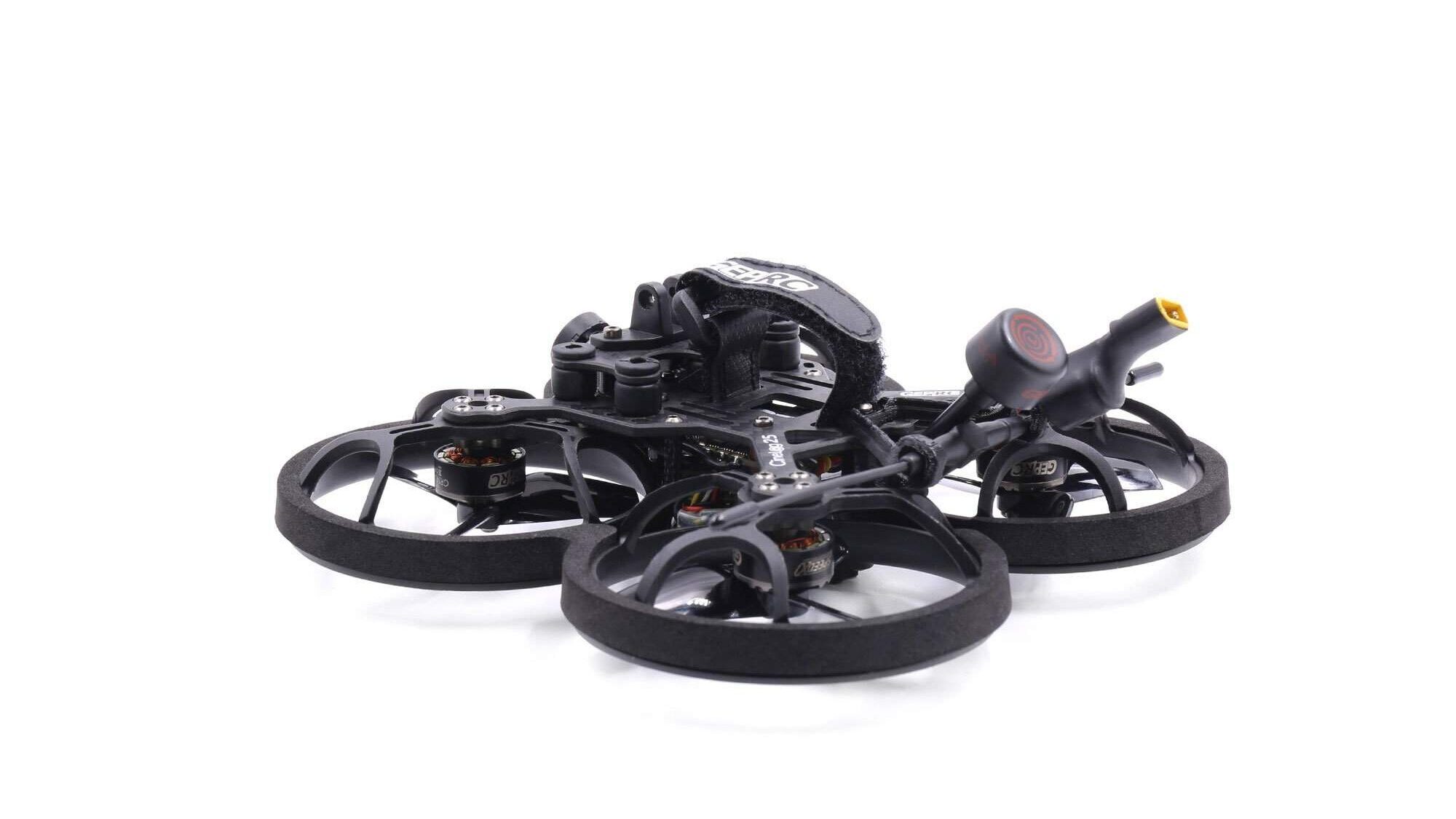 The CineLog 25 FPV drone has been designed with user comfort and safety in mind. One of the key features of this drone is the customized EVA protective foam cushioning, which not only adds to the overall aesthetic appeal but also enhances the strength of the drone. The integrated EVA design provides an ergonomic and cohesive look, making it a great option for both professional and hobbyist pilots.
The bottom part of the drone has been optimized to provide better strength during landing while protecting all electronic equipment. This design ensures that the drone can withstand flight rigors while providing a safe and secure landing. The CineLog 25 continues to be a top choice among FPV enthusiasts for its advanced design and technology.
GEPRC Cinelog 25 Prices
The CineLog25 HD with Caddx Nebula Pro is currently priced at around $339.99 – $369.99, the CineLog25 HD Nano is priced at around $339.99, and the CineLog25 Analog is priced at around $189.99 – $219.99. These prices can vary depending on the receiver you choose, retailer, and location, so it's important to research to find the best deal. You can buy this at any online retailer that offers free or same-day shipping, like Amazon, Getfpv, GEPRC and other retailers near you.
GEPRC Cinelog 25 Should you buy one?
The GEPRC Cinelog 25 is a popular indoor fpv drone model among hobbyists and videographers. However, whether or not it is the right choice depends on your specific needs and preferences.
Some users have praised the Cinelog 25 for its smooth and stable flight and its high-quality fpv camera. Others have noted that it can be challenging to set up and that the instruction manual is not always clear.
Additionally, some users have reported issues with the drone's durability. Ultimately, it is important to research and read reviews from other users before deciding whether to purchase the GEPRC Cinelog 25.
Which is better GEPRC Cinelog 25 HD or Analog?
The HD version is the better option. The HD version offers higher resolution and better image quality than the analog version. Additionally, the HD version can capture more detail and accurately represent the scene being filmed. However, it is important to note that the choice between the HD and Analog versions will ultimately depend on the specific needs and preferences of the user.
In conclusion, the GEPRC Cinelog 25 FPV drone is the perfect choice for a high-performance, versatile drone packed with features. Its powerful motors and advanced flight system can deliver smooth, stable flight.