If you're looking for digital FPV goggles to help you capture clear footage during your flights, then the DJI Goggles 2 and the V2 are two of the best options. The new DJI Goggles 2 offer a better screen display than the DJI FPV Goggles V2, making it easier to stay focused on your surroundings while flying. In this article, we will compare DJI Goggles 2 vs DJI FPV Goggles V2 to help you decide.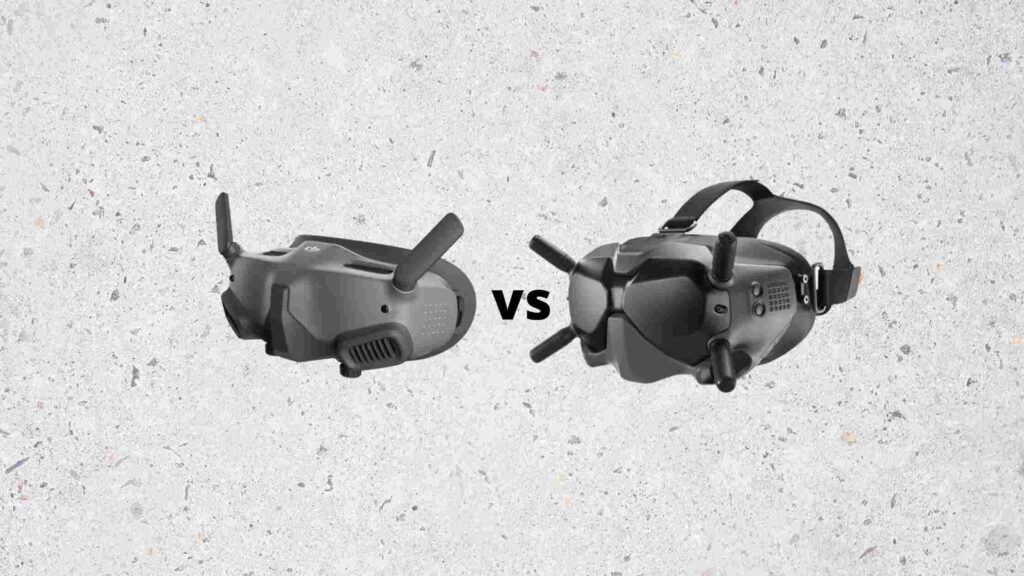 DJI Goggles 2 vs DJI FPV Goggles V2 Specs
| Specs | Goggles 2 | Goggles V2 |
| --- | --- | --- |
| Weight | 290 grams | 420 grams |
| Screen Size (single screen) | 0.49-inch | 2-inches |
| Resolution (per eye) | 1920×1080 | 1440 x 810 |
| Refresh Rate | 100 Hz | 144 Hz |
| Interpupillary Distance Range | 56-72 mm | 58-70 mm |
| Diopter Adjustment Range | -8.0 D to +2.0 D | N/A |
| Field of view (FOV) | 51° | 54° |
| Storage | MicroSD up to 256Gb | MicroSD up to 256Gb |
| Battery | 1800 mAh (18 Wh) | 1800 mAh (18 Wh) |
| Operating time | up to 120 minutes | up to 110 minutes |
| Price | $649 | $429 |
Design
When choosing FPV goggles, factors like weight and size are crucial, as they can impact comfort and convenience during use. In this regard, the DJI FPV Goggles v2 and new Goggles 2 offer slightly different options.
The Goggles v2 weigh approximately 420 g, including the headband and antennas, and have dimensions of 184×122×110 mm (antennas excluded) and 202×126×110 mm (antennas included). On the other hand, the Goggles 2 weigh approximately 290 g, including the headband, and have dimensions of 167.40×103.90×81.31 mm with antennas folded and 196.69×103.90×104.61 mm with antennas unfolded. Both goggles have an anti-interference solid system.
While the Goggles v2 are slightly heavier and bulkier, they offer a wider range of motion and a more immersive flying experience, thanks to their larger field of view and more advanced display technology. The Goggles 2, on the other hand, are more compact and portable, making them an excellent choice for pilots who value convenience and ease of transport. A touch panel on the side of G2 gives quick access to your drone settings.
Regardless of which model you choose, the Goggles v2 and Goggles 2 feature detachable and replaceable foam padding, allowing you to customize the fit and comfort of your headset to your liking. Replacement foam padding can be purchased separately, ensuring you can always keep your headset fresh and comfortable.
Resolution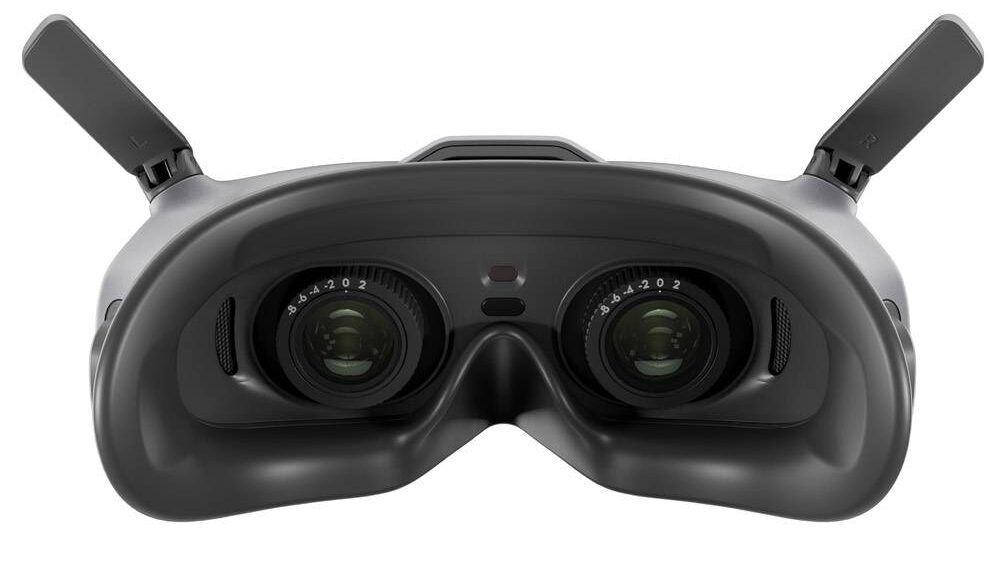 The new DJI Goggles 2 works great for flying your DJI Avata drone and other fpv drones with a compatible setup. It has a 0.49-inch HD Micro-OLED screen with a resolution of 1920 x 1080, which gives you stunning clarity and a very immersive experience. Goggles 2 lets you see everything in great detail and make better decisions while flying. The older DJI FPV Goggles v2 has a 2-inch LCD screen with a 1440 x 810. It also offers clear video footage and an immersive experience and is still one of the best FPV goggles on the market.
Optics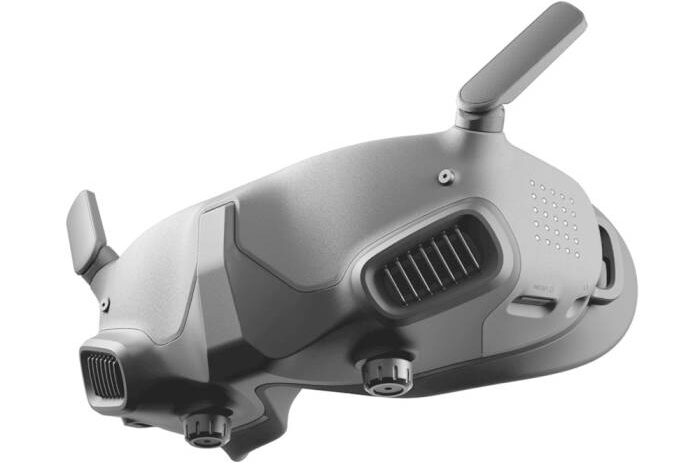 Regarding the comfort and adjustability of these headsets, the Goggles 2 and v2 offer unique features that cater to the individual needs of pilots. The Goggles 2, for instance, comes equipped with a diopter adjustment range of 2.0 D to -8.0 D. This feature allows users with vision impairment to customize the focus of the lenses to their particular visual acuity, ensuring a comfortable and clear viewing experience while flying.
In addition to diopter adjustment, the Goggles 2 also has an Interpupillary Distance (IPD) range of 56-72 mm. This range is particularly useful for pilots with wider or narrower set eyes, as it allows for a comfortable fit that ensures both eyes are properly aligned with the lenses for optimal clarity.
On the other hand, the DJI FPV Goggles v2 boasts a slightly larger field of view (FOV) of 54°, providing an immersive and panoramic view of the flight path. It also has an IPD range of 58-70 mm, catering to a slightly narrower range of users but still providing a comfortable fit for most.
However, unlike the Goggles 2, the Goggles v2 does not support diopter lens adjustment.
Video Transmission
The Goggles 2 and the V2 support DJI O3/O3+ video transmission with operating frequencies of 2.4 GHz and 5.8 GHz. DJI O3+ transmission is the most powerful and reliable technology for precise control, low latency, and clear video footage, which is excellent for flying freestyle or racing.
In terms of video transmission latency, both headsets offer impressive results. The Goggles v2 boasts a latency of less than 28 milliseconds for 810p/120fps video transmission quality and less than 40 ms for 810p/60fps video transmission quality. Meanwhile, the Goggles 2 has a latency as low as 30 ms for 1080p/100fps video transmission quality and as low as 40 ms for 1080p/60fps video transmission quality.
It's clear that both models are optimized for smooth, high-quality video transmission with minimal latency to ensure an immersive and seamless flying experience. Depending on your specific needs and preferences, either model could be a great choice. Both headsets will deliver impressive results if you prioritize higher resolution or faster frame rates.
Storage & Battery
In comparison, the battery life of the DJI FPV Goggles V2 can last up to 110 minutes, while the battery life of the new DJI Goggles 2 can last up to 120 minutes. Both FPV headsets can read microSD cards with up to 256 GB capacity.
Compatibility & Controllers
Regarding compatibility with other DJI products, both headsets offer a wide range of options. The Goggles v2 is compatible with a number of devices, including the DJI Avata, DJI FPV, DJI Motion Controller, DJI FPV Remote Controller 2, and DJI FPV Air Unit. This makes it a versatile choice for pilots who want access to various DJI tools.
On the other hand, the Goggles 2 is also compatible with several DJI products, including the DJI Avata and the DJI FPV Air Unit O3. However, it is important to note that while the Goggles 2 can be used with first-generation air units, it still needs to be compatible with the DJI FPV drone. This may be a drawback for pilots looking for a seamless and integrated experience with their DJI equipment.
>>Learn more about the comparison between DJI Goggles Integra vs Goggles 2.
What improvements does DJI Goggles 2 have over DJI FPV Goggles V2?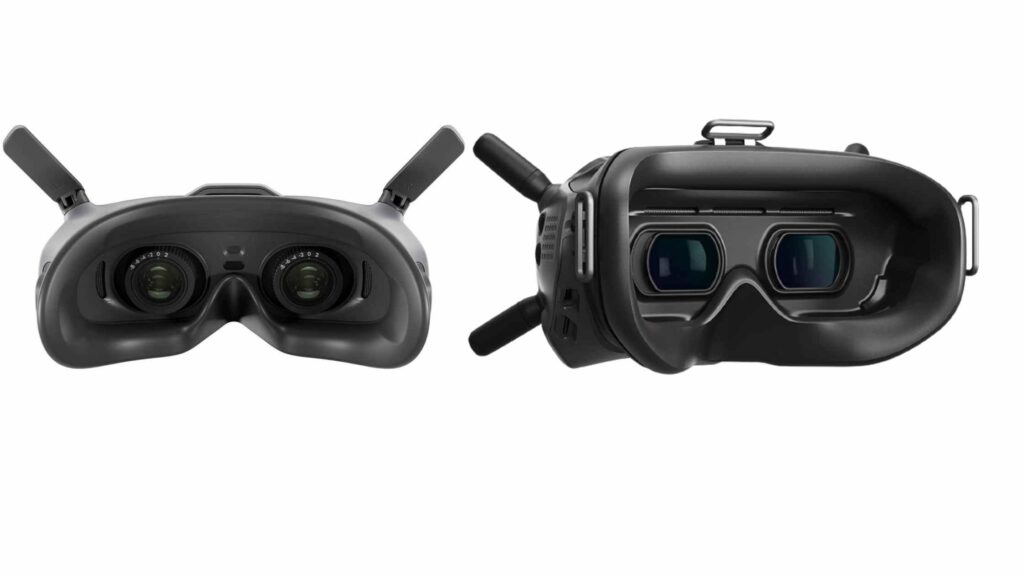 The DJI Goggles 2 has a head tracking capability that lets you intuitively operate the drone camera with head motions, resulting in more effective camera movements and composition.
Goggles 2 is lighter than V2, making it easier to carry around and more suited for extended use. Light leaking is significantly reduced by the soft foam padding's excellent fit against your face.
The DJI Goggles 2 has two 1080p Micro-OLED screens. Additionally, it uses a separate video processor to enhance the sharpness and smoothness of the video stream.
Diopter adjustment ranges from -8.0 D to +2.0 D are supported by DJI Goggles 2, including complimentary eyeglass glasses. You can buy extra lenses and use the eyeglass frames to place them on the goggles if you need astigmatism correction or if the goggles' diopter is insufficient.
Wireless streaming is supported by DJI Goggles 2 and uses the DLNA standard to show videos from common video software.
Which is better: DJI Goggles 2 vs V2?
DJI Goggles 2 boasts OLED screens, an adjustable diopter, and a compact design, providing superior image quality. DJI FPV Goggles v2 works well with Avata and Vista units but lacks OLED screens. Ultimately, the choice depends on individual preferences.
Why pick Goggles 2 over Goggles V2?
Several factors must be considered when choosing Goggles 2 over v2. While both models offer impressive video transmission latency and high-quality imaging, some key differences may make one a better choice for your needs.
One key advantage of the Goggles 2 is its OLED screen. OLED technology provides deeper blacks and more vibrant colors, resulting in a more immersive viewing experience. Additionally, the Goggles 2 offers an adjustable diopter, allowing you to customize the focus of the goggles screen to your individual vision needs. These features make the Goggles 2 an excellent choice for those who prioritize image quality and customization.
Another factor to consider is the design of each model. The Goggles 2 is notably more compact and lightweight than the Goggles v2, making it a more comfortable and portable option. This could be a deciding factor for those who plan to use their goggles for extended periods or on the go.
Whether you choose the Goggles 2 or the Goggles v2 will depend on your individual needs and preferences. If you're new to FPV flying or want to upgrade from analog goggles, the Goggles 2 is likely a better choice, thanks to its advanced features and high-quality imaging. However, upgrading may not be necessary if you already own the Goggles v2 and are happy with its performance.
Does DJI virtual flight work with goggles 2?
The DJI Goggles 2 and DJI FPV Goggles 2 are not directly compatible with DJI Virtual Flight for PC. However, users can connect the DJI FPV Remote Controller 2 or DJI Motion Controller to access the simulator. Alternatively, users can download the DJI Virtual Flight app on their mobile devices and connect their goggles to their smartphones or tablet. DJI Virtual Flight is a valuable tool for pilots looking to improve their skills and gain confidence in flying their drones.
How much do they cost, and where to buy them?
The DJI Goggles 2 and the DJI FPV Goggles v2 can be purchased for 569 USD and 429 USD, respectively. These goggles are sold by various retailers, including Amazon, GetFPV, and the official DJI website. You can only get the Goggles 2 with the DJI Avata Pro view combo bundle that includes the DJI motion controller and other accessories like a head strap, propellers, and others.
Is the DJI Goggles 2 compatible with the DJI FPV drone?
No, the most recent version of the DJI Goggles 2 firmware does not support compatibility with the DJI FPV drone.
Can I use DJI FPV Goggles V2 with the new DJI Avata drone?
Yes, the DJI FPV Goggles V2 is compatible with the new DJI Avata cinewhoop drone.
Is it possible to use the DJI Goggles 2 with the DJI Air unit or the Caddx Vista Unit?
Yes, the most recent firmware update of the Goggles 2 supports the Air unit and Vista system.
Will Goggles 2 be compatible with DJI Mavic 3 and Mini 3 Pro?
No, but DJI may release an update that Goggles 2 will work with other DJI drone models like the Mini 3 Pro, Mavic 3 and the DJI FPV drone, which would be a great feature for this goggles.
What is the range of DJI Goggles V2?
The DJI Goggles V2 has a maximum transmission distance of 4km, with FCC and SRRC supporting 4km transmission while CE allows for 0.7km transmission.
In conclusion, the DJI Goggles 2 and the V2 are both high-quality products that offer excellent FPV experiences, but they have their specific strengths and weaknesses. Both goggles are compatible with a wide range of digital FPV system drones. Ultimately, the choice between the two will depend on your personal preferences and the specific needs of your fpv activities.
Disclosure: Some links are affiliate links. As an Amazon Associate,
I earn from qualifying purchases at no extra cost to you.