If you're an FPV enthusiast, you might be considering the DJI Goggles Integra vs Goggles 2. Both models offer high-quality video transmission and an immersive flying experience, but they have some differences that you'll need to consider before making a choice. Let's take a closer look at the features of these two DJI goggles to help you decide which one is right for you.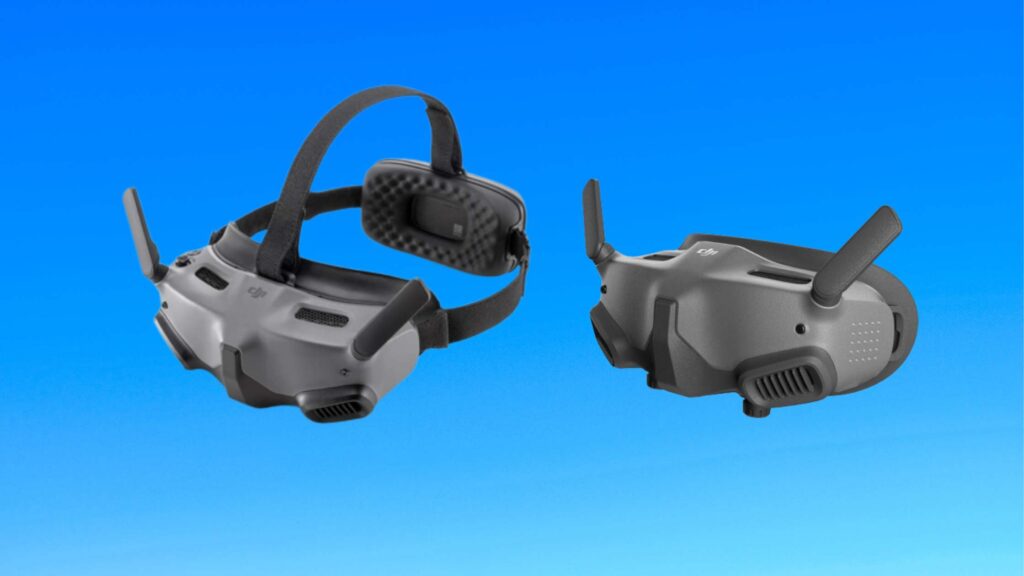 What are the differences between DJI Goggles Integra vs Goggles 2?
DJI Goggles Integra and DJI Goggles 2 share similarities in size, video transmission performance, and screen display. However, DJI Goggles Integra differentiates itself by incorporating a battery headband that simplifies its use.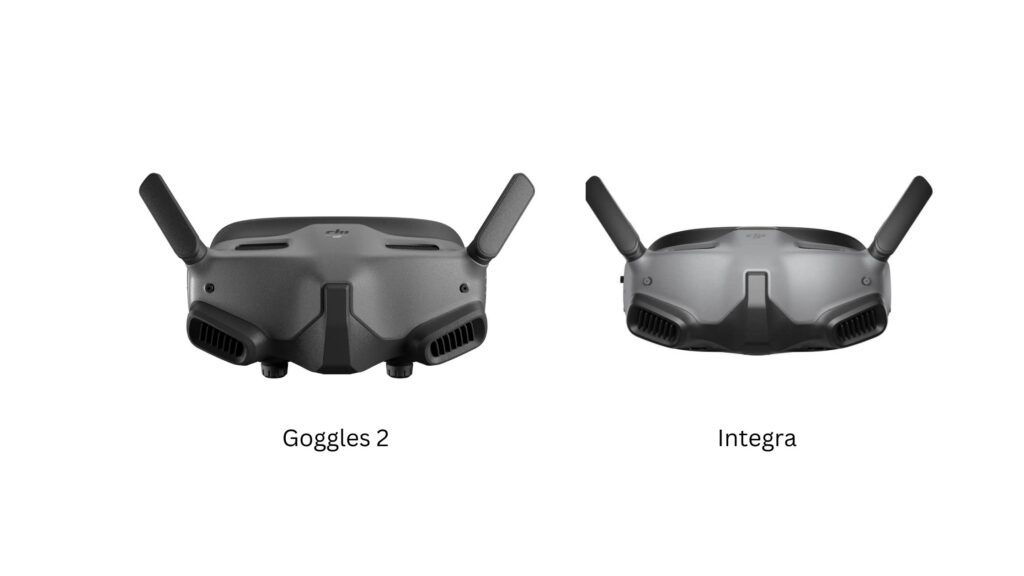 Physical buttons replace the touch panel for convenience. Conversely, some features in DJI Goggles 2, such as the diopter adjustment function, wireless streaming function, dot matrix display, speaker, and 3.5mm audio port, were not included in DJI Goggles Integra.
DJI Goggles Integra vs Goggles 2 Specs:
| | | |
| --- | --- | --- |
| Specs | DJI Goggles Intega | DJI Goggles 2 |
| Weight | 420 grams | 290 grams |
| Screen Size (single screen) | 0.49-inch | 0.49-inch |
| Resolution (per eye) | 1920×1080 | 1920×1080 |
| Refresh Rate | 100 Hz | 100 Hz |
| Interpupillary Distance Range | 56-72 mm | 56-72 mm |
| Diopter Adjustment Range | N/A | -8.0 D to +2.0 D |
| Field of view (FOV) | 44° | 51° |
| Storage | microSD up to 512 GB | MicroSD up to 256Gb |
| Battery | up to 120 minutes | up to 120 minutes |
| Price | $499 | $649 |
Design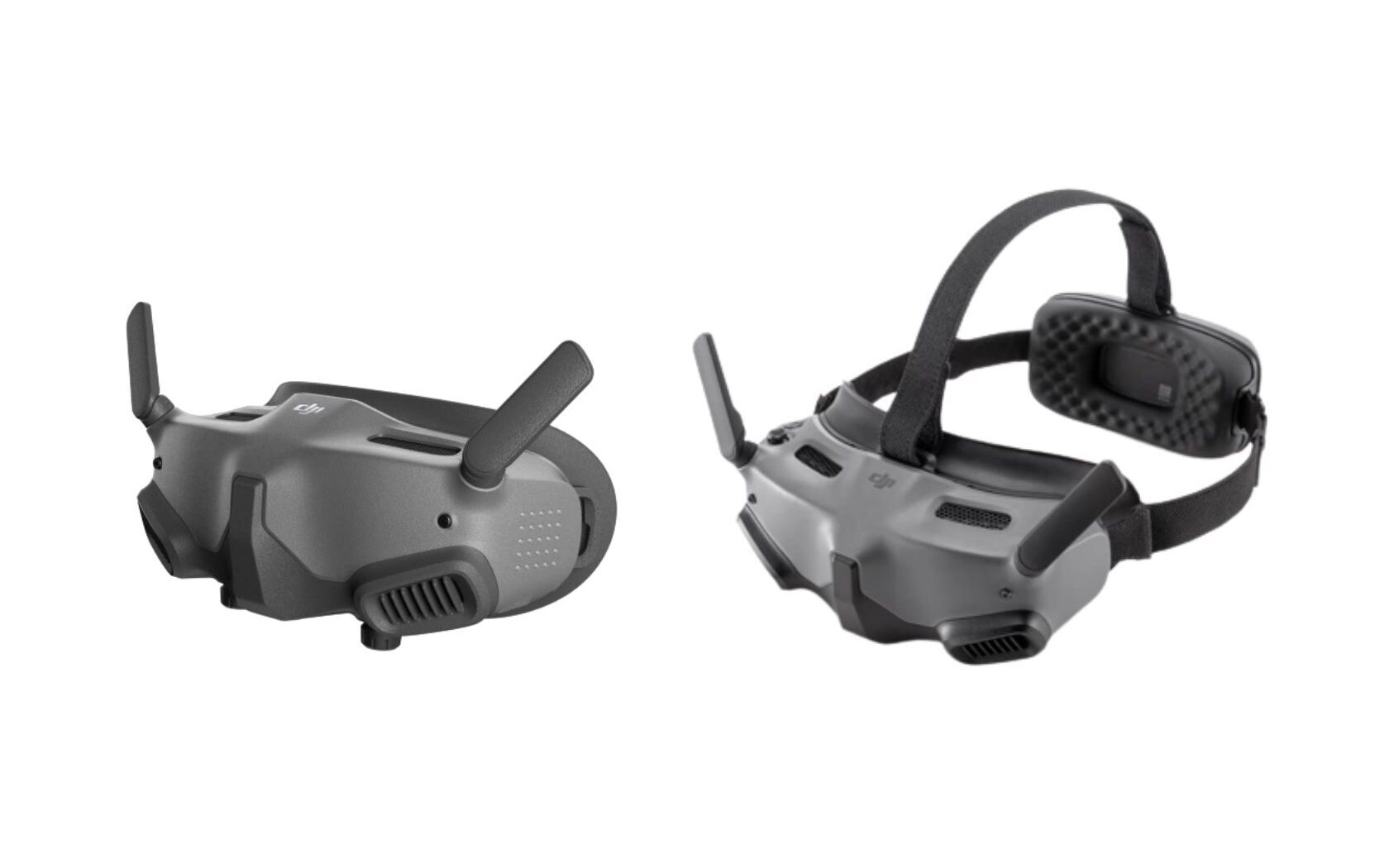 The DJI Goggles Integra has an integrated design that combines the headband and battery, resulting in a weight of approximately 410 grams (battery included) and a comfortable wearing experience. In contrast, the Goggles 2 without a battery weighs around 290 grams, but adding a battery with a third-party headband or battery case brings its weight to approximately 415 grams.
Optics and Features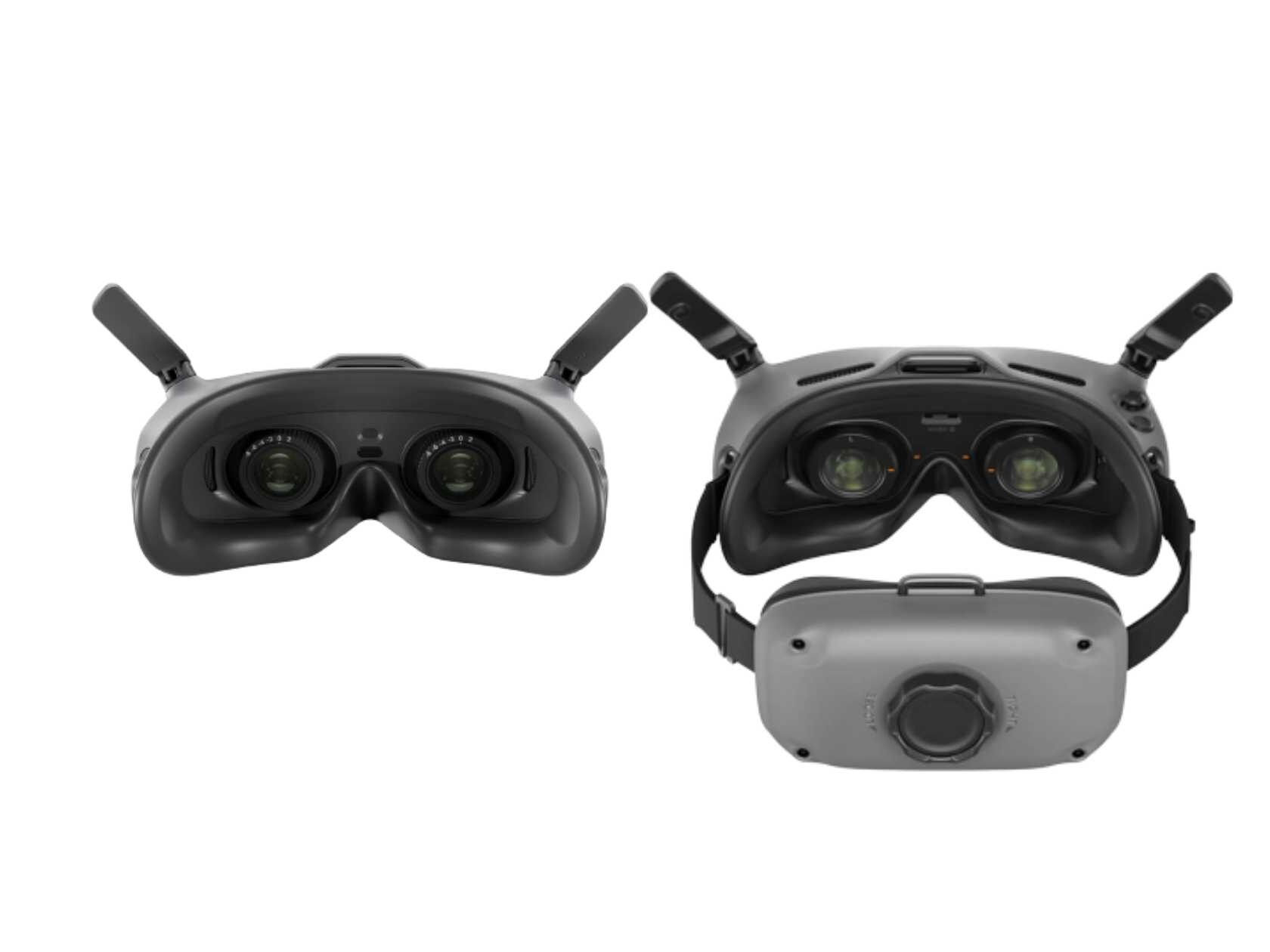 Both goggles have the same screen size(Micro OLED), resolution (1080p), refresh rate, and IPD range. However, the Goggles Integra has a field of view (FOV) of 44° on a single screen, while the Goggles 2 has a diopter adjustment range of -8.0 D to +2.0 D and a FOV of 51° on a single screen.
The DJI Goggles Integra boasts a convenient built-in GPS feature that enables you to fly your drone without the need to connect to a smartphone for remote ID activation. This advanced feature not only saves you time but also provides you with added convenience and flexibility in your flying experience.
Video Transmission
The Goggles 2 and the Integra are compatible with DJI O3/O3+ video transmission using 2.4 GHz and 5.8 GHz frequencies. This technology is known for its superior capabilities in providing precise control, low latency, and clear video footage, making it ideal for freestyle flying or racing. With a maximum video bitrate of 50 Mbps and a transmission latency as low as 30 ms for 1080p/100fps, DJI O3+ transmission is the most powerful and reliable technology available.
Compatibility & Controllers
DJI Goggles Integra and Goggles 2 are compatible with the DJI Avata, DJI O3 Air Unit, DJI Digital FPV System, and the DJI Motion Controller, DJI RC Motion 2, and DJI FPV Remote Controller 2.
The DJI Goggles 2 and Integra are now fully compatible with both the Mini 3 Pro and Mavic 3 series, allowing users to enjoy an immersive, first-person view of their drone's flight while benefiting from advanced features such as obstacle avoidance and intelligent flight modes.
Pricing
The DJI Goggles Integra is priced at $499.00, while the Goggles 2 is priced at a higher $649.00. It's worth noting that both options can also be purchased as part of a combo package, which includes the DJI Avata drone and a motion controller 2. These goggles can be purchased through online retailers such as Amazon and GETFPV.
Is charging the DJI Goggles Integra possible using external power sources other than the original charger?
Yes, the DJI Goggles Integra is equipped with a rechargeable battery and can be charged using a power bank connected via the USB-C port. Additionally, the goggles can be used while charging, making it convenient for users who need to use them for extended periods.
Can motion control and head tracking be used with DJI Goggles Integra?
DJI Goggles Integra has support for motion control and head tracking, but to utilize these features, a DJI RC Motion 2 or DJI Motion Controller is required.
Should I switch to Goggles Integra or Goggles 2 from my current Goggles V2?
The choice between switching to Goggles Integra or Goggles 2 depends on your preferences. In my case, I would stick with my Goggles V2 since it can still effectively carry out most tasks and is also compatible with the O3 air unit and can be used for analog flight and using an adapter and module. However, if you prefer a lighter option without cables, the Integra may be a better choice. Ultimately, it comes down to your specific needs and preferences.
To summarize, DJI Goggles Integra and Goggles 2 are both exceptional choices for drone pilots seeking an immersive and top-quality FPV experience. While the Goggles Integra is a more portable and user-friendly option without cables, the Goggles 2 offers a wider field of view, diopter adjustment, and a built-in touchpad.
The decision on which to choose depends on each pilot's specific requirements, preferences, and budget. Regardless of choice, both options deliver excellent digital FPV experiences, with superior image quality and advanced features to enrich the flying experience.