The Walksnail Avatar HD Pro Kit is a digital FPV system designed to take your FPV adventures to new heights with unparalleled performance. Equipped with advanced features such as night vision, ultra-low latency and supports gyroflow stabilization, this kit delivers smoother footage to make your FPV experience truly immersive.
Walksnail Avatar HD Pro Kit with Gyro
Features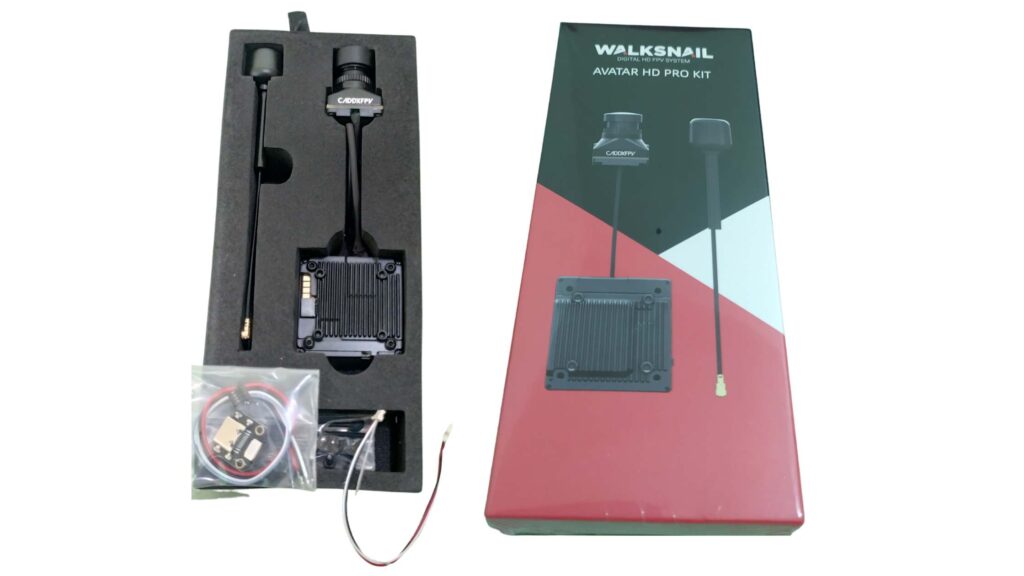 The Walksnail Avatar HD Pro Kit is an advanced and feature-packed FPV system that provides an exceptional flying experience for fpv enthusiasts. One of the standout features of the kit is its compatibility with 1080p@120fps video, which allows for high-quality and smooth footage capture.
This feature is complemented by the high frame starlight technology, which enhances low-light performance and makes it easy to fly in dark environments. The Avatar VTX can simultaneously support a high and standard frame rate, with an average delay of 22ms under a high frame rate.
The Avatar V2 system also comes with a ranging mode, a unique feature that measures the distance between the pilot and the drone. This helps pilots keep track of their drone's location, ensuring it stays within a safe and controlled distance. Additionally, the system boasts a 4km range, making it ideal for long-distance flights and providing pilots with plenty of freedom to explore.
Designed for portability and convenience, the Walksnail Avatar V2 VTX has a lightweight design that makes it easy to carry around. It features a wide FOV of 160°, which provides an expansive view and greater situational awareness for the pilot. The VTX kit also has an 8/32Gb built-in storage option, eliminating the need for external storage devices, and supports a wide input voltage range from 6V to 25.2V.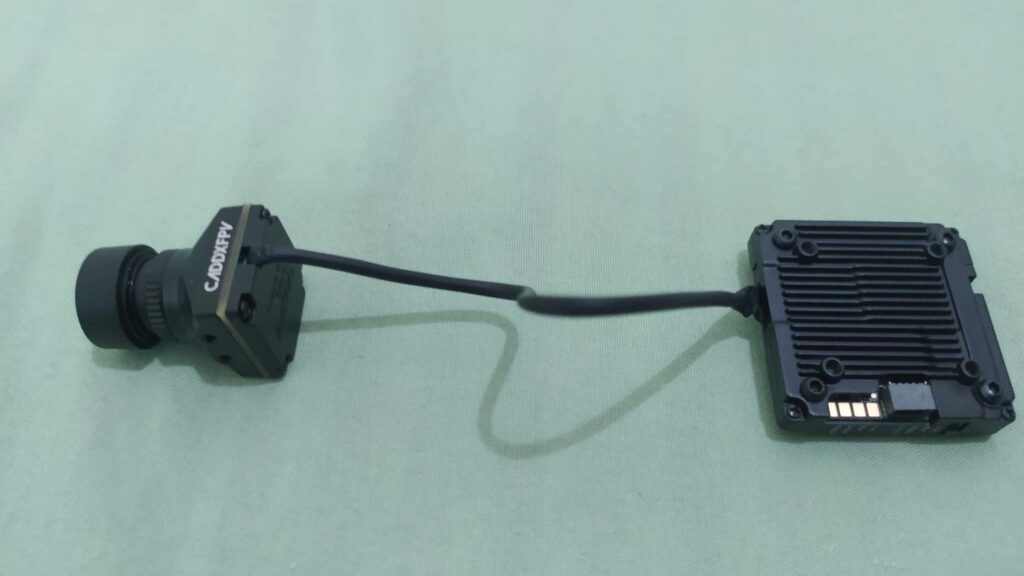 To top it all off, the Avatar HD Pro Kit incorporates Sony Starvis Ⅱ technology, providing exceptional image quality and clarity. This cutting-edge technology ensures the system can capture stunning footage even in challenging environments, making it an exceptional choice for fpv drone pilots.
Camera & Image Quality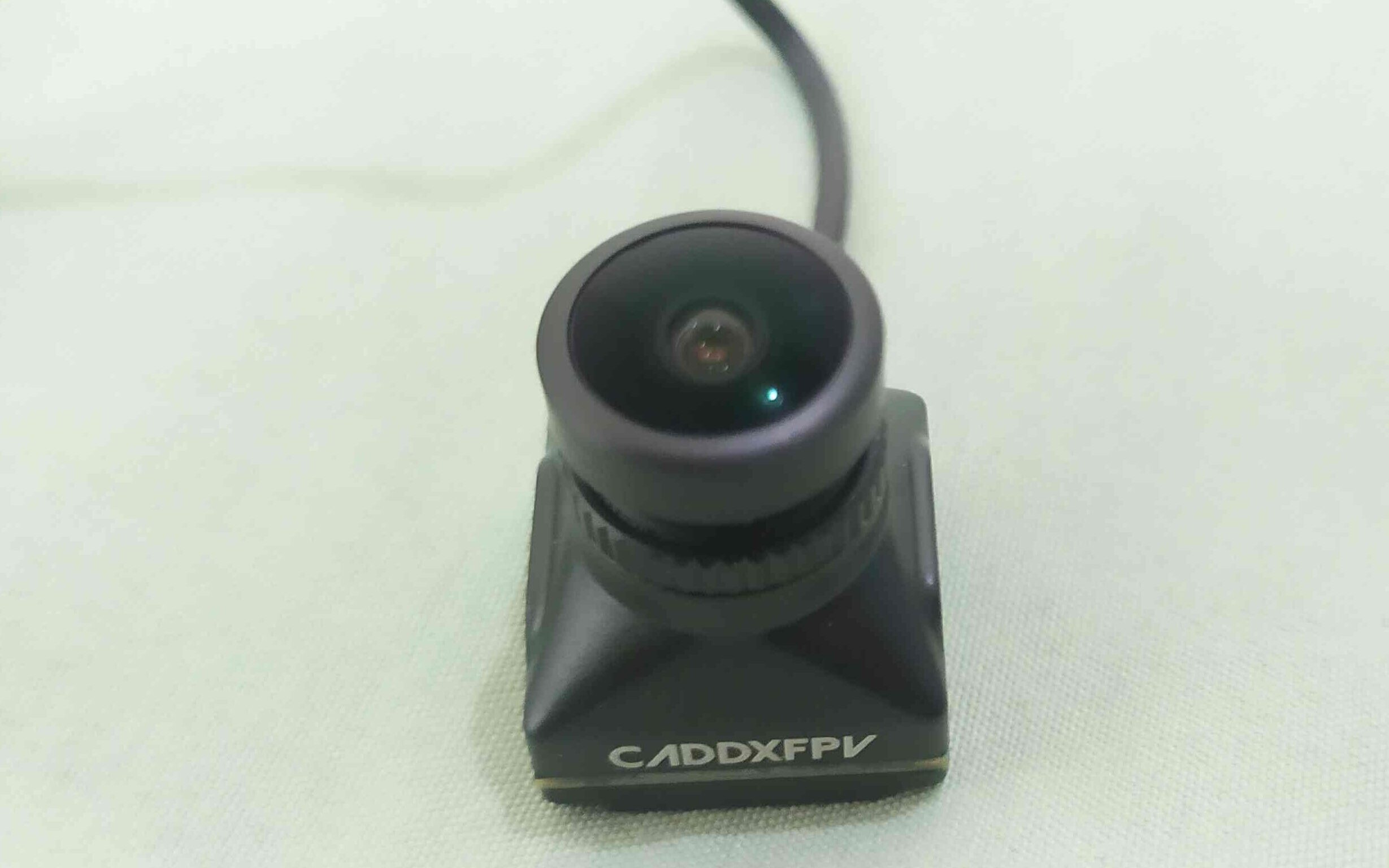 The Avatar HD Pro Camera is a high-performance camera designed to meet the needs of fpv drone pilots. It features an advanced 1/1.8-inch Sony Starvis II image sensor that delivers exceptional quality, even in low light conditions. With a resolution of 1080p at 60fps and 720p at 120fps, as well as 720p at 60fps and 1080p at 120fps compatibility, this camera captures incredibly detailed and smooth footage that is sure to impress.
The Avatar HD Pro Camera is also highly versatile, with both 16:9 and 4:3 aspect ratios supported. The camera has an 8MP lens with a 160° field of view, making it easy to capture wide-angle shots that are both clear and well-defined. The camera's F1.6 aperture ensures that images are bright and sharp, even in low-light conditions.
The Avatar HD Pro Camera features a rolling shutter, which helps to prevent motion blur and ensures that footage is smooth and stable. With a weight of just 9.5g, this camera is incredibly lightweight and easy to install, making it an excellent choice for fpv enthusiasts who want a high-performance camera that is both portable and versatile.
Avatar VTX & Antenna
The Avatar HD VTX V2 is a highly advanced and versatile system offering various features and capabilities to drone enthusiasts. One of the key features of this VTX is its support for a range of FC systems, including Betaflight, Inav, Fettec, ArduPilot, and Kiss.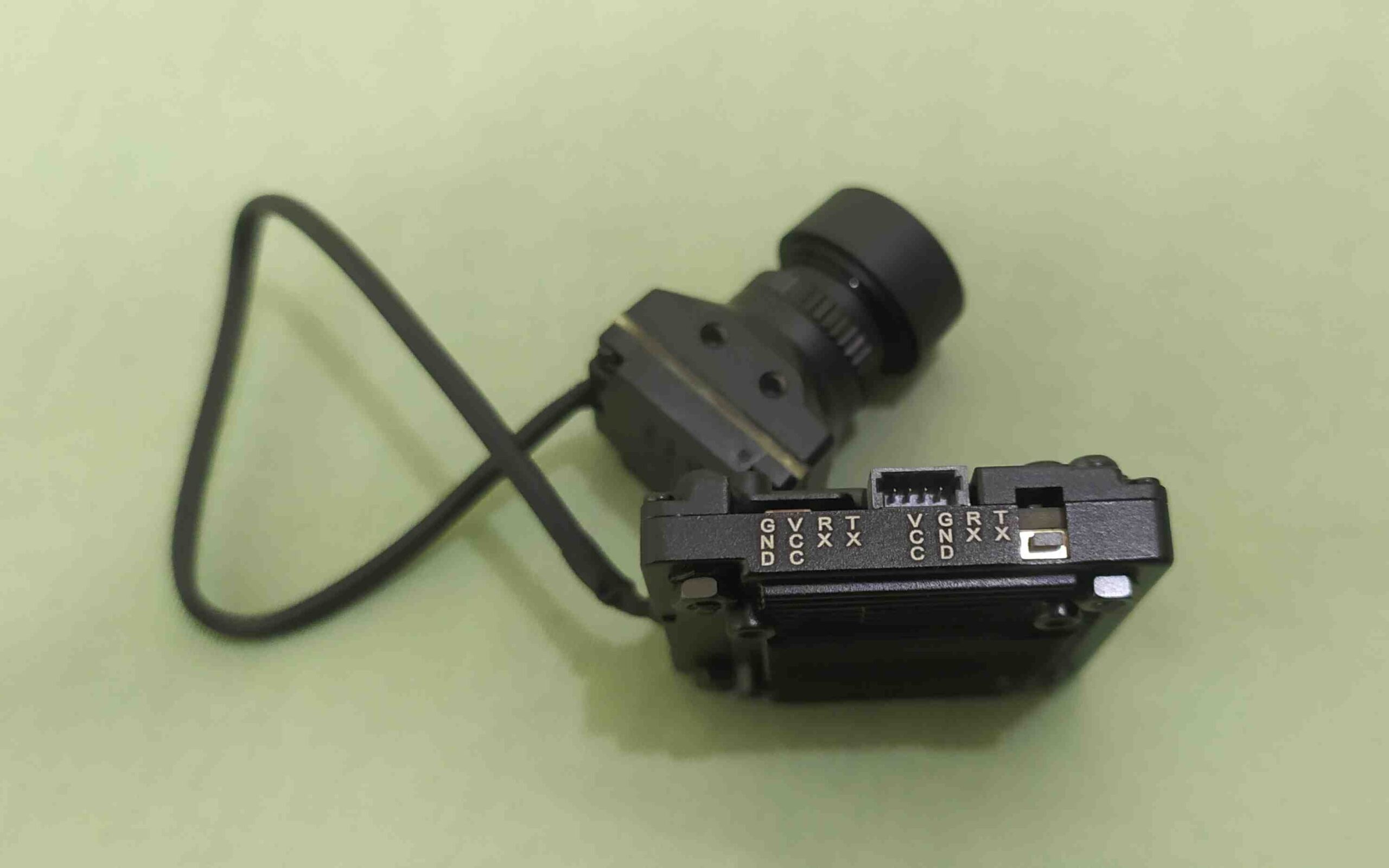 This makes it an incredibly versatile choice for various applications and use cases. The OSD is in Canvas mode, providing pilots with a clear and intuitive interface for controlling and monitoring their fpv drones.
The design of the PCB board and shell has been updated, focusing on improving the durability and quality of the VTX. The upgraded VTX provides improved TVS protection and can support up to 6S batteries. Additionally, the position of the frequency binding button has been changed to make the frequency binding operation more convenient, while a spare pad has been added to provide two power connection modes.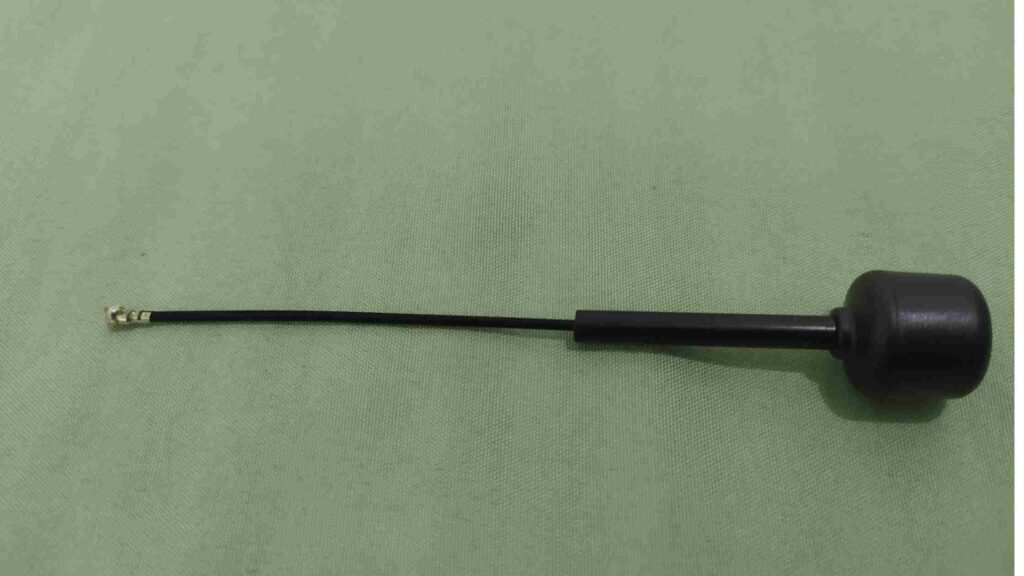 The FPV drone assembly process is made easier with the compact and convenient single-antenna design of the Avatar V2. It has an LHCP polarization, a 5600MHz-6000MHz frequency range, and a 1.9dBi gain.
The entire frequency band's working performance is now more stable with an upgraded antenna quality. Pilots can enjoy the clear video and audio feeds, even in challenging environments and conditions.With the Avatar HD V2 VTX, pilots can enjoy unmatched stability and resistance to GPS interference. This makes it ideal for those who demand the best FPV performance and reliability.
Avatar VTX Compatibility
FPV Goggles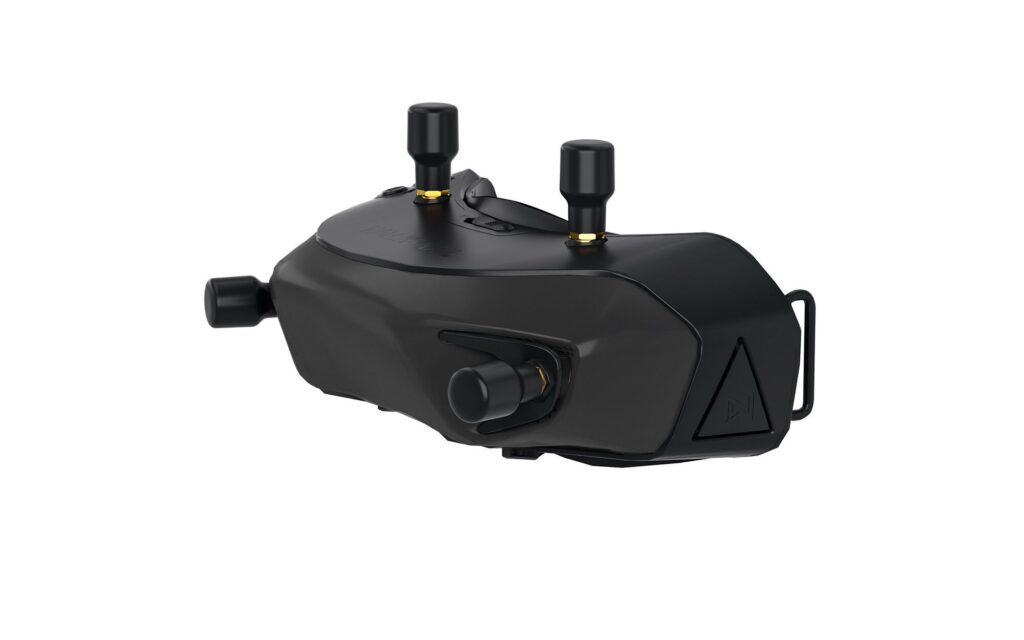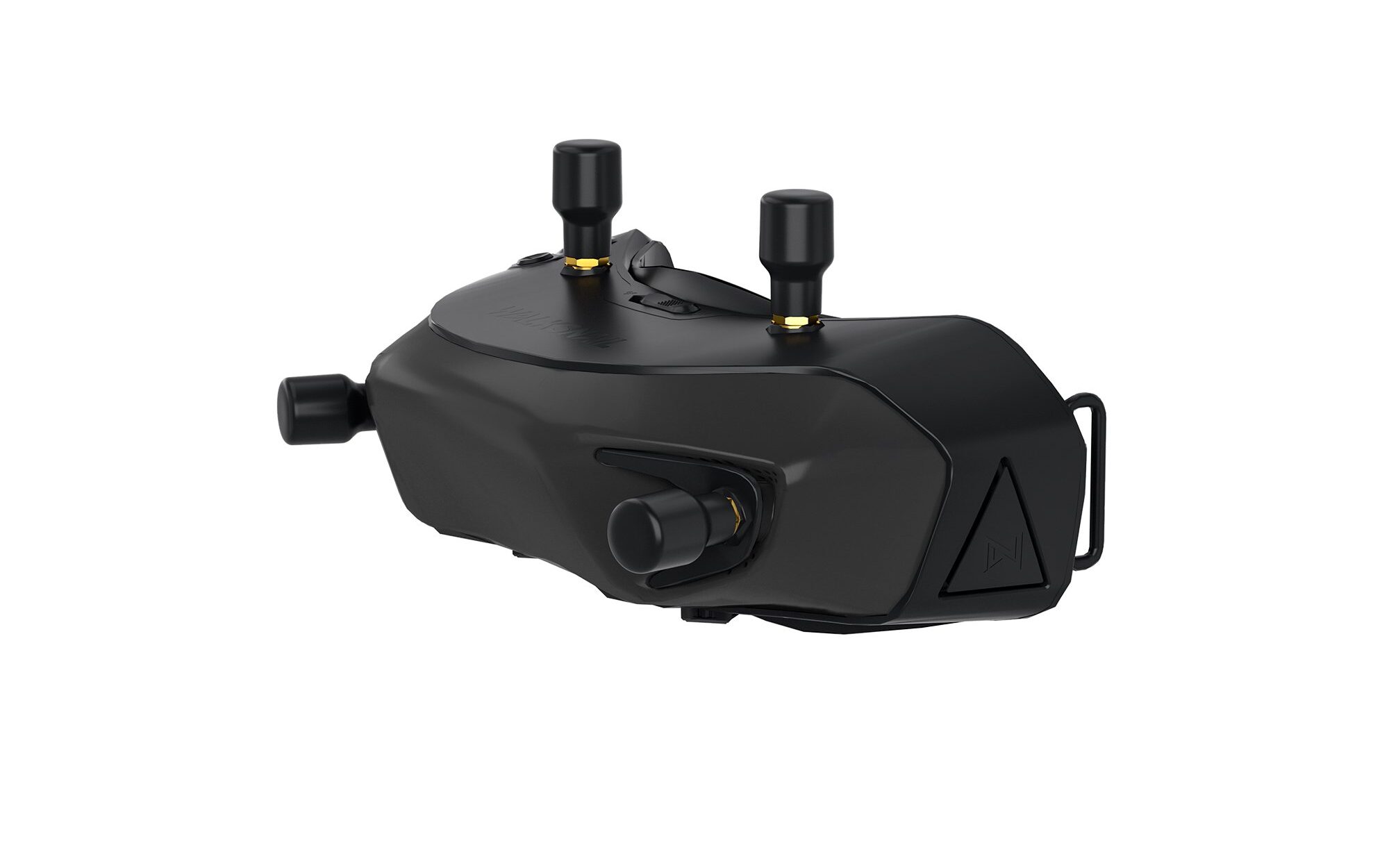 The Walksnail Avatar VTX is a cutting-edge digital system designed to be used with the Walksnail Avatar Goggles. This advanced technology allows for crystal-clear video transmission, enabling users to enjoy an immersive and highly detailed digital FPV experience.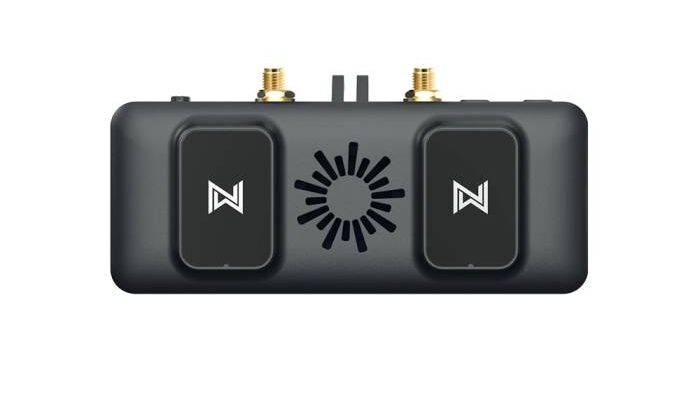 In addition to its compatibility with the Walksnail Avatar Goggles, the Avatar VTX can also work seamlessly with analog goggles with an HDMI input, thanks to the innovative Walksnail VRX module. Using fpv goggles with an OLED screen for high video quality is recommended.
FPV Drones
One of the standout features of this system is its compatibility with a wide range of FPV drone models. To make it even more versatile, the Walksnail Avatar HD System now comes with 20mm x 20mm mounting holes in addition to the original 25mm x 25mm holes.
This expanded compatibility means that drone enthusiasts can now use the Walksnail Avatar HD System with an even wider range of drones, providing greater flexibility and convenience. You can also use the V2 VTX and Pro Camera with the V1 VTX, and the V1 camera with the V2 VTX as the Avatar V2 VTX system is fully compatible with the older V1 system.
Specifications:
Avatar V2 VTX
Avatar HD Pro Camera
Avatar V2 Antenna
Frequency: 5.725-5.850GHz
Camera Sensor: 1/1.8-Inch Sony Starvis Ⅱ Sensor
Polarization: LHCP
Transmitter Power (EIRP): FCC:<30dBm;CE:<14dBm;SRRC:<20dBm;
MIC:<25dBm
Video Resolution: 1080P@60fps;720P@120fps,720P@60fps;1080P@120fps
Frequency: 5600MHz-6000MHz
I/O Interface: JST1.0*4(Power in) JST0.8*6(USB)
Aspect Ratio: 16/9; 4/3
Gain: 1.9dBi
Mounting Holes:25.5*25.5mm; 20*20mm
Lens: 8MP
VSWR: ≤1.5
Recording: 1080p/720p
Field Of View: 160°
Input Impedance: 50Ω
Voltage Input: 6V-25.2V
Aperture: f1.6
Interface: IPEX-1
Supported FC System: Betaflight; Inav; Fettec; ArduPilot;Kiss
Shutter: Rolling shutter
Size: R15 X 45mm(without cable)
Latency Average Delay: 22ms
Min.Illumination: 0.00001Lux
Weight: 2 grams
Weight: 17.6 grams
Weight: 9.5 grams
Dimensions: 33.5*33.5*10.5mm
Dimensions: 19*19*24mm
Avatar V2 VTX Pinout Diagram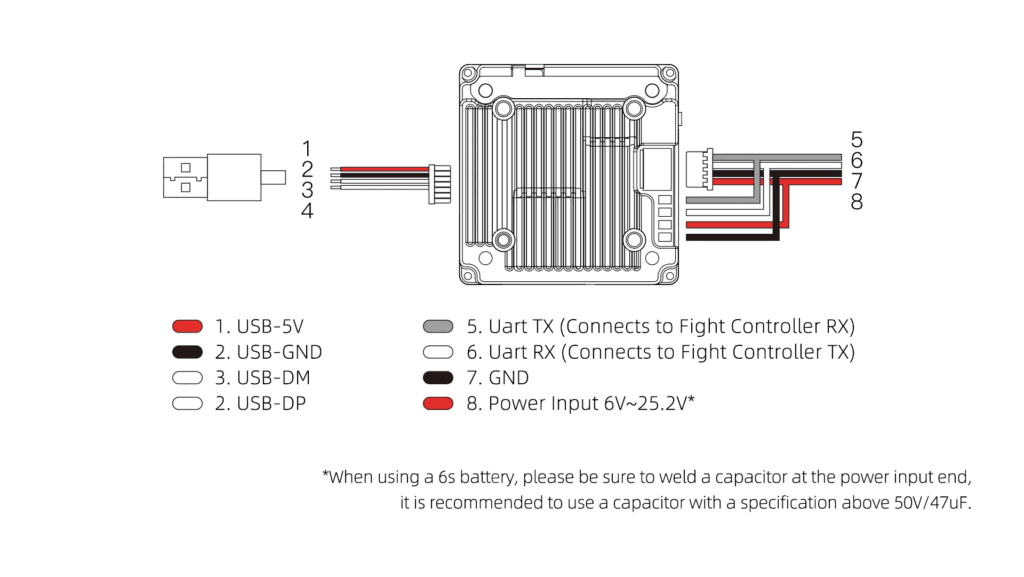 Walksnail Avatar HD Pro Kit Package List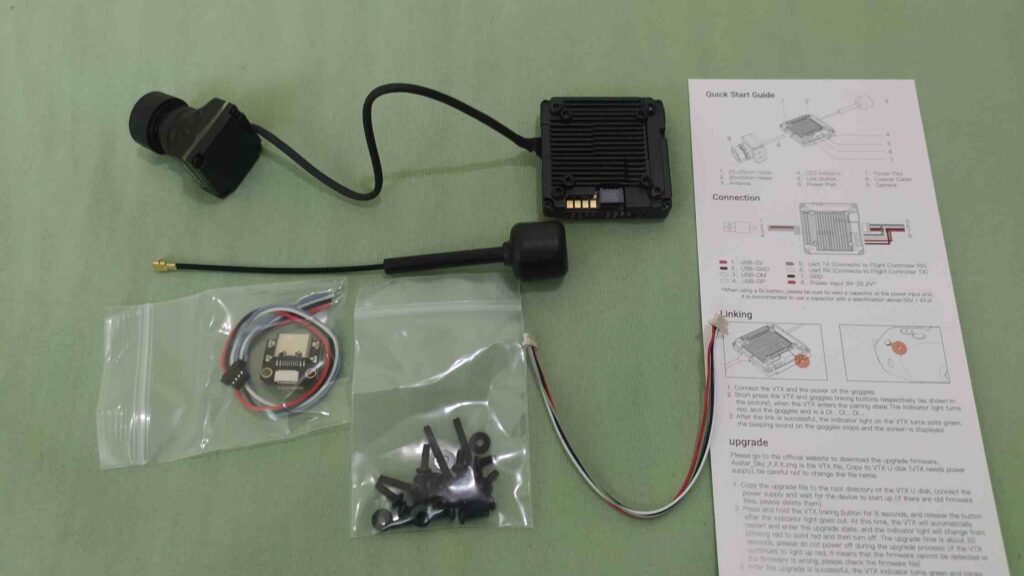 The Walksnail Avatar HD Pro Kit comes with a variety of components including the Avatar v2 VTX, Avatar HD Pro Camera, antenna, and several other accessories. These accessories consist of a USB transfer extension cable (1), a 4 Pin silicone cable (1), M2 screws in various sizes such as 4mm (8), 5mm (4), 6mm (4), and 14mm (4), as well as M2 gaskets with a size of 5*0.5mm (4).
What are the disadvantages of using an Avatar V2?
The Walksnail Avatar V2 is a high-performance FPV system that provides an immersive and enjoyable flying experience. However, there are some areas where the system still needs to improve, particularly regarding storage and recording capabilities.
For instance, the Walksnail Avatar lacks an SD card slot, meaning no storage expansion option exists. This can be a significant disadvantage if you need to record footage but are limited by the system's internal storage capacity.
Additionally, the system does not support 4K recording, a feature many FPV enthusiasts are looking for. Another downside of the Walksnail Avatar is that if the built-in storage system becomes damaged, you may need to replace the entire VTX, which can be costly and time-consuming.
Where can I buy a walksnail avatar hd Pro kit?
You can purchase the Walksnail Avatar HD Pro kit from Caddxfpv, Getfpv, Amazon, and other retailers. The Walksnail Avatar HD Pro kit with Gyro and 32Gb built-in storage is priced at $159.00.
The Walksnail Avatar HD Pro Kit is a high-end digital FPV system that offers immersive flying experiences for professionals and enthusiasts alike. Its advanced features include night vision, low latency, and gyro, which provide smooth and exceptional footage.
With a wide FOV of 160°, compatibility with 1080P@120fps video, and a lightweight design, this system is versatile and ideal for capturing high-quality footage. Although it may not have all the features of the DJI O3 system, it's a great option for those upgrading or switching from analog to digital systems.
Article History:
April 2023: Article Published
Disclosure: Some links are affiliate links. As an Amazon Associate,
I earn from qualifying purchases at no extra cost to you.