The Walksnail Avatar VRX is a game-changing external receiver module that seamlessly integrates with FPV goggles with HDMI input. Compatibility is available for those with analog goggles featuring AV input, albeit at a lower quality.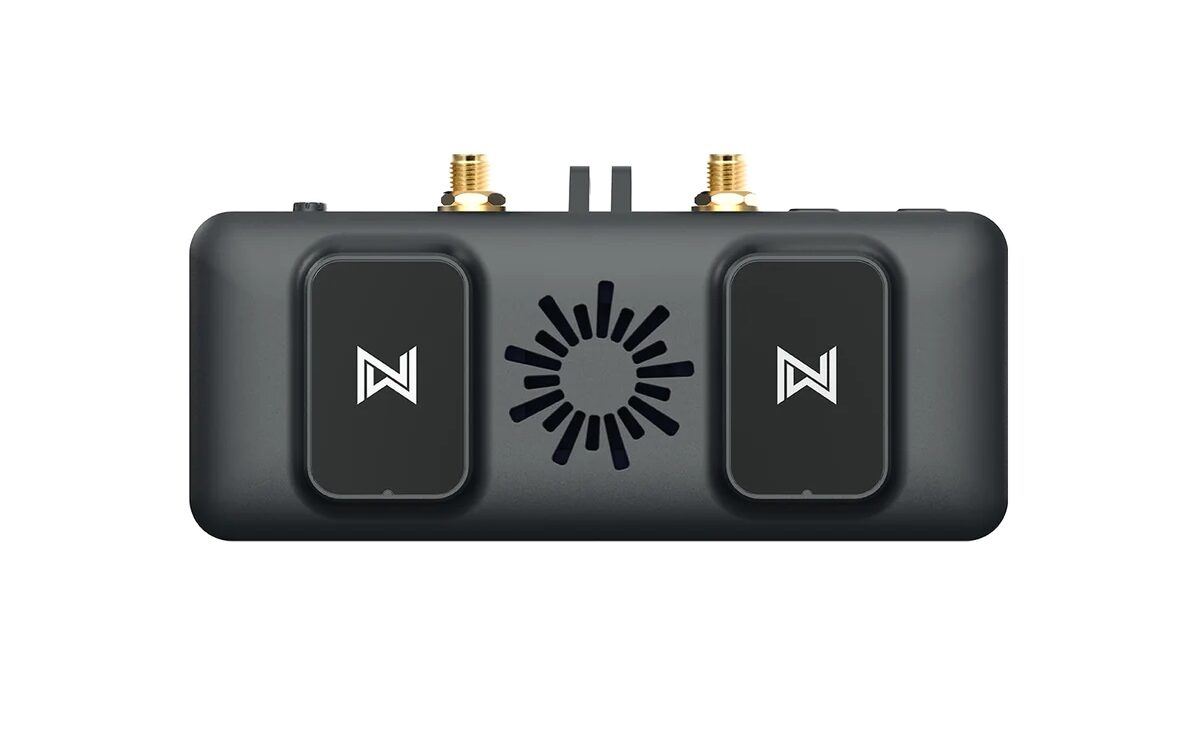 This innovative solution offers a cost-effective entry into the Walksnail Avatar HD Digital FPV System, making it a logical choice for enthusiasts who already own FPV goggles.
By not investing in an entirely new headset from Walksnail, this versatile module empowers drone pilots and hobbyists to elevate their FPV experience without breaking the bank.
Walksnail VRX Specifications
Communication Frequency: 5.725-5.850GHz
Transmitter Power: (EIRP) FCC:<30dBm;CE:<14dBm;SRRC:<20dBm;MIC:<25dBm
I/O Interface: HDMI, micro SD card slot, DC5.5×2.1mm(power cable)
HDMI output: 1080p/60fps, 720p/100fps, 720p/60fps
Power Input: 7-21V(2S-5S)
SD Card Support:256G
System: Avatar HD system
Key Features
Walksnail VRX offers the ultimate FPV goggles experience, combining advanced features and cutting-edge technology to elevate your drone flying adventures. Let's delve into the key features that set it apart from the competition.
HD Display & Low Latency Transmission
First and foremost, the Walksnail VRX boasts an HD display that delivers exceptional visual clarity. With its ability to transmit 1080P/60fps using industry-leading H.265 encoding technology, you can expect stunning imagery and a smooth viewing experience. The minimum delay of 22ms ensures real-time video signals, while the maximum resolution 1080p guarantees crisp and detailed visuals.
It supports a Betaflight full OSD display, providing essential flight information directly in your line of sight. Whether using Betaflight, Inav, or Kiss, the VRX enables OSD display, allowing you to adjust parameters through your remote control conveniently. This seamless integration enhances your control and understanding of your drone's performance, taking your FPV experience to the next level.
High-Quality Antenna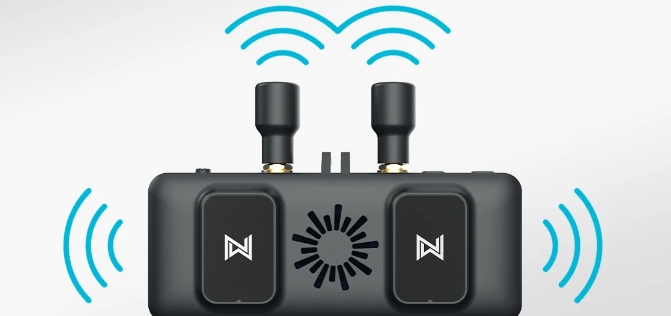 Signal reception plays a vital role in FPV, and the Walksnail VRX excels in this area with its diversity receiver. Equipped with four antennas, including two directional antennas, it ensures enhanced signal reception and transmission. With a maximum transmission distance of 4km, you can explore long-range without worrying about signal loss or interference. This reliable reception capability gives you the confidence to push the boundaries of your FPV adventures.
Lightweight Design
One of the standout features of the Walksnail VRX is its lightweight design, offering an ultra-thin and portable experience. Weighing in at just 83g and measuring 114x55x22 mm in size, it's incredibly lightweight and compact, making it easy to carry with you on your FPV adventures.
Ventilation System
To ensure optimal performance and user comfort, the Walksnail VRX is equipped with a ventilation system for heat dissipation. FPV goggles can generate heat during prolonged use, leading to discomfort and fogging of the lenses. However, Walksnail addresses this issue by incorporating a well-designed ventilation system. This system effectively dissipates heat, keeping the goggles cool and preventing fogging, allowing you to enjoy uninterrupted flights without compromising visual clarity.
Storage Capacity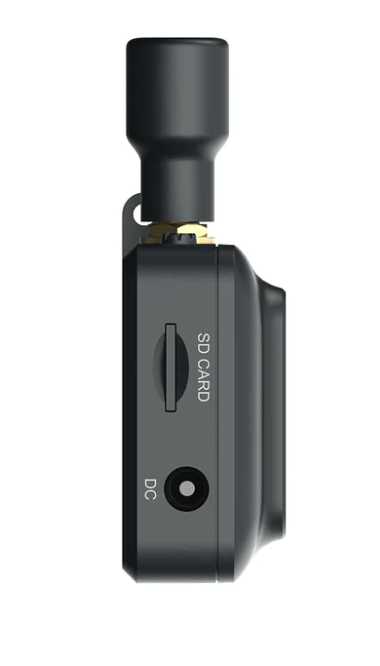 The Walksnail VRX also offers additional functionality with its SD card slot. Supporting SD cards up to 256GB in size, the VRX allows you to record the received image directly to the card. This feature is handy when reviewing your flights, analysing your performance, or sharing your exciting moments with others. With ample storage capacity, you can capture and save numerous flights without worrying about running out of space. It's a convenient and practical feature that adds versatility to the VRX.
Walksnail VRX: Price and Compatibility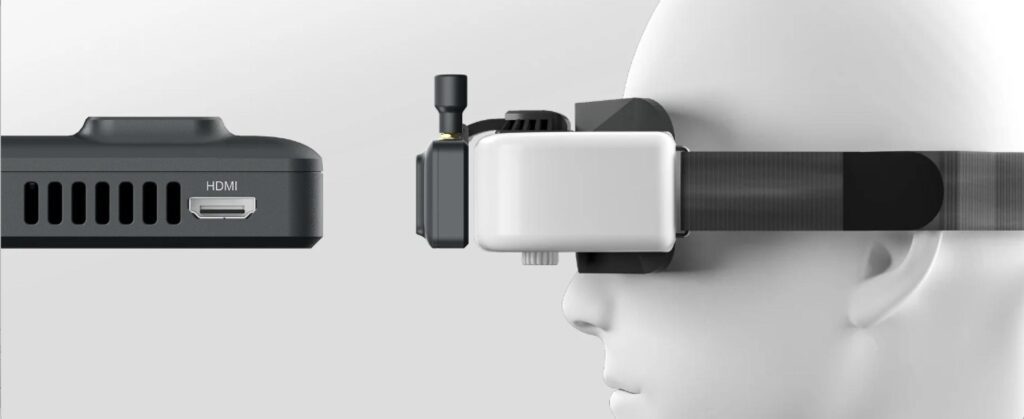 With support for 720P and 1080P resolutions, this cutting-edge device ensures stunning visual clarity that will leave you breathless. It is compatible with Analog Goggles featuring HDMI input and offers the flexibility to connect with Analog Goggles equipped with AV/In using a simple HDMI to analog converter cable. And the best part? The Walksnail VRX is priced at $219, making it an irresistible choice for FPV enthusiasts looking to elevate their drone adventures without breaking the bank.
What VTX ( Video Transmitters) is compatible with Walksnail VRX?
The Walksnail VRX is only compatible with the Walksnail Avatar HD system. It is not compatible with analog nor DJI FPV system.
What drones are compatible with Walksnail VRX?
The Walksnail VRX is compatible exclusively with drones featuring the Walksnail Avatar VTX. It functions solely with this specific configuration and is incompatible with other setups.
What Goggles are compatible with Walksnail VRX?
The Walksnail VRX seamlessly integrates with FPV goggles featuring HDMI input while offering compatibility with AV/in goggles through an adapter. Notable examples include the Fatshark HDO2, HDZero, and Skyzone 04X, among other compatible models, ensuring a wide range of user options.
What is the minimum voltage for Walksnail VRX?
Walksnail VRX operates efficiently with a minimum voltage of 7V (equivalent to 2s) and can safely handle a maximum voltage of 21V (comparable to 5s), ensuring versatile compatibility with various power sources while maintaining optimal performance.
What is the resolution of Walksnail Avatar VRX?
The Walksnail Avatar VRX boasts a remarkable resolution of 1080p at 60fps, employing cutting-edge H.265 encoding for minimal latency at just 22ms. Additionally, it can reach a maximum resolution of 720p at 100fps, delivering unparalleled visual quality for an immersive FPV experience.
Get ready for an amazing FPV adventure with the incredible Walksnail VRX! If you own FPV goggles, this is your ticket to a digital fpv experience without breaking the bank. No need to buy the Walksnail Avatar Goggles – the VRX is here to save the day! Grab yours online with other accessories like coaxial cable and vtx from Caddx, Amazon, GETFPV, and other retailers, and let the soaring begin! Happy flying, fellow fpv enthusiasts!
Disclosure: Some links are affiliate links. As an Amazon Associate,
I earn from qualifying purchases at no extra cost to you.