The DJI Goggles 2 is the most recent FPV Goggles released by DJI. They were released simultaneously with the new DJI Avata FPV drone. These goggles are designed to provide FPV drone pilots with an immersive flying experience that will heighten their enjoyment and excitement.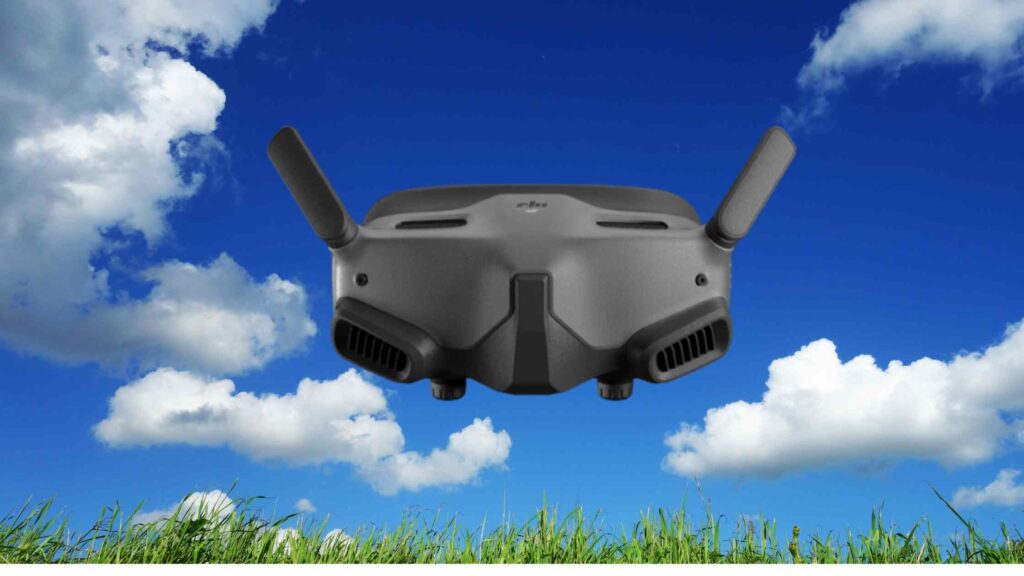 The DJI Goggles 2 are rapidly gaining popularity among professional and amateur pilots due to their advanced features and sleek and lightweight design. Whether you've been flying for years or just starting, the DJI Goggles 2 will elevate your flying skills to the next level. Let's investigate the DJI Goggles 2 further.
DJI Goggles 2 Specs:
Screen Size: 0.49 inch (2 Micro OLED screen)
Screen resolution: 1920x1080p
Diopter: (+2 to -8) Adjustable
IPD: 56-72 mm
FOV: 51°
Transmission system: DJI O3+
Max Video Transmission Bitrate: 50Mbps
Transmission CODEC: H.265/H.264 format
Video Transmission Range: 10 km (FCC), 2 km (CE), 6 km (SRRC)
Video Recording Format: MOV
Lowest Latency: 30 ms
Refresh Rate: Up to 100 Hz
Input voltage: 7-9 V (1.5 A)
Supports DLNA Protocol (WiFi streaming)
WiFi protocol: Wi-Fi 802.11b/a/g/n/ac
Supports head tracking
Frequency: Dual-band (2.4 GHz and 5.8 GHz)
Dimension: 167.40×103.90×81.31 mm (when the antenna is folded)
Battery Life: Approx. 2 Hours
Weight: 290 grams
Image Quality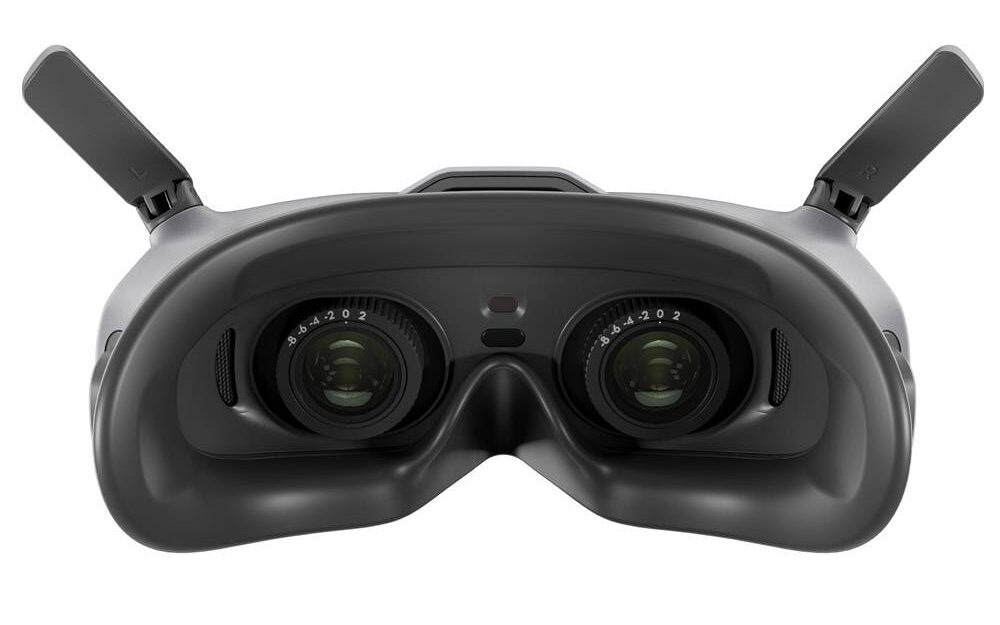 The DJI Goggles 2 features an HD Micro-OLED screens with a resolution of 1920x1080p that provide a clear and detailed view of the drone's flight. The Micro-OLED technology offers a higher level of contrast and color clarity than traditional LCD screens, making it more immersive for FPV pilots.
Video Quality
The DJI Goggles 2 video transmission is designed with low latency, providing a smooth and seamless flying experience. With 1080p/100fps video quality, the latency is as low as 30 milliseconds, and with 1080p/60fps video quality, the latency is as low as 40 milliseconds.
This ensures that the live feed from the drone to the goggles is clear and responsive, allowing you to react quickly to the environment. Additionally, the goggles support a maximum video transmission bitrate of 50 Mbps, which ensures that the video quality is sharp and detailed. This makes the goggles suitable for professional fpv pilots who want to capture high-quality footage from their drones.
Recording
The DJI Goggles 2 offers a range of video and audio playback formats options, including MP4 and MOV. It also includes a DVR function that allows you to record videos 1080p/60fps from your FPV flight and even has the option to record the OSD info. Additionally, it supports microSD cards up to 256GB, giving you plenty of storage space for your recorded flights.
With a battery capacity of 1800 mAh, the DJI Goggles 2 is designed to allow you to fly for longer and spend less time recharging. With an excellent two-hour battery life, you may freely soar without fear of running out of power in your goggles.
Compatibility
The DJI Goggles 2 offers a unique and immersive experience for FPV drone pilots. Its compatibility with the DJI O3+, Air unit, and Vista systems can be used with a wide range of FPV drones, not just the DJI Avata. This means you can fully enjoy the thrill of flying with any FPV drone that you own.
The DJI Goggles 2 offers flexibility and convenience in terms of controller options. It is compatible with the DJI Motion Controller and the DJI FPV Remote Controller 2.
The DJI Motion Controller allows you to control your drone with simple hand gestures, providing a unique and intuitive way to fly.
On the other hand, the DJI FPV Remote Controller 2 offers traditional joystick controls, providing a more familiar and precise flying experience. This controller is ideal for those who prefer a more traditional method of flying.
With the compatibility of the DJI Goggles 2 with both the DJI Motion Controller and the DJI FPV Remote Controller 2, pilots have the freedom to choose the controller that best suits their needs and preferences. Whether you prefer gesture controls or traditional joystick controls, the DJI Goggles 2 has got you covered.
The DJI Goggles 2 has a head tracking feature that allows the goggles to respond to the movement of your head, providing a more immersive and intuitive flying experience, enabling you to control the camera with your head and take in your surroundings.
Entertainment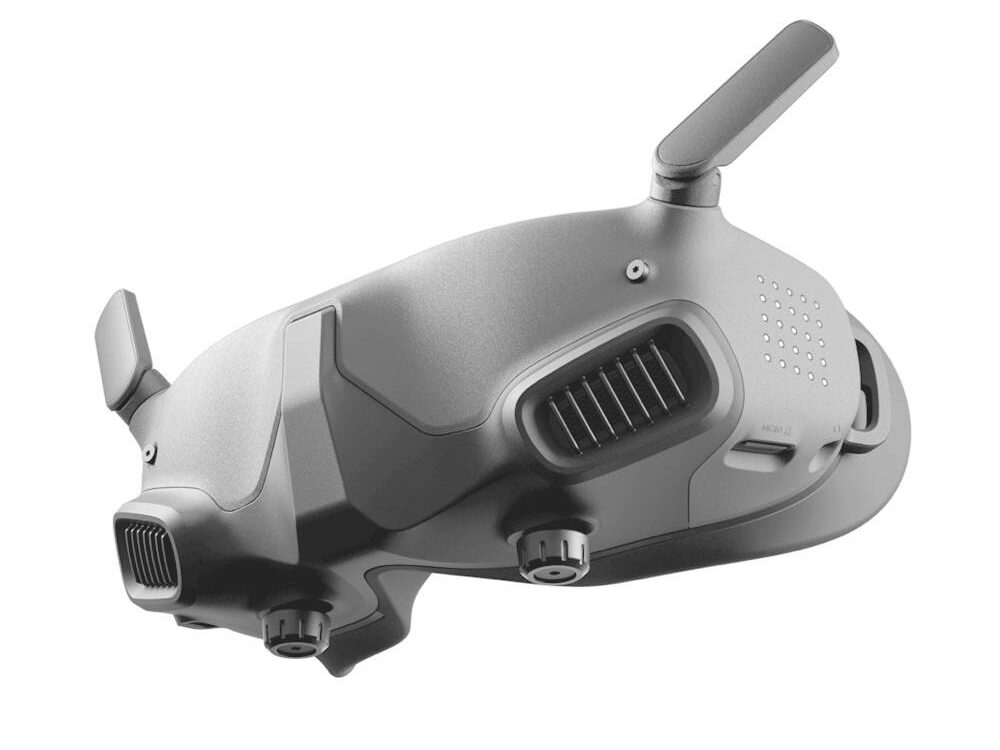 No need to let bad weather ground your flights; with the DJI Goggles 2, you can bring the FPV experience indoors. With its ability to transform into an in-home theater, the goggles allow you to stream mainstream audio and video software using DLNA protocol.
You can play videos straight to the goggles for an immersive viewing experience.
The goggles also feature a built-in power amplifier and a 3.5mm audio port, allowing for synchronized audio output for an even more cinematic experience. Enjoy your favorite movies and shows in a new way with the Goggles 2. The weather outside may be bad, but your entertainment options are limitless.
The Goggles 2 takes your FPV experience to new heights with its compatibility with the DJI Fly App. This app allows you to connect your goggles to your smartphone, opening up a whole world of possibilities. With this connection, you can share your flying experience with others in real-time, allowing them to see what you see and experience the thrill of flight from the comfort of their device.
Things To Consider
The Goggles 2 has some important features and limitations to note. One of its features, HorizonSteady, is only available in Normal mode FOV with an aspect ratio of 16:9 and video recording specification of 4K, 2.7K & 1080p @50/60fps.
However, the feature RockSteady is not available when the video recording specification is 2.7K or 1080p @100/120fps. Another feature, the 155° FOV, is only available when the aspect ratio is 4:3, and the video recording specification is 2.7K or 1080p @50fps/60fps.
Additionally, when the aspect ratio is 16:9, and the video recording specification is 4K, 2.7K, or 1080p @50/60fps. It's also worth noting that the Goggles 2 does not support astigmatism correction, and if you have specific vision requirements, it's recommended to consult with your doctor before use.
Disadvantages of DJI Goggles 2
The DJI Goggles 2, while packed with advanced features and capabilities, does have some drawbacks to consider. One of the main disadvantages is the cost, which is significantly higher than the v2. Additionally, pilots who wear glasses may have difficulty using the goggles comfortably.
The Goggles 2 also does not have support for analog adapters and digiview, which can be an issue for some pilots. Some pilots also reported experiencing optics issues and light leakage, which can affect the overall quality of the FPV experience. It's important to weigh these potential drawbacks against the benefits of the goggles before making a purchase decision.
What is the difference between DJI FPV Goggles V2 and G2?
The type of screen each pair of goggles uses is one of the most important differences. The OLED screen on the Goggles 2 is better than the LCD screen on the V2. This difference in screen technology can change how you see what's on the screen and how clear and detailed it is.
Learn more about the comparison of DJI Goggles 2 vs V2.
What is the range of DJI Goggles 2?
The DJI Goggles 2, when paired with the O3 Air unit or the Avata drone, offers a maximum video transmission range of 10 km (FCC), 2 km (CE), and 6 km (SRRC).
Does DJI Goggles 2 work with other FPV drone?
You can use the DJI Goggles 2 to experience the thrill of flight with an immersive and first-person view if your FPV drone is equipped with the DJI O3+, Air unit, or Vista system.
Is the DJI Goggles 2 compatible with the DJI FPV drone?
Unfortunately, it is not.
What is DJI Goggles 2 compatible with?
It is compatible with the DJI O3+, Air unit, and Vista systems.
In conclusion, the Goggles 2 is the ultimate choice for anyone looking to elevate their FPV experience. The O3 Air unit system ensures a smooth and consistent video transmission, while the OLED screen displays the video in crystal-clear, vibrant colors.
The new DJI Goggles 2 is designed to be lightweight and provide next-level comfort; it also offers diopter adjustment, making them suitable for both professional pilots and hobbyists. If you're looking for the ultimate immersive flight experience, the DJI Goggles 2 is a perfect choice.
Disclosure: Some links are affiliate links. As an Amazon Associate,
I earn from qualifying purchases at no extra cost to you.