The Axisflying C25 is a remarkable addition to the Cineon series, specifically designed for cinematic purposes. This cinewhoop drone is optimized for capturing stunning footage both indoors and outdoors, and it can be equipped with a naked GoPro for high-quality filming. Its innovative design and features make it an ideal choice for FPV pilots.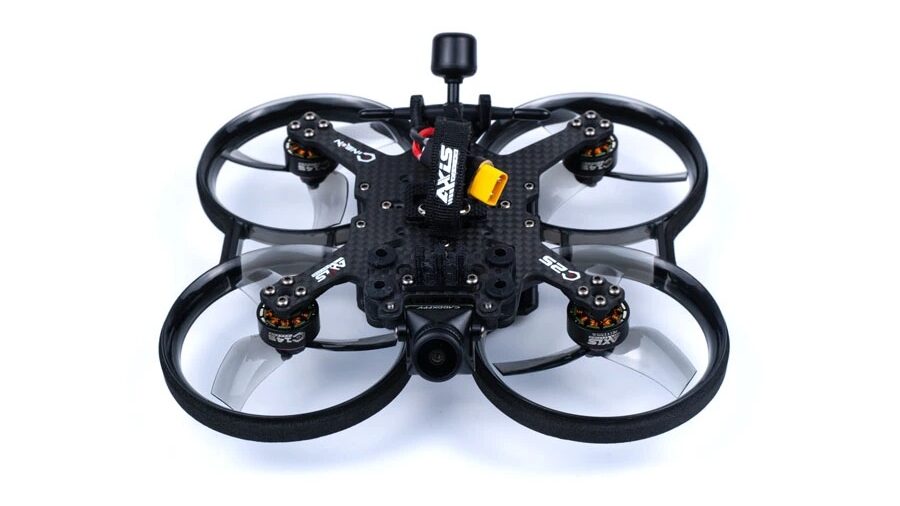 Axisflying C25 Specs:
FC & ESC: HAKRC F411 20A AIO
Motors: C145 4500KV
VTX: Walksnail Avatar HD Pro/DJI O3 Air Unit
Receiver: TBS nano/ELRS 2.4G
Wheelbase: 120mm
Weight: 176.6 grams
Battery( Recommended): 4S 550-850mAh
Axisflying C25 Features
Ultra-Lightweight Design for Limitless Exploration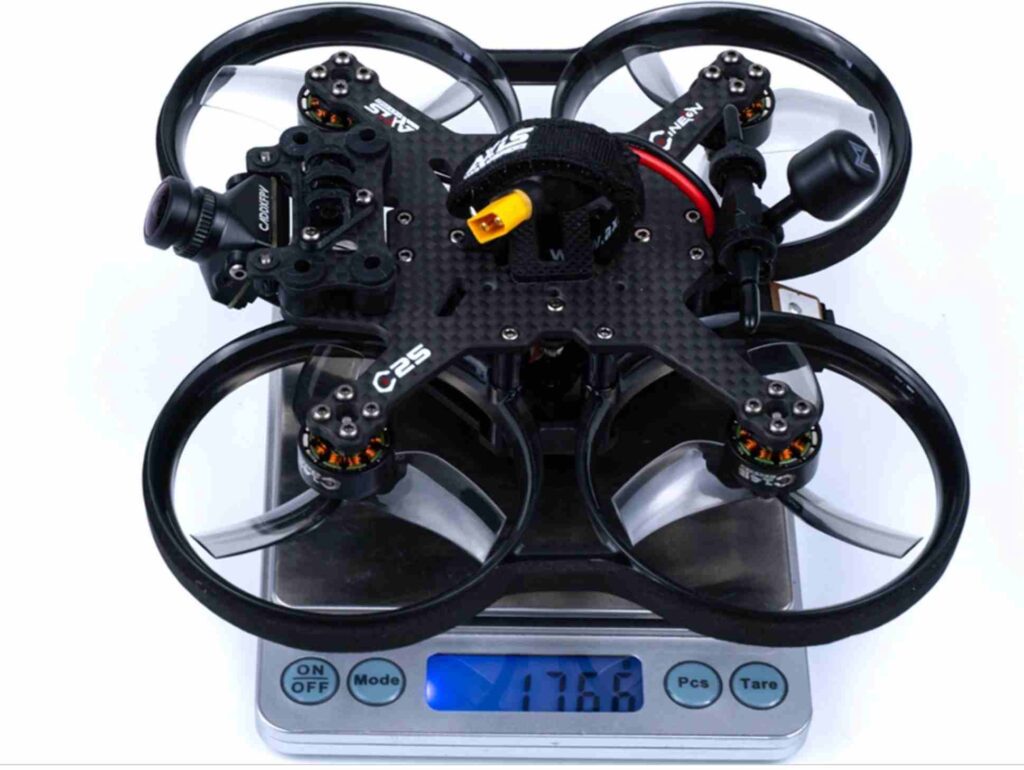 The Axisflying C25 FPV drone stands out with its compact 2.5″ size and lightweight design, making it incredibly agile and versatile in the air.
Weighing a mere 177 grams without a battery and less than 250 grams with a battery, it falls within the weight limit imposed by many drone regulations, allowing for hassle-free flights in various locations.
High-Performance Components for Uncompromising Quality
One of the standout features of the C25 is its high-quality construction and durability. It surpasses competitors like the Cinelog 25 in terms of ruggedness and longevity. The frame is built to withstand crashes and impacts, ensuring the drone can handle demanding flights without compromising its performance or structural integrity.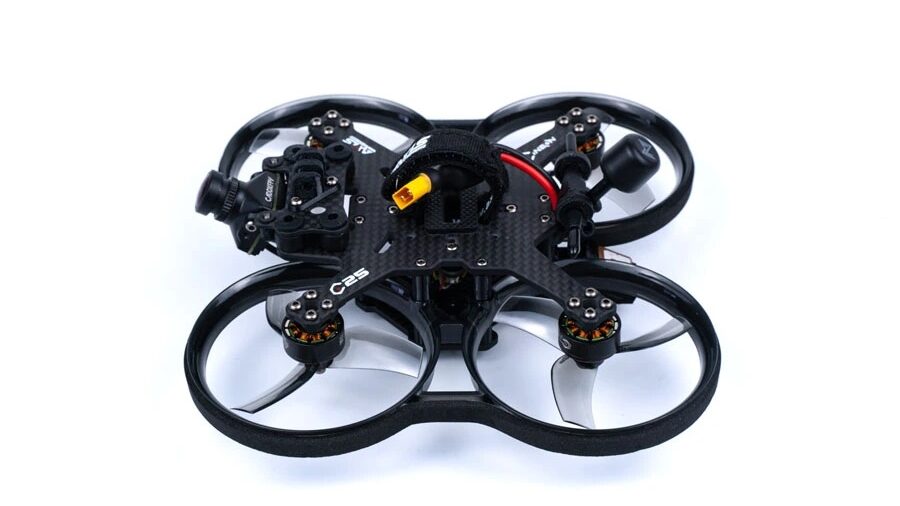 With its advanced flight controller and software, the Axisflying C25 delivers precise and responsive controls. The 20A/F411 AIO flight controller provides stability and reliability during flights, allowing pilots to execute complex maneuvers with ease. The integrated software enhances the overall flight experience, providing customization options for individual preferences and flying styles.
Immersive FPV Experience with HD Video Transmission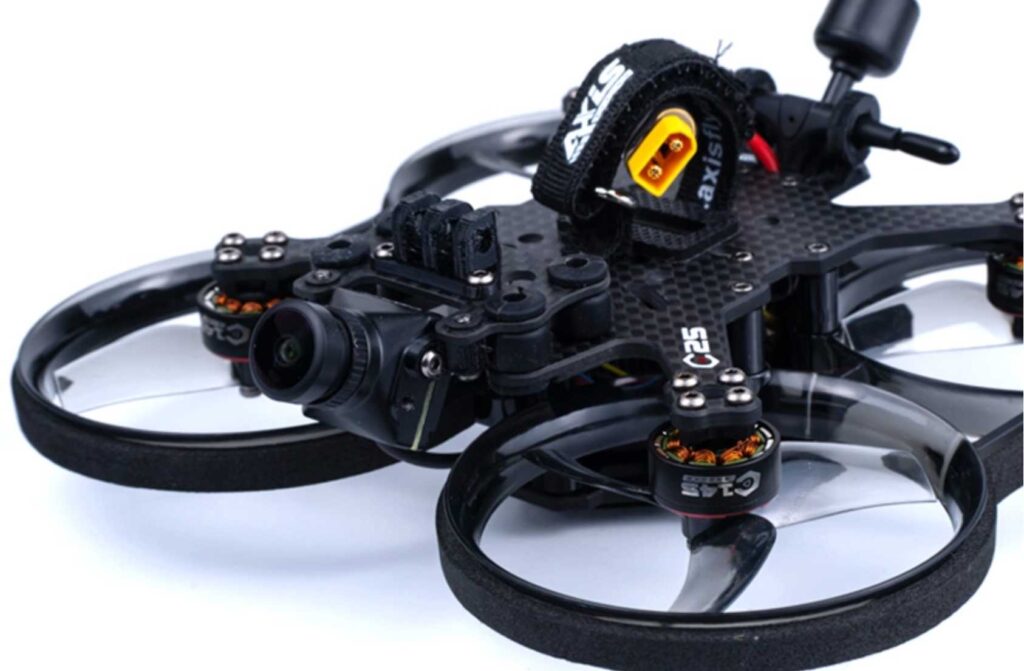 The C25 also boasts an integrated FPV system that offers exceptional video transmission. Equipped with either the DJI O3 Air Unit or the Walksnail Avatar system, users can enjoy crystal-clear and low-latency video feeds, immersing themselves in the thrilling FPV experience. The reliable signal range and resistance to interference further enhance the video transmission capabilities of the C25.
Longer Flight Times
In addition to its impressive features, the Axisflying C25 excels in flight time compared to its competitors. When equipped with a 4S 850 battery, the drone can achieve flight times of up to 6 minutes without a naked GoPro attached. This extended flight time allows users to capture more footage during each flight, minimizing the need for frequent battery changes and maximizing the overall filming experience.
Flight Experience and Performance
What truly sets the C25 apart is its exceptional maneuverability. Pilots can execute freestyle tricks with precision and ease, be it flips, rolls, or intricate aerial maneuvers. The C25's flight dynamics enable seamless transitions and precise control, empowering you to unleash your creativity and capture breathtaking footage. However, it's important to note that the C25 is a cinewhoop drone with prop guards, so you may still encounter prop wash, which can affect the airflow and stability during flight.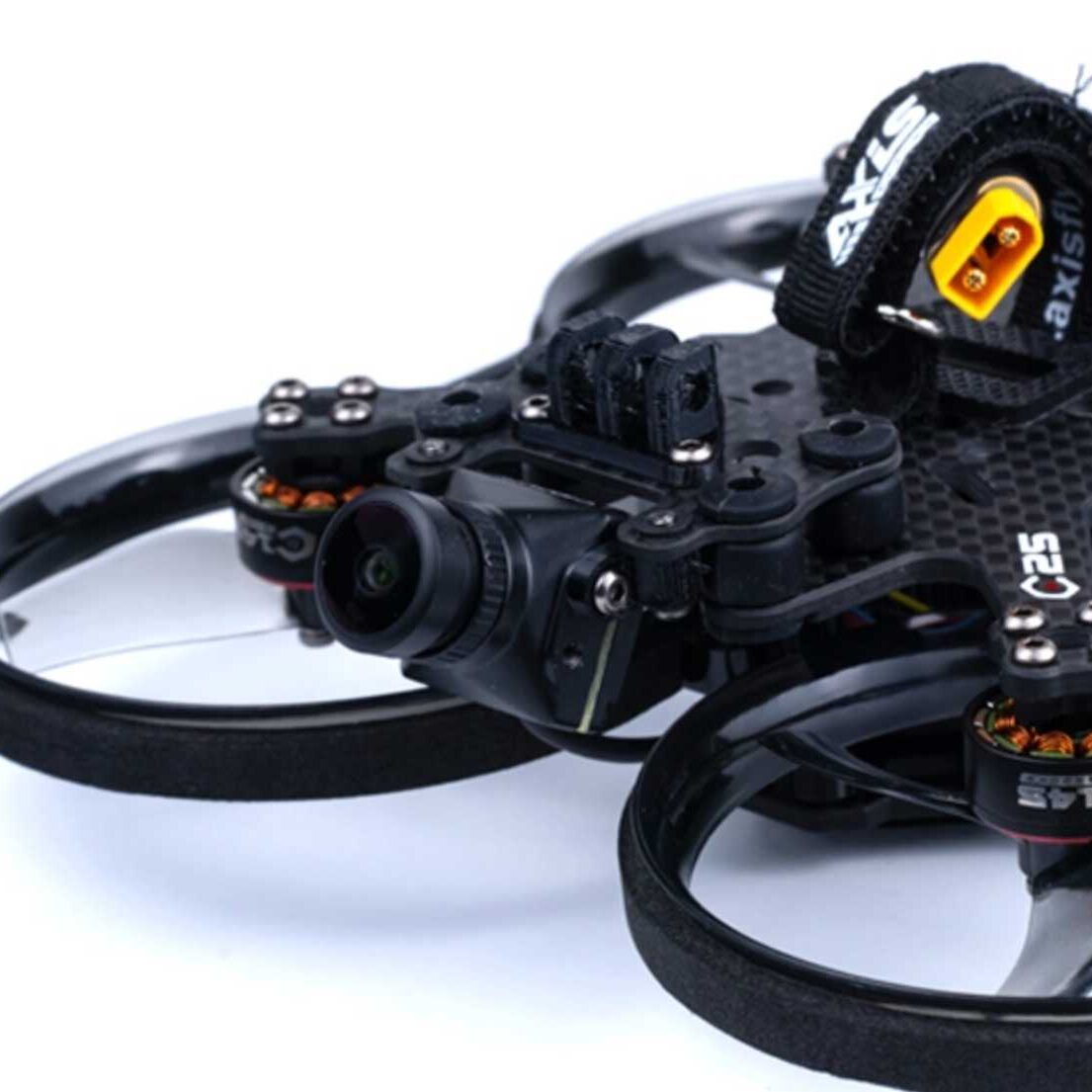 To address the issue of jello in video footage, the C25 is equipped with rubber dumpers. These dampeners effectively reduce vibrations and eliminate the jello effect, resulting in stabilized video footage for both the FPV camera and the naked GoPro. This ensures that the captured footage is smooth, clear, and of high quality, enhancing the overall filming experience.
The combination of smooth flight characteristics, agile controls, prop guards, and rubber dumpers makes the Axisflying C25 an excellent choice for capturing cinematic shots. Whether you're navigating through tight spaces or performing freestyle maneuvers, the C25 delivers exceptional flight performance, minimizing disturbances and ensuring stunning footage.
Build and Customization Options
The Axisflying C25 is an impressive quadcopter that boasts a range of features designed to enhance its performance and durability. One of its standout qualities is its modular design, which allows for easy repairs and component upgrades. The straightforward assembly process ensures that even novices can quickly get the C25 up and running.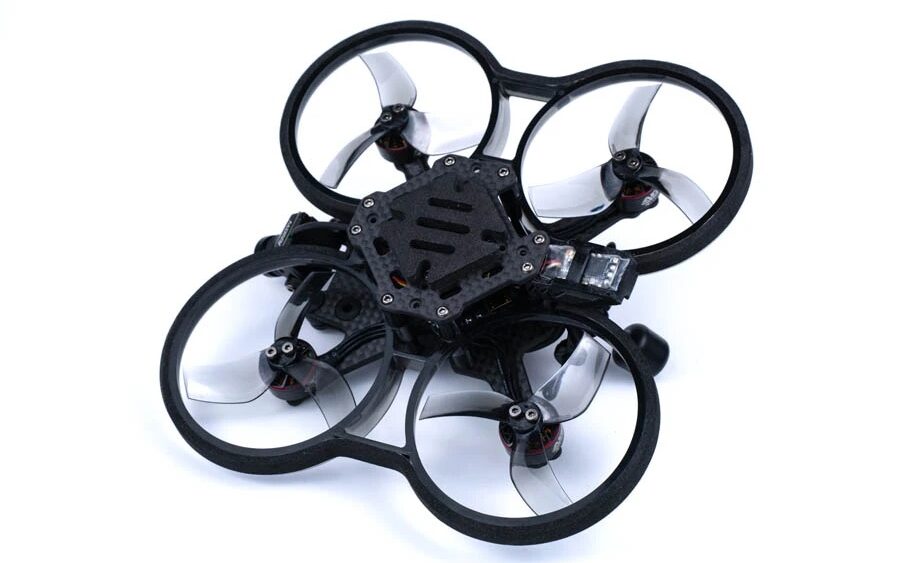 The C25 is constructed using T700 Carbon material, known for its exceptional durability. This ensures that the quadcopter can withstand the rigors of flight and any accidental bumps or crashes. The robust nature of the material provides reassurance to pilots, knowing that their investment is built to last.
While the Axisflying C25 offers a range of features, it is worth noting that there are currently limited options for accessories and aftermarket parts. Prop guards, TPU mounts, motors, and frames may not be as readily available as they are for other quadcopter models. However, as the popularity of the C25 grows, it is likely that more stores will stock these items to cater to the demand.
The C25 provides flexibility in terms of camera systems and antennas. Users have the freedom to choose their preferred VTX system as long as it is compatible with the 20×20 or 25.5×25.5 mm mounting holes found on the quadcopter. This allows pilots to customize their setup to meet their specific needs and preferences.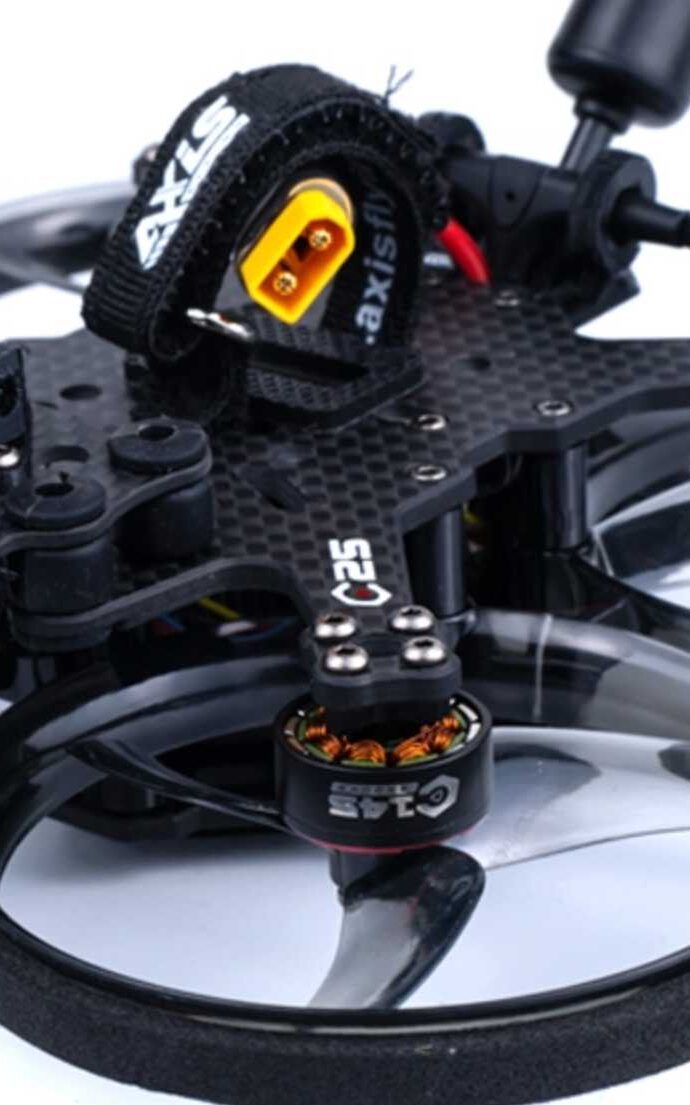 Equipped with powerful C145 motors featuring 9x9mm mounting holes, the Axisflying C25 delivers impressive performance. These motors provide the necessary thrust and stability required for smooth and controlled flights, even in challenging conditions.
The Axisflying C25 sets itself apart as a standout cinewhoop drone, providing a top-tier flying experience. It appears to strike a perfect balance, incorporating the durability of the Protek 25 and the smoothness of the Cinelog 25, resulting in exceptional performance. With its reduced noise levels and overall excellence, the C25 guarantees a satisfying and enjoyable flight. Happy flying!
Article History
July 2023: Published
Disclosure: Some links are affiliate links. As an Amazon Associate,
I earn from qualifying purchases at no extra cost to you.