Discover top-quality DJI Air 3 cases that protect your investment with care. Explore the best options on the market for ultimate drone protection.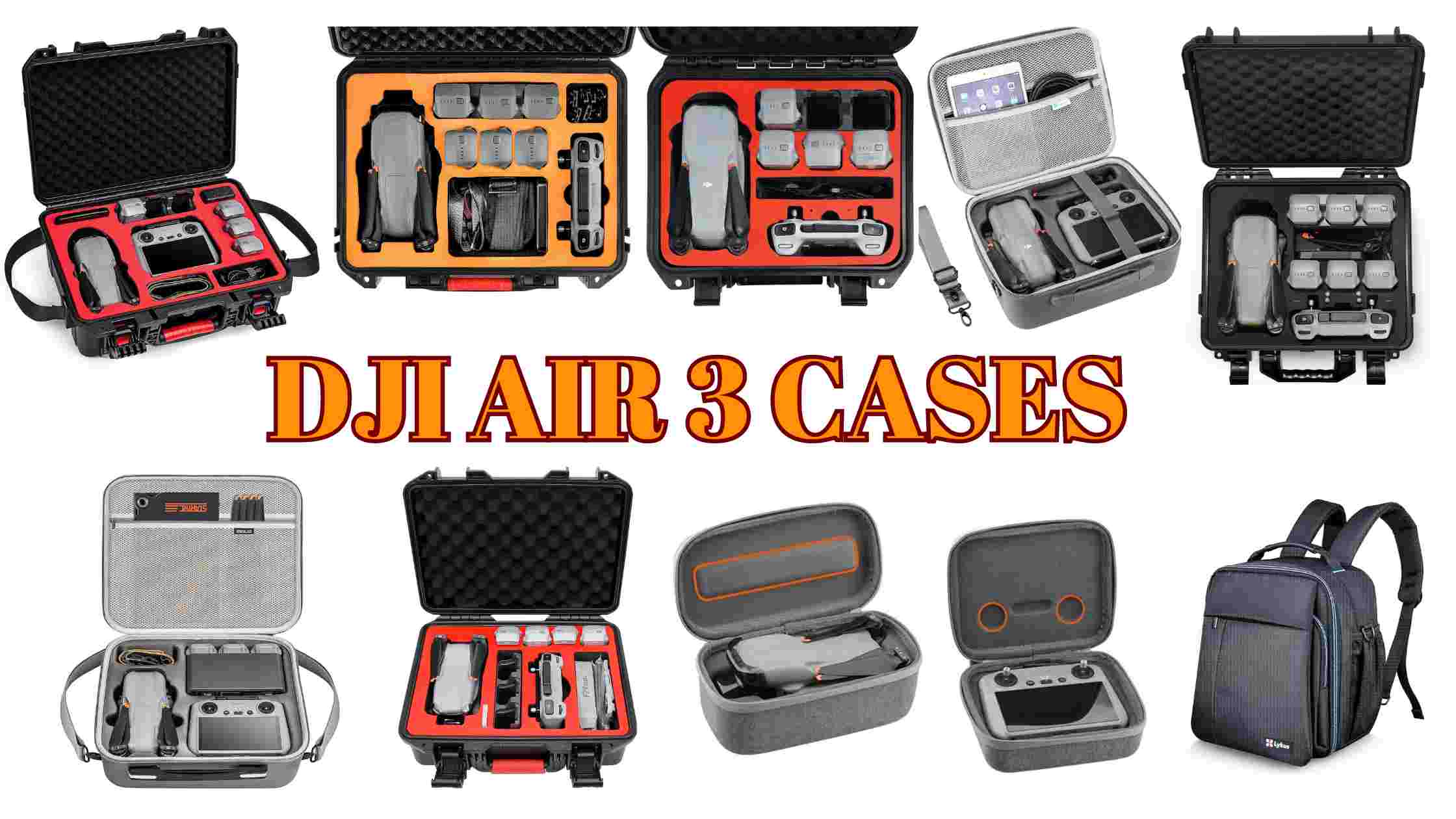 Whether you're a drone enthusiast, a globetrotting adventurer, or a creative content creator, these cases are tailored to provide the ultimate protection for your cherished drone companion. Let's unlock the world of cutting-edge protection and find your perfect match among these stellar options.
Key Considerations When Choosing a DJI Air 3 Case
When selecting the ideal case to protect your prized DJI Air 3 Drone, several key factors come into play to ensure your investment remains safeguarded in all scenarios.
Size and Fit
Firstly, the case's size and fit play a pivotal role. It's essential to opt for a case explicitly designed for the DJI Air 3 to ensure a snug fit that prevents unnecessary movement within the case. This tailored fit minimizes the risk of damage during transportation and storage.
Durability and Materials
Equally vital is the consideration of durability and material. Cases crafted from various materials, such as hardshell, softshell, and foam inserts, offer varying levels of protection. A hardshell case can provide rugged protection against impacts, while softshell options offer more flexibility for storage. On the other hand, foam inserts offer custom-fit compartments that securely cradle your drone and its components, minimizing the risk of jostling and impact damage.
Portability
Portability is another aspect that shouldn't be overlooked. The case's weight, size, and carrying options determine how easy it is to transport your drone and accessories. A lightweight case with comfortable handles or shoulder straps can significantly enhance your convenience during travel or outdoor expeditions.
Capacity
Furthermore, the storage capacity of the case plays a crucial role in accommodating not only the drone itself but also its essential accessories. Pockets and compartments designed to house batteries, remote controllers, propellers, cables, and other accessories ensure that everything you need is organized and protected in one place. This feature enhances convenience and reduces the chances of leaving crucial items behind.
List of the Best DJI Air 3 Cases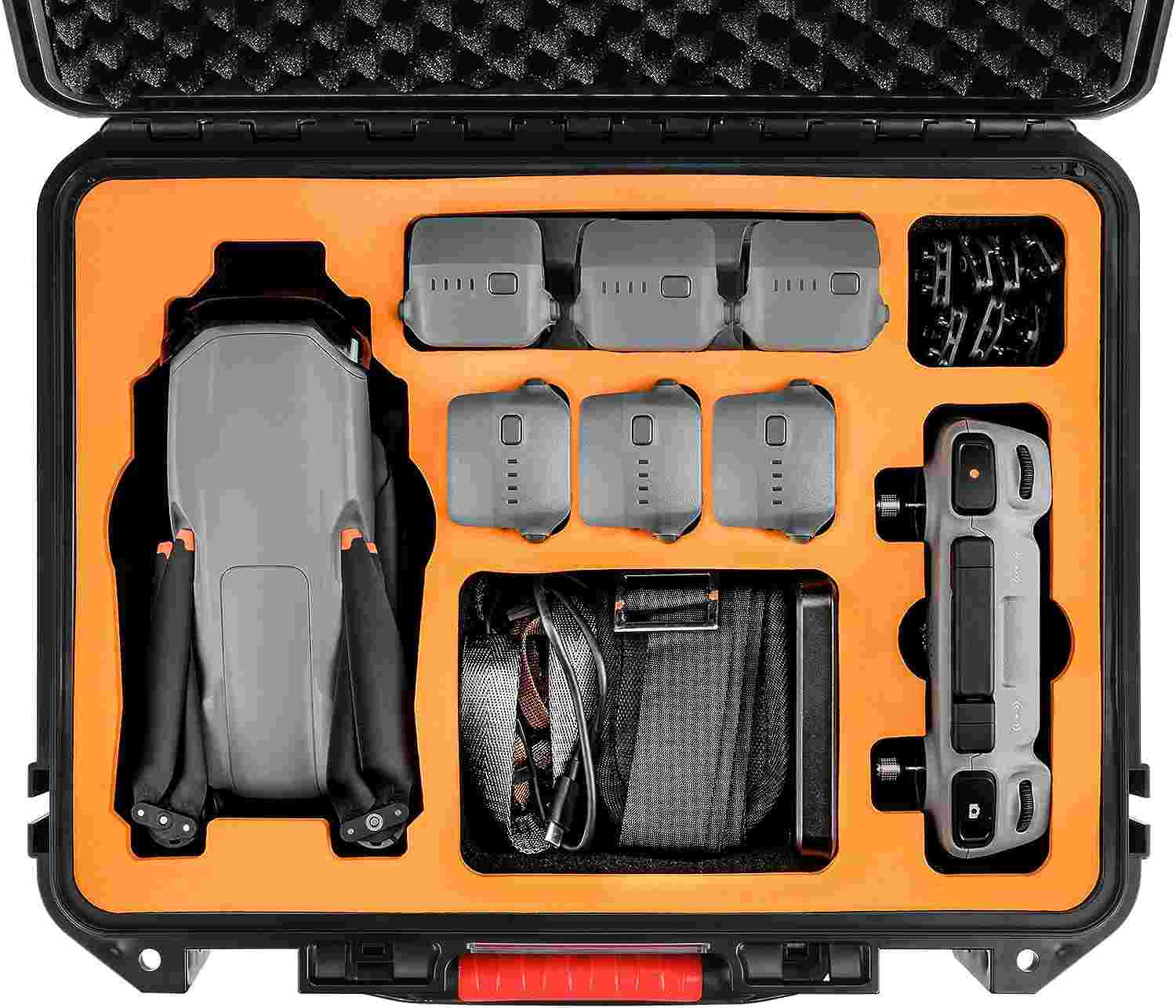 Introducing the YETEETH Hard Case for DJI Air 3, a robust and waterproof solution designed to provide comprehensive protection for your valuable drone and its accessories. Crafted with precision, this custom-designed case is tailored to perfectly fit your DJI Air 3 (RC 2/RC-N2), ensuring a snug and secure fit. The case boasts an impressively large capacity, accommodating a plethora of essentials. It can house your DJI Air 3 drone, DJI RC 2/RC-N2 remote, up to 7 batteries (with one on the drone), a two-way charging hub, spare propellers, filters, a neck strap, landing gear, and more.
The YETEETH Air 3 Case is safe and sturdy and constructed from dependable PP material. Its outer shell is engineered to withstand impacts of up to 5000 pounds—nearly the weight of a car—providing unrivalled protection for your drone. With IP67 waterproof level certification, the case seals out water, ensuring your equipment remains dry even in challenging conditions.
The portable design of the case makes it an excellent companion for your DJI Air 3 adventures. Weighing in at 4.62 pounds and boasting external dimensions of 16.1x13x6.7 inches, it's both lightweight and compact. A non-slip handle adds to its convenience, making it effortless to carry wherever your drone journeys take you.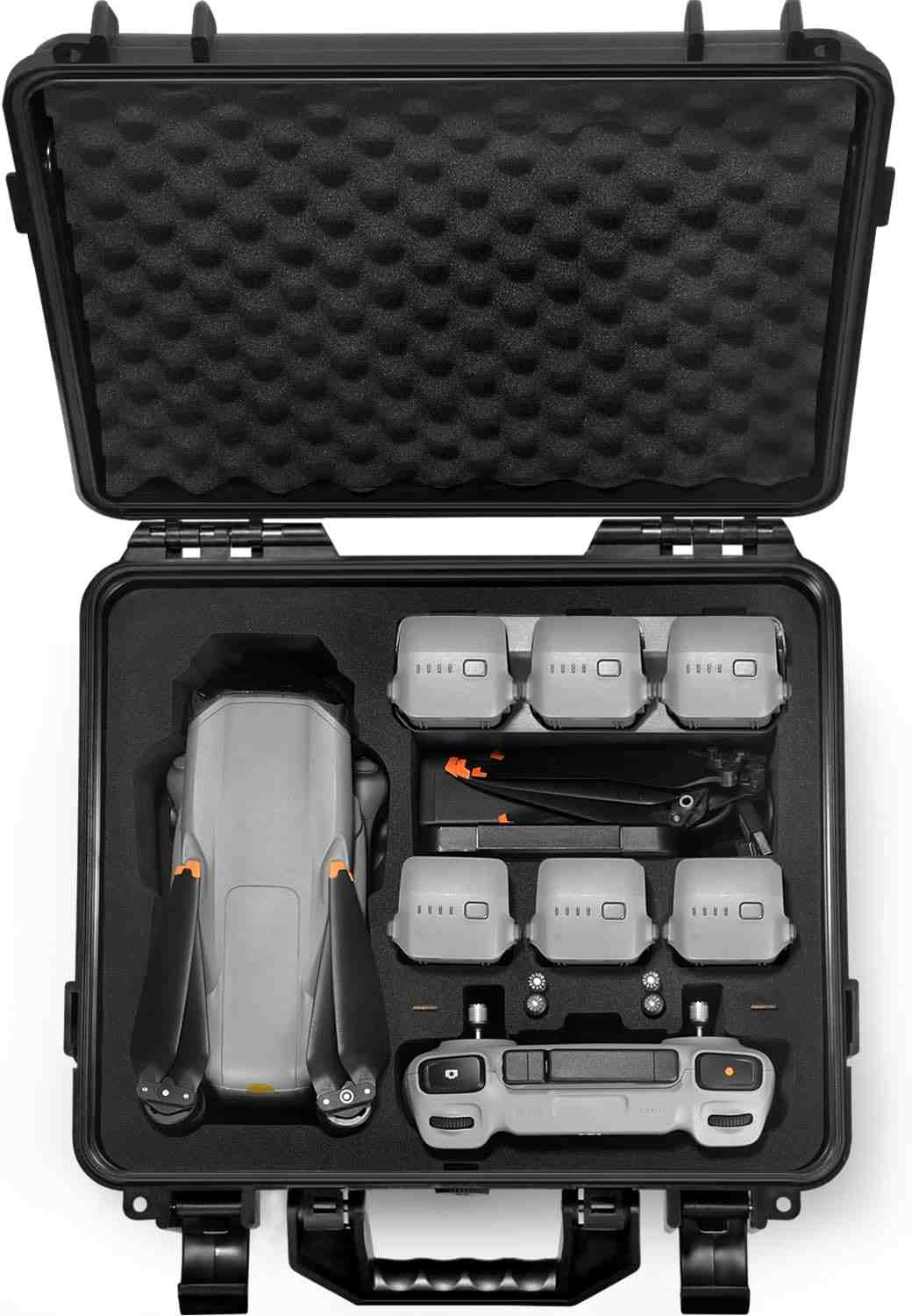 Experience top-tier protection and organization with the Lekufee Waterproof Hard Carrying Case, a masterfully designed solution compatible with the DJI Air 3 Drone, DJI Air 3 Fly More Combo, DJI RC 2, DJI RC N2 Remote Controller, and a myriad of accessories. Meticulously crafted by Lekufee, this case exudes excellence from its custom design, encompassing tailor-made EVA foam inserts for the DJI Air 3 drone, DJI RC 2, DJI RC, DJI RC N2 remote controller, and other essentials.

The storage capacity of the case is nothing short of impressive. It offers ample space for accommodating 1x DJI Air 3 Drone or DJI Air 3 Fly More Combo, 1x DJI RC 2/DJI RC/DJI RC-N2/RC N1 Remote Controller, 4x Battery, or 7x Battery (including the drone's battery), a 65W Battery Charger, Battery Charging Hub, Micro Cards, Cables, Propellers, and a host of other DJI Air 3 Combo Accessories.
Crafted from top-tier materials, the DJI Air 3 Hard Carrying Case boasts high quality, featuring abrasion- and impact-proof ABS plastic outer shell. Complementing this is the premium soft foam interior, which ensures anti-collision and anti-scratch protection. Travelling becomes a worry-free endeavour as this case safeguards your DJI Air 3 combo drone and its accessories with precision.
This case combines strong protection and portability with dimensions of 33.5 x 15.5 x 31 cm (13.2 x 6.1 x 12.2 inches) and weighing 1.9kg (4.2 lbs). Its waterproof, dustproof, and impact-resistant properties make it an ideal travel companion on an aeroplane, boat, or motorcycle. The Lekufee Waterproof Hard Carrying Case is your go-to choice for safeguarding your DJI drone during your globetrotting adventures and for secure storage at home. Versatile and reliable, it thrives in various outdoor environments such as deserts, beaches, rainforests, and snow-covered mountains.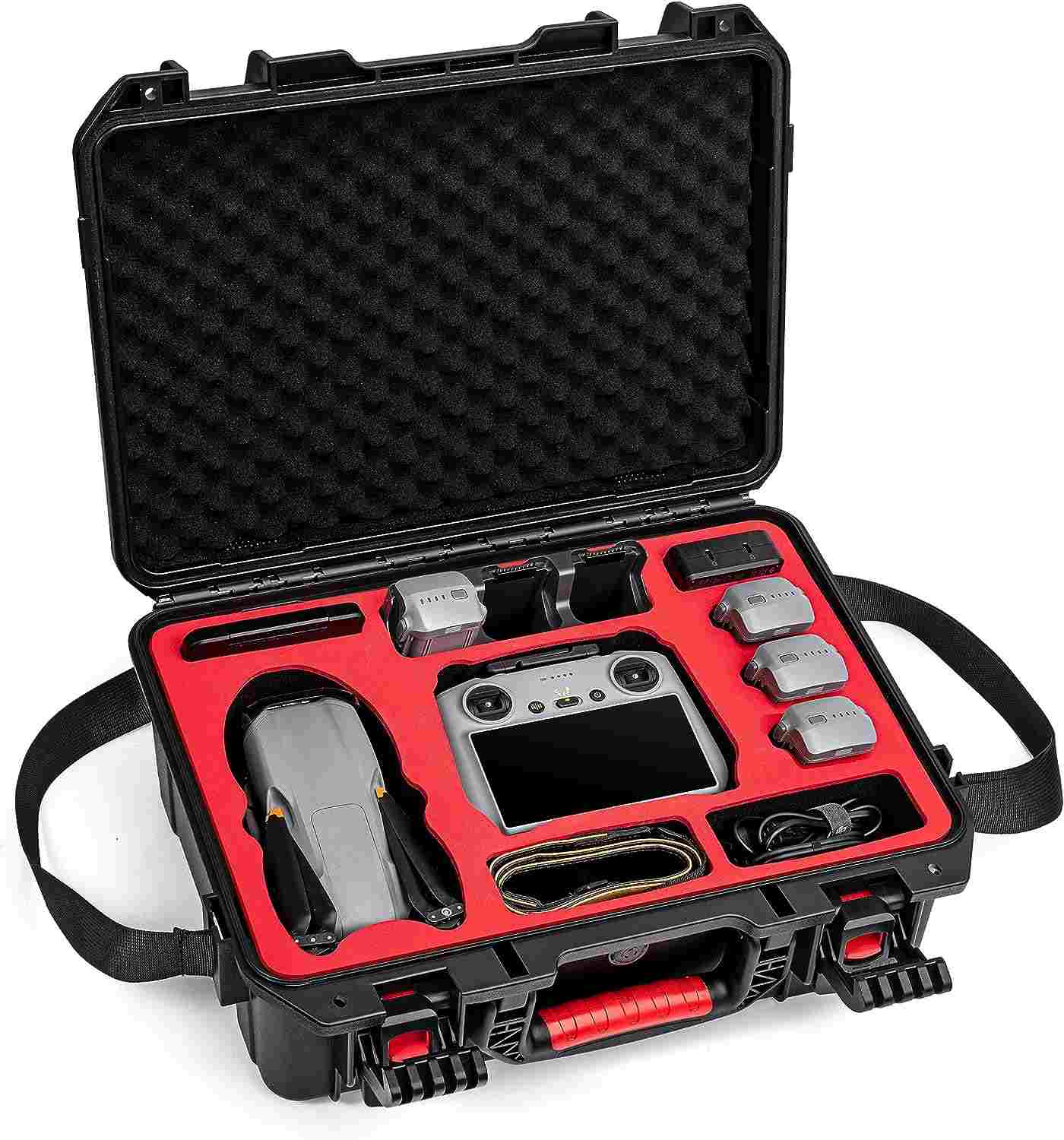 The STARTRC Hard Case is the ultimate companion for your DJI Air 3 Fly More Combo and accessories. Custom-designed with precision, this case is tailored to fit your Air 3 drone, complete with a Gimbal Protector and your RC 2/RC-N2 Controller, ensuring a perfect fit. But that's only some of it accommodates. With its Large Capacity, this case takes care of everything you need for your drone adventures. It can store your drone and controller and up to 6 extra batteries, a Battery Charging Hub, charger, power adapter, Filters Set, propellers, RC cable, and more.
When it comes to protection, the STARTRC case goes above and beyond. Crafted from High-strength ABS and fortified with Upgrade EVA Multi-layer protection, it excels in impact resistance, ensuring your drone and accessories are safe from external damage during travel or transport. Its precise design keeps everything well-organized, reducing the risk of damage.
Convenience and portability are key features of this case. It boasts a customized shoulder strap design and a sturdy handle, ensuring effortless and safe transportation of your Air 3 Fly More Combo and accessories. Whether you're travelling or looking for secure storage at home, this case has you covered. With STARTRC, you can trust in top-tier protection and portability for your DJI Air 3.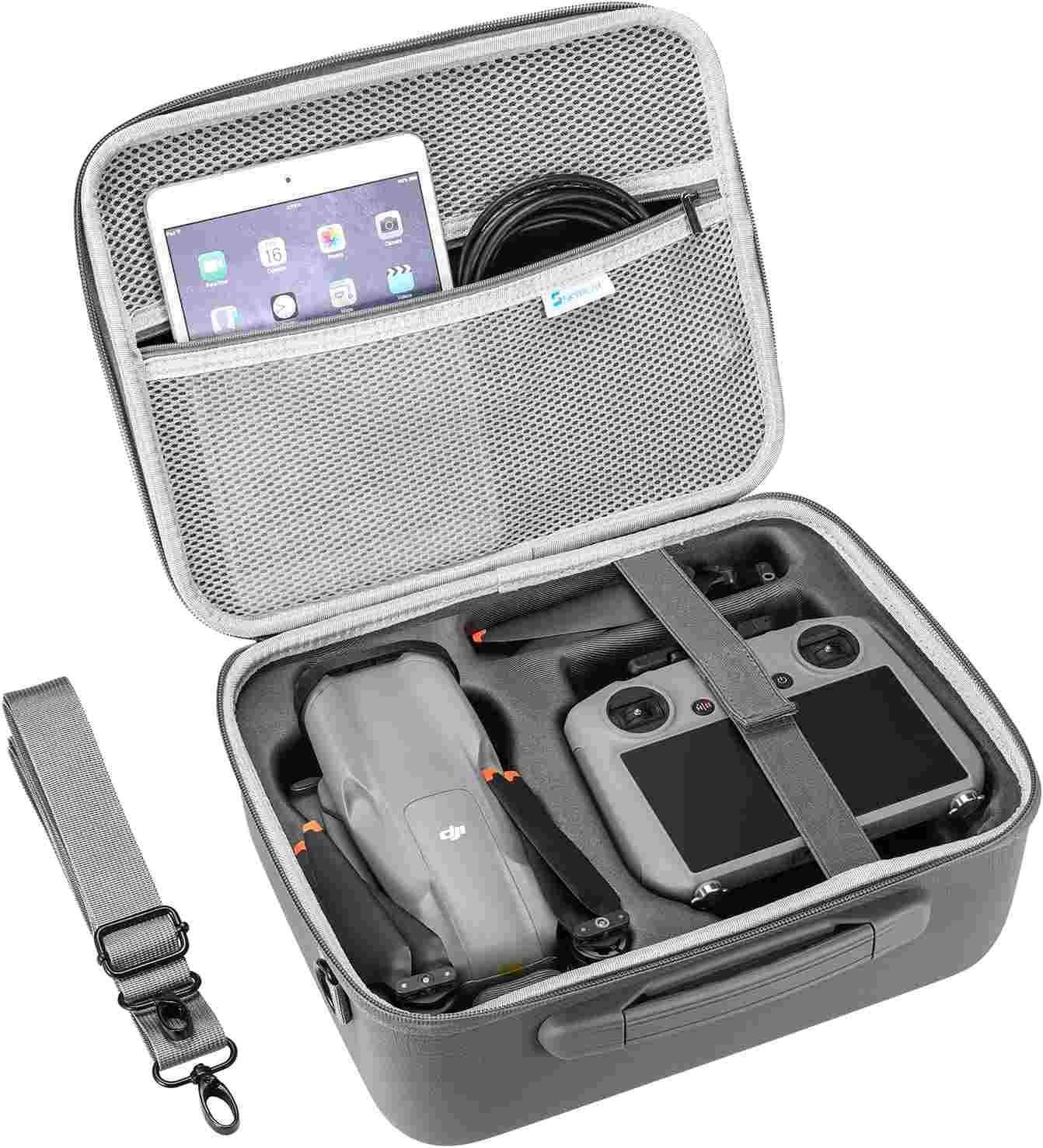 Elevate your drone protection with the Skyreat Air 3 Case, a compact design and functionality marvel. This small portable PU leather case is engineered to provide an exquisite blend of convenience and protection for your DJI Air 3 Fly More Combo Drones, DJ RC 2 Controller, and an array of accessories.
Featuring a spacious Large Capacity, every nook and cranny of this case is thoughtfully tailored to house your DJI Air 3 essentials. It accommodates your Air 3 Pro Drone with Air 3 Gimbal Protector, DJI RC 2 Controller complete with screws, Intelligent Flight Battery, Air 3 Battery Charging Hub, Air 3 Low-Noise Propellers, Type-C to Type-C PD Cable, and more.
The case ensures easy portability by effortlessly slotting it into a backpack or travel bag. Equipped with a non-slip handle and shoulder strap, it allows for swift placement and retrieval, and its lightweight and portable design guarantees you can take it along wherever your journeys lead.
Boasting complete protection, the case is constructed from a unique leather shell material, precision-moulded to safeguard your equipment. Safety straps secure the DJI RC 2 remote control, while the case offers exceptional defense against damage and scratches during transport. Moreover, thanks to its PU material, it's also rain-proof, providing an added layer of security against the elements.
Designed with a lightweight focus, this storage bag is custom-crafted for your DJI Air 3 drone, DJI RC 2 controller, and associated accessories. The SKYREAT Air 3 Case fuses style, practicality, and protection in one remarkable package, ensuring your valuable gear remains intact and secure during your drone pursuits.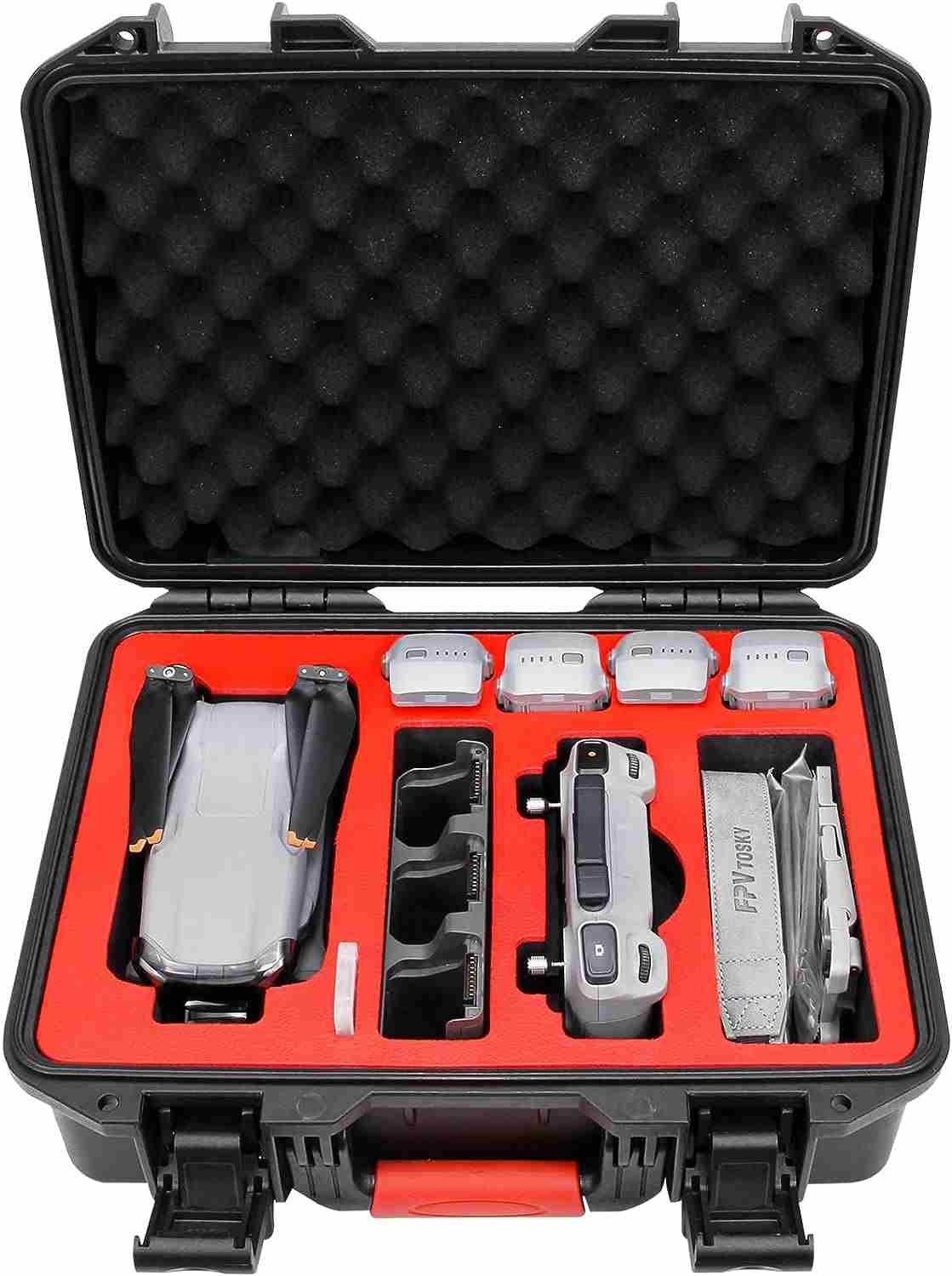 Introducing the FPVtosky Hard Case for DJI Air 3 Drone and Fly More Combo, a state-of-the-art waterproof hard shell carrying case designed to elevate your drone protection game. This case is meticulously tailored for the latest DJI Air 3 drones, ensuring every component finds its dedicated storage space and preventing any friction during transportation. The case is fully compatible with DJI RC2, DJI RC-N2, and DJI RC Pro remote controllers, and it boasts an impressive capacity to accommodate up to 8 batteries.
Featuring a large capacity and a thoughtfully designed flexible space layout, this case allows seamless expansion to accommodate additional DJI Air 3 accessories. The outer shell is constructed from robust engineering plastic, while the interior features premium EVA foam inserts. Every compartment is strategically designed, protecting your DJI Air 3 drone and its accessories against potential damage.
Ease of use and portability are key features of the FPVtosky Hard Case. The sturdy handle offers convenience for lifting, complemented by a soft silicone handle that minimizes hand pressure. The double buckle and lock design further enhance the case's security, ensuring your equipment remains intact even during rigorous transportation.
With dimensions of 42 * 33 * 15.37 cm (16.54*12.99*6.05 inches) and a net weight of 2.3 kg (5.07 pounds), this case perfectly balances protection and practicality. Elevate your drone storage and transportation experience with the FPVtosky Hard Case, designed to encapsulate your DJI Air 3 and its accessories in a realm of security and convenience like never before.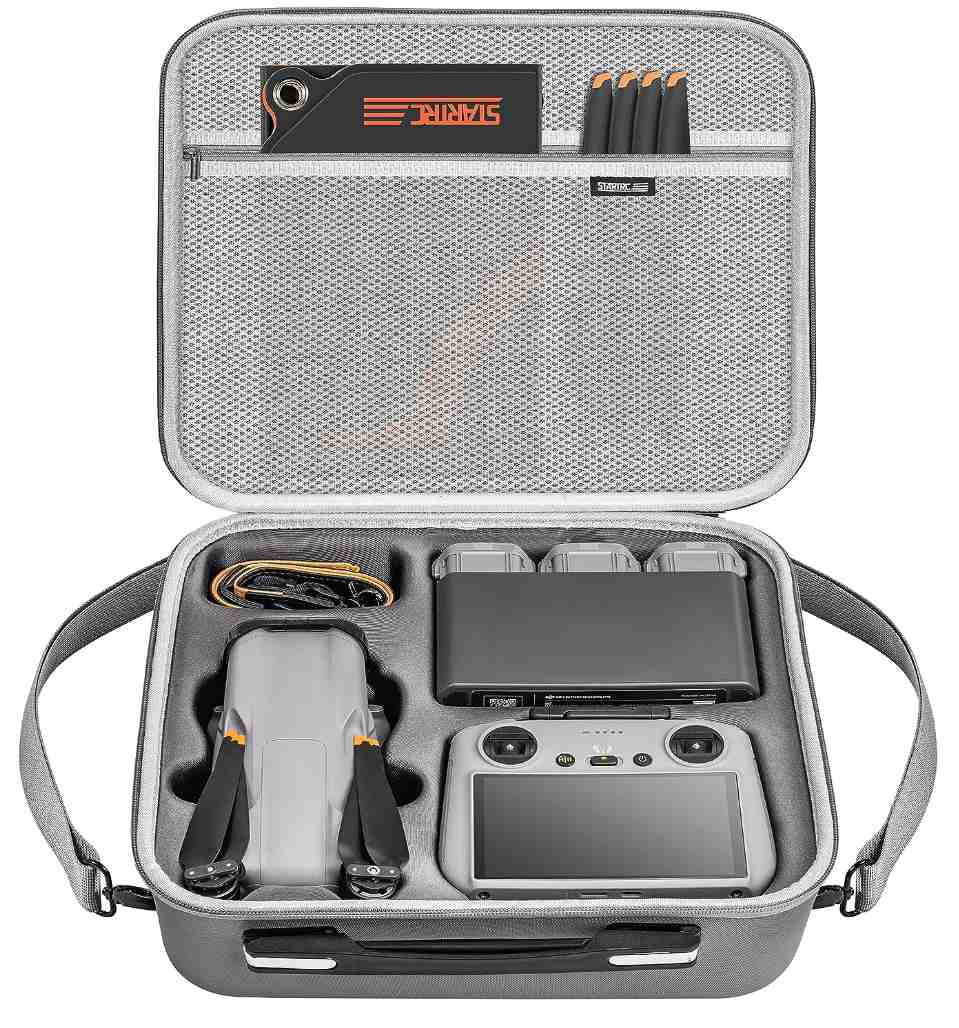 The STARTRC Air 3 Hard Case, a pinnacle of protection and convenience explicitly tailored for your DJI Air 3 Fly More Combo with DJI RC 2/RC-N2 Controller and an array of drone accessories. Crafted precisely, this case is a testament to custom design, offering an ergonomic shoulder strap for portability. It is thoughtfully constructed to fit your DJI Air 3 Fly More Combo and its essential components, including the DJI RC 2/RC-N2 Controller.
The large capacity of the Air 3 hard case leaves no accessory behind. With designated spots for each component, it accommodates your Air 3 drone with its Gimbal Protector, RC 2/RC-N2 Controller, up to 4 extra batteries, Battery Charging Hub, Charger, Filters Set, Propellers, RC Cable, and an array of other accessories necessary for your aerial endeavours.
Comprehensive protection is the hallmark of the Air 3 carrying case. Constructed from high-strength ABS and fortified with Upgrade EVA multi-layer protection, it excels in impact resistance, safeguarding your drone and its accessories from external damage during travel or transit. The case's meticulous design ensures every item is well organized, minimizing the risk of damage.
Equipped for convenience, the Air 3 Hard Case features a customized shoulder strap and a sturdy handle. Effortlessly transport your Air 3 Fly More Combo and accessories for your flying activities, whether venturing far and wide or seeking secure storage at home. This case, tailored for on-the-go enthusiasts, ensures your DJI Air 3 investment remains secure, organized, and readily accessible for your next drone adventure.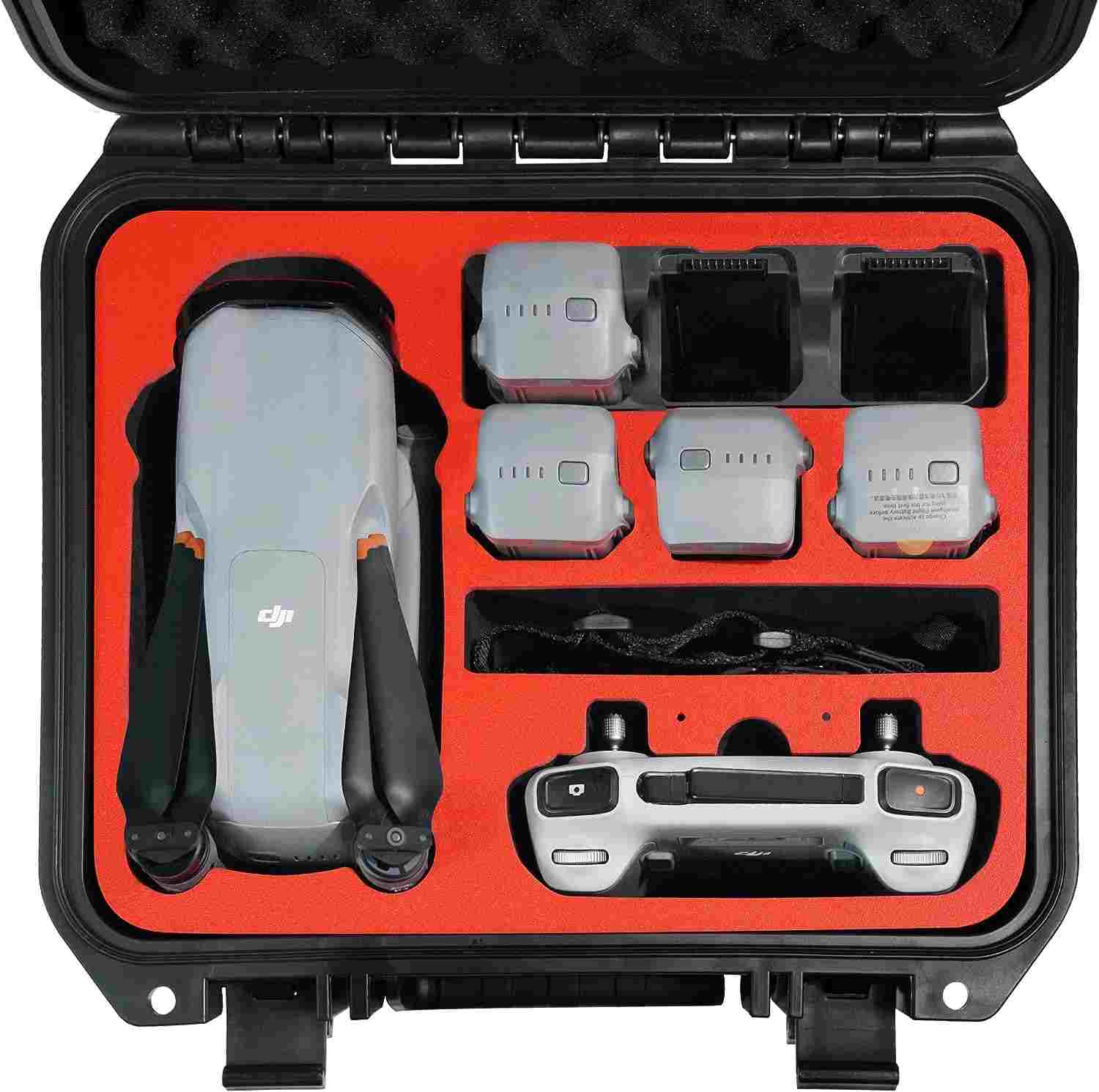 Elevate your DJI Air 3 protection game with the CYNOVA Waterproof Hard Case. Crafted exclusively for the DJI AIR 3 drone, it offers superior shielding and is a perfect fit for your drone, RC controller, and fly more kit components. Built from robust ABS material, this case ensures the ultimate durability, safeguarding your drone and propellers from external impacts. Its precise design seamlessly accommodates all accessories, spare parts, batteries, and chargers.
Its sturdy handle and compact design make it convenient and portable. You can easily store and transport your equipment in a suitcase or backpack, making it ideal for travel. Inside, you'll find a customized storage space with dedicated compartments and dividers. This ensures secure and organized storage for all your drone accessories and the DJI Air 3, keeping everything protected and ready for your next adventure. Trust in CYNOVA for top-tier protection and portability for your DJI Air 3.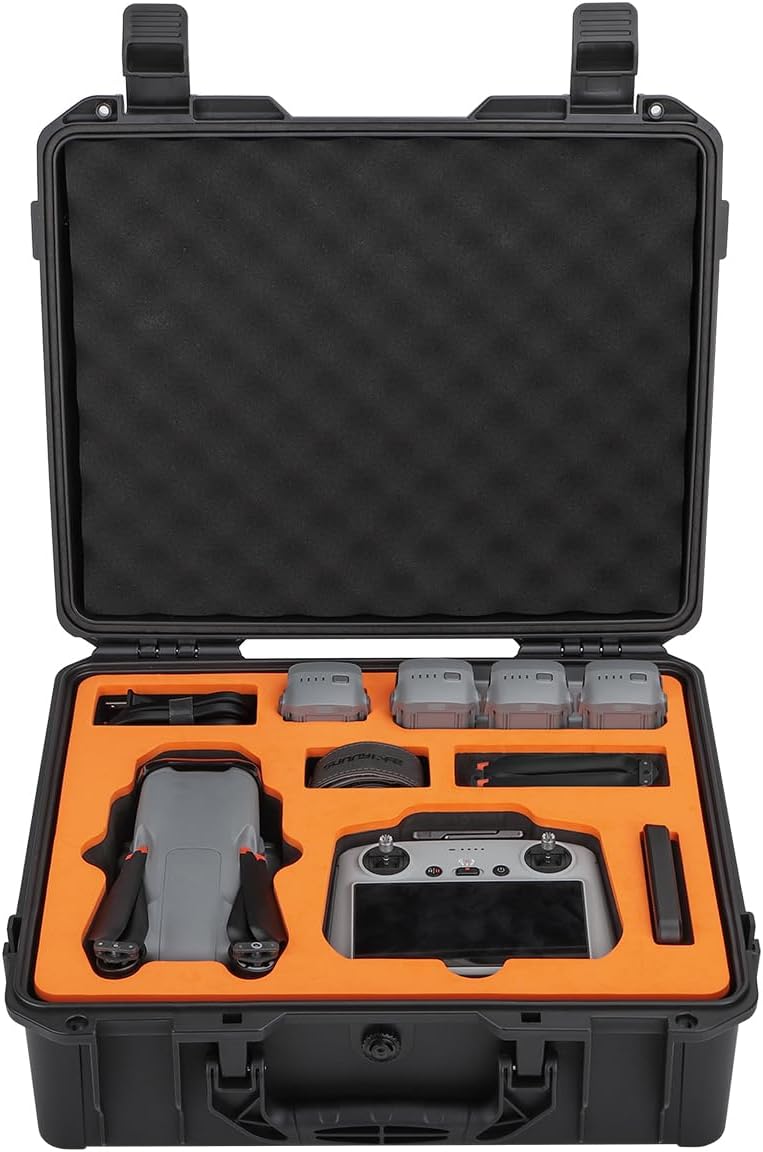 Discover the INTOOIN DJI AIR 3 Safety Waterproof Carrying Hard Case, a pinnacle of security that ensures your drone investment remains safe and sound, no matter where your adventures take you. This case boasts remarkable external security, sealing out the elements with waterproof capabilities that go beyond the norm. Crafted from durable and corrosion-resistant materials, it is built to withstand the test of time and remain resilient in the face of challenges. The reinforced structure enhances its durability by effectively absorbing impacts, drops, and pressure to prevent deformation and corrosion.
Internally, the INTOOIN case takes protection to the next level with its high-density egg cotton cushioning lining. Precision-cut openings are designed exclusively for the DJI AIR 3 drone and its accessories, guaranteeing a snug fit with no gaps. This meticulous design enables the egg cotton lining to fully envelop the device, providing unparalleled cushioning that ensures your drone remains shielded from harm.
Storage performance is exceptional, with the case capable of accommodating up to five DJI Air 3 Intelligent Flight Batteries, one AIR3 drone, a DJI RC2/RC-N2 remote controller, a battery charging hub, an ND filter set, a gimbal protector, and a charger. It offers customizable storage arrangements, allowing you to tailor the layout to your needs. It can even fit multiple pairs of DJI Air 3 low-noise propellers, a remote controller lanyard, data cables, and more.
Portability features further elevate the INTOOIN case's functionality. Including a gas balance valve regulates air pressure inside and outside the case, ensuring easy opening and closure even in challenging conditions, such as high temperatures or high altitudes.
DJI Air 3 Backpacks and Bags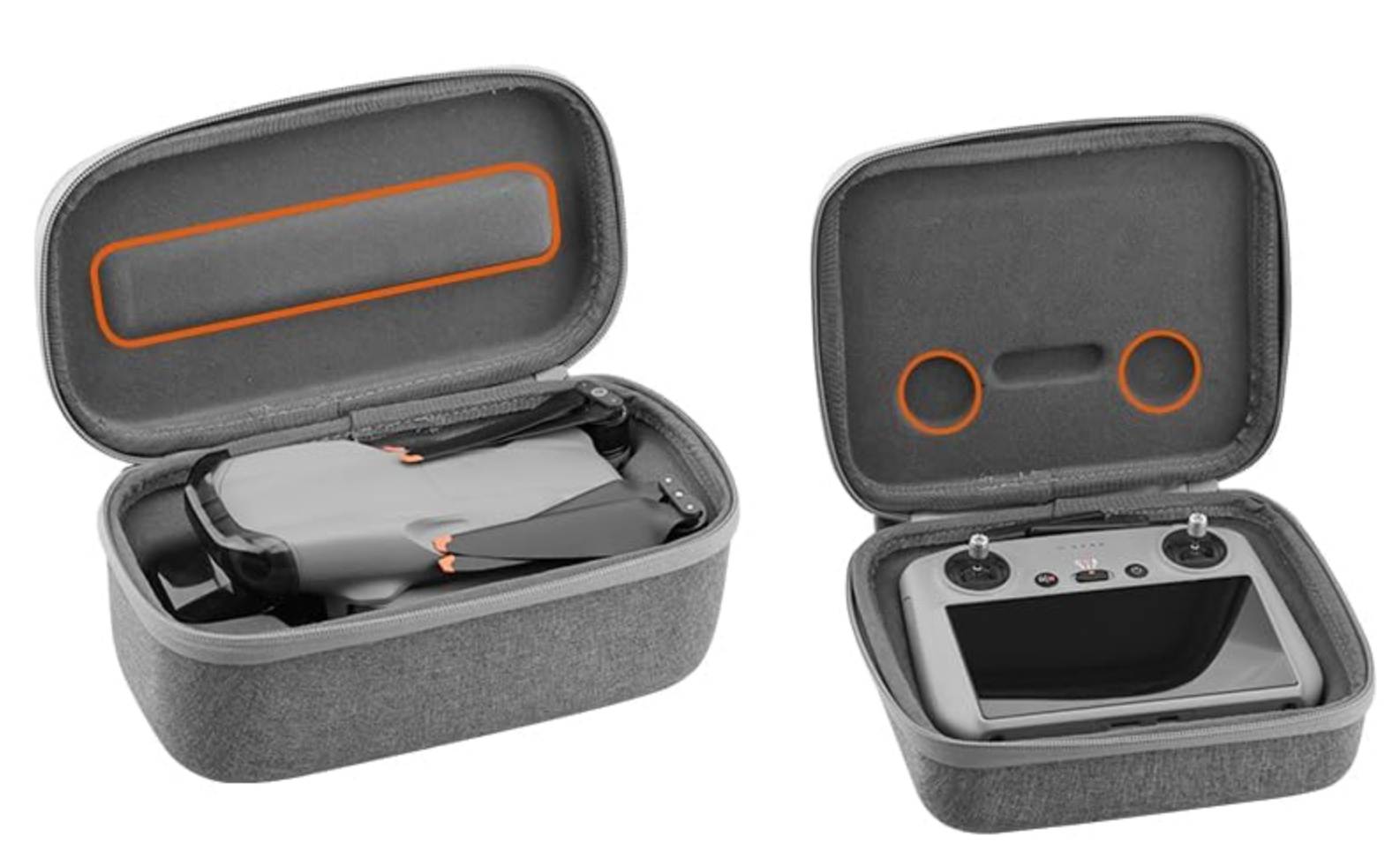 Introducing the Coyktonty Case Storage Bag, a compact and essential solution designed to safeguard your DJI AIR 3 drone and its accessories safely. Built to perfection, this case is compatible with the DJI AIR 3 drone and the RC 2/RC-N2 transmitter, offering seamless protection for your prized equipment.
Constructed with durability, the Coyktonty Case boasts a rigid design crafted from abrasion-resistant material. This robust exterior withstands wear and tear and effectively absorbs shocks and pressures, ensuring your drone remains shielded even in challenging conditions.
Inside the case, you'll find a comfortable, lined storage area. This portable bag provides a cozy haven for your drone and remote control, shielding them from potential damage, bumps, and scratches. With meticulous design, Coyktonty ensures that your equipment remains well-protected and ready for action whenever you are.
Enhancing convenience, the case features hiking buckles that enable you to hang the main body bag and screened remote control bag from a backpack. This clever design makes transportation and takeoff a breeze, providing quick access to your drone whenever an aerial adventure arises.
Compact and lightweight, the Coyktonty Case Storage Bag guarantees comfortable carrying and effortless travel. Its user-friendly design complements the on-the-go lifestyle of drone enthusiasts, ensuring that your DJI AIR 3 drone and its corresponding accessories remain protected, organized, and ready for flight. Elevate your drone protection game with the Coyktonty Case Storage Bag, where reliability meets portability in a seamless fusion.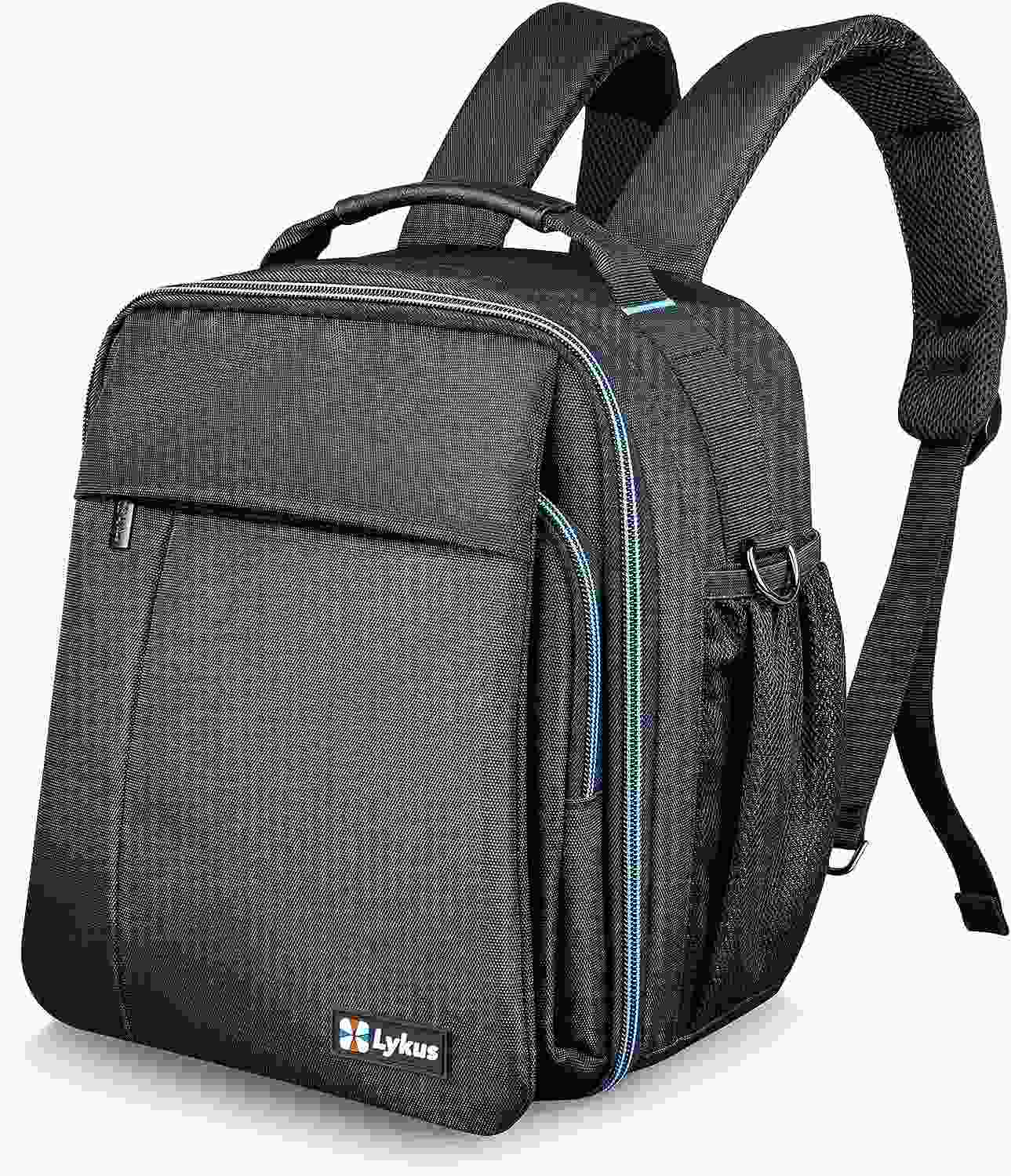 The Lykus M1 Travel Backpack Case for DJI Air 3 with RC-N1 Remote Controller is a fusion of innovative features tailored to enhance your drone travel experience. This backpack transcends time and is designed to accommodate current and future DJI Mavic series drones, ensuring optimal return on investment.
Diverging from soft backpacks, the M1 backpack stands out with its rugged exterior and interior dividers, providing unparalleled protection and structural integrity. Your Mavic and its accessories are propped up soundly within, shielded from external impacts and hazards.
Compact yet spacious, the M1 backpack efficiently accommodates Mavic drones, the RC-N1 controller, numerous batteries, an iPad, a charger, a charging hub, filters, and an array of additional accessories. Its clever design streamlines your essentials, allowing you to focus on capturing stunning aerial shots.
This backpack is your one-stop solution, with front and side pockets offering dedicated storage for personal items such as keys, wallet, phone, water bottle, and even a power bank. An included anti-water cover ensures your gear remains dry in unpredictable weather.
For added comfort, the Lykus M1 Travel Backpack Case can be further tailored to your preferences with a separate shoulder strap available for purchase. Experience unmatched convenience and protection as you embark on your drone adventures, knowing that the M1 backpack is by your side, ready to safeguard your equipment and personal belongings alike.
These top DJI Air 3 cases has showcased an array of ultimate safeguards for your drone. Each case embodies key considerations like size, durability, portability, and storage capacity. With features like waterproofing, customizable compartments, and rigid exteriors, these cases ensure your drone and accessories are shielded from harm. Whether you're an adventurer, creator, or enthusiast, these cases are essential companions, providing robust protection and convenience for your valuable investment.
Disclosure: Some links are affiliate links. As an Amazon Associate,
I earn from qualifying purchases at no extra cost to you.