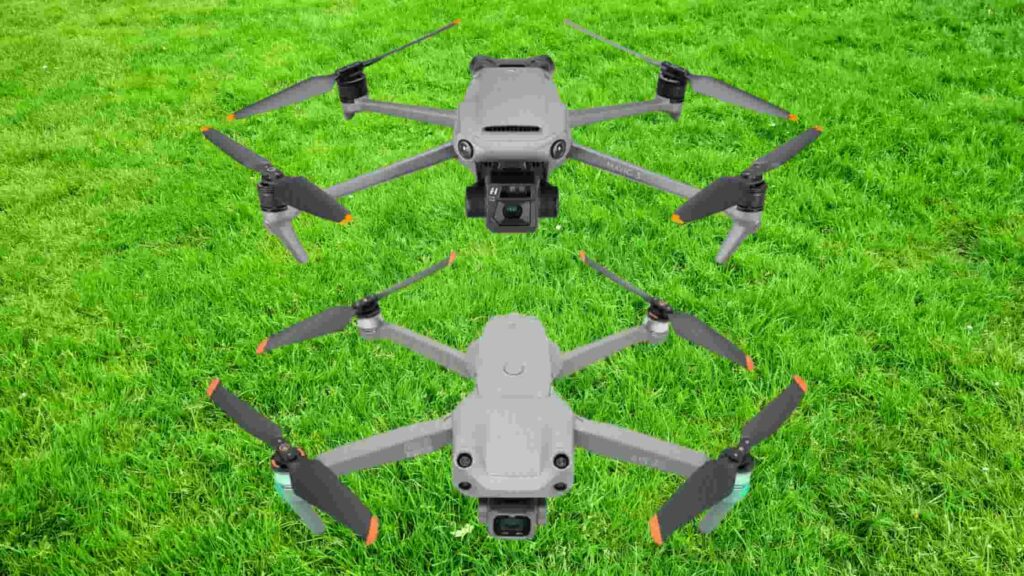 Mavic 3 vs Air 2S Quick Comparison:
| | | |
| --- | --- | --- |
| Specs | DJI Mavic 3 | DJI Air 2S |
| Dimensions (Unfolded) | 347.5×283×107.7 mm | 183×253×77 mm |
| Takeoff Weight | 895 g | 595 g |
| Photography | 4/3 CMOS, 20 MP, JPEG/DNG | 1" CMOS, 20MP, JPEG/RAW |
| Video | 5.1K/50fps, 4K/120fps | 5.4K/30fps |
| Max Speed | 42.50 mph | 42.50 mph |
| Max Flight Time | 46 minutes | 31 minutes |
| Obstacle Sensing | Complete Omnidirectional | 4-Directional Obstacle Sensing |
| Max Transmission Distance | O3+, 1080p, 15 km | O3, 1080p, 12 km |
| Max Wind Resistance | Level 6 (10.8-13.8/s) | Level 5 (8-10.7 m/s) |
The DJI Mavic 3 is an amazing drone with incredible features. It has a 4/3 CMOS Hasselblad Camera that delivers high resolution and dynamic range.
The Mavic 3 is DJI's first drone that offers a High Frame-Rate Transmission with a 1080p/60fps live feed, 46-min flight time on one charge, 15km range max transmission distance, and Advanced RTH (Return to Home) Technology, which makes it easy for any beginner flyer!
The Mavic Air 2S is a sleek and slim video drone with obstacle sensing in 4 directions. It can fly up to 12km away from its pilot before experiencing signal or signal loss.
The Mavic Air 2S 1-inch sensor captures all of this high-resolution video recording and imagery while maintaining detail throughout zoom levels, even when viewed up close!
Mavic 3 vs Air 2S Drone Features: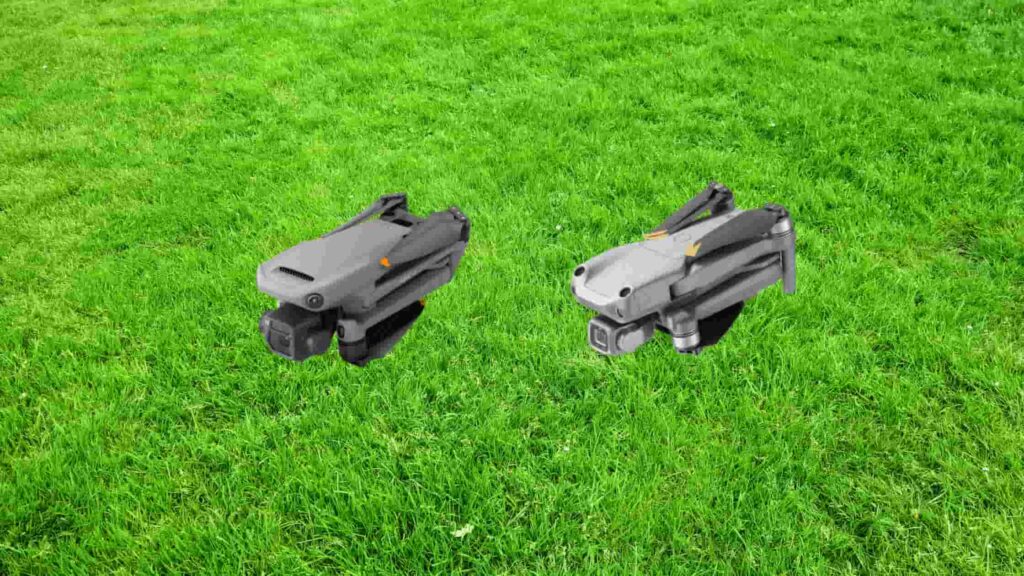 Size & Design
The Mavic Air 2S weighs 595 grams, and the Mavic 3 is 895 grams. These drones are both foldable and easy to carry, making them perfect for people on the go!
Video & Image Quality
The Mavic 3 vs Air 2s Image Quality: The Mavic 3 boasts a Hasselblad Camera with a larger sensor 4/3-Inch CMOS, with effective pixels that are 20MP. It also has an 84-degree field of view and 5.1K video capabilities for those who want to shoot Hollywood quality footage from their drone!
The Mavic 3 also features a Hasselblad natural color solution that delivers vivid, natural colors with the simple press of the shutter.
The DJI Mavic Air 2s has a camera that captures 20MP photos and 5.4k video resolution.
It also features an 88° wide-angle lens with a 1″ CMOS sensor for top quality results even in low light situations or when zooming into areas that would otherwise be too far away from your subject!
Both models have a 3-axis gimbal for smooth aerial footage and an amazing flight experience.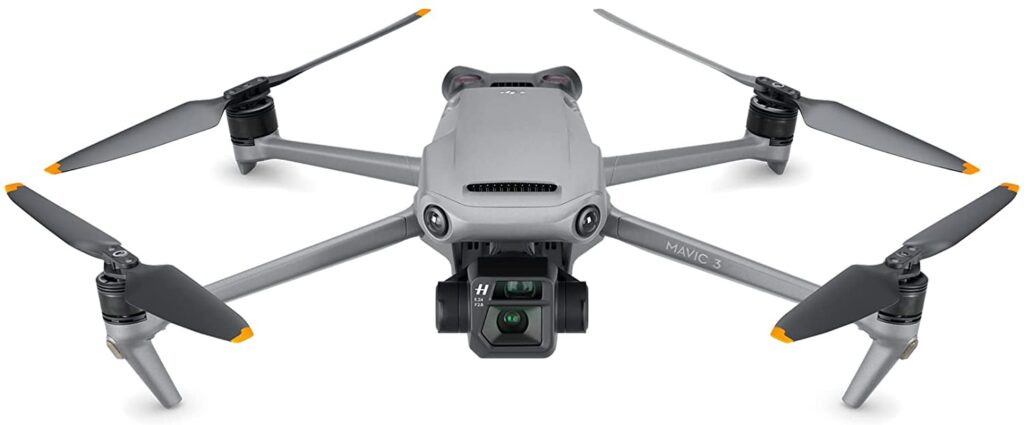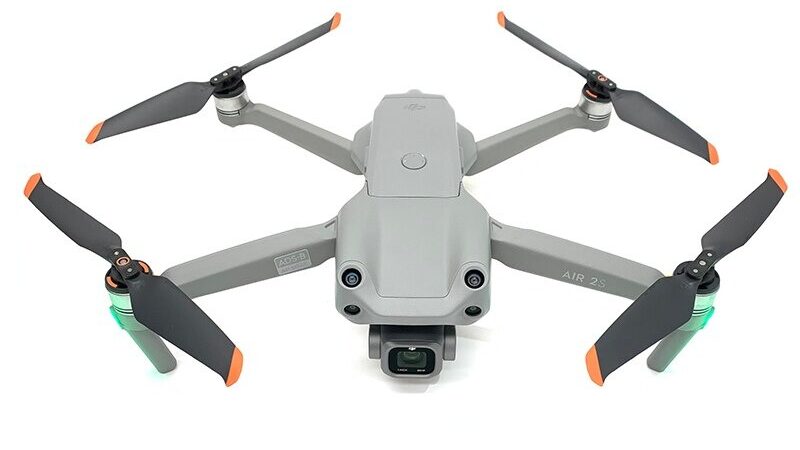 Battery & Flight Time
The Mavic 3 battery has a whopping 5,000 mAh capacity. It can reach up to 46-minute flight time before it needs to be recharged and will provide enough juice during this time with its 15V/4S LiPo type of energy storage system- meaning you'll have one less thing on; your mind; while flying!
The DJI Air 2s has a 3500 mAh battery that can power the drone for up to 31 minutes of flight time. It also has Intelligent Flight Battery technology, which makes it easier than ever before!
With this extra power, you'll be able to shoot high-quality videos without worrying about running low on juice in between flights, thanks to its 11.55 V voltage output along with LiPo 3S energy capacity (40 Wh).
The lightweight design at only 198 grams allows flyers like me who are always flying around town or traveling abroad to carry one less thing when packing light while still having plenty left over after every adventure.
Video Transmission
The Mavic 3 is DJI's newest product, and it's our top pick for the best drone. The Mavic 3 transmission system includes the video camera (O3 +) and a remote controller that allows pilots to control their flights with ease while simultaneously providing live-view quality of 1080p 30fps/1080p 60 fps through its 8GB internal storage!
The Mavic 3 is capable of flying up to 15 kilometers max distance! Although these features make this quadcopter stand out among others in its class, what separates Mavics from all competition has more to do than just tech specs.
It also comes equipped with an advanced tracking algorithm that uses Ultrasonic waves bouncing off objects within range instead of relying solely upon GPS reception like older models did by default.
The DJI Air 2s drones have improved over the previous generation in many ways, including better video transmission quality.
This drone has 4 antennas that allow for improved signal strength when transmitting live view or other information back to your phone through its OcuSync 2.0 (2.4GHz/5Ghz Auto switching).
While this quadcopter can fly up 12 km away from you without any problems connecting with less than 8 kilometers per second latency at 1080p resolution on both channels simultaneously, it also supports downloading videos at 44Mbps bitrate while streaming them live using only 16 Mbps!
Sensing System
The Mavic 3 is equipped with an Omni-Directional binocular vision system, spiced up by the inclusion of an IR Sensor at its bottom.
The forward sensors can see all around it with a detection range of 0.5-200 m. It also has backward, left, and right sensors; this Mavic 3 won't be hard to master after only a few flight sessions.
The DJI Air 2s has Forward, Backward and Downward Sensors and Upward Sensors to provide safer flight when flying with obstacles.
These newest models from DJI offer more than improved camera technology; they also include obstacle avoidance sensors that help pilots avoid crashing into things on their way down or up from cruising altitude!
Remote Controller
The DJI RC-N1 Remote Controller is designed to work with the Mavic 3. It's compatible with 2.4GHz and 5Ghz frequency, which makes it more potent than ever before!
The battery life has also increased by up to 50%. Charge your device quickly while you fly using this innovative system that uses OcuSync 2.0 technology – all without sacrificing any transmission quality or speed (using hyper-intelligent delays).
Its Lightning port input method for iOS devices and micro USB/USB-C output options are available on both sides of this remote controller.
Mavic Air 2S supports DJI Smart Controller using OcuSync 2.0 transmission system. Battery Life is up to 6 hours (4 when charging a mobile device).
Supported Mobile Device Connectors include Lightning & Micro USB and USB-C, which means you can use your current phone or tablet with this drone!
DJI has released the Mavic 3 drone, which is a significant upgrade from their previous flagship model.
It's much more expensive, but it comes with additional fantastic features worth the cost if you have enough to spend on one of these DJI drones.
The Mavic Air 2S offers an alternative for those looking for something less pricey and not quite advanced in terms of features.
Is the Mavic 3 better than the air 2S?
The Mavic 3 is a newer model drone that has some updated features over the air 2S. Some of these features include a higher maximum speed, longer flight time, and an updated camera. However, the air 2S is still a very capable drone and may be a better option for some people depending on their needs.
Is the DJI Mavic Air 2S worth it?
The DJI Mavic Air 2S is a great drone that is worth the price. It has many features that make it a great choice for anyone looking for a drone. Some of these features include its portability, its ability to shoot in 4K, and its obstacle avoidance system.
Can DJI Air 2S follow me?
The DJI Air 2S can follow you, but it is not a feature that is enabled by default. To have the drone follow you, you will need to use the DJI GO 4 app and enable the Follow Me function.
We hope this article helped you decide whether or not you want to invest in either of these two amazing drones from DJI! Which do YOU think is better between Mavic 3 vs Air 2S? Let us know what you think by commenting below! Check this article for the full comparison of DJI Air 2s vs Mini 3 Pro.
Disclosure: Some links are affiliate links. As an Amazon Associate,
I earn from qualifying purchases at no extra cost to you.