Two of the best drones on the market, DJI Mini 2 vs Mavic Air 2.
It makes you think about which one to buy? Both DJI drones have amazing features and specifications that make them top picks in their category with outstanding video quality aerial shots!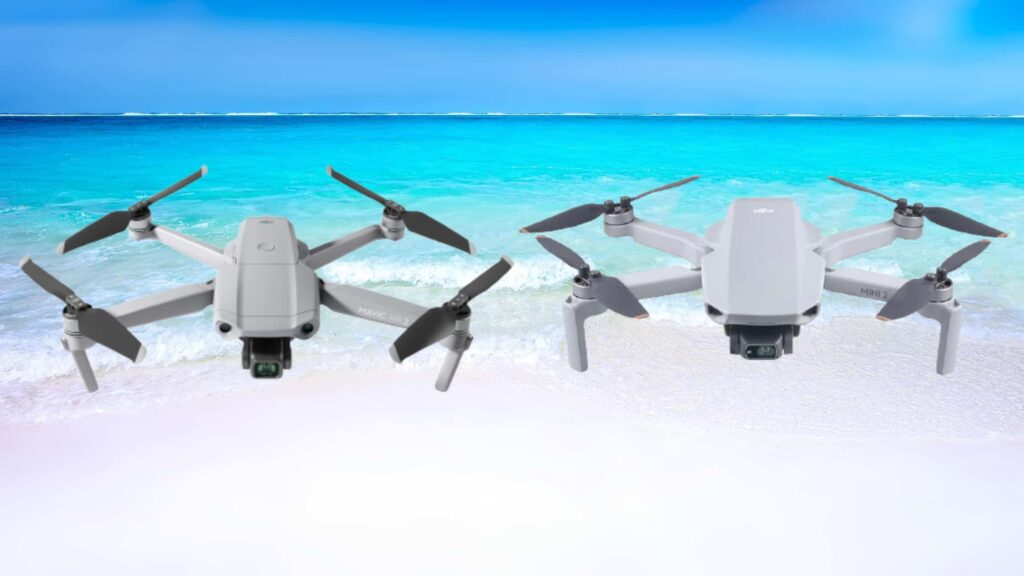 | | | |
| --- | --- | --- |
| | | |
| Specs | DJI Mini 2 | Mavic Air 2 |
| Dimensions | 55×32×22 in. (Folded) | 71×31×33 in. (Folded) |
| Takeoff Weight | < 8.78 oz. | 20.10 oz. |
| Photography | 1/2.3″ CMOS, 12MP, JPEG/RAW | 1/2" CMOS, 48MP, JPEG/RAW |
| Video | 4K/30 fps | 4K/60 fps |
| Max. Speed | 35.79 mph | 42.50 mph |
| Max Flight Time | 31 min | 34 min |
| Obstacle Sensing | Downward | Forward + Backward + Downward |
| Max Transmission Distance | OcuSync 2.0, 6.2 mi. | OcuSync 2.0, 6.2 mi. |
| Wind Resistance | Level 5 | Level 5 |
| Internal Storage | None | 8Gb |
DJI Mini 2 vs Mavic Air 2: Size and Weight
The DJI Mini 2 is a small drone that weighs less than 249 grams. It has dimensions of 138 x 81 x 58 mm when folded, and it unfolds to be 159 X 203 x 56mm with propellers extended from its body for use as an aerial video recorder! While The Mavic Air weighs 570 grams, it has dimensions when folded 180x 97×84 mm.
DJI Mini 2 vs Mavic Air 2: Flight Features
The DJI Mavic Air 2 is a revolutionary flying camera that can capture footage up to 18 kilometers of flight distance! It features an amazing maximum flight time of 34 minutes without wind and 33 with it.
The Mavic Air 2 also has enhanced stability in high winds, making this sleek machine perfect for beginners or professionals alike who want long-range shots from their drones.
The Mini 2 is the perfect drone for beginners. It can last up to 31 minutes of flight time, but if you're just getting started and want something that can reach 10 kilometers flight distance, then this model will be great!
Both drones are equipped with the latest OcuSync 2.0 video transmission, which maximizes signal efficiency and reduces lag time to almost zero!
Now you can live stream your adventures with OcuSync 2.0, which has a video transmission distance of up to 10 km and provides 1080p FHD resolution from the drone's camera so that even when exploring on foot or in vehicles without WiFi connection capability – like boats!
DJI Mini 2 vs Mavic Air 2: Video & Photo Quality
DJI's new Mavic Air 2 is a sleek and lightweight drone that offers impressive portrait shooting capabilities, especially for its price.
The camera has 1/2″ CMOS sensors with 12 or 48 MP options to capture detailed images in both video mode and still photos which can be taken at 4K Ultra HD resolution up to 30fps while also offering 3840 x 1920 pixels @ 60 fps speeds on lower settings!
This allows you to have high definition footage when zooming closeup shots without distortion from being farther away, which other models might struggle with because they use more analog technologies instead of digital ones like what we see here with the Air 2.
The new DJI Mini 2 is a great alternative for those who want to enjoy shooting 4K videos without the added cost of buying an expensive drone.
It features 12MP CMOS sensors with effective pixels that can be seen in its wide-angle lens offering 83° field of view and 3840 x 2160 resolution at 24 fps, 25fps, or 30 fps (frames per second).
With another improvement on top – this camera also captures awesome videos up to UHD quality!
Both drones have an advanced 3-axis gimbal stabilization system to keep things nice and steady for you while it is in flight.
DJI Mini 2 vs DJI Mavic Air 2: Obstacle Avoidance Sensor System
The DJI Mavic Air 2 is equipped with an Obstacle Avoidance System that provides pilots with a much safer flight.
The APAS 3.0 system can avoid obstacles in its path but does not come standard on other models such as the Mini 2.
DJI Mavic Mini 2 vs Mavic Air 2: Battery Life
The Mavic Air 2 has a battery with a 3500 mAh capacity that charges at 11.55 volts and has an input limit of 13.2 V, meaning it can be charged in your car or truck! This device also uses LiPo 3S cells, giving off 40.42 Wh (Watt-hour) total energy when fully depleted after one charge cycle.
The DJI Mini 2's Intelligent Flight Battery is a 2250 mAh LiPo with a voltage of 7.7V and can be charged with an input of up to 8.8 volts, making it perfect for any device!
With 17Wh per stick of energy, there are no worries about running out during your flight time or if you happen upon some unexpected turbulence in the sky.
DJI Mavic Air 2 vs Mini 2 : Remote Controller
DJI's new remote controller, the RC-N1, is a sleek and intuitive device that will seamlessly connect to your aircraft with just one touch. It supports transmission technology enabled by different hardware models, including but not limited to O2M/O3m for Mavics & Mini drones or O4s.
Why Choose Mavic Air 2
Mavic Air 2 is packed with an impressive camera and intelligent features.
It has a larger 1/2-inch sensor when compared to Mini 2, which makes it more suitable for taking high-quality pictures or shooting videos in different formats like 8K Hyperlapse at 60fps!
With 48MP photos as well as other great perks such as 4k/120Mbps highest bitrate video recording format supported by DJI's latest technologies–this drone will not let you down no matter what your needs are.
Does Mavic Air 2 have intelligent flight mode?
Yes, it does! There are three different types of these: QuickShots (one-shot and short movie making), Hyperlapse which lets you showcase the time in a single shot or travel around smoothly over an event without having to fly anywhere yourself; FocusTrack – this suite provides four tracking modes that make cinematic shots easy to create.
Why choose DJI Mini 2?
The DJI mini 2 is a lightweight and portable drone that can shoot 4k footage at 30fps.
It is perfect for beginner aerial photographers who want to take their videos on the move without having a hassle with heavy equipment or setting up complicated sets in confined spaces such as studios.
Plus, its improved specs from last year's model have made this small yet powerful device even better than before!
What modes does the mini 2 have?
QuickShots mode for beginners is the Dronie, which creates an altitude video clip with stabilized footage using one leg of each subsequent flight as your launch point—not too challenging but very impressive!
Next up are Helix and Rocket flights that have steep banks before turning back around to return home or circle whichever way you want.
Circle takes off then circles overhead while Boomerang loops upside down twice before coming straight towards you, so watch out below because this thing has some serious speed at times.
Finally, there's the free-fly mode, where you can go wherever you want, whenever you want.
 DJI Mini vs DJI Mavic Air 2: Pricing
When it comes to choosing between a DJI Mavic Air 2 or Mini 2, what's really going on your mind? The answer may surprise you!
The two small drones were created with different purposes in mind.
The DJI Mavic Mini 2 offers portability while still being able to take clear pictures and videos from altitudes up high – perfect for beginners who want an easy way into aerial photography without investing too much money just yet.
However, the Air 2, which is a larger drone, supplies increased stability which makes this a better choice if mobility isn't important, but image quality should be at least decent enough given its price point ($399 vs. $799).
The DJI Mavic Air 2 is the best drone for beginners. It's easier to fly, has a better camera and more features than its predecessor.
If you want something that can do it all without breaking your budget or need an advanced quadcopter with lots of controls, then the DJI Mini 2 is what you're looking for!
We hope this post helped make things clearer about which one would be right for you. Please don't hesitate to reach out if we can help in any way!
Disclosure: Some links are affiliate links. As an Amazon Associate,
I earn from qualifying purchases at no extra cost to you.