This DJI Mini 2 vs Mini SE comparison goes over the specs, performance features, and reviews of both drones to help you decide if one is better than the other.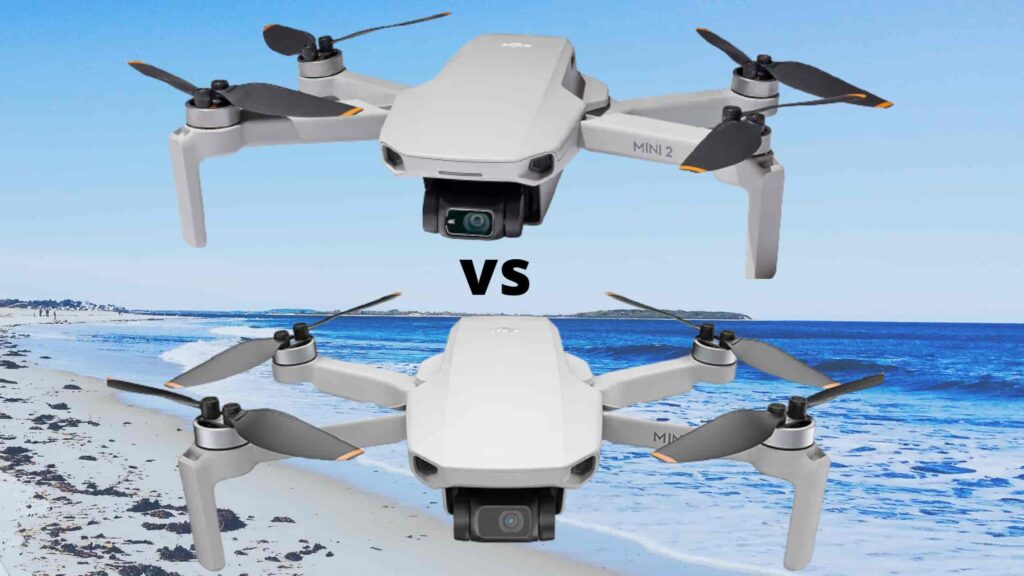 DJI released the Mini 2 and Mini SE, which are both great drones for beginners. The Mini 2 offers an upgrade in flight time, camera quality, obstacle avoidance technology, and intelligent flight modes, while the Mini SE is slightly cheaper with a lesser range and includes some of these new features. Which one you should buy will depend on your budget and what you're looking for in a drone.
DJI MINI 2 vs MINI SE SPECS:
Model
DJI Mini SE
DJI Mini 2
Dimensions
140x82x57 mm Folded
160x202x55 mm Unfolded
140x82x57 mm Folded
160x202x55 mm Unfolded
Image Sensor Size
1/2.3″ CMOS
1/2.3″ CMOS
Max Photo Resolution
12 MP
12 MP
Max Video Resolution
2.7K/30fps
4K/30fps
Stabilization
3-axis (tilt, roll, pan)
3-axis (tilt, roll, pan)
Video Transmission Distance
4 km
10 km
Weight
<249g
<249g
Max Flight Speed
46.8 kph
57.6 kph
Max Flight Time
30 Minutes
31 Minutes
Max Wind Resistance
37.8 kph
37.8 kph
Battery Capacity
2600 mAh
2250 mAh
Video Transmission System
Enhanced Wi-Fi
Occusync 2.0
Obstacle Sensing
Downward
Downward
Price
$399 Fly More Combo
$599 Fly More Combo
Video Stabilization: Gimbal Technology
It's important to have a stable, reliable camera system for your drone videos. For this reason, both the DJI Mavic Mini 2 and DJI Mini SE use 3-axis motorized gimbals that can compensate even in windy climates or high up on mountainsides so you can rely on them not only capturing smooth footage but also keeping it from getting choppy, which ruins any chance at presenting an amazing shot!
Safety Features
The DJI Mavic Mini 2 and the new mini SE both have a number of smart features that make them safer for beginners to fly. One such safety feature is Smart Return Home, which allows you to tap on your phone or remote control screen and watch as they home themselves back up without needing any help from someone else!
The automatic takeoff function also comes into play here; all one needs to do is press some buttons to activate these technologies while using their power source- making this more convenient than ever before with other drones with similar capabilities.
Flight Range
The new DJI mini 2 supports up to 10km HD video transmission, but the DJI mini SE only supports 4 km HD video transmission. The difference is OccuSync which broadcasts at a lower data rate that requires less bandwidth for streaming purposes, meaning you can send more information over one channel with better quality than if it were sent through different channels like before ( Mini 2 has an upgraded version called Occusync 2.0 ).
Flight Speeds
The DJI Mavic Mini 2 and the DJI Mini SE slightly differ in max flight speed when used in sport mode. While the mini 2 can reach up to 16 m/s (when near sea level with no wind), the Mini SE has almost the same speed of 13 m/s .If you're looking for something faster than this, it would be wise to go with either one over another depending on which model suits your requirements best since they both perform similarly overall while being slightly higher or lower respectively in terms of certain aspects.
Max Altitude And Wind Resistance
The DJI Mavic Mini 2 has a higher max altitude than the DJI Mini SE. While both drones can withstand Level 5 winds of up to 37 km/h, it's clear that this is not an issue for you when considering what they're best at – flight time and resistance against different weather conditions such as windy beaches or high hillsides in the mountains.
In addition, the mini2s stronger motors allow them to fly long distances on one charge before needing another quick recharge from their external battery packs while also being more maneuverable with their increased power.
It is also important to know that the mini 2s have a higher range of tolerances about wind speed; however, the value of this depends on your flying environment and can't be compared directly to the SEs.
You may have noticed that I haven't mentioned anything about flight time yet. This is because the SE has a surprisingly good flight time considering its wind resistance. Its small size means it can be steadied more quickly in the air, meaning you get more out of your battery before needing to land again.
DJI Mini 2 vs Mini SE: Software Features
The difference between the DJI mini drones is not only in their outward appearance but also in software features. The QuickShots selections on both models are alike; they each offer a selection of pre-programmed flight modes, including Circle (keep subject within camera range), Dronie (fly above object/person while staying below 400 ft.), Rocket which will make your drone fly towards whatever direction you choose! There's one extra that was exclusive for our favorite gadget – Boomerang. It's on the Mini 2, but not the Mini SE.
DJI Mini SE vs Mini 2: Battery life
The battery life of the DJI Mini 2 is 31 minutes of flight time, while for its little brother, the SE version can fly 30 minutes. The former uses LiPolymer cells which offer more power than old Mavic batteries but are not cross-compatible with them because there's no handy one press indicator like we were used to in Intelligent flight batteries; instead, you'll need a USB C socket and available charge on your charger (or wall outlet).
Image And Video Resolution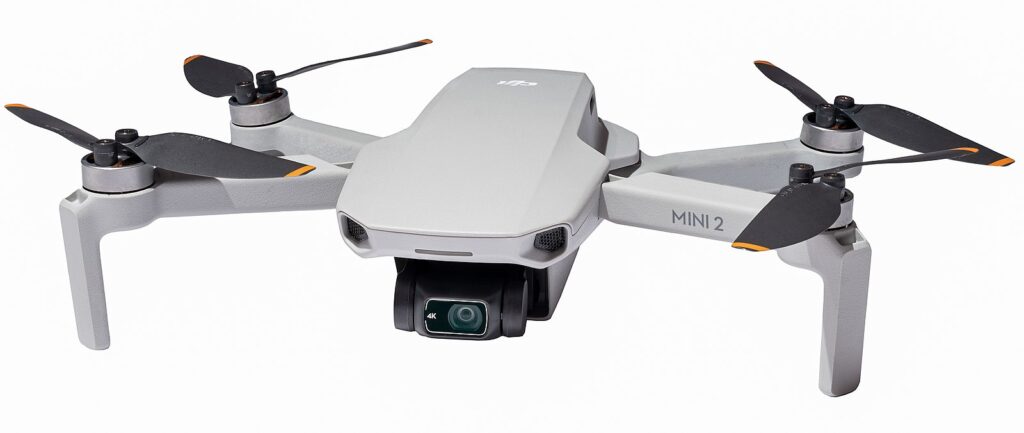 While we've already mentioned that both the DJI Mavi Mini 2 and the DJI Mini SE are capable of capturing great images and videos, let's take a closer look at what each model offers. Both models feature a 12MP sensor, but while the DJI Mini 2 features a larger image sensor size of 1/2.3 inches, the DJI Mini SE uses a smaller 1/2.0 inch sensor. While the resolution may seem similar, the higher megapixel count allows for better detail when taking photos and recording HD video.
Both drones also support 1080P video recording; however, the DJI Mini 2 shoots up to 60 frames per second, whereas the DJI Mini SE maxes out at 30 FPS. In addition, the DJI Mini 3 does not record audio, so if you're looking for an aerial cinematography tool, then the DJI Mini SE will likely suit your needs better.
Remote Control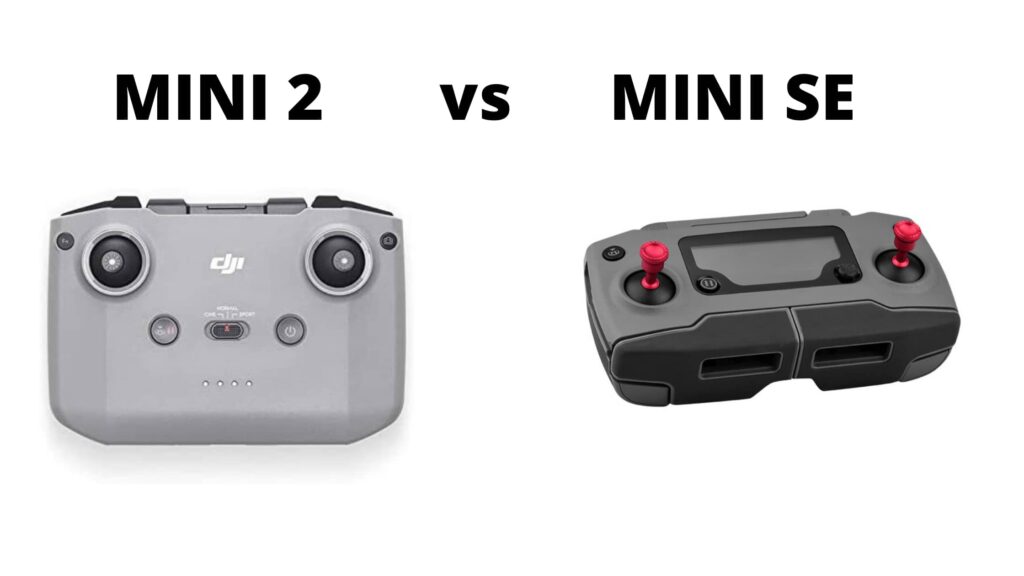 The DJI Mini SE is a much more compact and diverse remote controller than what we're used to in the past. With this new addition, you'll be able to fly your drone with confidence, thanks to its supporting cables for iOS devices like iPhones or Androids!
You can now see what your aircraft sees when up in flight without worrying about accidentally pressing any buttons on-screen; instead, record footage as though everything was perfectly planned out by YOU – not some old-school wristwatch-style device!.
Weight
The DJI Mini 2 and SE come in at an ultra-lightweight 249 grams, which means that you won't need to register or get a license if your travel plans include flying them. If not, they'll make for an easy backpacking drone when mountain trekking around wildlife country!
Price
The DJI Mavic mini 2 FMC retails for $599 (as of 2021), while the DJI Mini SE FMC sells for just $449(as of 2021). That means that if you're looking to get into the world of drones but don't want to spend too much money on your first purchase, then the DJI Mini SE may be worth considering. Check actual price at Amazon for DJI MINI 2 & DJI MINI SE here.
In this DJI Mini 2 vs Mini SE comparison, we've covered the specs and features of both drones to help you decide which one is best for your needs. We hope that our breakdown has helped help you decide whether or not either drone would be suitable for what you need it for. If you have any more questions after reading through this article, don't hesitate to leave a comment below!
Disclosure: Some links are affiliate links. As an Amazon Associate,
I earn from qualifying purchases at no extra cost to you.